Disney's Organizational Structure
Introduction
The Walt Disney Company is an American multinational mass media conglomerate headquartered at Walt Disney Studios in Burbank, California. It is the world's second-largest media company after Comcast in terms of revenue. 
Founded on October 16, 1923, by brothers Walt and Roy Disney as the Disney Brothers Cartoon Studio, it quickly established itself as a leader in the American animation industry before diversifying into television, live-action film production, and theme parks. Taking its current name in 1986, the Disney company has significantly expanded its operations over the years and has established subsidiaries in the radio, music, publishing, and theatre spaces. 
In recent years, the Disney corporation has invested significantly in online media and its 'Disney Plus' streaming service is very quickly gaining traction.
The secret to Disney's success
Disney's organizational structure helps to facilitate synergies throughout the corporation's full suite of global operations which is made up of various business segments. 
It has seemingly been designed in a way that promotes cooperation and collaboration between very distinct and in certain cases almost wholly independent divisions. Despite being two very different things, for example, the company's entertainment division has a huge influence on the overall strategy and operations amusement park division. 
Synergy like this helps Disney to meet its corporate vision and mission statements which have enabled the company to cement its position as an entertainment industry leader for several decades and remain competitive in the global market despite fierce competition from the likes of Comcast (Universal Pictures), Viacom, Sony, and Time Warner. 
Disney's structure also capitalizes on the competencies of its various divisions, an approach that influences managers to coordinate strategies for growth and empowers them to leverage the competitive advantages of the business. For example, simultaneous product releases between Disney and other studios it owns, for example Marvel and Lucasfilm.
Disney's organizational structure
Disney utilizes a decentralized cooperative multidivisional (M-form) organizational structure. This focuses on different business types and is common in diversified companies that have a wide breadth of operations, especially where these operations are carried out globally. 
Owing to its size, the company doesn't operate in unison; there are multiple subunits and child companies that come under the Disney umbrella but are for all intents and purposes independent ventures. 
While CEO Bob Chapek sits at the top of Disney's organizational chart, he is followed by a long list of chairmen, C-level executives, and senior vice presidents who each have their own business segments to manage. For example, chairman James Pitaro oversees ESPN and Disney's cable channels while chairman Alan Bergman oversees Disney Studios. These chairmen are joined by other top executives like Jenny Cohen, the executive vice president for social responsibility, and Latondra Newton, the chief diversity officer. 
There are three main elements to Disney's huge corporate structure:
Business segments and divisions

Centralized functional group

Geographical divisions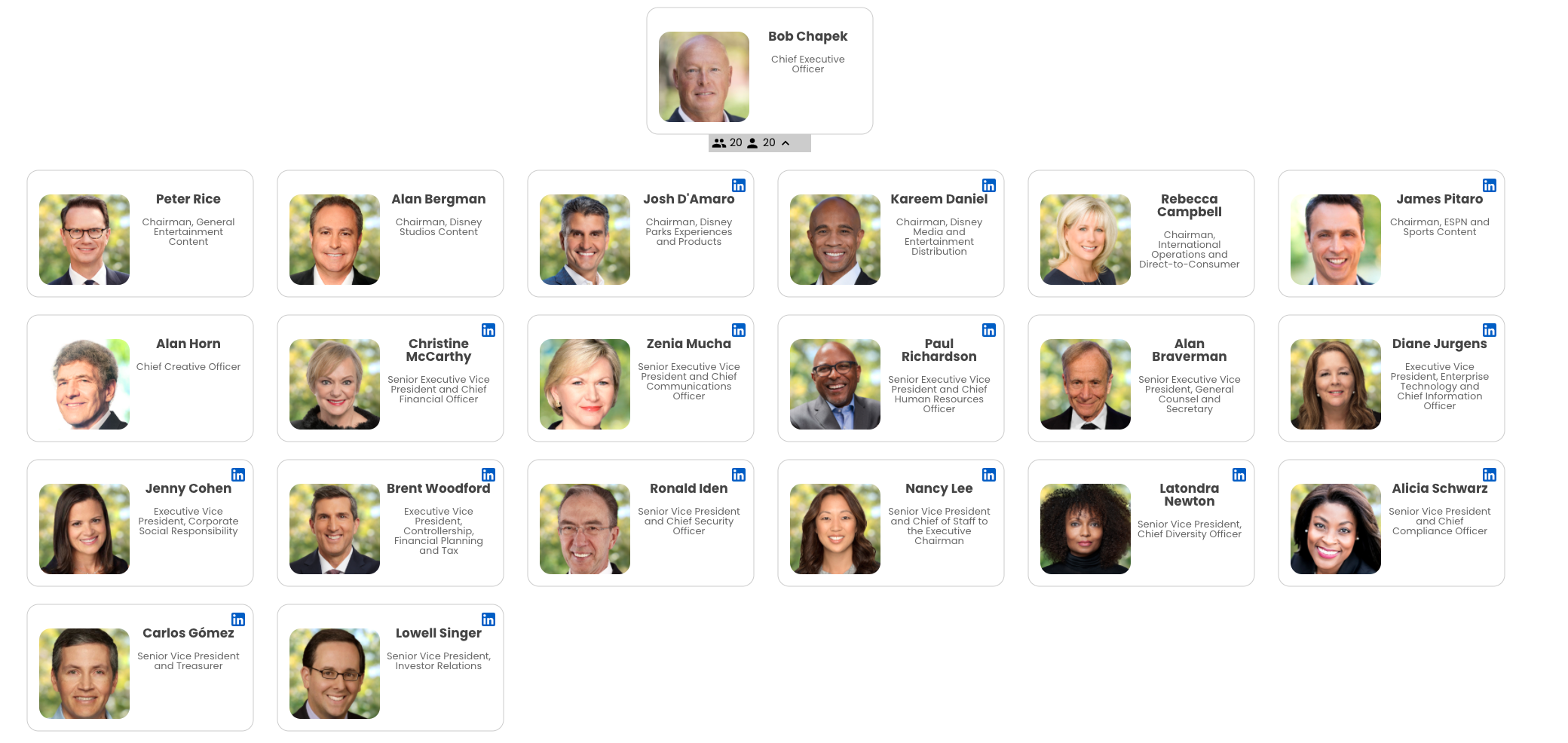 Business segments and divisions
The main elements of Disney's organizational structure are its many business segments and divisions. These allow for focus on specific industries and business types. There are four individual business segments within Disney: 
Media Networks

Parks and Resorts

Studio Entertainment

Consumer Products
 Each segment operates under a constrained diversification strategy which is maintained through centralized corporate management.
Functional Groups
Disney's functional groups are responsible for the centralization of strategic control across the many different business segments and brands. This ensures that the company can effectively coordinate strategic growth and global operations. For example, characters from new movie releases (Disney Studio Entertainment) are used in the company's amusement parks (Disney Parks and Resorts) and merchandise in Disney Stores (Disney Consumer Products).
Geographic Divisions
Disney's geographical divisions address differences among local, domestic, and regional markets. These variations are based on geographical factors such as sociocultural factors that have an impact on key business areas like media networks and parks and resorts. Disney's organizational structure allows strategic decisions to be made across four distinct geographical divisions:
U.S. and Canada

Europe

Asia Pacific

Latin America & Other Markets
Why Disney's org chart structure is effective
Disney's organizational structure is huge, but it works because it has been designed and is managed in a way that makes the company very effective at supporting the company's many business divisions, segments, brands, and operations across the global market as it continues to purchase or partner with other major companies and diversify its audience. 
Disney's core leadership team manages the world's biggest media company and is responsible for some of the world's most beloved brands. Their strategic direction for The Walt Disney Company is focused on generating the best content possible while fostering innovation in a sort-of autocratic, top-down environment.
Create this chart in Organimi! 
You can download the CSV file of The Walt Disney Company's org structure, import it into Organimi and start editing this chart right away! Here's how:
 From your dashboard, select Data Import.
 Click the CSV tile.

 Click 

+Upload Your File

.  

 

Select an Excel file from your device.

 In the 

Organization

 field, click the down arrow to select an organization.

Click Create a New Chart

Click 

Next and select: Organization Chart
Select the auto-build tool to automatically build your chart.
Voila!
Download CSV file:


Disney-Organizational-Structure (12.79 KB)
Build better org charts with
Organimi.
A powerful, cloud-based platform that helps you create, connect, and collaborate with your colleagues wherever they work.