Nike's Organizational Structure
Create this exact chart in Organimi! Scroll below to see how. 
Introduction
Nike, Inc. is an American multinational corporation that needs little introduction. With a truly global presence and a name that's recognizable by pretty much anybody, Nike is a leader in the design, development, manufacturing, marketing, and sales of footwear, apparel, equipment, accessories, and services. 
Nike was founded in 1964 by Bill Bowerman and Phil Knight, the latter of whom is still active in the company today as its Chairman Emeritus. The company is headquartered in the U.S. state of Oregon and is the world's largest supplier of athletic shoes and apparel and a major manufacturer of sports equipment, with revenue in excess of US$37.4 billion in its 2020 fiscal year. 
As of the same year, the company employed more than 76,000 people worldwide and was valued in excess of US$32 billion, making it the world's most valuable sports brand. Nike ranked 89th in the 2018 Fortune 500 list of the largest U.S. corporations by total revenue. 
Nike markets many of its products under its own brand, as well as Nike Golf, Nike Pro, Nike+, Air Jordan, Nike Blazers, Air Force 1, Nike Dunk, Air Max, Nike Skateboarding, and Nike CR7. The company also has several subsidiaries including Jordan Brand and Converse. Nike sponsors many high-profile athletes and sports teams around the world and owns the highly recognized trademarks 'Just Do It' and the 'Swoosh' logo.  
Nike's Organizational Leadership
Nike's overall operations are overseen by the global corporate leadership team, which is currently made up of 16 individuals holding C-level, presidential, and vice presidential roles. 
Although both the Chairman Emeritus and Executive Chairman are a part of this team, it's the company's President & CEO who has overall responsibility for ensuring that the company realizes its goals and vision.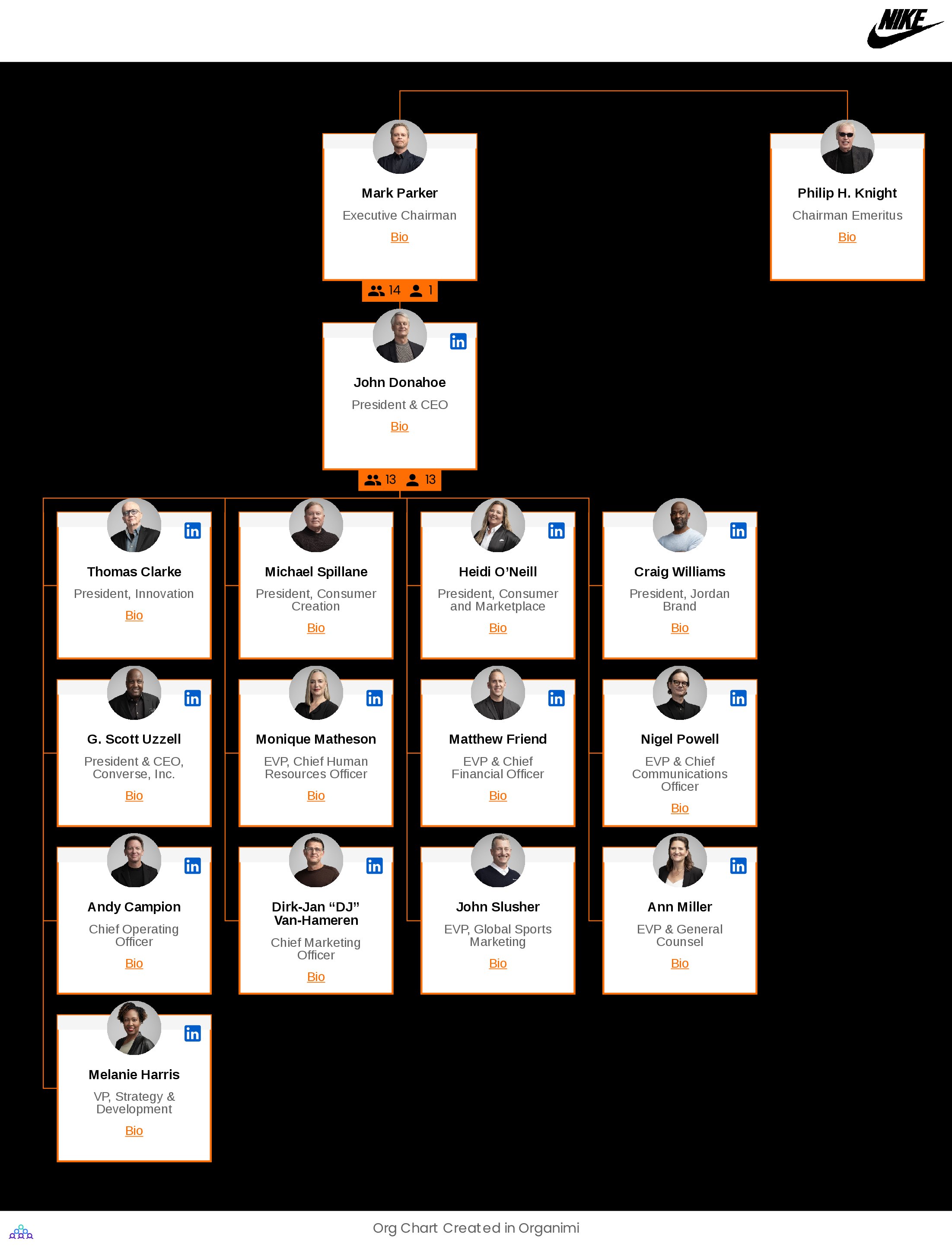 Nike's Organizational Structure
Nike's organizational structure can be broken down into two distinct parts aside from the global corporate leadership which has overall global oversight for the company's many brands and divisions.  
First and foremost, the global business is segregated into semi-autonomous geographic regions: 
North America

Western Europe

Eastern/Central Europe

Greater China

Japan

Emerging Markets
Each regional division optimizes its operations in the regional sports shoes, apparel, and equipment markets to accommodate cultural and regional differences. Prior to 2022, Nike's regional markets were less segmented and were comprised of four geographic areas: North America, Greater China, Asia Pacific and Latin America (APLA), and Europe, Middle East, and Africa (EMEA). Nike's decision to segment its geographic divisions further into seven regions has been driven by factors including the Beijing Olympics driving up sales past 50 percent.
Secondly, Nike follows a matrix organizational structure made up of a combination of horizontal and vertical structures. In a matrix structure, as we've covered before on our blog, there are several lines of authority as employees report to multiple supervisors and managers depending on their role and what projects they're working on. 
While this type of organizational structure might sound complex or confusing, it makes sense for a company like Nike which has hundreds of different product lines, campaigns, projects, and more running at the same time. Even though the matrix structure means that there are multiple reporting relationships, Nike's standardized operational and communications processes mean that employees are aware of what's expected from them and to who they need to report. 
These characteristics of Nike's organizational structure help to support growth and stability. The global corporate leadership team has the advantage of retaining control over the organization's operations. Meanwhile, the semi-autonomous regional divisions enable flexibility in meeting market-specific consumer needs. 
Want to learn more about organizational structures and the role that they play within modern organizations? Here are some helpful blog resources that you can get started with:
Create this chart in Organimi! 
You can download the CSV file of Nike's org structure, import it into Organimi and start editing this chart right away! Here's how:
 From your dashboard, select Data Import.
 Click the CSV tile.

 Click 

+Upload Your File

.  

 

Select an Excel file from your device.

 In the 

Organization

 field, click the down arrow to select an organization.

Click Create a New Chart

Click 

Next and select: Organization Chart
Select the auto-build tool to automatically build your chart.
Voila!
Download CSV file:


nike (15.79 KB)
Build better org charts with
Organimi.
A powerful, cloud-based platform that helps you create, connect, and collaborate with your colleagues wherever they work.