Netflix's Organizational Structure
Create this exact chart in Organimi! Scroll below to see how. 
Introduction
Netflix is an American subscription streaming service and production company based in California. Founded on August 29, 1997, by Reed Hastings and Marc Randolph.
Initially founded as a company that sold and rented DVDs by mail, it's now exclusively a streaming service that offers a film and television series library through distribution deals as well as its own productions, known as Netflix Originals, such as the true crime documentary Tiger King and the biographic crime drama series Dahmer.
Netflix is available worldwide except in Mainland China, Syria, Russia, and North Korea. As of September 2022, Netflix has more than 222 million subscribers worldwide. This includes 73.3 million in the United States and Canada, 73.0 million in Europe, the Middle East and Africa, 39.6 million in Latin America, and 34.8 million in the Asia-Pacific region. 
A member of the Motion Pictures Association, Netflix has played a massive role in independent film distribution. Recent independent successes include the South Korean survival drama television series Squid Game.
Netflix's Organizational Leadership
Today, Netflix is led by Reed Hastings, founder and co-CEO, and Ted Sarandos, co-CEO and chief content officer.
The two co-CEOs are supported by a wider team of 20 executives who are responsible for areas of the business including Global Film, Communications, Product, Latin American Content, and Global TV.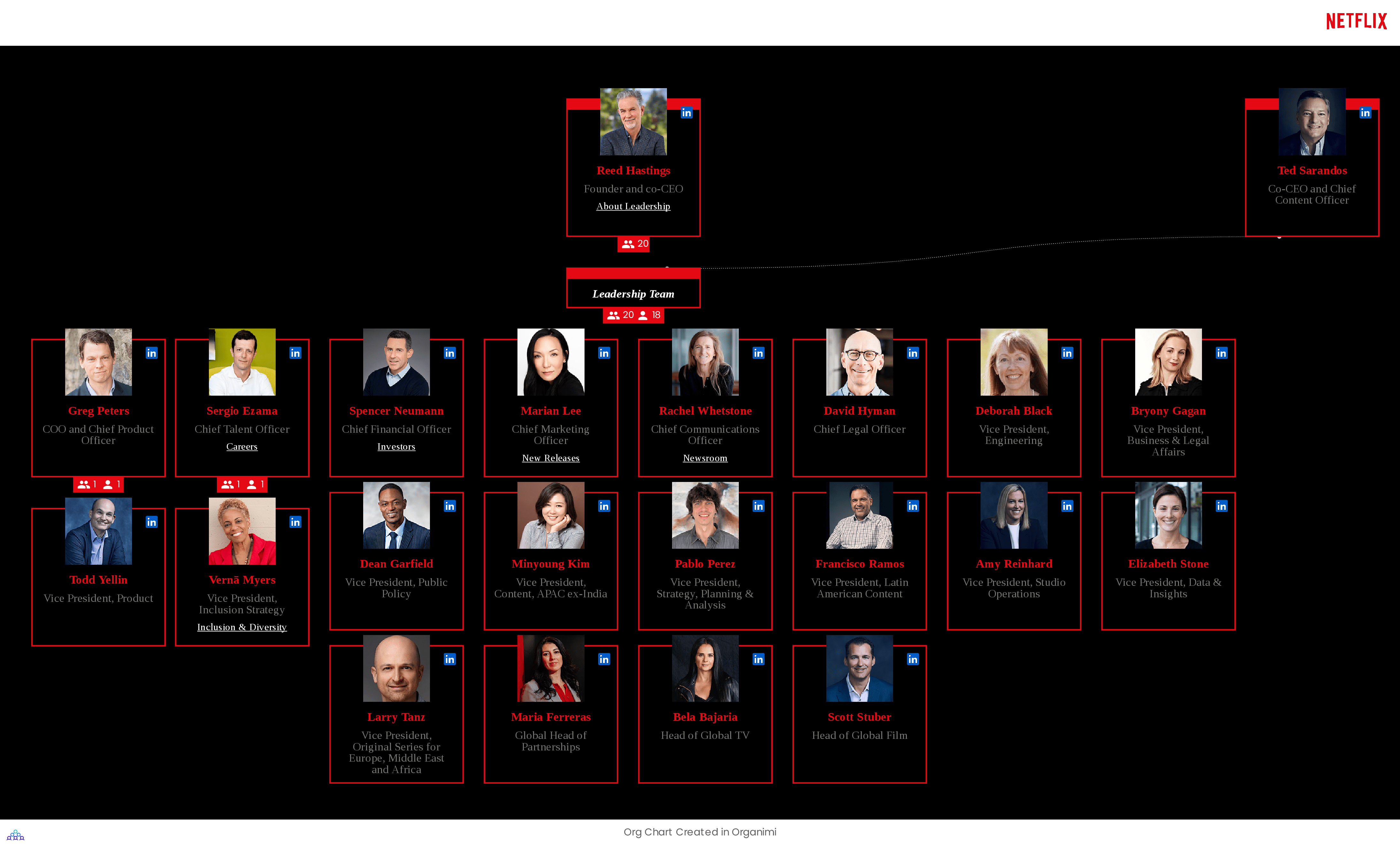 Netflix's Organizational Structure
Netflix's organizational structure has undergone several big changes over the years as its business model has evolved to meet current trends and the needs of its customers. 
One of the biggest organizational changes took place in 2007 when Netflix introduced streaming to its traditional DVD rental model. In just three-to-four years, streaming became its primary business focus. 
Despite its size, however, Netflix doesn't operate with a traditional hierarchical or divisional structure like many large organizations with global operations. Instead, Netflix operates with what is known as a unitary, or 'U-form', structure that, while involving a hierarchy for maintaining executive control, is relatively flat. 
For instance, in Netflix's org chart which you can see above, all the main leaders and executives report directly to the CEO level. This structural design cuts down on the layers of management, meaning there are fewer management levels needed to escalate issues from the online company's bottom line to its organizational headquarters.
Other characteristics of Netflix's org structure include:
Functional groups for online and non-online operations (e.g., Human Resources)

Geographical divisions for regional markets (i.e., LatAm Content) 

Divisions for various product types (e.g., Original Programming) 
Functional groups are based on business functions while geographical divisions enable strategic management specific to regional market characteristics and divisions for product and operations to represent the main outputs of Netflix's business model: its original programming and other content. 
One of the main benefits of a U-form structure is the degree of autonomy it gives employees. This is reflected in the fact that Netflix grants all employees extremely broad discretion with respect to business decisions, expenses, and vacations. 
In return, however, the company expects consistently high performance, and the high degree of autonomy is balanced by what is known as the "keeper test." All supervisors are expected to constantly ask themselves if they would fight to keep an employee. If the answer is no, then it is time to let that employee go. It sounds tough but it's fair, and it has helped Netflix to grow into a company that dominates the global streaming market.
Want to learn more about organizational structures and the role that they play within modern organizations? Here are some helpful blog resources that you can get started with:
Create this chart in Organimi! 
You can download the CSV file of Netflix's org structure, import it into Organimi and start editing this chart right away! Here's how:
 From your dashboard, select Data Import.
 Click the CSV tile.

 Click 

+Upload Your File

.  

 

Select an Excel file from your device.

 In the 

Organization

 field, click the down arrow to select an organization.

Click Create a New Chart

Click 

Next and select: Organization Chart
Select the auto-build tool to automatically build your chart.
Voila!
Download CSV file:


netflix (22.67 KB)
Build better org charts with
Organimi.
A powerful, cloud-based platform that helps you create, connect, and collaborate with your colleagues wherever they work.