Nestlé's Organizational Structure
Create this exact chart in Organimi! Scroll below to see how. 
Introduction
Nestlé is a Swiss multinational food and drinks processing corporation. It is the largest publicly held food company in the world and has been since 2014. In 2017, it ranked 64th on the Fortune Global 500 and 33rd in the 2016 edition of the Forbes Global 2000 list of largest public companies. Overall, Nestlé operates over 400 factories across 189 countries and employs almost 350,000 people globally. 
The company was formed in 1905 by the merger of the "Anglo-Swiss Milk Company" which was established in 1866 by brothers George and Charles Page, and "Farine Lactée Henri Nestlé" founded in 1867. The company grew significantly during World War I and again following World War II, growing its offerings beyond condensed milk and infant formula products.
Today, some of Nestlé's products include baby food, medical food, breakfast cereals, coffee, tea, bottled water, confectionery, dairy products, pet foods, ice cream, and snacks. 29 of the company's subsidiary brands report annual sales in excess of US$1 billion, including Kit Kat, Nespresso, Vittel, Maggi, and Smarties. Nestlé is also one of the main shareholders of L'Oreal, which is the world's largest cosmetics company. 
Nestlé's Organizational Leadership
Nestlé, like most organizations of its size and global reach, has a Board of Directors. The Board is responsible for managing the overall business and is currently led by Chairman Paul Bulcke, who is the company's former CEO.
The day-to-day operations of the Nestlé business is overseen by the company's Executive Board. Members of the Executive Board manage diverse parts of the global Nestlé business and occupy C-level and executive vice president position such as operations, human resources, finance, and technology.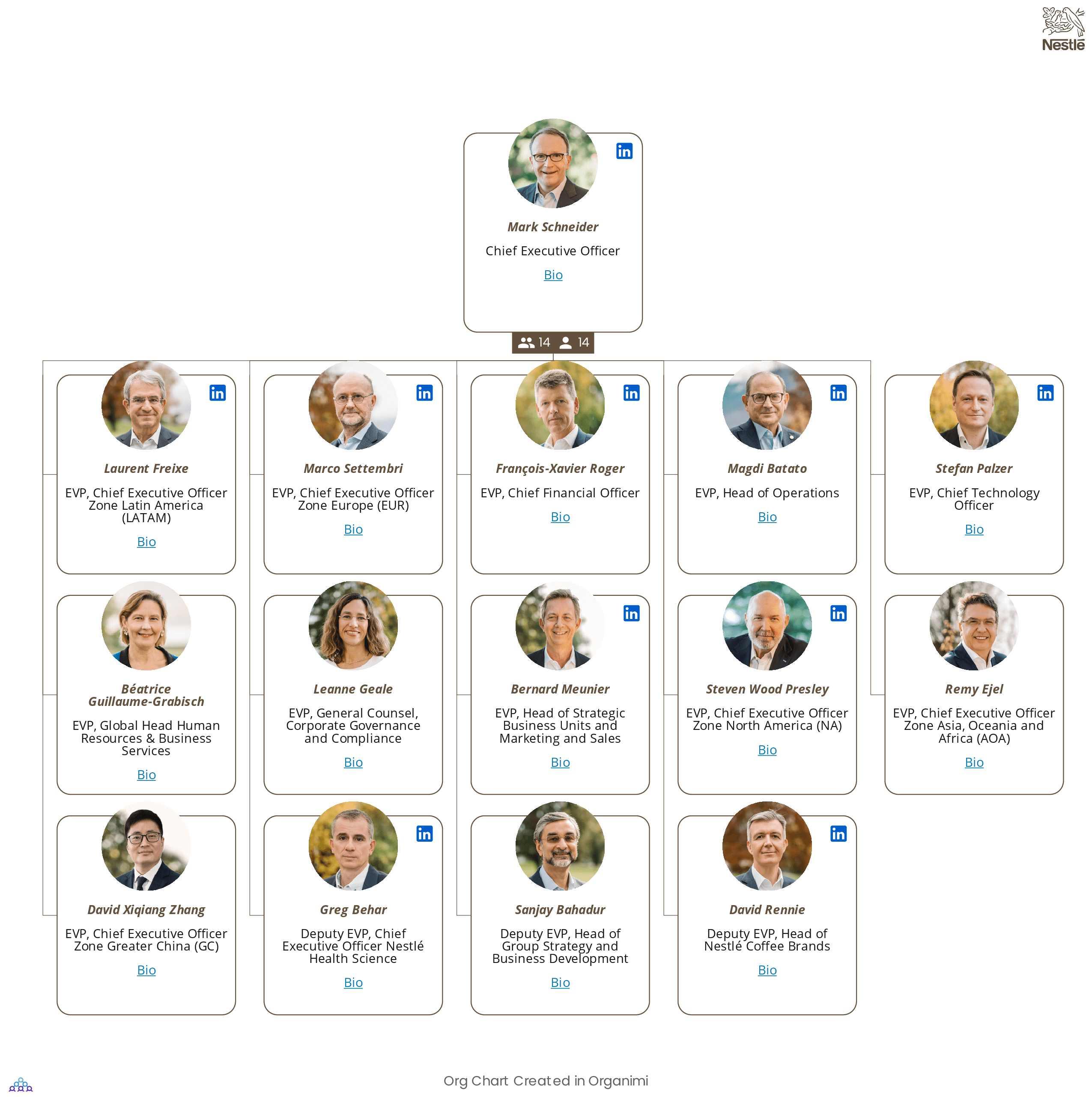 Nestlé's Organizational Structure
For a long time, Nestlé operated with a complicated, decentralized matrix structure organizational structure which permitted a high level of autonomy and independence within its subsidiary brands and companies. 
In October 2021, however, the company underwent a major restructure and was reorganized into five new geographical zones to manage its global business. According to an official press release, these are:
Zone North America, which is comprised of the United States, the Group's largest market, and Canada. Together they represent CHF 24.7 billion in annual sales.

Zone Latin America (LATAM) includes Brazil and Mexico, which are among Nestlé's leading markets by sales. Zone LATAM also includes the Caribbean region and represents CHF 9.2 billion in annual sales. 

Zone Europe (EUR) continues to develop its category-focused operating model, which has led to broad-based market share gains. With CHF 17.7 billion in annual sales, Zone Europe continues to show strong momentum and innovation capabilities. 

Zone Asia, Oceania, and Africa (AOA), which now includes the Middle East and North Africa (MENA) Region. Zone AOA represents CHF 17.5 billion in annual sales. 

Zone Greater China (GC) is one of the fastest-moving food and beverage markets in the world and offers significant growth potential for Nestlé. Zone GC represents CHF 5.7 billion in annual sales.
Most of the company's food and beverage operations are organized according to these zones, with the exception of its globally managed businesses, which include Nespresso and Nestlé Health Science. 
According to Nestlé, the motivation behind this reorg was to help the company sharpen its geographic focus to drive growth everywhere it has operations. By focusing almost exclusively on geographic zones and organizing various business units under them, Nestlé is able to move closer to its customers and consumers and become more agile in a fast-moving environment. 
Want to learn more about organizational structures and the role that they play within modern organizations? Here are some helpful blog resources that you can get started with:
Create this chart in Organimi! 
You can download the CSV file of Nestlé's org structure, import it into Organimi and start editing this chart right away! Here's how:
 From your dashboard, select Data Import.
 Click the CSV tile.

 Click 

+Upload Your File

.  

 

Select an Excel file from your device.

 In the 

Organization

 field, click the down arrow to select an organization.

Click Create a New Chart

Click 

Next and select: Organization Chart
Select the auto-build tool to automatically build your chart.
Voila!
Download CSV file:


Nestle (29.08 KB)
Build better org charts with
Organimi.
A powerful, cloud-based platform that helps you create, connect, and collaborate with your colleagues wherever they work.