Mondelez International's Organizational Structure
Create this exact chart in Organimi! Scroll below to see how. 
Introduction
Mondelez International is a multinational food and beverage company known for its iconic brands. It was founded on October 1, 2012, following a split from the Kraft Foods conglomerate which itself was founded in 1923. The company's global headquarters are located in Deerfield, Illinois. 
Mondelez is famous for its wide range of popular snack and confectionery brands, including Oreo, Cadbury, Toblerone, and Ritz, among many others. In 2021, Mondelez ranked 108 in the 2021 Fortune 500 list of the largest corporations in the United States by total revenue and had a workforce of 79,000. 
In recent years, Mondelez has dedicated itself to promoting sustainability, including responsible sourcing of cocoa and efforts to reduce its environmental impact. Additionally, it has embraced a commitment to innovation, continually introducing new products and flavours to meet evolving consumer preferences. Please note that specific details about the company may have changed since my last update in 2021.
Mondelez's Management Team

Mondelez's Management Team is responsible for overseeing the organization's day-to-day operations and is led by a Chairman & CEO who is supported in his role by various C- and V-level executives who themselves lead functional and geographic areas. Together, they collaborate to implement the company's strategic objectives and help it meet its goals.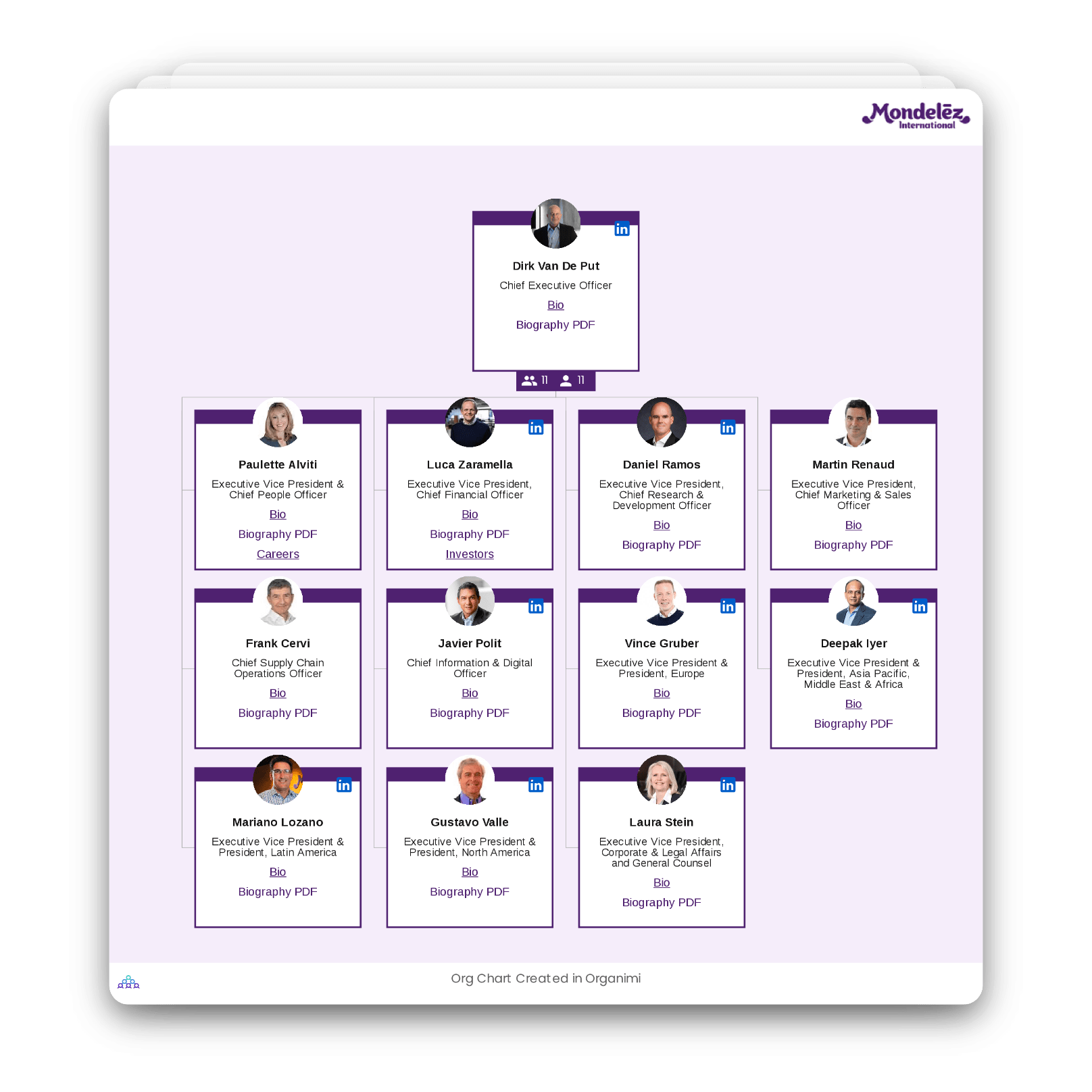 Mondelez also has a Board of Directors which provides strategic direction and guidance to the company's management team. They help shape the company's long-term vision and goals, ensuring that business strategies align with the best interests of shareholders and stakeholders.
As with many boards, the Mondelez Board largely holds an advisory role. However, some do have wide-reaching powers, duties, and responsibilities as stipulated by corporate law and government regulations, particularly in heavily regulated industries such as finance and pharma.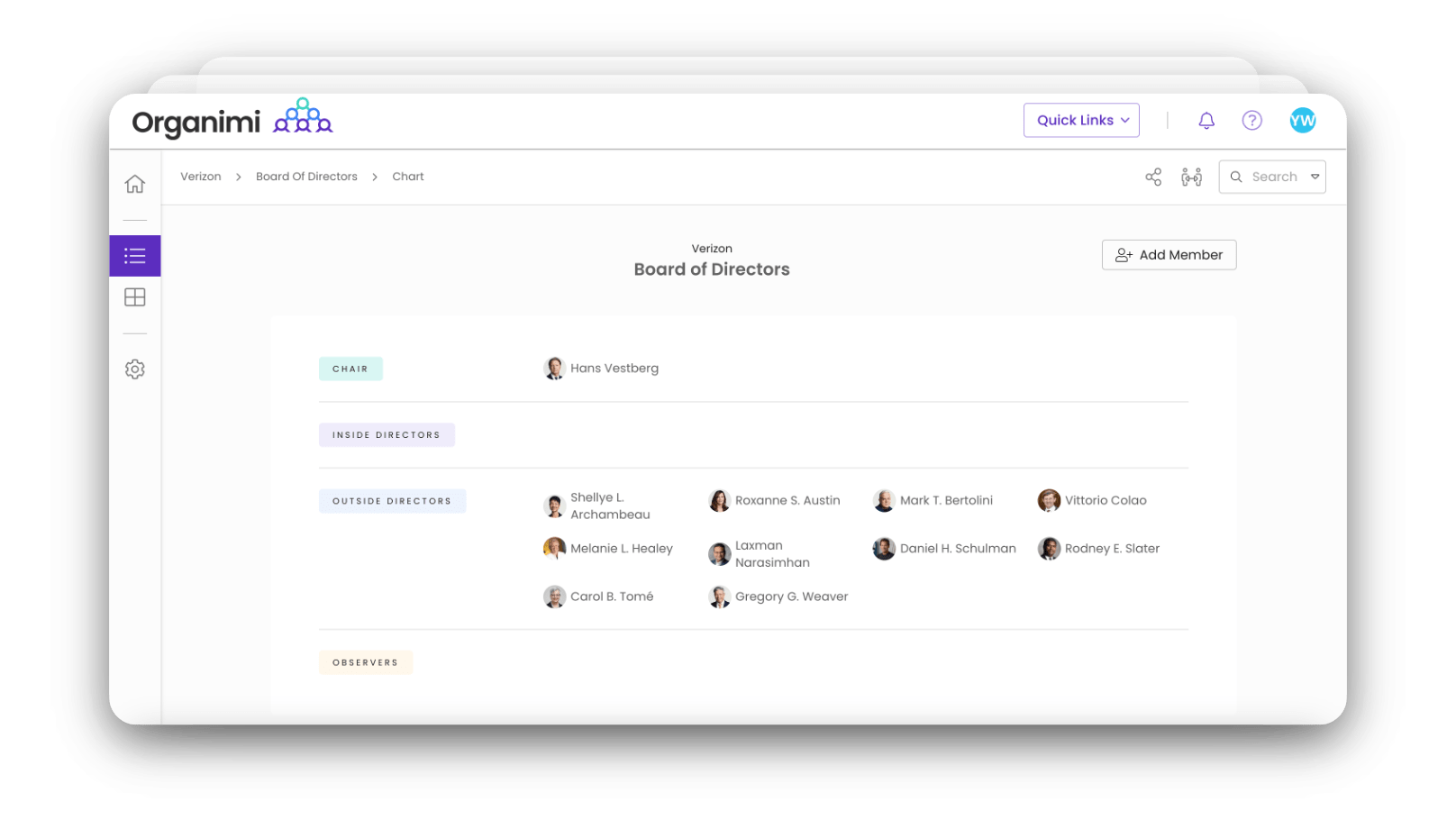 Mondelez's Organizational Structure

Mondelez appears to operate with what is known as a hierarchical organizational structure through the way its top Management Team is structured; each member of this team is generally responsible for a broad operational area of the business, such as Supply Chain and People, rather than more niche functions or product groups. 
In a hierarchical org, there are several levels of management, with each level positioned above the one below it. It's akin to a pyramid, with the top level having the highest authority and making the most significant decisions, while lower levels have decreasing levels of authority and responsibility.
A hierarchical org can typically be broken down into the following four areas:
1. Top-Level Leadership: At the very top of the hierarchy is the highest authority figure, typically the CEO or president. This leader makes strategic decisions for the entire organization and sets the company's overall direction.
2. Middle Management: Beneath the top-level leadership, you have various layers of middle managers who oversee specific departments, functions, or geographic regions. They translate the top-level decisions into actionable plans and supervise the employees within their areas of responsibility.
3. Frontline Supervisors: Below middle management, you have frontline supervisors who directly manage teams of employees. They ensure that the day-to-day tasks are completed efficiently and that employees are following company policies and procedures.
4. Employees: At the bottom of the hierarchy are the employees who carry out the tasks and responsibilities of their roles. They report to frontline supervisors and ultimately to the top-level leadership.
Mondelez also has divisions based on geographic regions: Europe, AMEA, Latin America, and North America. Regional divisions help organizations adapt their strategies and products to suit the specific needs and preferences of each market.
Want to learn more about hierarchical and other organizational structures and their role in the business world? Here are some helpful blog resources that you can get started with:
Create this chart in Organimi! 
You can download the CSV file of Mondelez International's org structure, import it into Organimi and start editing this chart right away! Here's how:
 From your dashboard, select Data Import.
 Click the CSV tile.

 Click 

+Upload Your File

.  

 

Select an Excel file from your device.

 In the 

Organization

 field, click the down arrow to select an organization.

Click Create a New Chart

Click 

Next and select: Organization Chart
Select the auto-build tool to automatically build your chart.
Voila!
Download CSV file:


Mondelez International (3.91 KB)
Build better org charts with
Organimi.
A powerful, cloud-based platform that helps you create, connect, and collaborate with your colleagues wherever they work.