McDonald's Organizational Structure
Create this exact chart in Organimi! Scroll below to see how. 
Introduction
McDonald's needs no introduction. Founded by Richard and Maurice McDonald in 1940, it's the global fast food leader and largest restaurant chain by revenue, serving more than 69 million customers each day through more than 40,000 outlets across more than 100 countries. 
Initially founded as a restaurant, the two founding brothers later reorchestrated the business as a hamburger stand, later turning it into a franchise. The prominent 'Golden Arches' logo was introduced in 1953 and then in 1955, businessman Ray Kroc joined the company and proceeded to purchase the chain from the McDonald brothers. 
Although McDonald's feeds more than 69 million people daily, the majority of the McDonald's Corporation revenues come from the rent, royalties, and fees paid by restaurant franchisees alongside sales in non-franchise, company-owned restaurants. Today, McDonald's is the world's second-largest private employer with 1.7 million employees (second to Walmart with more than 2.3 million employees) and has the ninth-highest global brand valuation.
McDonald's Organizational Leadership
McDonald's is led by a relatively large team of executives who are split into three areas: Corporate, Regional, and Functional. We will explore the reason for this in more detail later. 
The current President and CEO, and the de facto head of the company, is Chris Kempczinski, who served as the CEO of McDonald's USA before becoming CEO of the parent company, McDonald's Corporation. 
Chris is supported in his role by a wider team of executives who head up roles like Marketing, Supply Chain, and Strategic Initiatives, look after regional operations like the USA and International Developed Licensed (IDL) Markets, and functions like Compliance and Sustainability.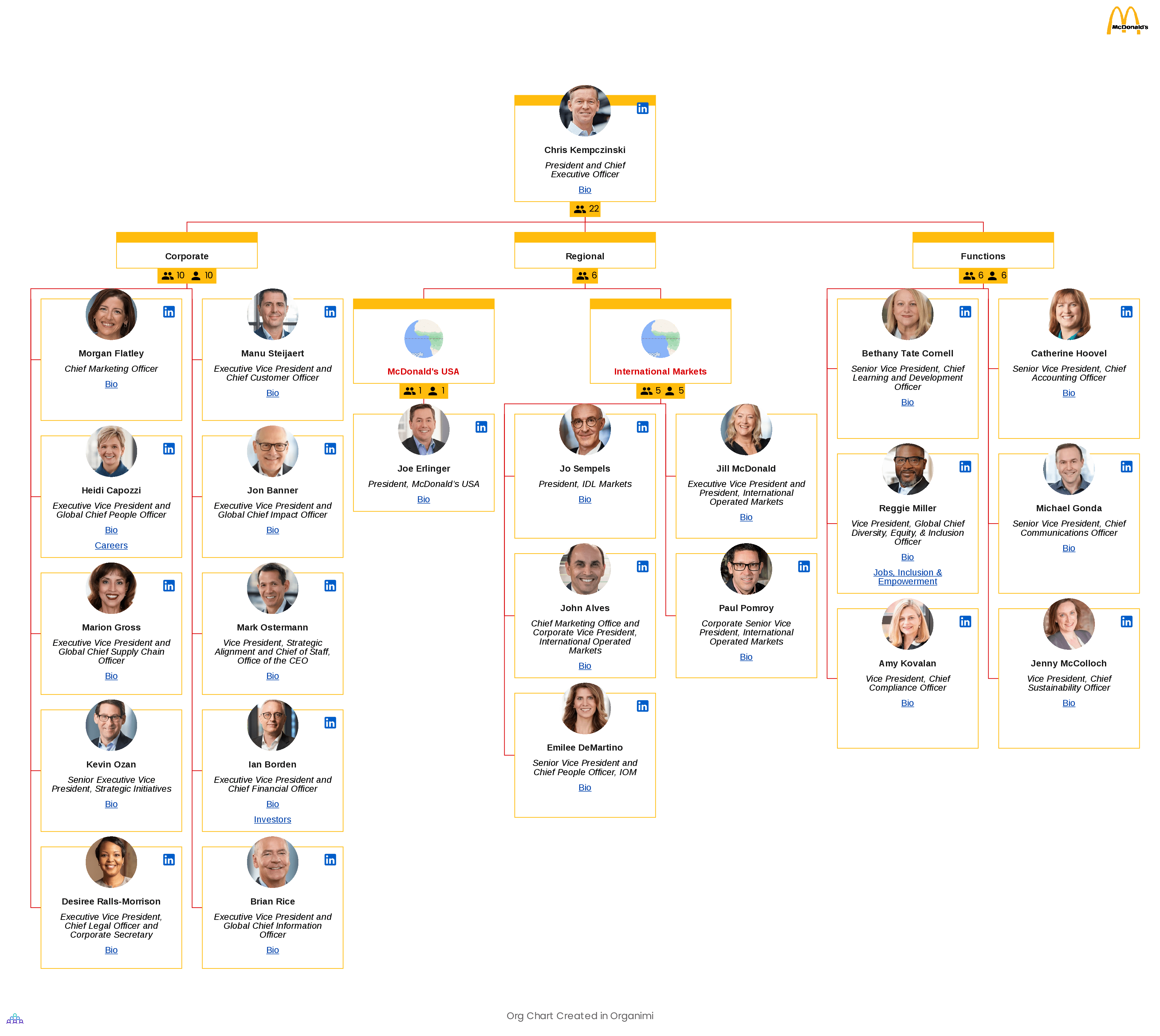 McDonald's Organizational Structure
McDonald's Corporation's organizational structure has been developed over time for the effective management and efficient handling of the company's vast global operations.
The fast food giant's divisional organizational structure defines the organizational design and system through which organizational components communicate and coordinate with one another to achieve key business objectives. It is split into three key areas:
A global hierarchy (Corporate)

Regionally focused groups  

Functional groups
1. Global hierarchy
McDonald's has an overarching global hierarchy for all of its operations which fall under the umbrella of the McDonald's Corporation. This feature of the divisional organizational structure emphasizes corporate control in the context of managerial control. 
For instance, the CEO of the McDonald's Corporation directs and guides the activities of all business areas through the authority of the Corporation. 
Through this Corporate structure, strategic decisions, directives, and instructions are passed down the chain of command from the CEO to the leaders of other business groups, upper and middle managers within those groups, and eventually to both the restaurant managers and personnel in company-owned restaurants and also to the operators of franchises. 
2. Regionally focused groups
The Regional groups represent one of the most distinctive features of the McDonald's Corporation's divisional structure. Currently, there are three divisions:
United States of America (38% of revenues in 2021)

International Operated Markets (53% of revenues in 2021)

International Developed Licensed Markets (9% of revenues in 2021)
The United States of America group consists of restaurants operating in the United States. 
The International Operated Markets (IOM) group represents the company's five largest wholly owned international markets and the IOM Business Unit, which consists of the remaining wholly owned international markets. 
The International Developed Licensed (IDL) Markets group represents remaining restaurants across 80 markets where McDonald's has licensed franchising rights to strategic partners. 
This area of the business has been reorganized several times over the years. Prior to 2015, the regionally focused groups were based on their physical location then following a reorganization in 2015, restaurants were grouped according to their performance. A more recent reorganization resulted in a trimmed-down version consisting of the above three: USA, IOM, and IDL. 
3. Functional groups
Finally, the McDonald's Corporation's divisional structure includes functional groups. These include Learning and Development, Communications, Compliance, and Sustainability. 
Each functional group in the McDonald's org structure falls under the leadership of a corporate executive or senior manager. These groups enable McDonald's to better address essential business functions, such as the management of human resources, the driving of sustainability initiatives, and the reinforcement of McDonald's Corporation's organizational culture.
Want to learn more about organizational structures and the role that they play within modern organizations? Here are some helpful blog resources that you can get started with:
Create this chart in Organimi! 
You can download the CSV file of McDonald's org structure, import it into Organimi and start editing this chart right away! Here's how:
 From your dashboard, select Data Import.
 Click the CSV tile.

 Click 

+Upload Your File

.  

 

Select an Excel file from your device.

 In the 

Organization

 field, click the down arrow to select an organization.

Click Create a New Chart

Click 

Next and select: Organization Chart
Select the auto-build tool to automatically build your chart.
Voila!
Download CSV file:


mcdonalds (46.13 KB)
Build better org charts with
Organimi.
A powerful, cloud-based platform that helps you create, connect, and collaborate with your colleagues wherever they work.