Marriott's Organizational Structure
Create this exact chart in Organimi! Scroll below to see how. 
Introduction
Marriott is an international chain of full-service hotels and resorts based in Maryland, United States. As of June 2020, the company operates 582 hotels and resorts with 205,053 rooms across various brands and has a further 160 hotels in development, which will add a further 47,765 rooms to its existing portfolio. 
The company was founded in 1957 with the opening of a 'Quality Inn' airport motel near Washington D.C. and another nearby a few years later. With the opening of its second location, Marriott was born as the brand's name. By 1999, there were over 360 Marriott Hotels & Resorts in 47 countries, and in November 2010, Marriott Hotels & Resorts announced the opening of what is said was their 500th property, the Pune Marriott Hotel & Convention Centre in India. 
North America is Marriott's largest operating market which as of 2021, includes 240 properties and 132,791 rooms, 42 of which are in California and 28 in Florida. In 2022, the company made international headlines following a massive data breach whereby 20GB of customer data was stolen.
Marriott's Organizational Leadership
Marriott's day-to-day operations are led by what it calls the Global Operating Committee, a team of high-level executives who are tasked with leadership and oversight of specific elements of the global Marriott business. 
This team is led by Marriott's President and Chief Executive Officer who is reported to by no less than 21 C-level executives, presidents, and EVPs who hold both functional and geographic managerial functions.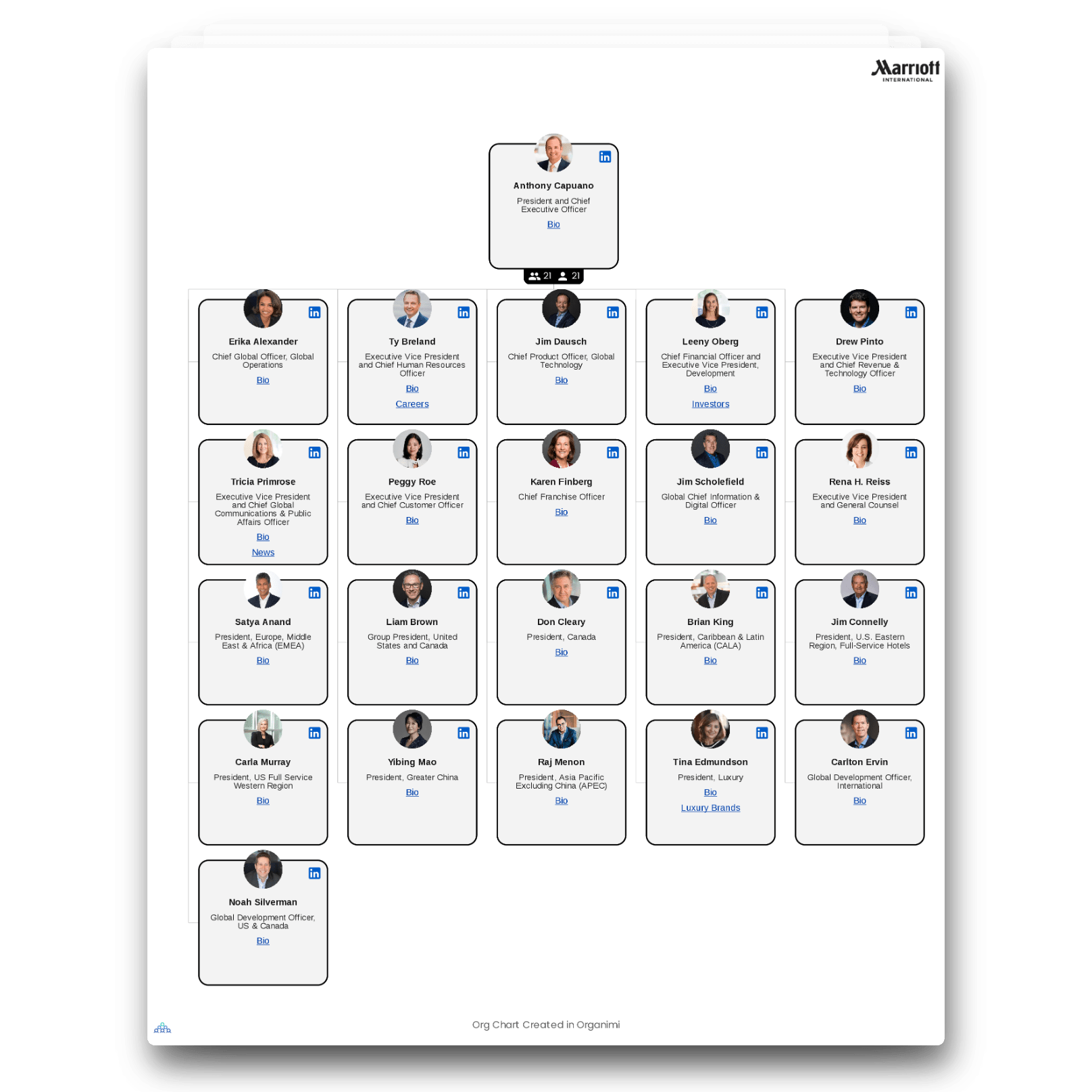 Marriott is also overseen by a board of directors, which is the governing body of the company. The board is elected by stockholders, with members often selected for their expertise in a particular area or their industry connections. 
As with many boards, Marriott's board largely holds an advisory role, but some do have wide-reaching powers, duties, and responsibilities as stipulated by corporate law and government regulations, particularly in heavily regulated industries such as finance and pharma.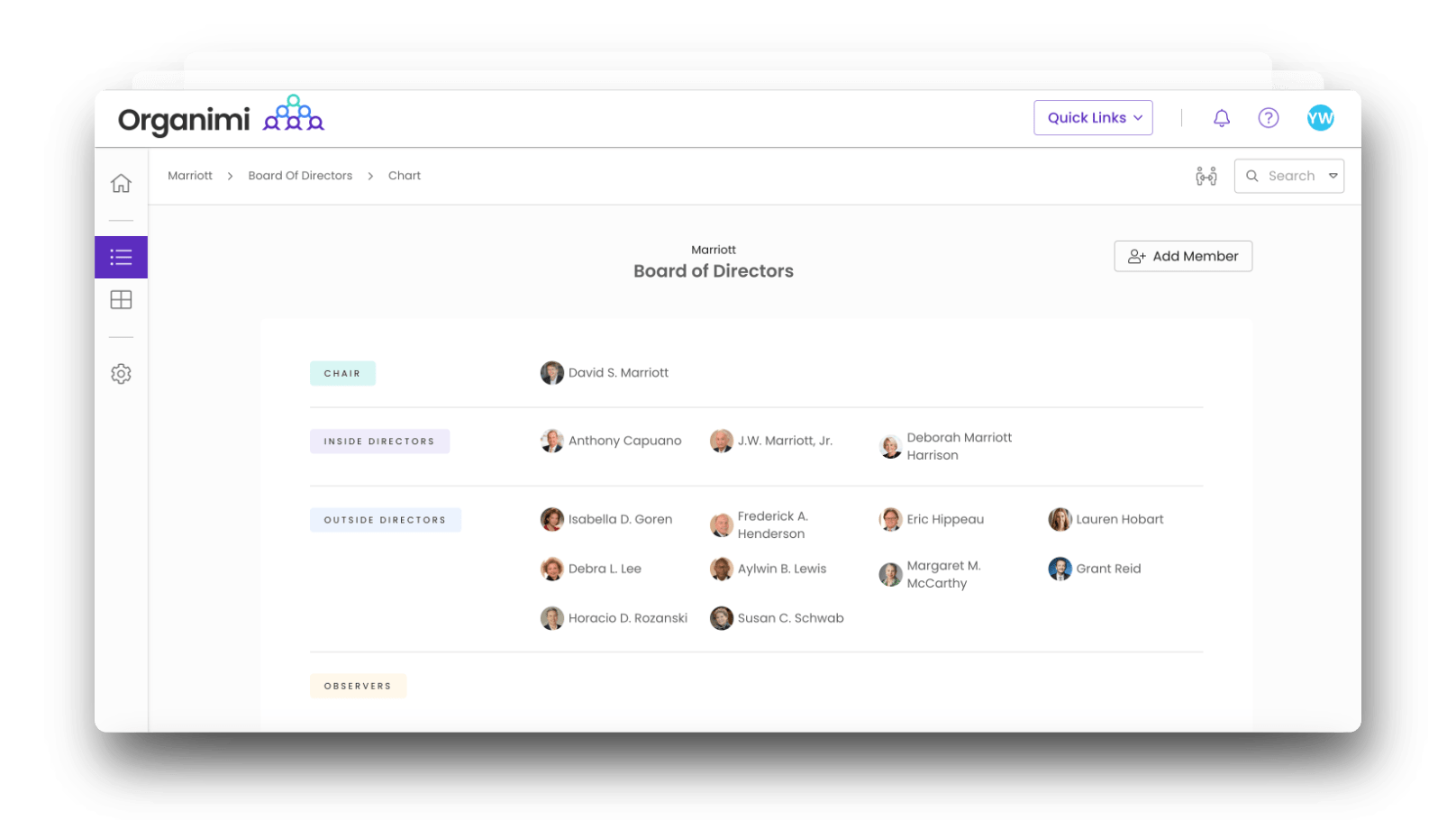 Marriott's Organizational Structure
Marriott operates with elements of both a matrix and functional organizational structure with geographic elements. 
The company uses a matrix structure through the combination of functional and divisional configurations in its matrix form due to the existence of various levels of authority both horizontally and vertically. This form enables Marriott to achieve aspects of both global uniformity and local diversification and responsiveness where it's necessary to conform to the needs of the local market. 
Marriott's matrix structure works with having regional executives in control of regions—for example, Greater China, Caribbean & Latin America, and Asia Pacific, among others—and each region having a functional division with each individual property managing its own functional structure internally. 
With this matrix and functional structure, each of Marriott's brands, locations, and properties can focus on adapting to the needs of different markets across the world with relative independence and freedom. 
Would you like to learn more about organizational structures and the role that they play today? Here are some helpful blog resources that you can get started with:
Create this chart in Organimi! 
You can download the CSV file of Marriott's org structure, import it into Organimi and start editing this chart right away! Here's how:
 From your dashboard, select Data Import.
 Click the CSV tile.

 Click 

+Upload Your File

.  

 

Select an Excel file from your device.

 In the 

Organization

 field, click the down arrow to select an organization.

Click Create a New Chart

Click 

Next and select: Organization Chart
Select the auto-build tool to automatically build your chart.
Voila!
Download CSV file:


Marriott (5.37 KB)
Build better org charts with
Organimi.
A powerful, cloud-based platform that helps you create, connect, and collaborate with your colleagues wherever they work.