L'Oréal

's Organizational Structure

Create this exact chart in Organimi! Scroll below to see how. 
Introduction
L'Oréal is a French personal care company and the world's largest cosmetics company. Founded in 1909, it has developed various activities in the cosmetics space that focus on hair color, skincare, sun protection, make-up, and hair care. 
L'Oréal currently markets over 500 brands and thousands of individual products and as of October 2021, has registered 497 patents and employs more than 85,000 people worldwide. The company also owns interests in various activities such as fine chemicals, health, finance, design, advertising, and insurance.
L'Oréal's Organizational Leadership
L'Oréal's organizational leadership team, known as the Executive Committee, is responsible for managing the Group's various activities in line with the strategic guidelines set out by the Board of Directors. Its members are in charge of operational divisions corporate functions and geographical regions on a global basis.
The Executive Committee is led by the Chief Executive Officer who is supported by 18 individuals who have responsibility and oversight in areas such as marketing, finance, and HR. The Executive Committee also includes the Presidents of the company's four brand divisions—Consumer Products; L'Oréal Luxe; Professional Products; and Active Cosmetics—and its geographic zone: Europe; Latin America; South Asia Pacific, Middle East, and North Africa; and North Asia.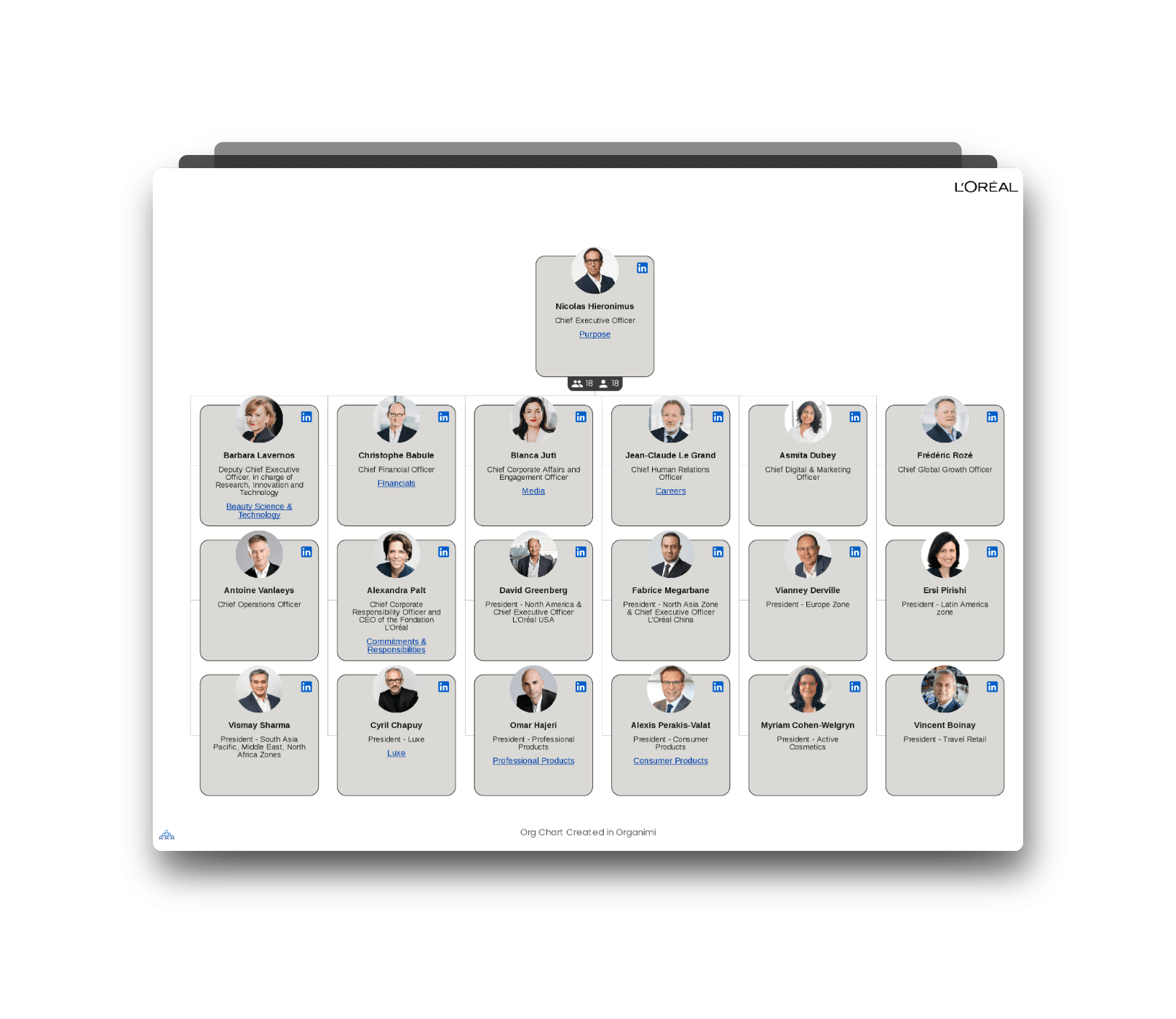 L'Oréal also has a Board of Directors, which is the governing body of the organization elected by stockholders. Board members in large organizations are often selected for their expertise in a particular area or their industry connections. 
As with many boards, L'Oréal's board largely holds an advisory role, but some do have wide-reaching powers, duties, and responsibilities as stipulated by corporate law and government regulations, particularly in heavily regulated industries such as finance and pharma. 
The composition of the Board of Directors reflects L'Oréal's unique shareholding structure and guarantees the interests of all its shareholders. The Board of Directors consists of 16 members:
the Chairman of the Board of Directors,

the Chief Executive Officer,

3 Directors from the Bettencourt Meyers family,

2 Directors from the Nestlé company,

7 independent Directors,

2 Directors representing the employees.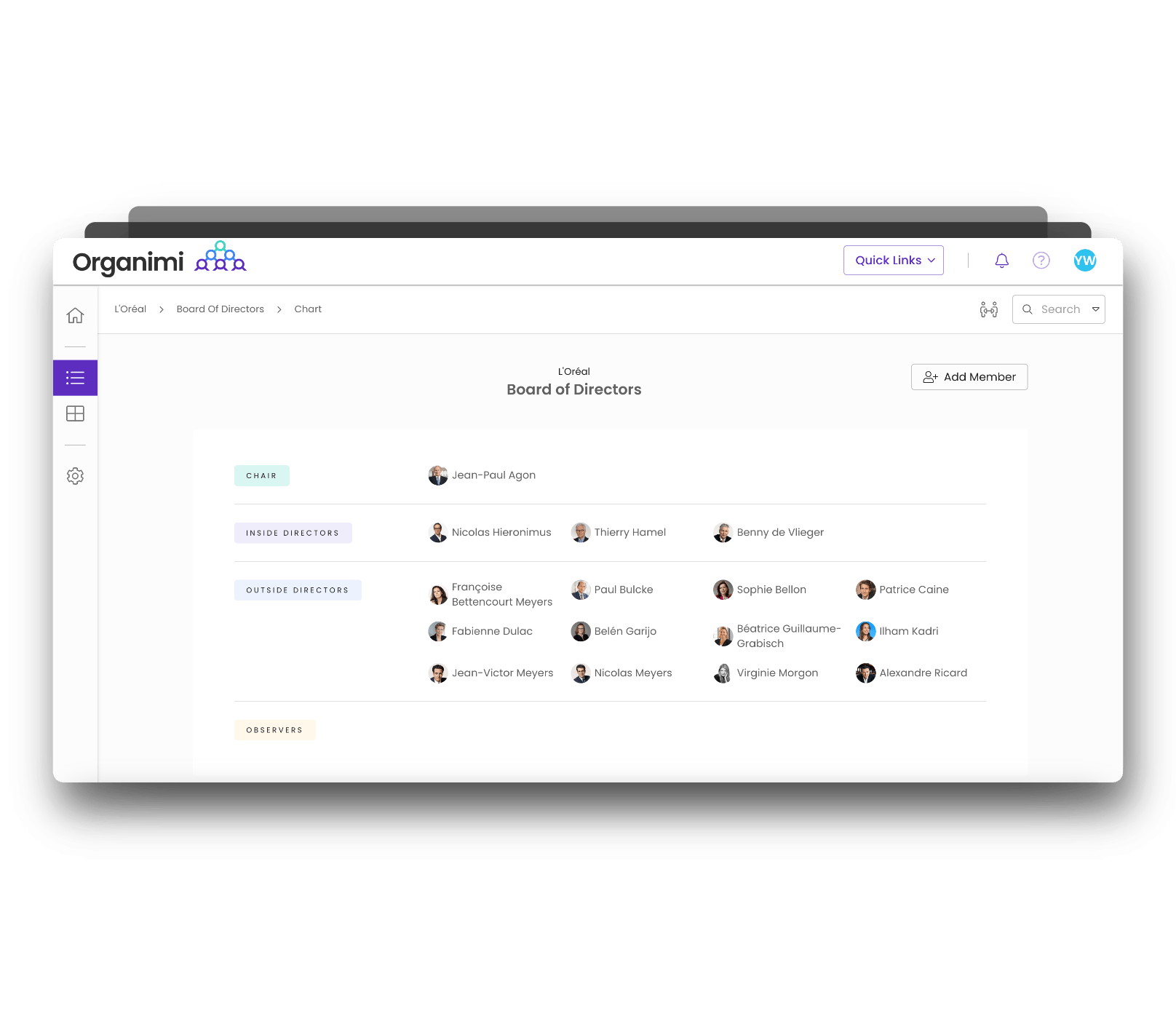 L'Oréal's Organizational Structure
While many organizations opt to operate with a hierarchical or functional organizational structure, L'Oréal has devised its own: Universalization. According to L'Oréal, this means "globalization that captures, understands, and respects differences… to offer tailor-made beauty, and meet the aspirations of consumers in every part of the world." 
L'Oréal's structure places an emphasis on having a truly global presence through operations that are strategically concentrated yet decentralized. This is achieved through teams that are empowered and ensure that the L'Oréal brand is close and relevant to its consumers in every market. It's also achieved through products that are created and produced at a local level via L'Oréal's worldwide network of Research & Innovation and marketing hubs, one of which exists for each of the company's strategic markets: the United States, Japan, Brazil, China, India, and South Africa.
Want to learn more about organizational structures and the role that they play within modern organizations? Here are some helpful blog resources that you can get started with:
Create this chart in Organimi! 
You can download the CSV file of L'Oréal's org structure, import it into Organimi and start editing this chart right away! Here's how:
 From your dashboard, select Data Import.
 Click the CSV tile.

 Click 

+Upload Your File

.  

 

Select an Excel file from your device.

 In the 

Organization

 field, click the down arrow to select an organization.

Click Create a New Chart

Click 

Next and select: Organization Chart
Select the auto-build tool to automatically build your chart.
Voila!
Download CSV file:


L'Oreal (27.16 KB)
Build better org charts with
Organimi.
A powerful, cloud-based platform that helps you create, connect, and collaborate with your colleagues wherever they work.