JPMorgan Chase & Co's Organizational Structure
Create this exact chart in Organimi! Scroll below to see how. 
Introduction
JPMorgan Chase & Co. is an American multinational financial services company headquartered in New York City. It is the largest bank in the United States and, as of 2023, the world's largest bank by market capitalization.
As one of the 'Big Four' banks alongside Bank of America, Citigroup, and Wells Fargo, JPMorgan Chase is considered systemically important by the Financial Stability Board. The firm's history can be traced back to 1799, with the founding of the Chase Manhattan Company. JP Morgan & Co was founded in 1871 by J. P. Morgan, and the two firms merged in 2000 to create the diversified holding entity, JPMorgan Chase & Co. 
The company's private banking franchise and asset management division are among some of the largest in the world in terms of total assets. With some US$3.67 trillion in total assets, JPMorgan Chase is the world's fifth-largest banking institution, the world's largest investment bank by revenue, and occupies the 24th spot on the Fortune 500 list of the largest U.S. corporations by revenue.  
JPMorgan Chase & Co's Organizational Leadership
JPMorgan Chase is led by the Operating Committee, a group of senior executives who are responsible for setting the bank's strategy and direction, and for overseeing its day-to-day operations. 
The Operating Committee is chiefly responsible for making decisions that affect the bank as a whole, and for ensuring that its various subsidiaries, business units, and other functional groups are working together effectively to achieve its operational goals.
Serving as the link between the Board of Directors and the wider bank, the Operating Committee helps to ensure that the Board's decisions are acted on.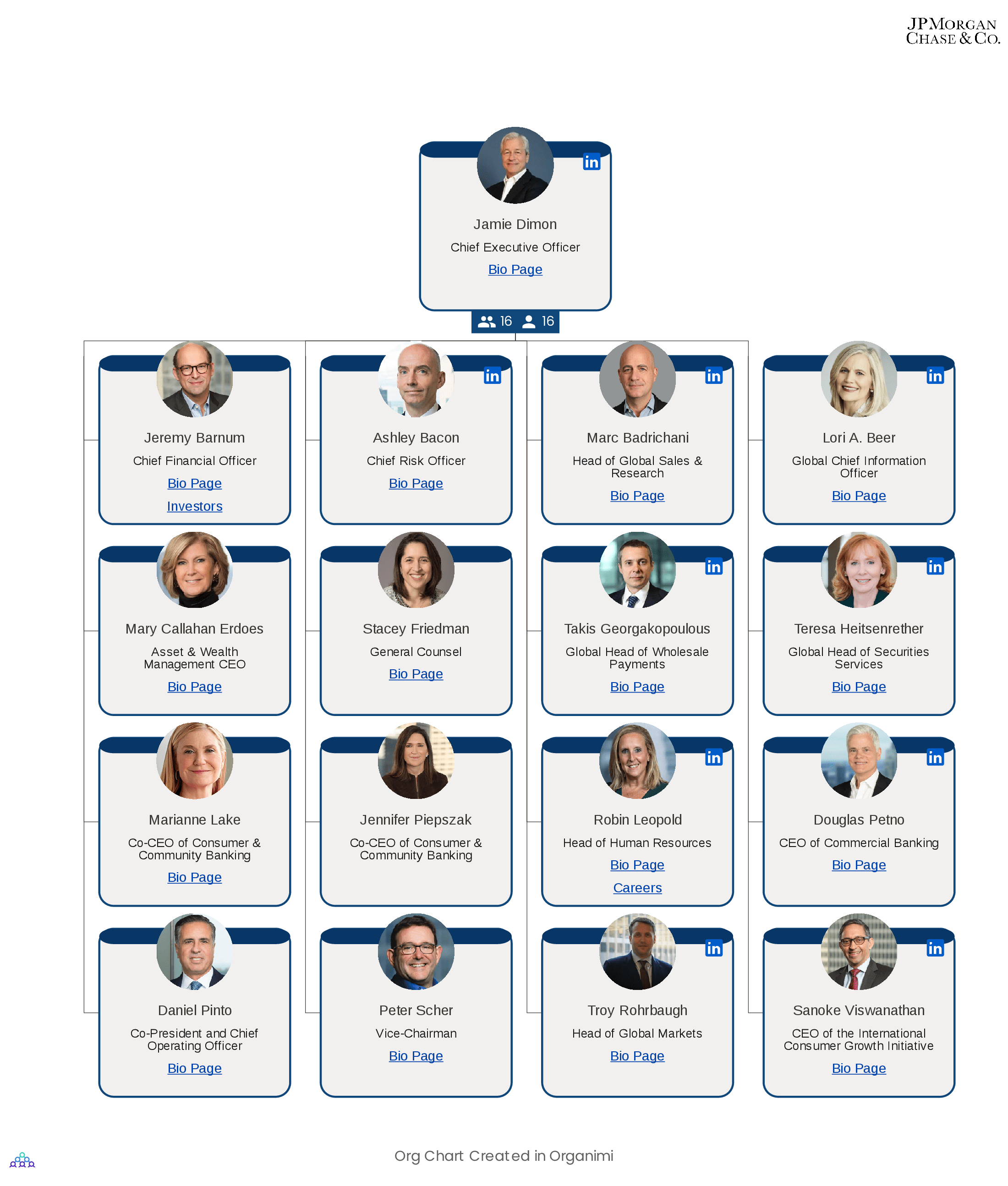 JPMorgan Chase's Board of Directors is the governing body of the bank that's elected by stockholders, with members often selected for their expertise in a particular area or their industry connections. 
As with many boards, the JPMorgan Chase Board of Directors typically holds an advisory role, but some do have wide-reaching powers, duties, and responsibilities as stipulated by corporate law and government regulations, particularly in heavily regulated industries such as finance and pharma. 
JPMorgan Chase's board sets the bank's strategy and oversees its implementation by the Operating Committee, with the goal of creating and delivering sustained shareholder value.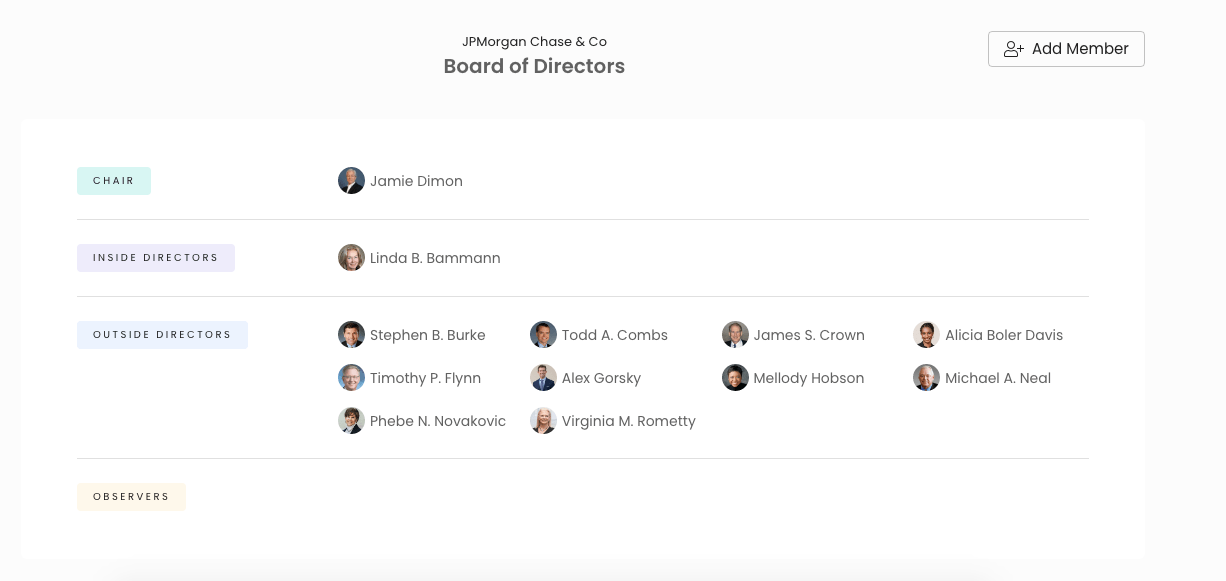 JPMorgan Chase & Co's Organizational Structure
JPMorgan Chase has a complex organizational structure owing to its various subsidiaries, of which there are several hundred. Many of these subsidiaries are nested inside one another, and in some cases, different subsidiaries own different parts of one another. 
This complicated structuring lends the bank many benefits, such as helping to lower its tax bills, enabling the bank to present differently to different regulators, and enabling it to shield safe parts of the business from other riskier areas. 
That said, the company is broadly segmented into four areas:
Asset & Wealth Management

Commercial Banking

Consumer & Community Banking

Corporate & Investment Banking
There are two additional non-banking segments: Corporate Functions and Technology. 
Each of the four JPMorgan Chase banking segments has its own co-CEO who sits on the Operating Committee and reports directly to the bank's ultimate CEO.  
Each division operates semi-independently and is ultimately responsible for its own activities. That said, they also work closely with functional departments such as Risk, Compliance, and HR, which provide support and expertise across the organization.
Want to learn more about organizational structures and the role that they play within modern organizations? Here are some helpful blog resources that you can get started with:
Create this chart in Organimi! 
You can download the CSV file of JPMorgan Chase & Co's org structure, import it into Organimi and start editing this chart right away! Here's how:
 From your dashboard, select Data Import.
 Click the CSV tile.

 Click 

+Upload Your File

.  

 

Select an Excel file from your device.

 In the 

Organization

 field, click the down arrow to select an organization.

Click Create a New Chart

Click 

Next and select: Organization Chart
Select the auto-build tool to automatically build your chart.
Voila!
Download CSV file:


JPMorgan (27.3 KB)
Build better org charts with
Organimi.
A powerful, cloud-based platform that helps you create, connect, and collaborate with your colleagues wherever they work.