Intel's Organizational Structure
Create this exact chart in Organimi! Scroll below to see how. 
Introduction
Intel is an American multinational corporation and technology company. It is one of the world's largest semiconductor chip manufacturers by revenue and is one of the foremost developers of the x86 series of instruction sets that are today in most PCs and laptops. 
Intel also supplies microprocessors for computer system manufacturers including Acer, HP, and Dell. The company also manufactures motherboard chipsets, flash memory, graphics chips, embedded processors, and other devices related to computing.
The company was founded in 1968 by semiconductor pioneers Gordon Moore, Robert Noyce, and Arthur Rock. Intel is often credited as being one of the main companies that led to the rise of Silicon Valley as a global high-tech center. In 2020, the company ranked 45th in the Fortune 500 list of the largest United States corporations by total revenue for nearly a decade, from the 2007 to 2016 fiscal years.
Intel's Organizational Leadership
Intel's executive leadership team consists of key executives who play critical roles in guiding the company's strategy, operations, and decision-making processes. The company is led by the Chief Executive Officer (CEO) who, at the time of writing, is Patrick Gelsinger, who has spent more than three decades with the technology giant.
The company's CEO is supported by a team of direct reports who occupy a variety of high-level roles and have responsibility for leading specific areas and departments within the organization. This team includes several C-level executives, executive vice presidents, and senior vice presidents leading functional areas of the organization such as Datacenter and AI, and Software and Advanced Technology.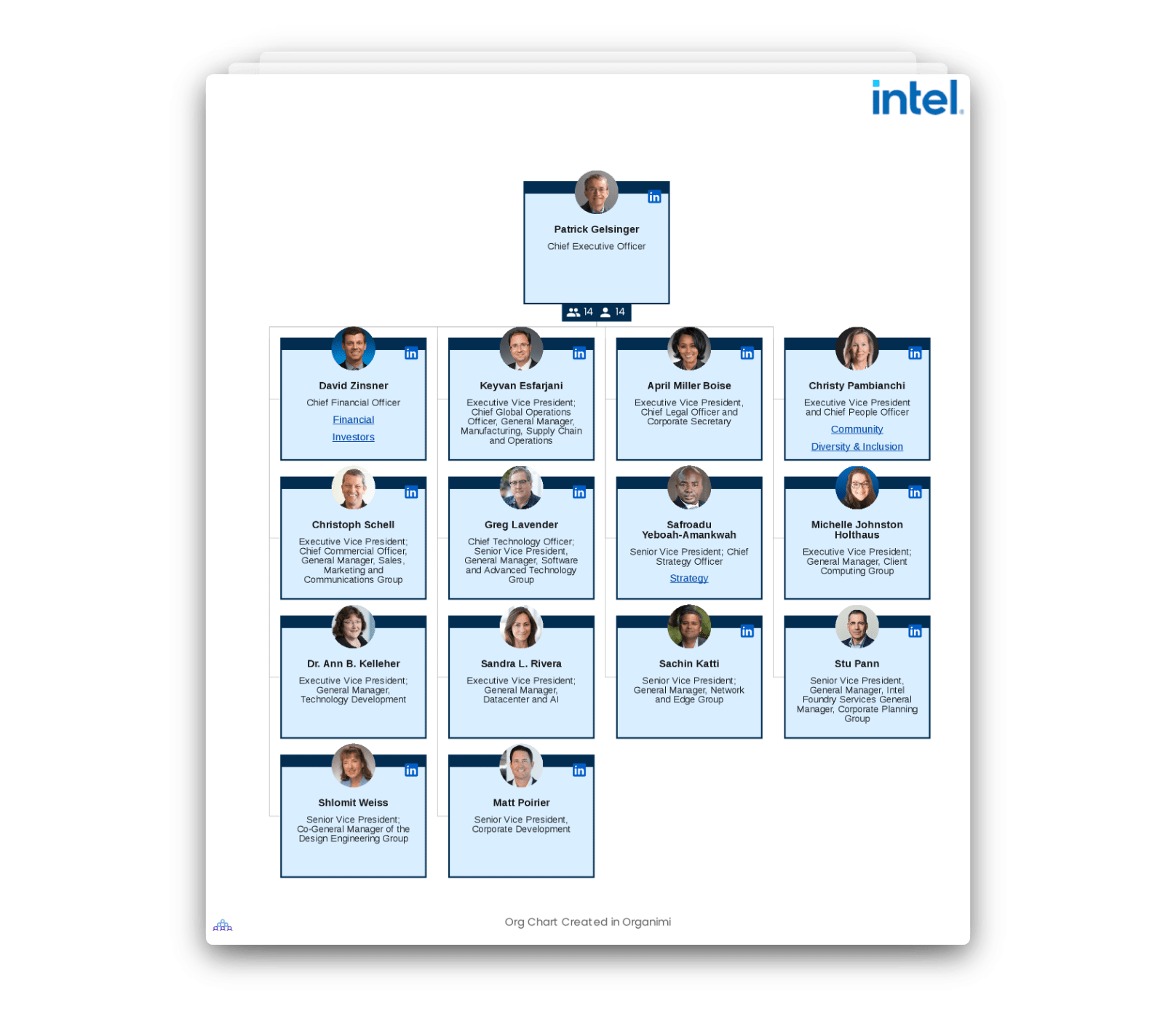 Intel is also overseen by a board of directors, which is the governing body of the company. The board is elected by stockholders, with members often selected for their expertise in a particular area or their industry connections. 
As with many boards, Intel's Board largely holds an advisory role, but some do have wide-reaching powers, duties, and responsibilities as stipulated by corporate law and government regulations, particularly in heavily regulated industries such as finance and pharma. 
Intel's board has several committees, to which the Board assigns responsibilities and delegates authority. These committees regularly report on their activities and actions to the full Board. The Board currently has five standing committees.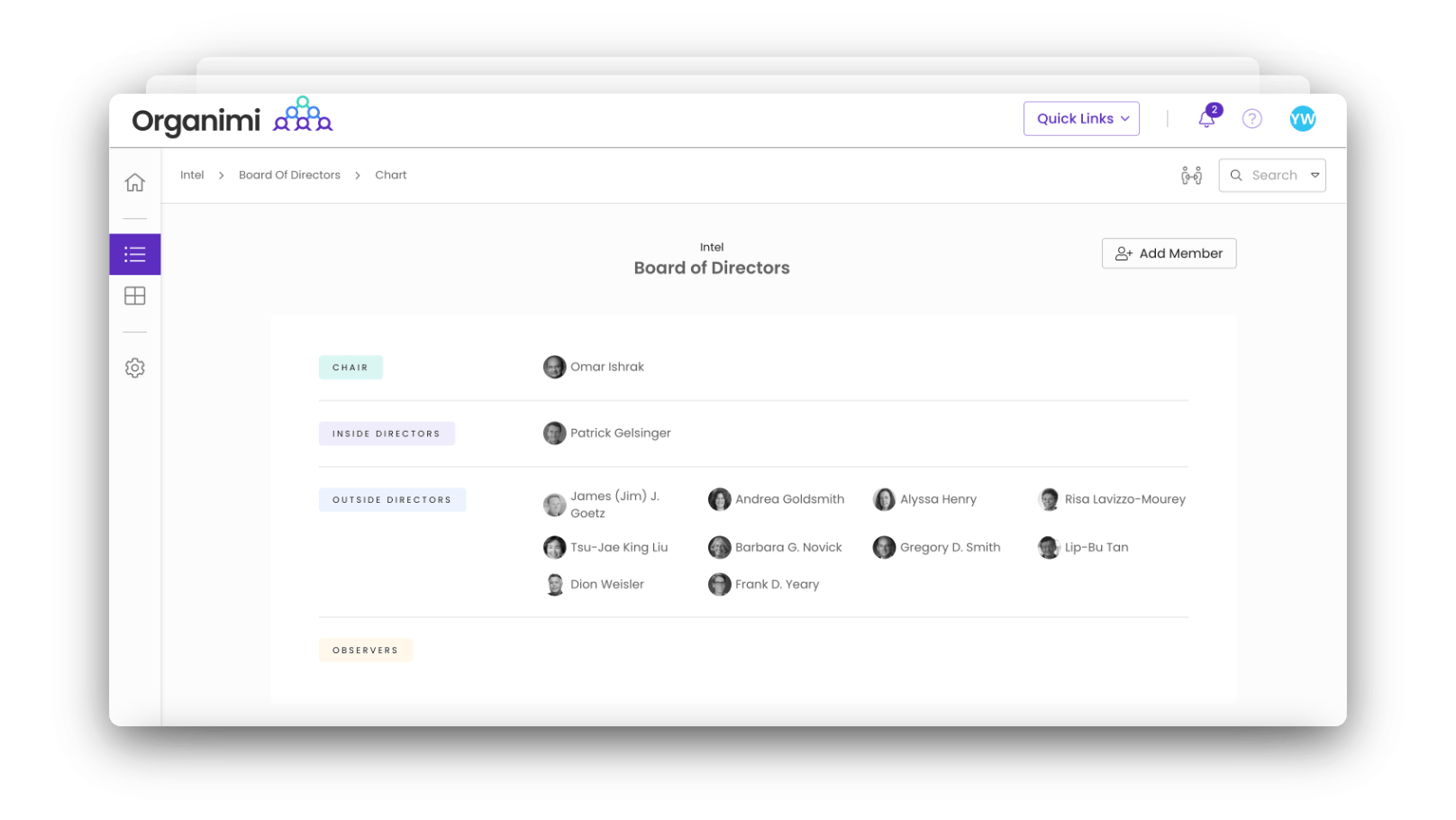 Intel's Organizational Structure
Intel Corporation operates with a hierarchical organizational structure that reflects its diverse business operations and global presence. This structure is designed to facilitate efficient communication, decision-making, and coordination within the organization.
Intel's executive leadership team sits at the top of this hierarchical structure. It plays a crucial role in formulating and executing Intel's strategies, managing operations, and leading key business functions.
Following the executive leadership team are the company's various business units and divisions based on product lines, markets, and customer segments. Each business unit is led by a senior executive who is responsible for driving the unit's performance, managing resources, and achieving business objectives. 
Within each business unit are multiple departments or functional areas that focus on specific tasks or functions. These can include engineering, research and development, manufacturing, marketing, sales, finance, and HR. Each department or functional area is typically led by a manager or director who reports to the respective business unit or division leader.
At the lower levels of Intel's hierarchical structure are individual teams who work within their respective departments or functional areas. These employees perform specific tasks, contribute to projects, and execute day-to-day activities that align with the broader objectives set by the higher levels of the organization. The size and structure of teams can vary depending on the nature and scope of the work being carried out.
Want to learn more about them and the role that they play today? Here are some helpful blog resources that you can get started with:
Create this chart in Organimi! 
You can download the CSV file of Intel's org structure, import it into Organimi and start editing this chart right away! Here's how:
 From your dashboard, select Data Import.
 Click the CSV tile.

 Click 

+Upload Your File

.  

 

Select an Excel file from your device.

 In the 

Organization

 field, click the down arrow to select an organization.

Click Create a New Chart

Click 

Next and select: Organization Chart
Select the auto-build tool to automatically build your chart.
Voila!
Download CSV file:


Intel (16.12 KB)
Build better org charts with
Organimi.
A powerful, cloud-based platform that helps you create, connect, and collaborate with your colleagues wherever they work.