IBM's Organizational Structure
Create this exact chart in Organimi! Scroll below to see how. 
Introduction
The International Business Machines Corporation, often referred to simply as IBM, is an American technology corporation that specializes in computer hardware, middleware, and software, and provides hosting and consulting services across a wide range of areas including mainframe computers and nanotechnology. 
Founded in 1911 as Computing-Tabulating-Recording Company in New York, it is today the largest industrial research organization in the world, with 19 research facilities across 12 countries, and held the record for the most annual U.S. patents generated by a business for 29 consecutive years between 1993 and 2021. 
IBM pioneered the multipurpose microcomputer in the 1980s and has been responsible for several technological innovations. These include the automated teller machine (ATM), dynamic random-access memory (DRAM), the floppy disk, the hard disk drive, the magnetic stripe card, and the UPC barcode. IBM was also a major player in the development of advanced computer chips, data infrastructure, and artificial intelligence. 
Among the world's largest employers with a workforce of over 297,000 in 2022, with an alumnus that includes six Nobel laureates and six recipients of the Turing Award, it is the world's seventh-largest technology company by revenue and 49th overall according to the 2022 Forbes Fortune 500 list.
IBM's Organizational Leadership
IBM is a huge organization, and its leadership team reflects this. A team of 22 SVPs and other key executives are collectively responsible for the overall success of the IBM business and have personal oversight of various areas of IBM's core business, such as Software, IBM Consulting, and Infrastructure. These individuals report directly to the company's Chairman and CEO, as is typical in large corporations.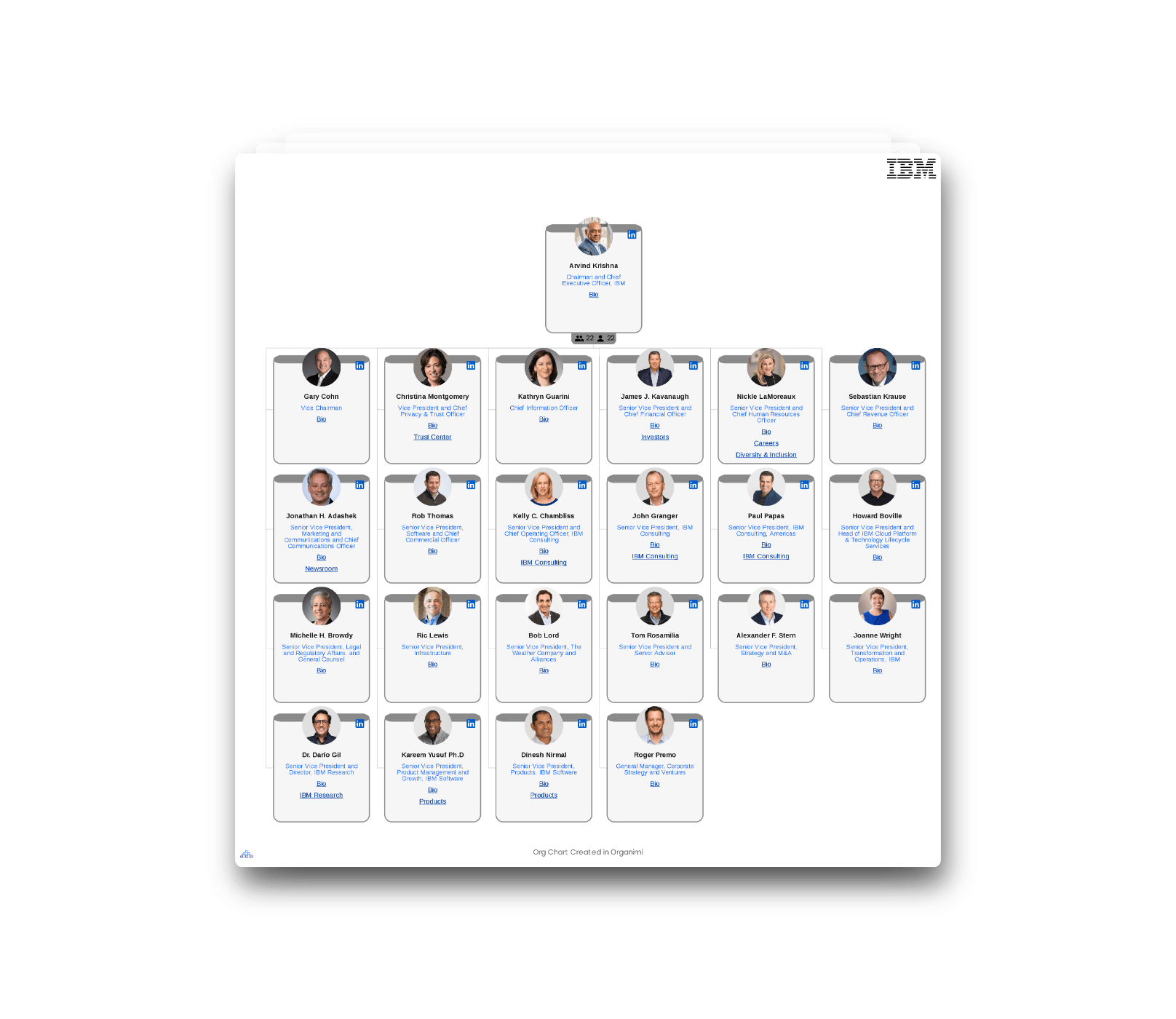 IBM also has a Board of Directors, which is the governing body of the organization elected by stockholders. Board members in large organizations are often selected for their expertise in a particular area or their industry connections, and IBM's status as a research organization means that some board members have extensive backgrounds in academia. 
As with many boards, IBM's board largely holds an advisory role, but some do have wide-reaching powers, duties, and responsibilities as stipulated by corporate law and government regulations, particularly in heavily regulated industries such as finance and pharma. 
An organization can also elect to give its board supervisory powers and oversight through its own constitution and by-laws.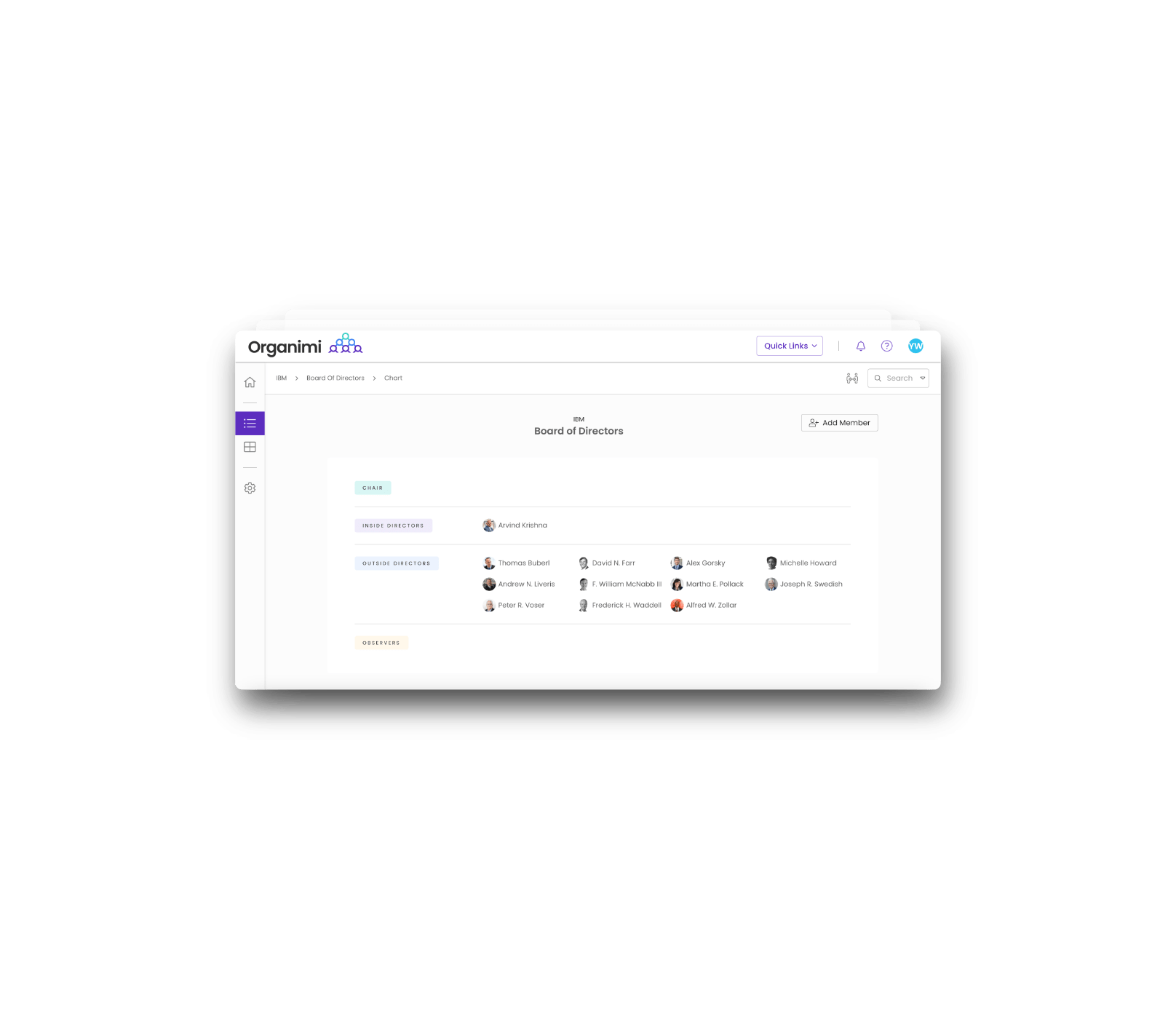 IBM's Organizational Structure
IBM is known to operate with what is known as a product-type divisional organizational structure. In this type of structure, the business processes involved in managing the development, production, distribution, and sale of products are heavily represented. This type of structure enables IBM to support strategies and tactics that enable competitive products and is fundamental to enabling the technology giant to dominate the market in key product areas. Within IBM's product-type divisional structure are various product-type, function-based, and geographical divisions that support the core business offerings, key functions, and main regional markets of the business. 
IBM's product-type divisions represent IBM's core offerings and include Technology Services & Cloud Platforms, Systems, and Global Business Services. Function-based divisions focus on key functions that provide organization-wide support for each of the product-type divisions and include Global Markets and Research, Development, and Intellectual Property. Finally, IBM's geographic divisions manage the unique and location-specific needs of different regional markets such as Asia Pacific.
Want to learn more about organizational structures and the role that they play within modern organizations? Here are some helpful blog resources that you can get started with:
Create this chart in Organimi! 
You can download the CSV file of IBM's org structure, import it into Organimi and start editing this chart right away! Here's how:
 From your dashboard, select Data Import.
 Click the CSV tile.

 Click 

+Upload Your File

.  

 

Select an Excel file from your device.

 In the 

Organization

 field, click the down arrow to select an organization.

Click Create a New Chart

Click 

Next and select: Organization Chart
Select the auto-build tool to automatically build your chart.
Voila!
Download CSV file:


IBM (6.27 KB)
Build better org charts with
Organimi.
A powerful, cloud-based platform that helps you create, connect, and collaborate with your colleagues wherever they work.