Hyatt Hotels' Organizational Structure
Create this exact chart in Organimi! Scroll below to see how. 
Introduction
Hyatt Hotels Corporation is a renowned global hospitality company founded on September 27, 1957. With its headquarters in Chicago, Illinois, Hyatt operates a diverse portfolio of hotels and resorts in over 60 countries, offering luxury, upscale, and select-service accommodations. The company was founded with the purchase of the Hyatt House at Los Angeles International Airport in 1957 and by 1969, the company began expanding internationally. 
Hyatt has primarily grown by developing new properties and through acquisitions, with the biggest growth coming from the acquisition of AmeriSuites in 2004. Today, Hyatt operates more than 1,350 hotels and properties across 69 countries and employs more than 189,000 people.
In recent years, Hyatt has dedicated itself to sustainability and responsible business practices and has initiated numerous eco-friendly programs and community engagement efforts, including the 2020 Global Care & Cleanliness Commitment in response to the COVID-19 pandemic, showcasing its dedication to guest safety and well-being.
Hyatt's Management Team
Hyatt's Management Team is responsible for overseeing the company's day-to-day operations. It is led by the President and CEO who is supported in his role by various C-level executives who oversee functional areas of the business, such as Finance, HR, Operations, and geographic areas including the Americas and Asia Pacific. 
Hyatt also has a Board of Directors which is responsible for overseeing corporate governance, ensuring that the company adheres to legal and regulatory requirements, ethical standards, and best practices in corporate governance.
As with many boards, the Hyatt Board largely holds an advisory role. However, some do have wide-reaching powers, duties, and responsibilities as stipulated by corporate law and government regulations, particularly in heavily regulated industries such as finance and pharma.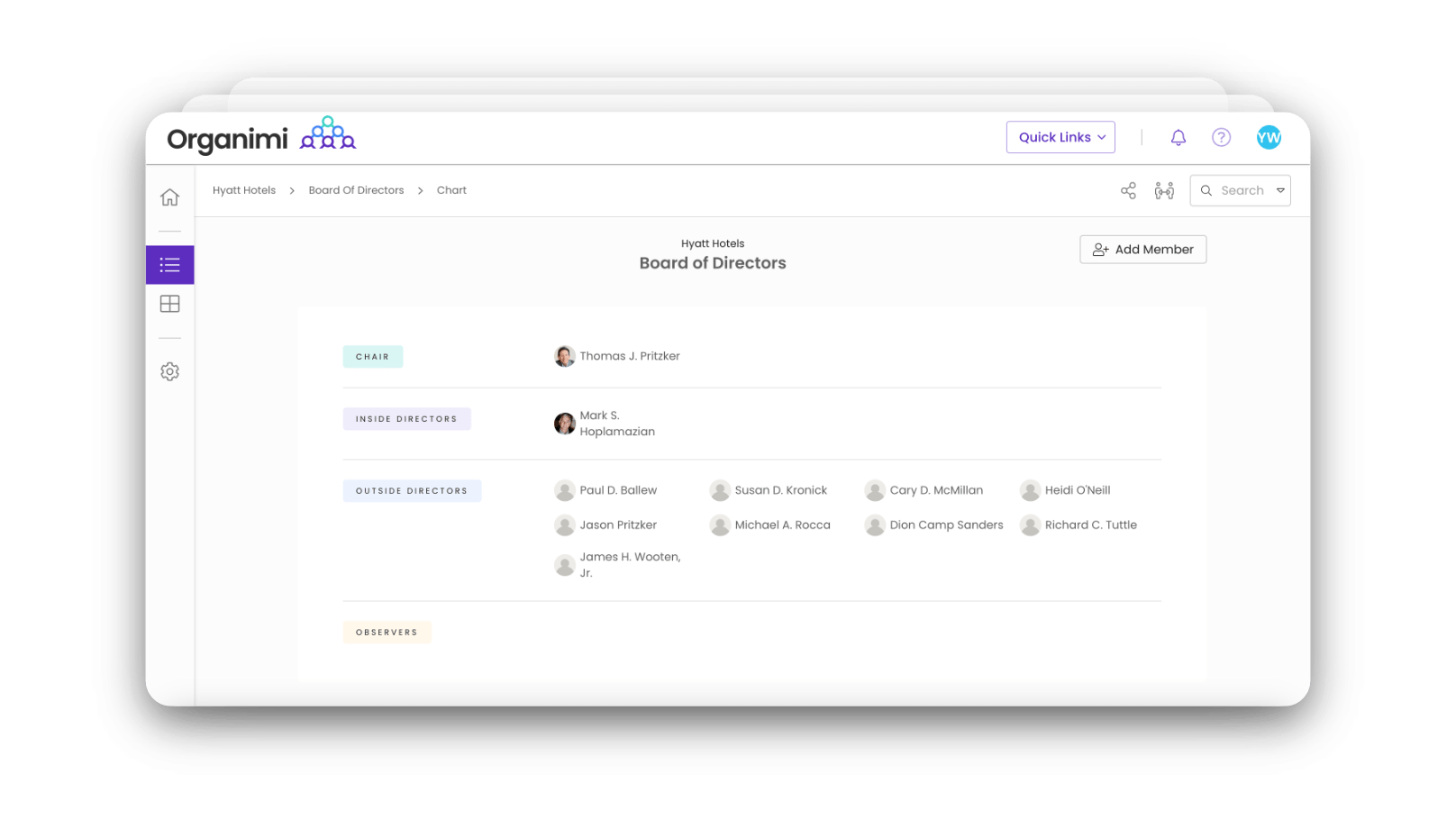 Hyatt's Organizational Structure
Hyatt Hotels Corporation operates with a hybrid organizational structure that combines elements of both a functional and a divisional structure. This structure allows the company to efficiently manage its diverse range of hotels and services while also maintaining clear lines of responsibility and accountability. 
At the corporate level, Hyatt employs a functional organizational structure. Various corporate functions, such as finance, marketing, human resources, legal, and operations, are organized into departments. Each department is responsible for specific tasks, functions, and areas of expertise.
Within the divisional component, Hyatt's hotels and resorts are often organized by brand or geographic region. For example, Hyatt has distinct business units for each of its constituent brands including Alila, Grand Hyatt, Hyatt Regency, and more. Each brand unit operates as a semi-autonomous unit, with its leadership overseeing the daily operations in the area. Hyatt is also geographically split into three areas: Americas, Asia Pacific, and Europe, Middle East, and Africa (EMEA), enabling employees to focus their efforts in those regions on catering to the unique wants and needs of customers within those geographic segments. 
Want to learn more about hierarchical and other organizational structures and their role in the business world? Here are some helpful blog resources that you can get started with:
Create this chart in Organimi! 
You can download the CSV file of Hyatt Hotels' org structure, import it into Organimi and start editing this chart right away! Here's how:
 From your dashboard, select Data Import.
 Click the CSV tile.

 Click 

+Upload Your File

.  

 

Select an Excel file from your device.

 In the 

Organization

 field, click the down arrow to select an organization.

Click Create a New Chart

Click 

Next and select: Organization Chart
Select the auto-build tool to automatically build your chart.
Voila!
Download CSV file:


Hyatt Hotels (10.46 KB)
Build better org charts with
Organimi.
A powerful, cloud-based platform that helps you create, connect, and collaborate with your colleagues wherever they work.