HSBC's Organizational Structure
Create this exact chart in Organimi! Scroll below to see how. 
Introduction
HSBC is a British multinational universal bank and financial services company. It is Europe's largest bank by total assets, with US$2.953 trillion held as of December 2021. The bank also has US$10.8 trillion assets under custody and US$4.9 trillion assets under administration. 
Although HSBC can be traced back to British Hong Kong, its current form was established in London by the Hongkong Shanghai Banking Corporation to act as a new holding company in 1991. The Hongkong and Shanghai Banking Corporation opened branches in Shanghai in 1865 and was formally incorporated a year later in 1866. 
Today, HSBC has offices in over 60 countries across Africa, Asia, Oceania, Europe, North America, and South America and serves more than 40 million customers. As of 2020, HSBC was the world's sixth largest bank by total assets and market capitalization and the world's 40th-largest public company according to Forbes. 
HSBC's Executive Committee
HSBC's day-to-day operations are overseen by the Group Executive Committee which works to support the Group Chief Executive. 
The Committee is a team of senior C-level executives—also including several Co-CEOs for the Group's three key business groups and regional banking operations (i.e., UK, Asia-Pacific)—who are responsible for overseeing the Group's strategies and oversee different areas of the business.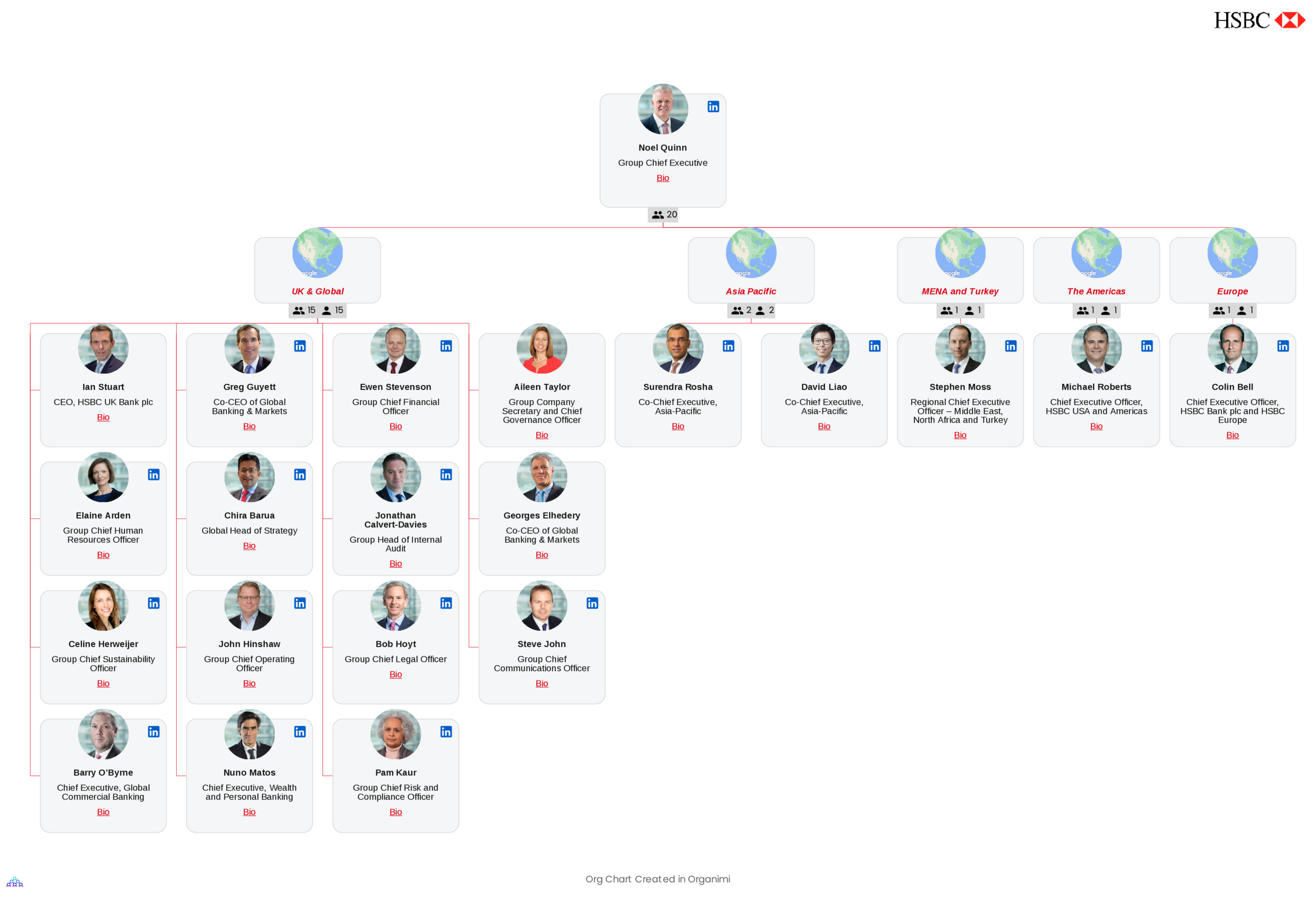 HSBC's Organizational Structure
HSBC is organized into three business groups: Commercial Banking, Global Banking and Markets, and Wealth and Personal Banking. In 2020, it was announced that the bank's Retail Banking & Wealth Management arm would be consolidated with Global Private Banking to form a single Wealth & Personal Banking division.
Then in 2021, it was reported that HSBC was preparing to revamp its entire senior management structure as part of a streamlining drive to move away from the hierarchical structure that had been implemented for decades.
This reportedly came as a result of senior managers at the bank identifying its existing management system as complicated and inconsistent when compared with its peers. The bank's top four brands were combined into three, with HSBC saying in an email statement to news agencies that "… we are creating a simpler leadership framework ensuring clarity on scope and accountability to help accelerate our transformation and drive growth."
Today, HSBC operates with a matrix structure. The Group is organized firstly according to its global businesses and global support functions. After this comes the Group's legal entity structure, which is composed of a worldwide network of locally-incorporated subsidiary companies to provide oversight at individual country and regional levels. Each of these subsidiaries has its own board and management structure that reflects its operations. 
To support accountability and information flow, there are seven subsidiaries that are responsible for the Group companies in their own region, which in turn are accountable to the board of HSBC Holdings plc, the Group's parent company. 
Matrix organizational structures are most often used by organizations that have large and inherently complex operations. In these organizations, reporting relationships are set up as a grid (or matrix) rather than the traditional linear hierarchy where everything flows from bottom to top. This helps foster open communication and the free-flowing of knowledge and information through an organization because it encourages more widespread involvement in projects and "ownership" of work. It also helps to break down barriers between teams and support a more dynamic working environment. 
Want to learn more about organizational structures and the role that they play within modern organizations? Here are some helpful blog resources that you can get started with:
Create this chart in Organimi! 
You can download the CSV file of HSBC's org structure, import it into Organimi and start editing this chart right away! Here's how:
 From your dashboard, select Data Import.
 Click the CSV tile.

 Click 

+Upload Your File

.  

 

Select an Excel file from your device.

 In the 

Organization

 field, click the down arrow to select an organization.

Click Create a New Chart

Click 

Next and select: Organization Chart
Select the auto-build tool to automatically build your chart.
Voila!
Download CSV file:


HSBC (29.41 KB)
Build better org charts with
Organimi.
A powerful, cloud-based platform that helps you create, connect, and collaborate with your colleagues wherever they work.