H&M's Organizational Structure
Create this exact chart in Organimi! Scroll below to see how. 
Introduction
H&M (Hennes & Mauritz) is a multinational clothing giant based in Sweden. The company's core focus is fast fashion for men, women, teenagers, and children. H&M was founded in 1947 and as of June 2022, the company operates in 75 markets with more than 4,800 stores and employs a workforce of over 107,000. Today, it is the world's second-largest international clothing retailer. 
H&M produces the majority of its own-label clothes using raw materials from China, Bangladesh, and India. Its retail headquarters is located in Sweden, where 21 suppliers and factories manufacture H&M's clothing products and accessories.
In March 2022, along with hundreds of other global companies, H&M announced an end to its retail operations of more than 150 stores in Russia as a result of its invasion of Ukraine. 
H&M's Executive Management
H&M Group is led by the executive management team, which itself is led by the CEO as appointed by the board of directors. The CEO is responsible for the day-to-day management of H&M and appoints the members of the members of the executive management team. As of November 2022, this team is comprised of 15 individuals. 
In addition to the CEO, the executive management team consists of the CFO, the head of the H&M brand the head of H&M's portfolio brands, and the heads of various group functions, including Strategy and Transformation, Growth, People and Organisational Development, and Communications, among others.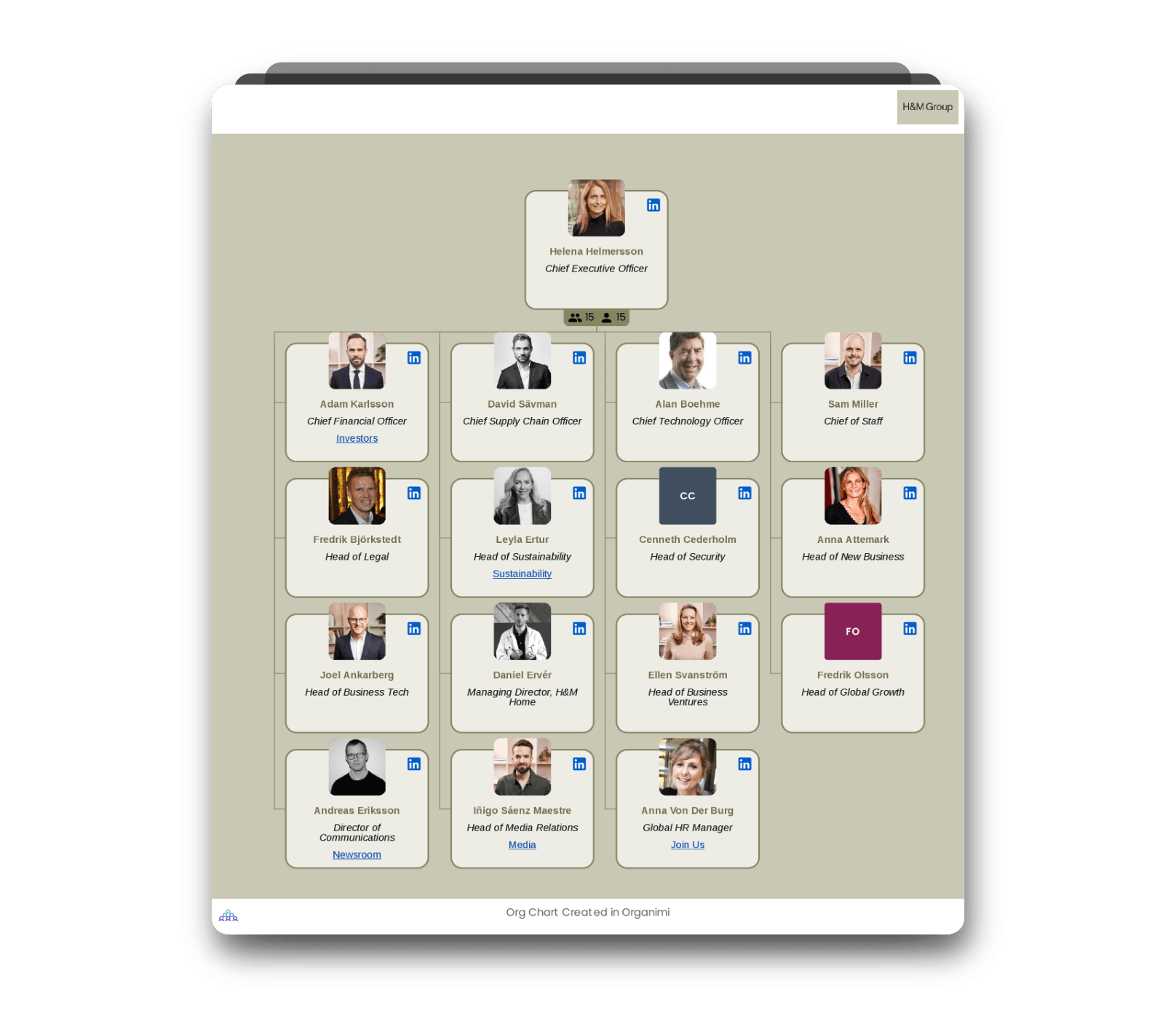 H&M's Board of Directors is the governing body of the fashion giant. Their task is to manage the company's affairs on behalf of the shareholders. The board, which must consist of between three and twelve members, is elected by the shareholders at the annual general meeting for the period up to the end of the next AGM. 
In addition to laws and recommendations, according to H&M, the board is regulated by its work plan which contains rules on the distribution of work between the board, its committees and the CEO, financial reporting, investments, and financing. The work plan is established once a year. 
As with many boards, H&M's largely holds an advisory role, but some do have wide-reaching powers, duties, and responsibilities as stipulated by corporate law and government regulations, particularly in heavily regulated industries such as finance and pharma.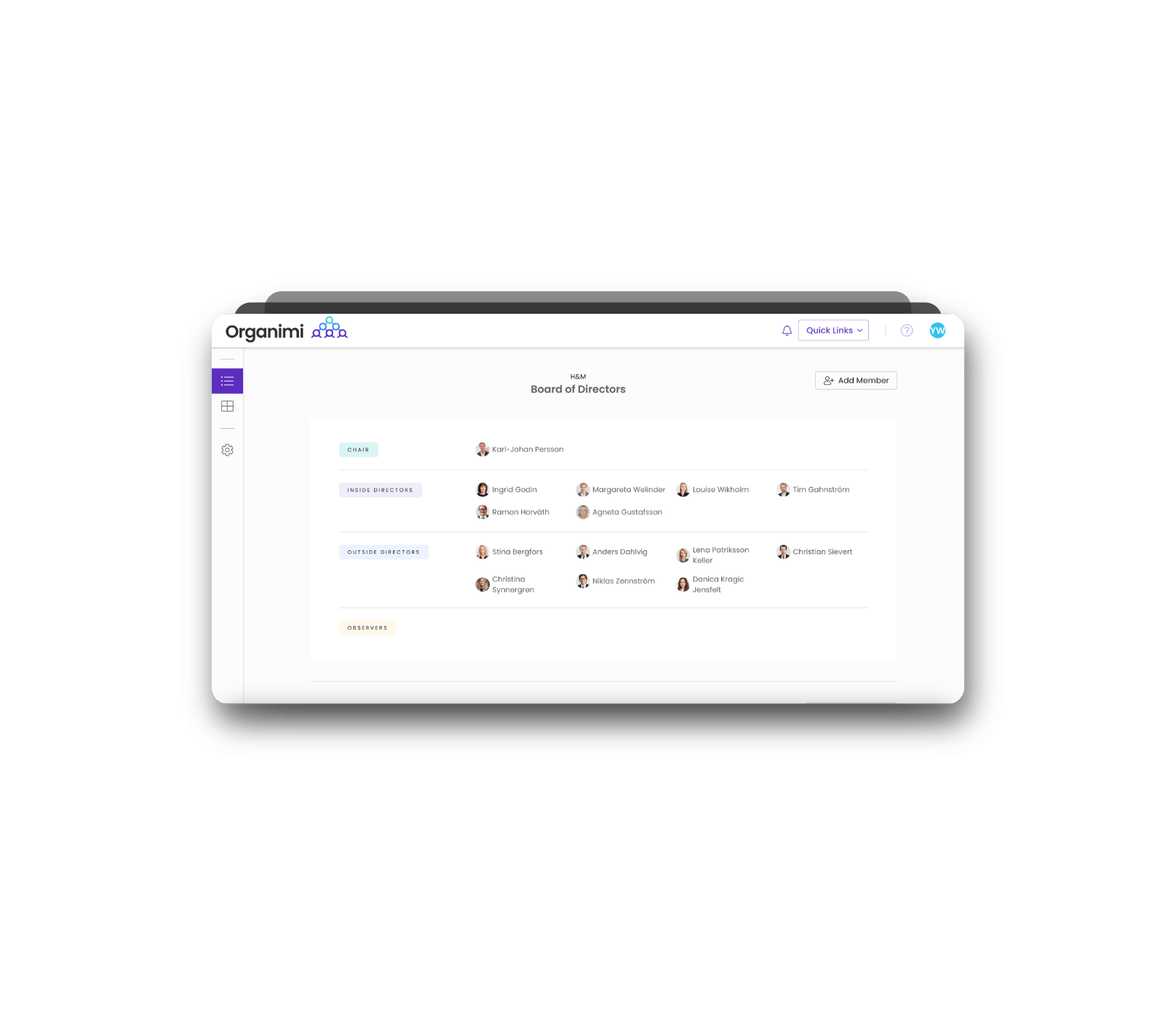 H&M's Organizational Structure
H&M states that it operates with a multi-brand matrix organization. The matrix structure is most often used when there are multiple cross-functional, cross-business groups within a company. Indeed, the matrix structure developed naturally as businesses responded to the growing size and complexity of their projects. 
H&M's matrix consists of the following brands: the H&M brand which includes the H&M HOME brand, and the Portfolio Brands consisting of COS, Weekday, Monki, & Other Stories, ARKET, Afound, and Singular Society. H&M Group also consists of New Growth and Ventures. 
Each H&M brand has its own organization and managing director, with most of these brands having their own local or regional sales organizations. Centrally, there are several H&M Group functions that support each brand in order to share benefits across shared areas, enabling each brand to work according to central policies and guidelines. 
Want to learn more about organizational structures and the role that they play within modern organizations? Here are some helpful blog resources that you can get started with:
Create this chart in Organimi! 
You can download the CSV file of H&M's org structure, import it into Organimi and start editing this chart right away! Here's how:
 From your dashboard, select Data Import.
 Click the CSV tile.

 Click 

+Upload Your File

.  

 

Select an Excel file from your device.

 In the 

Organization

 field, click the down arrow to select an organization.

Click Create a New Chart

Click 

Next and select: Organization Chart
Select the auto-build tool to automatically build your chart.
Voila!
Download CSV file:


HM (7.22 KB)
Build better org charts with
Organimi.
A powerful, cloud-based platform that helps you create, connect, and collaborate with your colleagues wherever they work.