First Abu Dhabi Bank's Organizational Structure
Create this exact chart in Organimi! Scroll below to see how. 
Introduction
First Abu Dhabi Bank (FAB) is the largest bank in the United Arab Emirates. It was formed following the 2017 merger between First Gulf Bank and the National Bank of Abu Dhabi. FAB offers its customers a wide range of financial products, services, and solutions through three franchises: Corporate and Investment Banking, Personal Banking, and Private Banking. 
FAB is headquartered in Abu Dhabi and in 2019, the bank began international expansion with the start of operations in Saudi Arabia. Today, it has operations across five continents: Asia Pacific, Europe, the Americas, the Middle East, and Africa. 
FAB has been ranked by Global Finance as the safest bank in the UAE and the Middle East and the best bank in the UAE, and announced net profits of US$3.4 billion at the end of 2021, representing a 19 percent increase on the previous year. In the year 2022, this had increased to US$9.3 billion.
FAB has also ranked first in the UAE, fourth in the Arab world, and 303rd globally in the Forbes annual ranking of the world's 2000 largest public companies.
First Abu Dhabi Bank's Senior Management
First Abu Dhabi Bank's day-to-day operations are overseen by the Group Executive Committee ('Group EXCO') which operates under a delegated authority from the FAB Board. 
According to FAB, the Group EXCO is responsible for identifying matters required or Group CEO for escalation to the Group Board or Board Committees. The Group EXCO also supports the GCEO in determining and implementing the Bank's strategy as approved by the FAB Board. 
The FAB Group EXCO is led by the Group CEO, who is supported by a team of 10 group heads and executives who lead functional groups within the organization, such as Investment Banking, Consumer Banking, and Mergers and Acquisitions.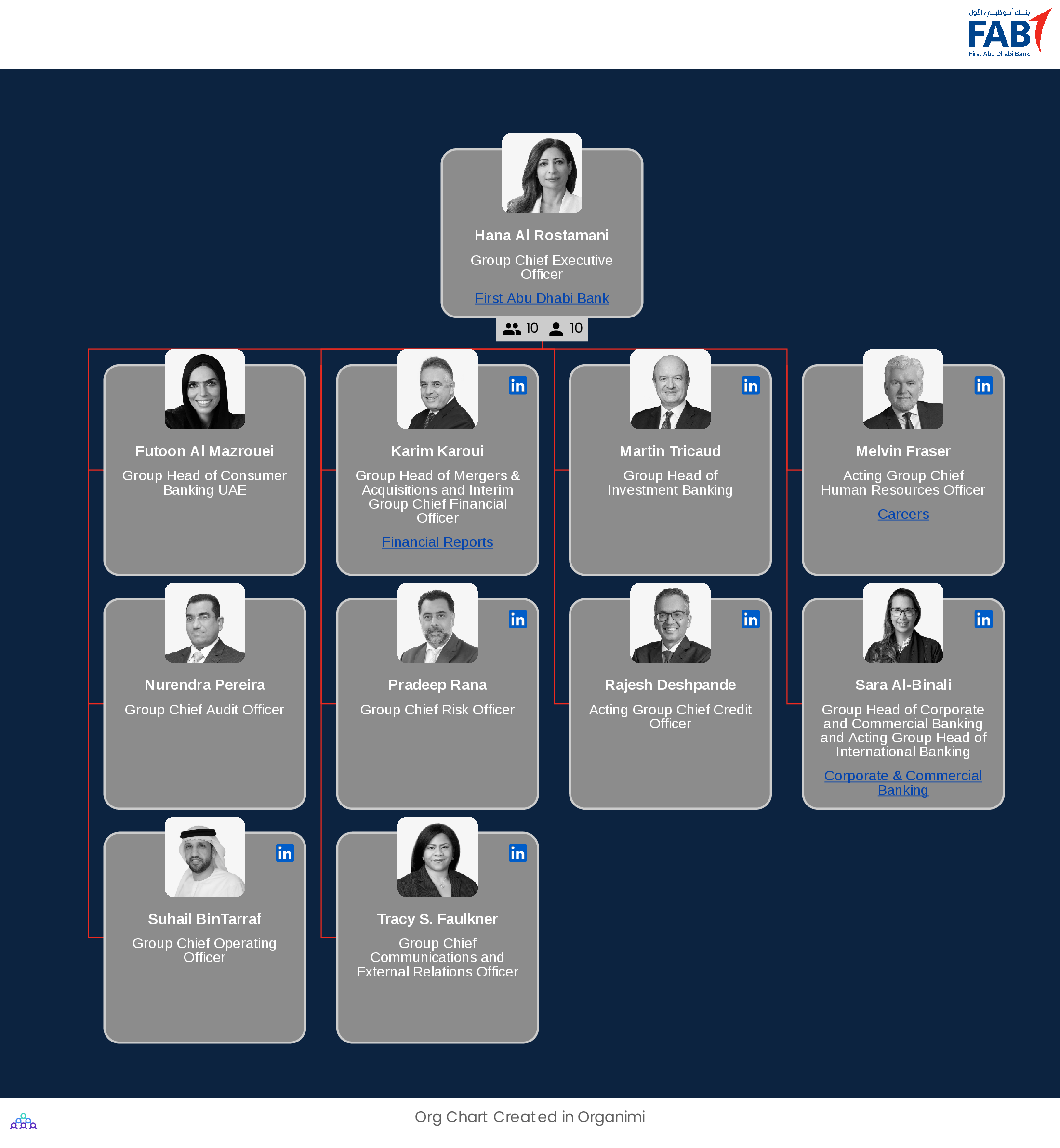 Large organizations like First Abu Dhabi Bank are also typically overseen by a board of directors. This is the governing body of a company that's elected by stockholders, with members often selected for their expertise in a particular area or their industry connections. 
A board typically holds an advisory role, but some boards do have wide-reaching powers, duties, and responsibilities as stipulated by corporate law and government regulations, particularly in heavily regulated industries such as finance and pharma. 
First Abu Dhabi Bank's 11-strong board of directors has extensive experience across different sectors, industries, and geographies.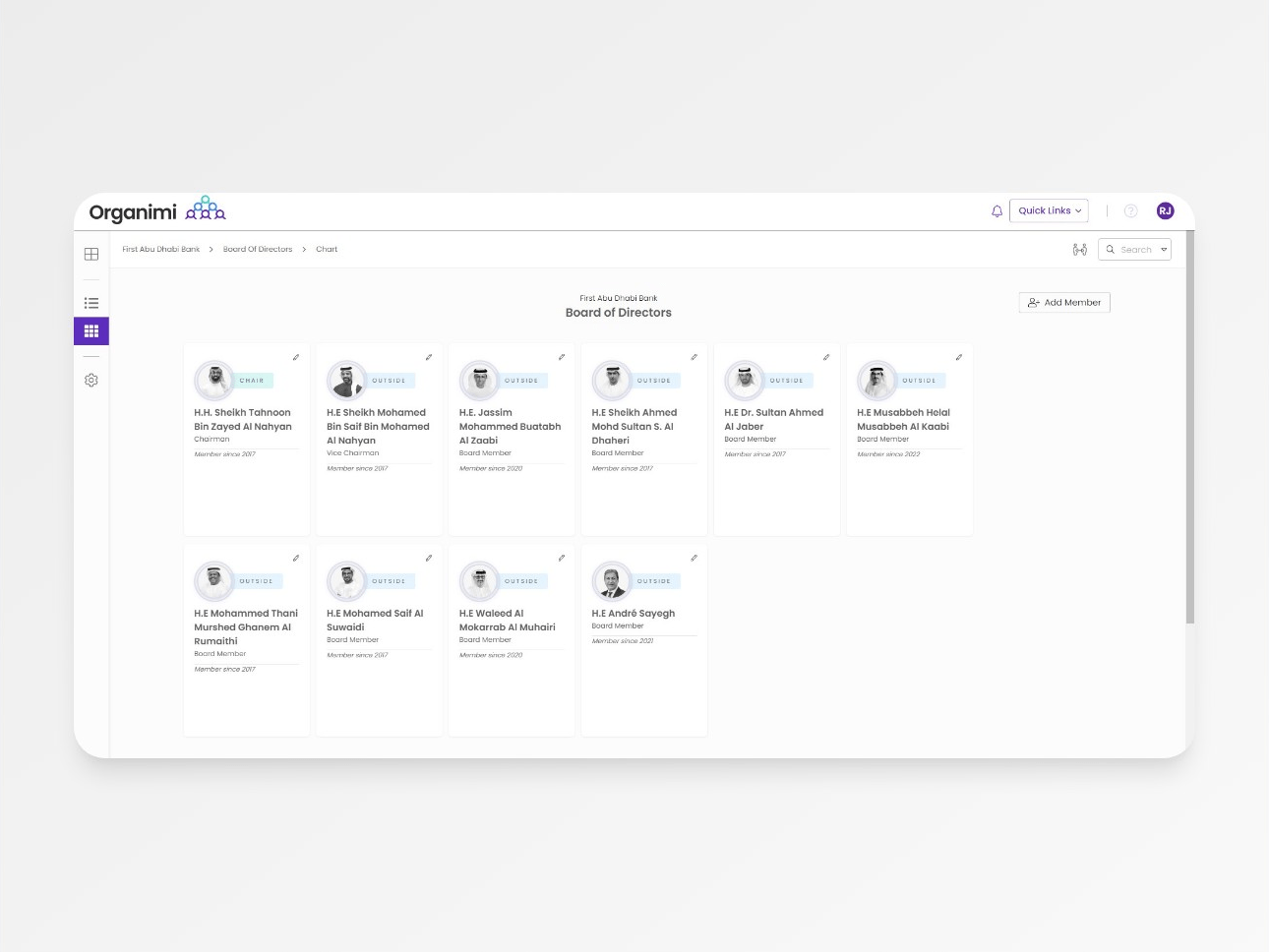 First Abu Dhabi Bank's Organizational Structure
The organizational structure of a bank typically includes one executive at the top who is supported by other key executives, and First Abu Dhabi Bank follows this with its Group EXCO. 
Where banks begin to differ is with the type of organizational structure that they operate with. That's because org structures come in all shapes and sizes, from large traditional hierarchies to smaller, more modern 'flat' ones seen in smaller firms. 
First Abu Dhabi Bank appears to operate with what is known as a functional organizational structure. A functional organizational structure organizes a company's employees, departments, and teams into different functional areas based on areas of expertise, grouping employees by specialty, skill, or related roles.
As we can see from FAB's Group EXCO above, there are individual heads for groups such as Consumer Banking, Investment Banking, Corporate and Commercial Banking, International Banking, and Human Resources. These are likely to be functional groups where specialists in certain areas (e.g., investment banking) are organized according to their skills. 
The advantages of a functional structure are chiefly those of specialization, accountability, and clarity. Functional areas focus on more niche areas of work and include specialist employees that are highly skilled in the work they do. There's also more accountability owing to clear lines of management, and clarity because employees understand their roles and where they fit in. 
Want to learn more about organizational structures and the role that they play within modern organizations? Here are some helpful blog resources that you can get started with:
Create this chart in Organimi! 
You can download the CSV file of First Abu Dhabi Bank's org structure, import it into Organimi and start editing this chart right away! Here's how:
 From your dashboard, select Data Import.
 Click the CSV tile.

 Click 

+Upload Your File

.  

 

Select an Excel file from your device.

 In the 

Organization

 field, click the down arrow to select an organization.

Click Create a New Chart

Click 

Next and select: Organization Chart
Select the auto-build tool to automatically build your chart.
Voila!
Download CSV file:


FAB (2.48 KB)
Build better org charts with
Organimi.
A powerful, cloud-based platform that helps you create, connect, and collaborate with your colleagues wherever they work.