Feeding America's Organizational Structure
Create this exact chart in Organimi! Scroll below to see how. 
Introduction
Feeding America (known as 'America's Second Harvest' until 2008) is a U.S. non-profit organization that is a nationwide network of more than 200 food banks that collectively feed more than 46 million people via its food pantries, shelters, soup kitchens, and other community agencies. According to Forbes, Feeding America is the country's largest charity by revenue.
Since the 2008 Global Financial Crisis, Feeding America has noticed a significant rise in the number of Americans suffering from hunger, and its operations have grown sharply. In 2013, the USDA reported that about 49 million U.S. Americans faced poor nutrition, about one in six of the population. In 2015, Feeding America saved more than 2 billion pounds of food that would otherwise have been thrown away, and distributed it to families across the country. 
At the height of the pandemic, the number of people using Feeding America's services rose by 36%. According to the company, it handed out 6.1 billion meals to families facing hunger in 2020, an increase of 44 percent over 2019.
Feeding America's Organizational Leadership
Feeding America's leadership team consists of an Executive Team, a Board of Directors, and four rotating members of the Executive Team. 
The organization is chiefly led by the CEO who is supported by a team of C-level executives, such as the Chief Supply Chain Officer, the Chief Government Relations Officer, and the Chief Information Officer. Each executive is responsible for leading parts of the business that correspond with their role. 
Meanwhile, Feeding America's rotating executive team members help the organization better to refine and shape its strategic priorities, live its values and support the inclusive and equitable culture that it seeks to create. They serve limited terms and are elected by the leadership groups within the organization whom they represent.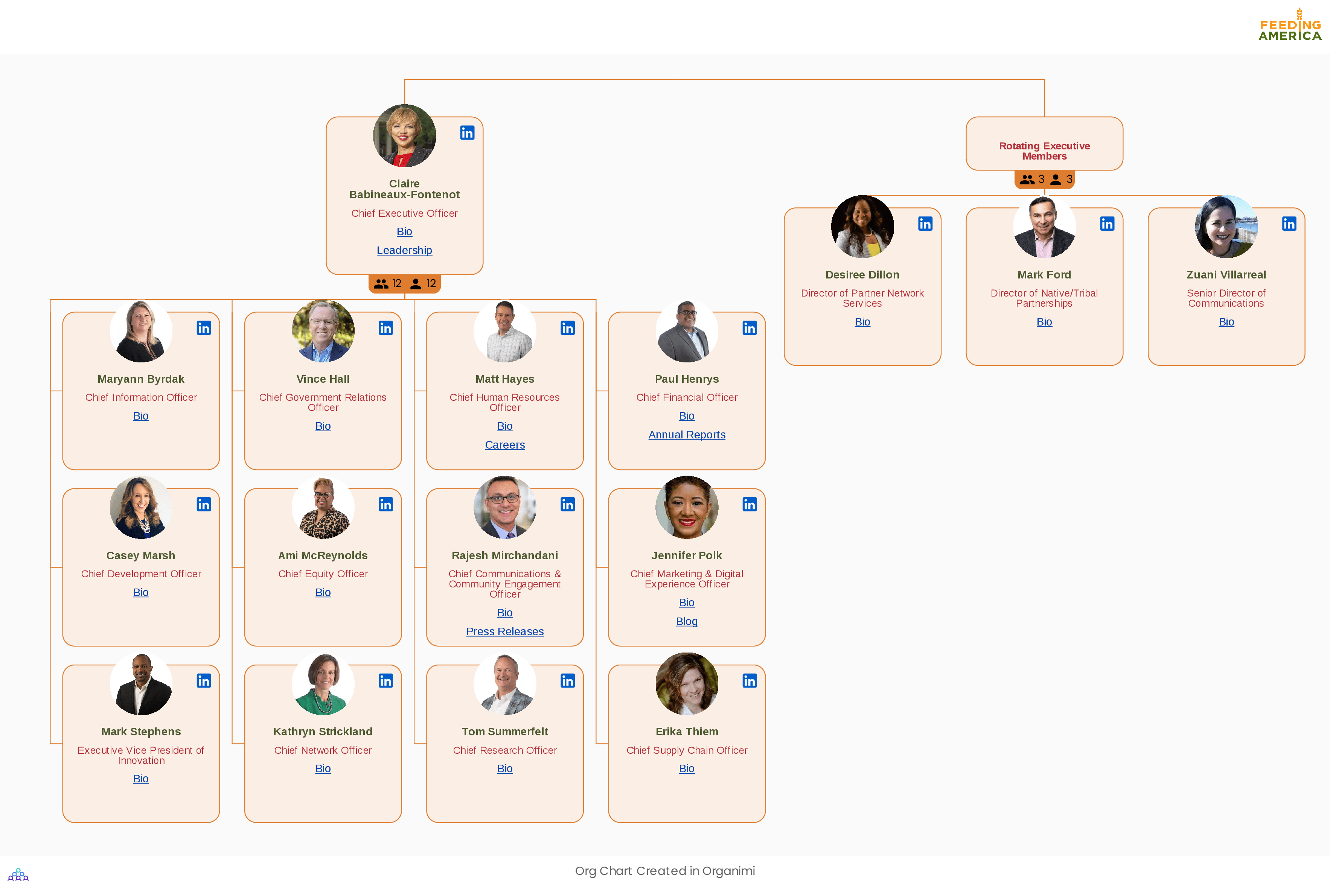 Feeding America is also overseen by a board of directors, which is the governing body of the company. The board is elected by stockholders, with members often selected for their expertise in a particular area or their industry connections. 
As with many boards, Feeding America's largely holds an advisory role, but some do have wide-reaching powers, duties, and responsibilities as stipulated by corporate law and government regulations, particularly in heavily regulated industries such as finance and pharma.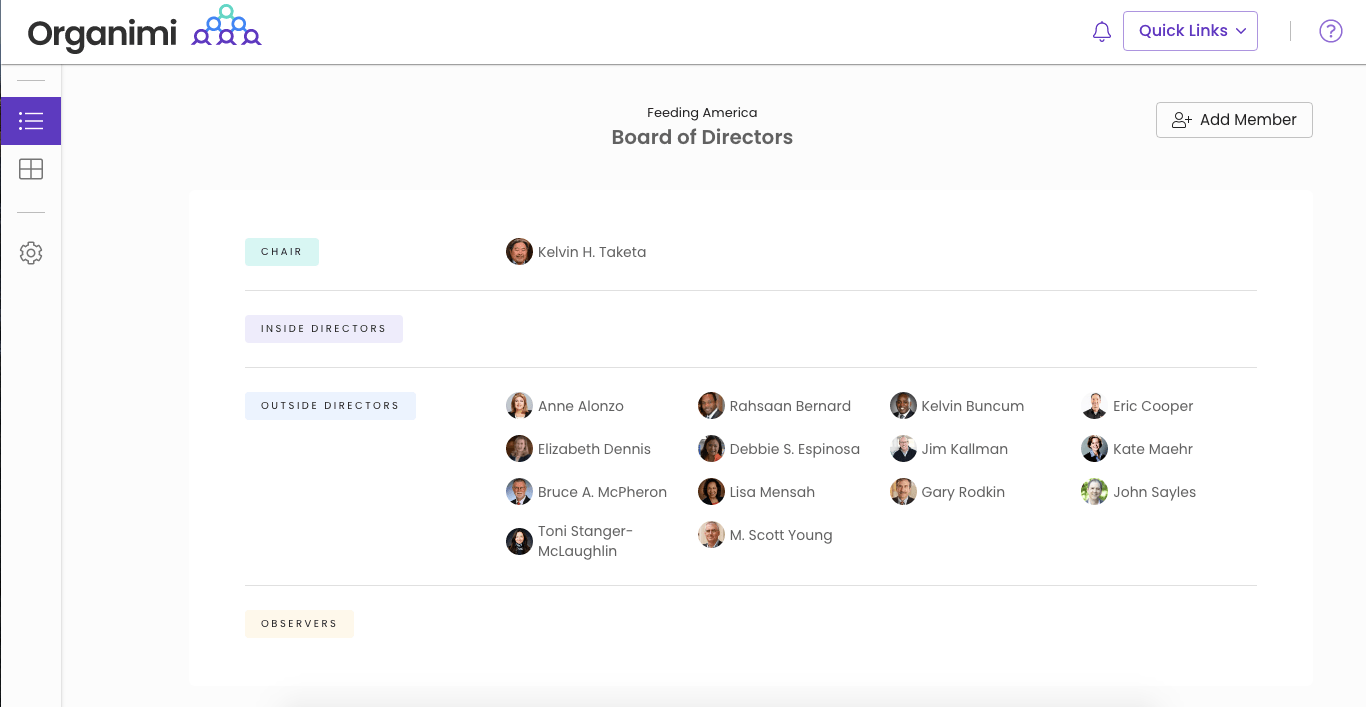 Feeding America's Organizational Structure
Feeding America appears to operate with what is known as a hierarchical organizational structure, namely a traditional corporate hierarchy. 
A corporate hierarchy, sometimes referred to as a "chain of command", is an organizational system where instructions are passed down the chain from one person to another—i.e., from the top (executive and managerial levels) to the bottom (supervisors and core staff).
At each level of the corporate hierarchy, as you move downwards, autonomy and decision-making power diminishes. This hierarchical method for organizing power, authority, decision-making, communication, and information flow assumes that each level of the organization is directly subordinate to the one above it, i.e., the level to which it reports.
Want to learn more about organizational structures and the role that they play within modern organizations? Here are some helpful blog resources that you can get started with:
Create this chart in Organimi! 
You can download the CSV file of Feeding America's org structure, import it into Organimi and start editing this chart right away! Here's how:
 From your dashboard, select Data Import.
 Click the CSV tile.

 Click 

+Upload Your File

.  

 

Select an Excel file from your device.

 In the 

Organization

 field, click the down arrow to select an organization.

Click Create a New Chart

Click 

Next and select: Organization Chart
Select the auto-build tool to automatically build your chart.
Voila!
Download CSV file:


FeedingAmerica (31.76 KB)
Build better org charts with
Organimi.
A powerful, cloud-based platform that helps you create, connect, and collaborate with your colleagues wherever they work.