Estée Lauder Companies' Organizational Structure
Create this exact chart in Organimi! Scroll below to see how. 
Introduction
Estée Lauder is an American cosmetics company that manufactures and markets a wide variety of make-up, skincare, fragrance, and haircare products. 
The company is headquartered in Manhattan and was founded in 1946 by Estée and Joseph Lauder. Two years later, the couple established their first department store account with Saks Fifth Avenue, and today, the company is the second-largest cosmetics company in the world after L'Oréal.
Estée Lauder also owns a large and diverse portfolio of brands it has developed and acquired over the course of almost eight decades. These include La Mer, Jo Malone London, Clinique, and Tom Ford Beauty, among many more. These are distributed internationally through a network of digital and retail channels. 
In November 2022, the company announced that it would acquire the fashion house Tom Ford in a US$2.8 billion deal, with its founder, Tom Ford, staying on as creative director until at least 2023.
Estée Lauder's Organizational Leadership
Estée Lauder is led by a team of senior executives who are focused on strategically growing the company in the long term. 
As is seen in many large organizations, the Executive Leadership team at Estée Lauder is primarily made up of a variety of C-level and presidential roles. Such roles include the president and chief executive officer, who is the day-to-day head of the company and is assisted by various executive vice presidents. 
Estée Lauder is still to this day family-owned, with second and third-generation members of the Lauder family remaining at the heart of the company sitting as chairman.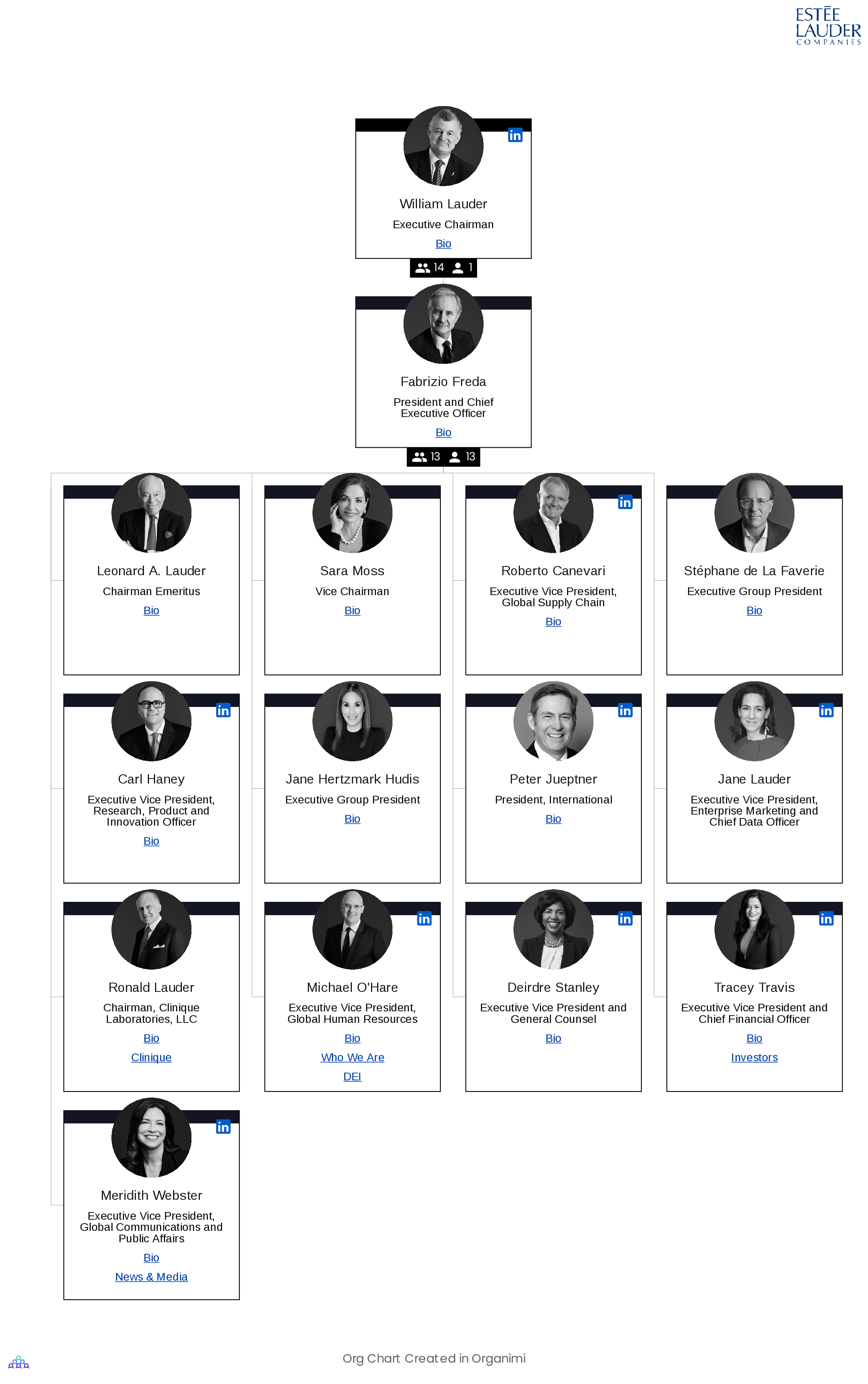 Many large organizations like Estée Lauder are also overseen by a board of directors. This is the governing body of a company that's elected by stockholders, with members often selected for their expertise in a particular area or their industry connections. 
A board typically holds an advisory role, but some boards do have wide-reaching powers, duties, and responsibilities as stipulated by corporate law and government regulations, particularly in heavily regulated industries such as finance and pharma. 
An organization can also elect to give its board supervisory powers and oversight through its own constitution and by-laws. 
The Estée Lauder Board of Directors provides general direction and oversight of the management of the Company's business.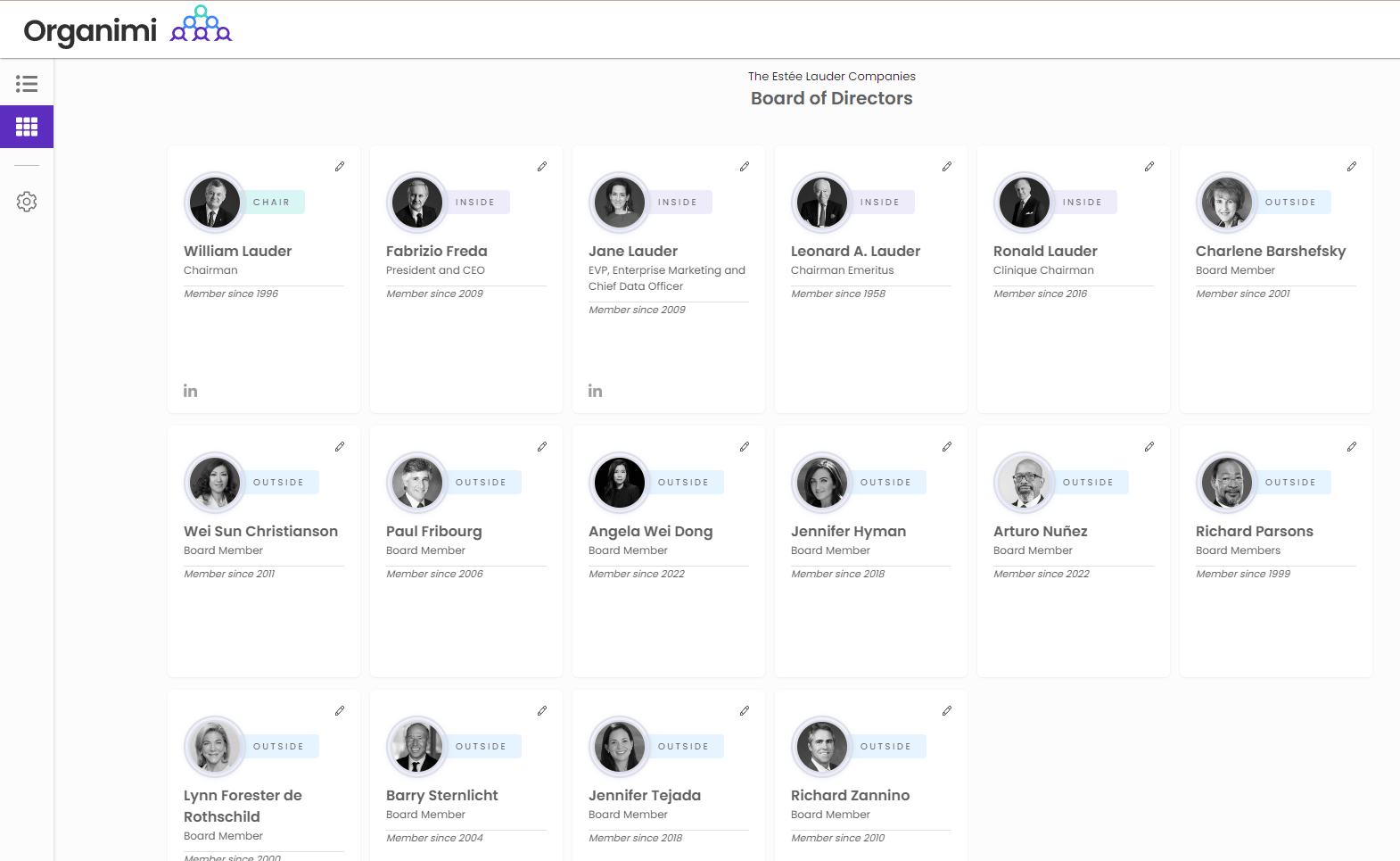 Estée Lauder's Organizational Structure
Estée Lauder has undergone several organizational restructures in its time, most recently in September 2022 when Executive Chairman William P. Lauder announced that an "organizational revolution" across its brand portfolio would take place, with he goal of strategically positioning the company "for long-term, sustainable growth in a fast-paced evolving global landscape."
This recent reorg effectively separated the company's brand portfolio into two brand clusters, each led by an executive group president who are part of the wider Executive Leadership team. At the time of writing, the leaders of these groups are Jane Hertzmark Hudis and Stéphane de La Faverie.
This type of organizational structure is indicative of a functional structure, which is an organization that is divided into smaller groups and divisions based on specific focus areas. The lines of authority in a functional org structure will generally flow from the teams themselves to their own senior executive or functional head, in this case, the individual members of the Executive Leadership team, and then on to the CEO.
If you would like to learn more about organizational structures and the critical role they play within modern organizations, here are some helpful blog resources to get you started:
Create this chart in Organimi! 
You can download the CSV file of The Estée Lauder Companies' org structure, import it into Organimi and start editing this chart right away! Here's how:
 From your dashboard, select Data Import.
 Click the CSV tile.

 Click 

+Upload Your File

.  

 

Select an Excel file from your device.

 In the 

Organization

 field, click the down arrow to select an organization.

Click Create a New Chart

Click 

Next and select: Organization Chart
Select the auto-build tool to automatically build your chart.
Voila!
Download CSV file:


estee-lauder (30.59 KB)
Build better org charts with
Organimi.
A powerful, cloud-based platform that helps you create, connect, and collaborate with your colleagues wherever they work.