Emirates' Organizational Structure
Create this exact chart in Organimi! Scroll below to see how. 
Introduction
Emirates is a major international airline and one of two flag carriers of the United Arab Emirates, the other being Etihad. Based in Dubai, the airline is a subsidiary of The Emirates Group, which is owned by the government of Dubai's Investment Corporation of Dubai.
As of 2019, Emirates is the largest airline in the Middle East, operating more than 3,600 flights per week from its hub at Dubai International Airport. The airline flies to more than 150 cities across 80 countries and all continents via a 300-strong fleet of aircraft. The airline also operates cargo operations under its subsidiary, Emirates SkyCargo. 
Emirates is the world's fourth-largest airline by scheduled revenue passenger-kilometers flown, and the second largest in terms of freight tonne-kilometers flown.
Emirates' Leadership Team
Emirates' leadership team is relatively small considering the size of its operations. Almost all executives currently leading the Emirates Group have been with the organization since it was founded in 1985, including His Highness Sheikh Ahmed bin Saeed Al Maktoum who is the airline's chairman and chief executive, and part of Dubai's ruling Al Maktoum family.
Sheikh Al Maktoum is supported in his role by five senior executives. The team includes the airline's president, chief operating officer, chief commercial officer, chief financial officer, and the executive vice president who is responsible for directing the group's varied procurement activities. 
Unlike the majority of large organizations, including other airlines, Emirates does not have a board of directors.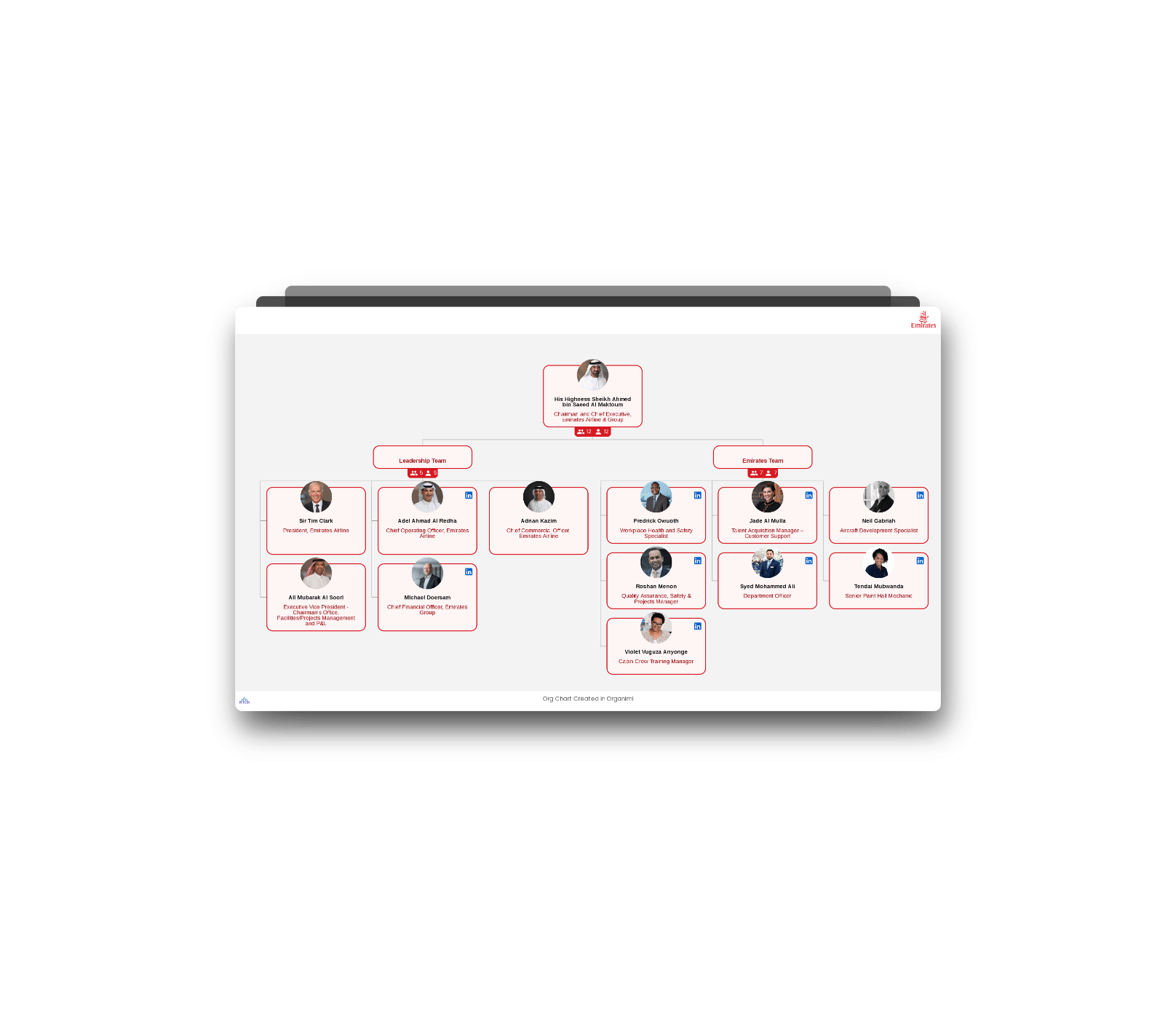 Emirates' Organizational Structure
In any organization, an employee's responsibilities are defined by their role, their immediate supervisors and managers, and any individuals below them. This means that all organizations, even those that don't know it, naturally have an organizational structure. The type of structure that an organization has will depend hugely on how relationships and authority flow throughout them.
Emirates appears to operate with what is known as a hierarchical organizational structure, also known as a 'tall' or 'top-down' structure. A hierarchical structure is typical for larger businesses with broad operations. It relies on there being levels of authority with a chain of command connecting multiple layers of management within the organization.
In a hierarchical organization, autonomy and decision-making authority flow from the top down, creating a 'tall' structure where each level of management has clear lines of control and responsibility. 
A hierarchical structure can provide benefits to businesses. For example, it can help establish:
Clear lines of authority and reporting within the business.

A clearer understanding of employee roles and responsibilities.

Accountability for actions or decisions at different management levels.

Clear career paths and development prospects which can motivate employees.
Want to learn more about organizational structures and the role that they play within modern organizations? Here are some helpful blog resources that you can get started with:
Create this chart in Organimi! 
You can download the CSV file of Emirates' org structure, import it into Organimi and start editing this chart right away! Here's how:
 From your dashboard, select Data Import.
 Click the CSV tile.

 Click 

+Upload Your File

.  

 

Select an Excel file from your device.

 In the 

Organization

 field, click the down arrow to select an organization.

Click Create a New Chart

Click 

Next and select: Organization Chart
Select the auto-build tool to automatically build your chart.
Voila!
Download CSV file:


Emirates (9.78 KB)
Build better org charts with
Organimi.
A powerful, cloud-based platform that helps you create, connect, and collaborate with your colleagues wherever they work.