eBay's Organizational Structure
Create this exact chart in Organimi! Scroll below to see how. 
Introduction
eBay is an American multinational e-commerce company based in California. eBay facilitates consumer-to-consumer and business-to-consumer sales through its online marketplace website. 
Founded in 1995 by Pierre Omidyar, it became one of the biggest success stories of the dot-com bubble era. Today, it's a multibillion-dollar business with operations in more than 30 countries, over US$10 billion in annual revenues, and employs more than 10,000 people. The main eBay asset is its online auction and marketplace where people buy and sell a variety of goods and services. 
eBay is completely free to use for buyers, but sellers are charged fees for listing items and an additional fee once items are sold. These fees make up a large chunk of eBay's revenues. In addition to its auction-style website, eBay operates a number of additional services and services. The company notably owned payment processor PayPal between 2002 and 2015, online event ticket trading platform StubHub until 2019, and operated a Classifieds service until 2020.
eBay's Organizational Leadership
eBay is managed day-to-day by a team of Executive Leaders who are senior vice presidents (SVPs) holding C-level roles. Roles on eBay's Executive Leaders team include the CEO and eight SVPs who oversee areas including Business and Strategy, Product, Growth, and People.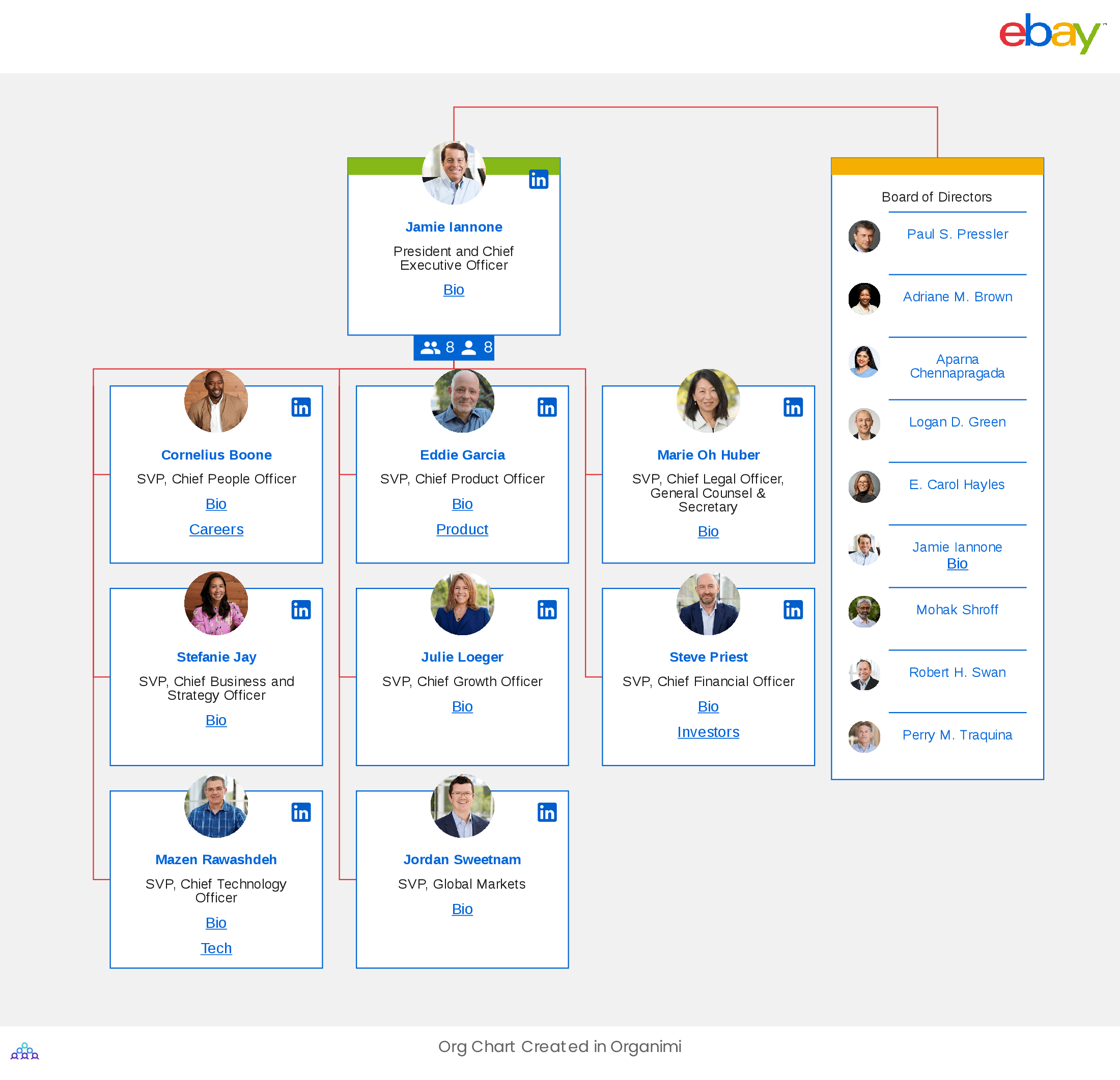 As is typically the case for large organizations like eBay, this team is answerable to a separate Board of Directors. The Board consists of nine members who oversee four committees:
Audit Committee

Compensation & Human Capital Committee

Corporate Governance & Nominating Committee

Risk Committee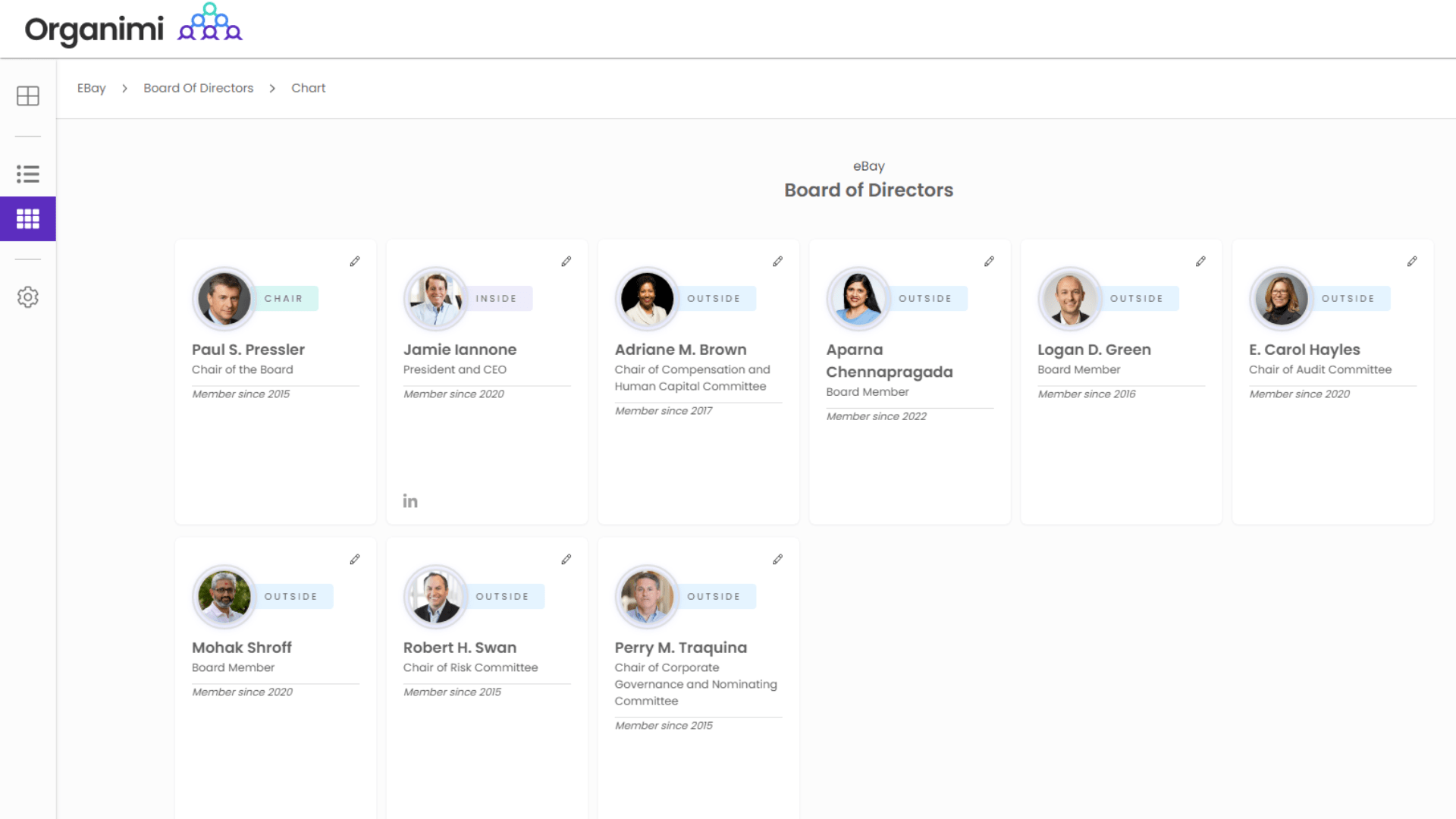 eBay's Organizational Structure
Until very recently, eBay was a multi-divisional (or 'M-form') organization that had semi-autonomous units grouped together according to the services they provided, ultimately controlled by headquarters. These were: Marketplace, StubHub, Payments (PayPal), and Classifieds.
eBay has undergone several high-level changes in recent years, however, and reorgs between 2015 and 2020 mean that this M-form structure is no longer present. Instead, eBay has a sole divisional unit: Marketplace. This is eBay's most profitable operation and encapsulates eBay.com and its various international auction sites. 
In 2019, eBay announced that it would be restructuring its geographic divisions under the SVP for Global Markets. These are:
Americas

Asia Pacific

United Kingdom

Central and Southern Europe

Cross-Border Trade
As for eBay's current organizational structure, the existing makeup of the company's operations points to a traditional hierarchical organizational structure with the President and CEO, currently Jamie Iannone, at the top. Below the CEO in eBay's hierarchy is, as illustrated by the above org chart, SVPs who manage the following functional areas for eBay's Marketplace division:
People

Product

Legal

Business and Strategy

Growth

Finance

Technology

Global Markets (incl. geographic divisions) 
Want to learn more about organizational structures and the role that they play within modern organizations? Here are some helpful blog resources that you can get started with:
Create this chart in Organimi! 
You can download the CSV file of eBay's org structure, import it into Organimi and start editing this chart right away! Here's how:
 From your dashboard, select Data Import.
 Click the CSV tile.

 Click 

+Upload Your File

.  

 

Select an Excel file from your device.

 In the 

Organization

 field, click the down arrow to select an organization.

Click Create a New Chart

Click 

Next and select: Organization Chart
Select the auto-build tool to automatically build your chart.
Voila!
Download CSV file:


ebay (18.81 KB)
Build better org charts with
Organimi.
A powerful, cloud-based platform that helps you create, connect, and collaborate with your colleagues wherever they work.