Domino's Organizational Structure
Create this exact chart in Organimi! Scroll below to see how. 
Introduction
Domino's is a world-renowned American pizza restaurant chain. Founded in 1960 by brothers James and Tom Monaghan along with Dominick DeVarti, the chain is owned by master franchisor Domino's Pizza, Inc. and, as of 2018, has approximately 15,000 stores worldwide, with 5,649 of these being located in the United States. Overall, Domino's has a presence in more than 80 countries and 5,700 cities worldwide. 
The company's prolific three-dot logo came about in 1965 when the Domino's brand, then named DomiNick's, had three stores. Tom Monaghan originally planned to add a new dot with the addition of each new store, but this idea was quickly set aside when the brand experienced rapid growth. Its first franchise location opened in 1967 and by 1978, the company had expanded to 200 stores. 
In 1998, following three decades of ownership, Domino's founder Tom Monaghan retired and sold 93% of the company to Bain Capital, Inc. for a sum of US$1 billion. He immediately ceased being involved in the company's day-to-day operations.
Domino's Organizational Leadership
Domino's, like many large companies, is led by a Chief Executive Officer who is supported by a selection of senior executives who are responsible for overseeing specific operational areas within the company. At Domino's, these people include both senior and executive vice presidents responsible for the likes of Restaurant, Supply Chain, 'Team USA', and International.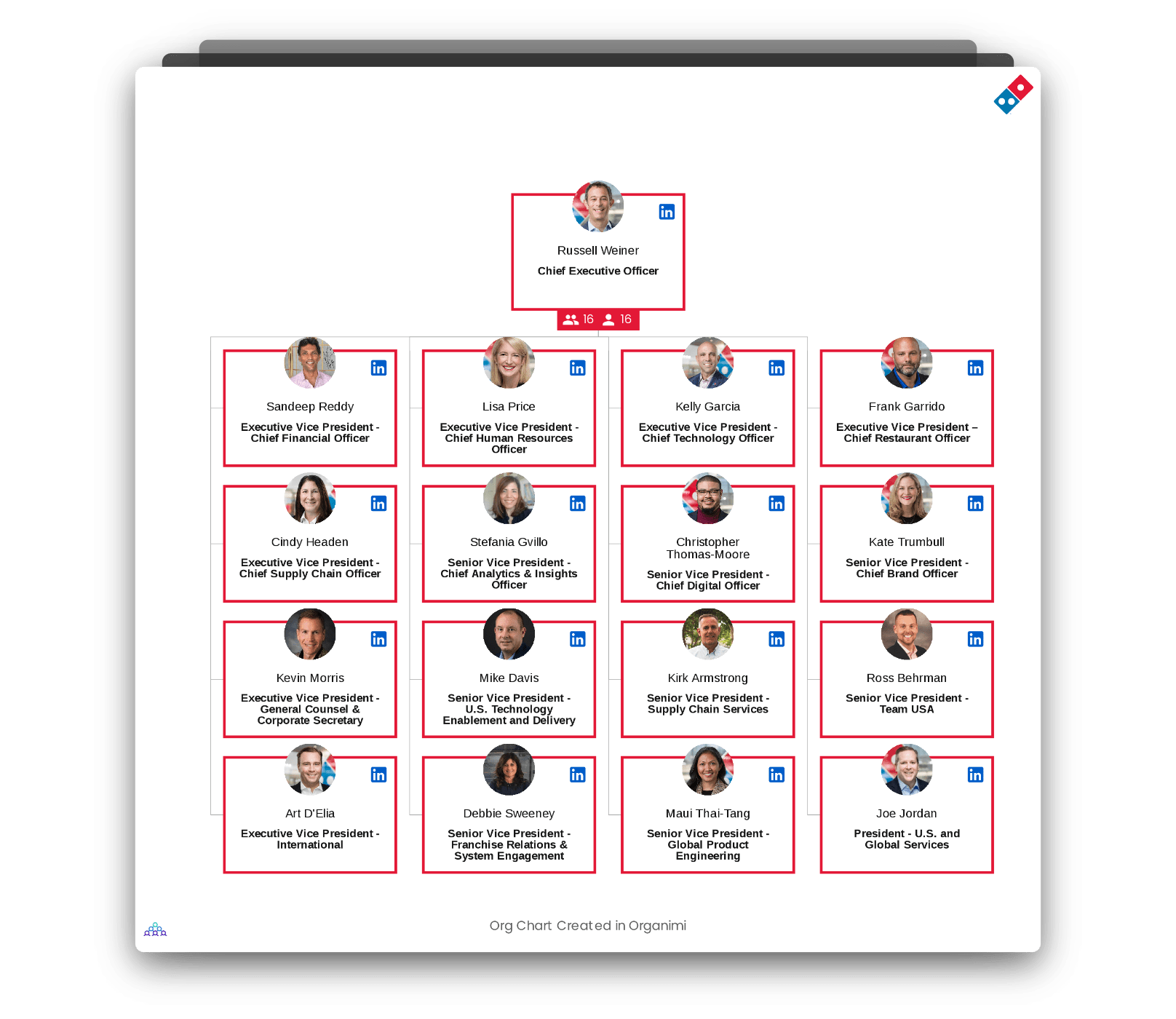 Domino's is also overseen by a board of directors, which is the governing body of the company. The board is elected by stockholders, with members often selected for their expertise in a particular area or their industry connections. 
As with many boards, the board at Domino's largely holds an advisory role, but some do have wide-reaching powers, duties, and responsibilities as stipulated by corporate law and government regulations, particularly in heavily regulated industries such as finance and pharma.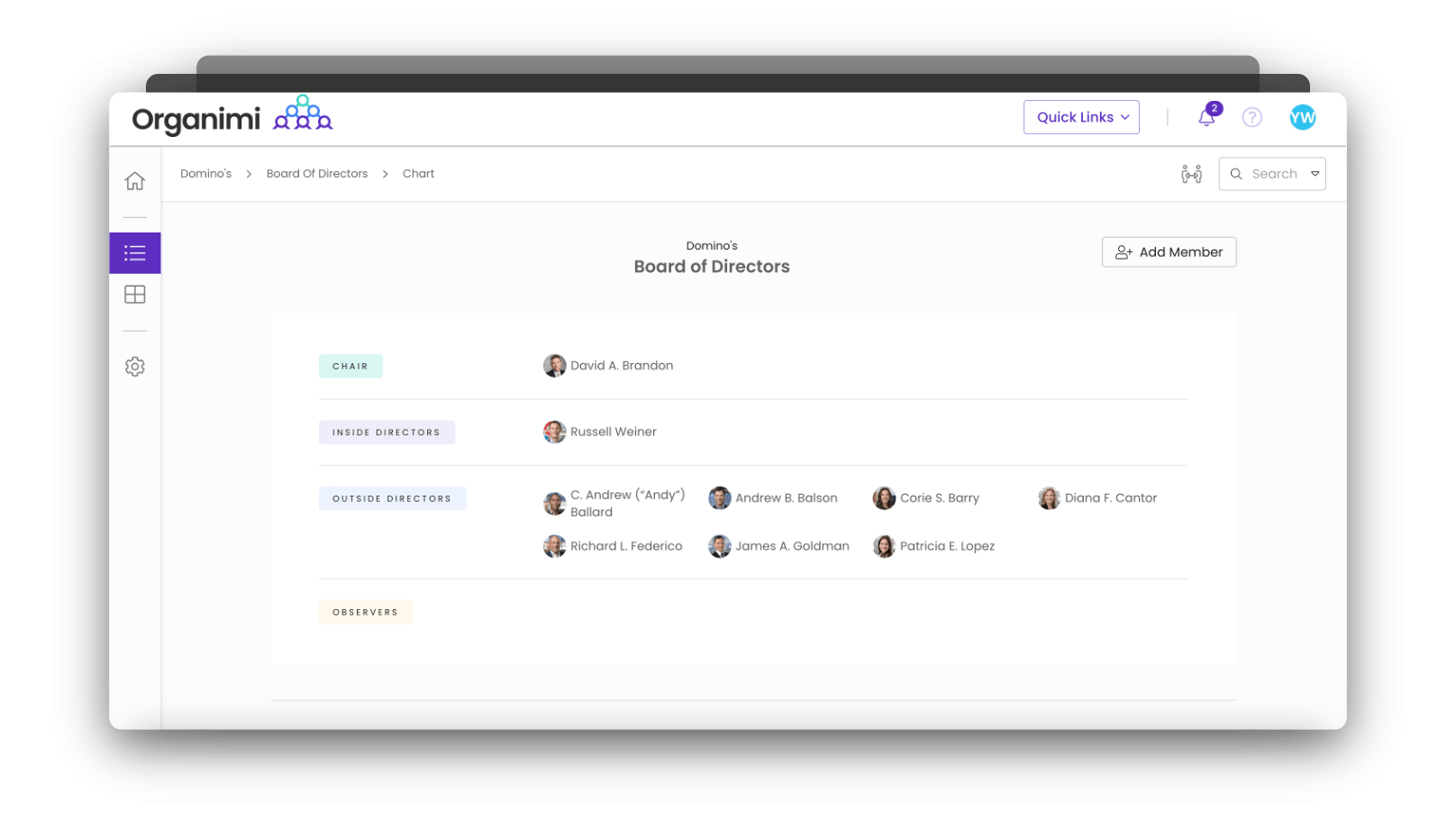 Domino's Organizational Structure
Domino's Pizza operates with a typical corporate hierarchy organizational structure that has some elements of a functional structure. In this structure, authority, and decision-making flow from top to bottom, with clear levels of management and defined reporting relationships. 
As we've already explored, at the top of the hierarchy is the Board of Directors, followed by the Chief Executive Officer (CEO) who oversees the entire organization. The CEO is supported by an Executive Leadership Team consisting of high-level executives responsible for specific areas such as operations, finance, marketing, and more.
Below the Executive Leadership Team, there are regional leadership teams that oversee operations within their respective regions. These regional teams are responsible for managing and supporting franchisees within their territories.
Within the corporate structure, there are various departments such as finance, marketing, human resources, supply chain management, and information technology. Each department is led by a manager or director who reports to the relevant executive in the hierarchy.
Additionally, franchisees play a significant role in the organizational structure of Domino's Pizza. Franchisees own and operate individual stores and work closely with the regional and corporate teams to ensure adherence to the company's standards and operational procedures.
Overall, Domino's Pizza's organizational structure is designed to facilitate effective decision-making, coordination, and support for its global operations, with clear lines of authority and responsibility throughout the hierarchy.
Want to learn more about org structures and the role that they play today? Here are some helpful blog resources that you can get started with:
Create this chart in Organimi! 
You can download the CSV file of Domino's org structure, import it into Organimi and start editing this chart right away! Here's how:
 From your dashboard, select Data Import.
 Click the CSV tile.

 Click 

+Upload Your File

.  

 

Select an Excel file from your device.

 In the 

Organization

 field, click the down arrow to select an organization.

Click Create a New Chart

Click 

Next and select: Organization Chart
Select the auto-build tool to automatically build your chart.
Voila!
Download CSV file:


Domino's (24.8 KB)
Build better org charts with
Organimi.
A powerful, cloud-based platform that helps you create, connect, and collaborate with your colleagues wherever they work.