Delta's Organizational Structure
Create this exact chart in Organimi! Scroll below to see how. 
Introduction
Delta Air Lines is one of the major airlines of the United States and a so-called "legacy carrier", an accolade awarded to U.S. airlines that had already established interstate routes before the beginning of deregulated-led route liberation in the late 1970s. The carrier is also one of the world's oldest airlines still in operation, originally founded in 1925 before beginning operations four years later in 1929. 
Delta has nine hubs and operates over 5,400 flights daily, serving 325 destinations across 52 countries. A member of the SkyTeam alliance, it's ranked among the world's largest airlines by the number of scheduled passengers carried, revenue passenger-kilometers flown, and fleet size with more than 880 commercial aircraft. 
The airline has grown substantially in its near century of existence. In 2008, Delta announced that it was to acquire Northwest Airlines following regulatory approval. Northwest continued to operate as a subsidiary of Delta until December 2009, when the Northwest Airlines operating certificate was merged into Delta's. By 2010, the Delta-Northwest integration had been completed. 
Delta is a publicly traded company that is listed on the New York Stock Exchange under the symbol DAL. In 2012, the company posted an annual profit of over one billion dollars.
Delta's Organizational Leadership
Delta Air Lines' day-to-day operations are overseen by the CEO & Leadership Committee. 
The Leadership Committee is made up of several key executives who report directly to the CEO and are responsible for managing and overseeing key parts of the business, such as Customer Experience, International Operations, and Marketing & Communications.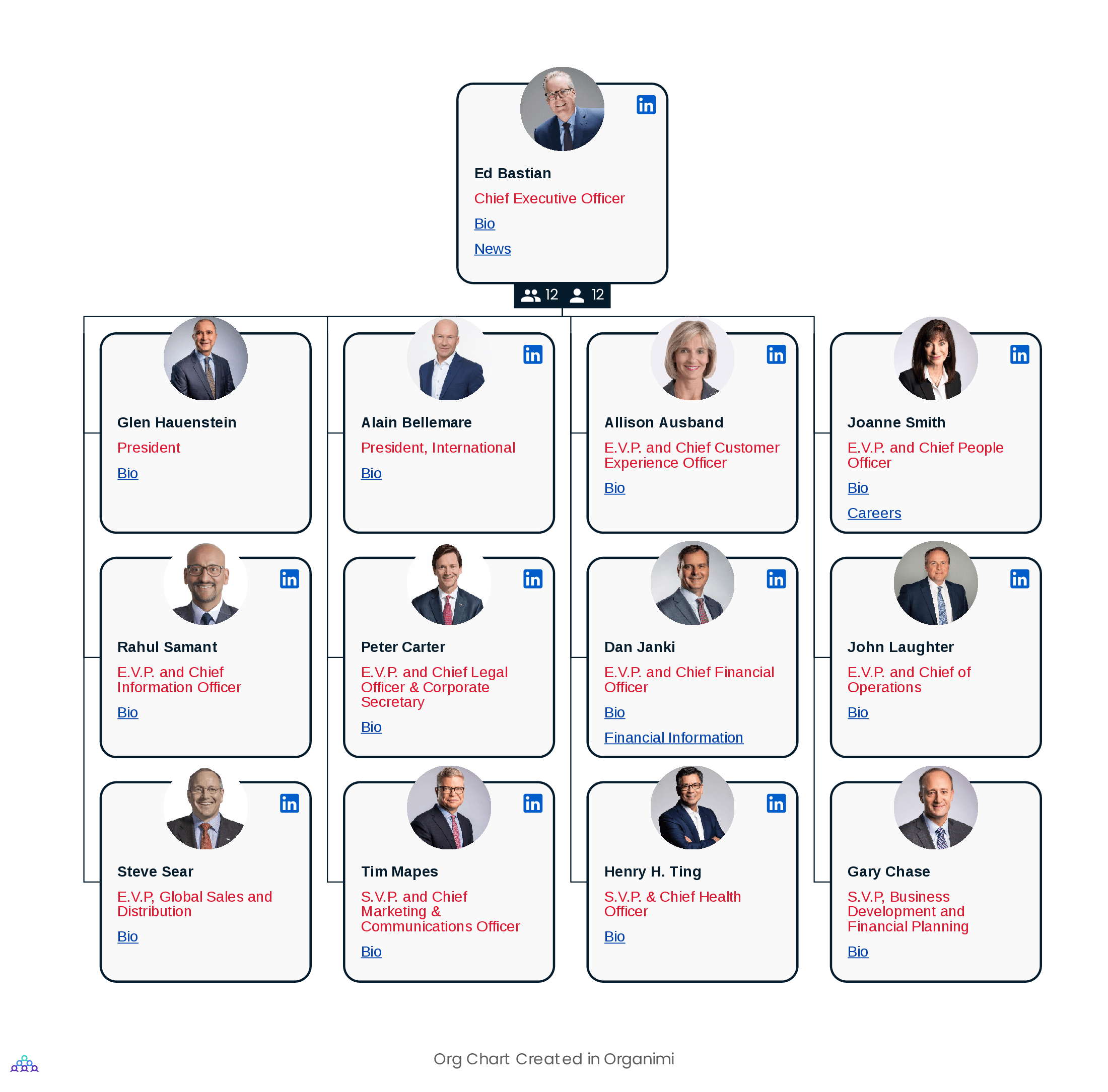 Delta Air Line's Organizational Structure
Delta's organizational structure fits the mold of a hierarchical bureaucratic structure where most of the important decisions regarding operations, finance, and other key areas are made at the "top" of the organizational food chain—i.e., by senior executives—while lower-level day-to-day operations are controlled by managers lower down the chain.
Characteristic of a hierarchical structure, there exist a number of standardized procedures for different employee groups at Delta, such as the pilots, the flight attendants, and ground support staff. As we can see from the above org chart, the management structure is vertical in nature, as is typically the case in a hierarchical organization. Communications also flow vertically, meaning information flows from the top of the chain down to its operating core.
There are many ways by which Delta benefits by operating with a hierarchical organizational structure with a strong, clear chain of command. These benefits include: 
A strong top team made up of experienced airline industry veterans.

A size advantage, enabling it to dominate the U.S. marketplace.

A strong domestic and international network with several major hubs.
The top-down structure at Delta also helps the company maintain clear lines of reporting, with information seamlessly flowing vertically.
Want to learn more about organizational structures and the role that they play within modern organizations? Here are some helpful blog resources that you can get started with:
Create this chart in Organimi! 
You can download the CSV file of Delta's org structure, import it into Organimi and start editing this chart right away! Here's how:
 From your dashboard, select Data Import.
 Click the CSV tile.

 Click 

+Upload Your File

.  

 

Select an Excel file from your device.

 In the 

Organization

 field, click the down arrow to select an organization.

Click Create a New Chart

Click 

Next and select: Organization Chart
Select the auto-build tool to automatically build your chart.
Voila!
Download CSV file:


delta (28.95 KB)
Build better org charts with
Organimi.
A powerful, cloud-based platform that helps you create, connect, and collaborate with your colleagues wherever they work.