CVS Health's Organizational Structure
Create this exact chart in Organimi! Scroll below to see how. 
Introduction
CVS Health is an American healthcare company that owns CVS Pharmacy, a retail pharmacy chain. The organization also owns pharmacy benefits manager CVS Caremark and Aetna, a health insurance provider, among several other brands and subsidiaries. 
Founded as Consumer Value Stores in 1963, the organization was founded as part of a parent company, Mark Steven, Inc., that helped retailers manage their health and beauty aid product lines. The business initially began as a chain of health and beauty stores but within a few years, pharmacies were added. 
CVS joined Melville Corporation to grow and following a period of strong growth in the 1980s and 1990s, it became a standalone company, trading on the New York Stock Exchange as CVS. In November 2018, CVS acquired Aetna for US$69 billion. As of 2021, CVS Health is ranked 4th on the Fortune 500 list and 7th on the Fortune Global 500 list. 
CVS Health's Organizational Leadership
At CVS Health, day-to-day operations are managed by the executive team. This team is led by President and CEO Karen S. Lynch. 
The President and CEO is supported by 12 other executives who occupy a range of C-level and executive vice president roles, such as chief medical officer, chief financial officer, and the president of CVS Caremark.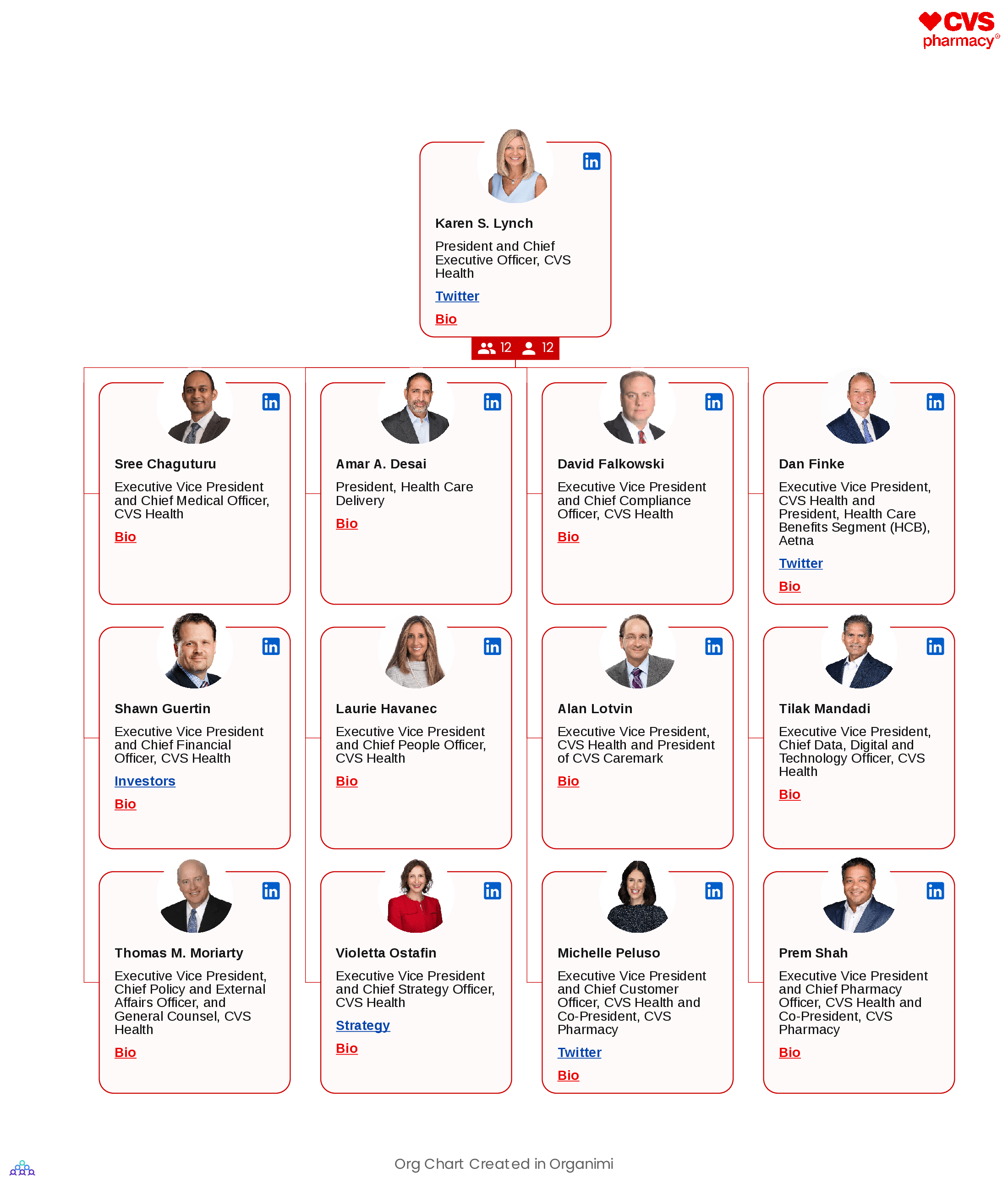 Many large organizations like CVS Health are also overseen by a board of directors. This is the governing body of a company that's elected by stockholders, with members often selected for their expertise in a particular area or their industry connections. 
A board typically holds an advisory role, but some boards do have wide-reaching powers, duties, and responsibilities as stipulated by corporate law and government regulations, particularly in heavily regulated industries such as finance and pharma. 
An organization can also elect to give its board supervisory powers and oversight through its own constitution and by-laws.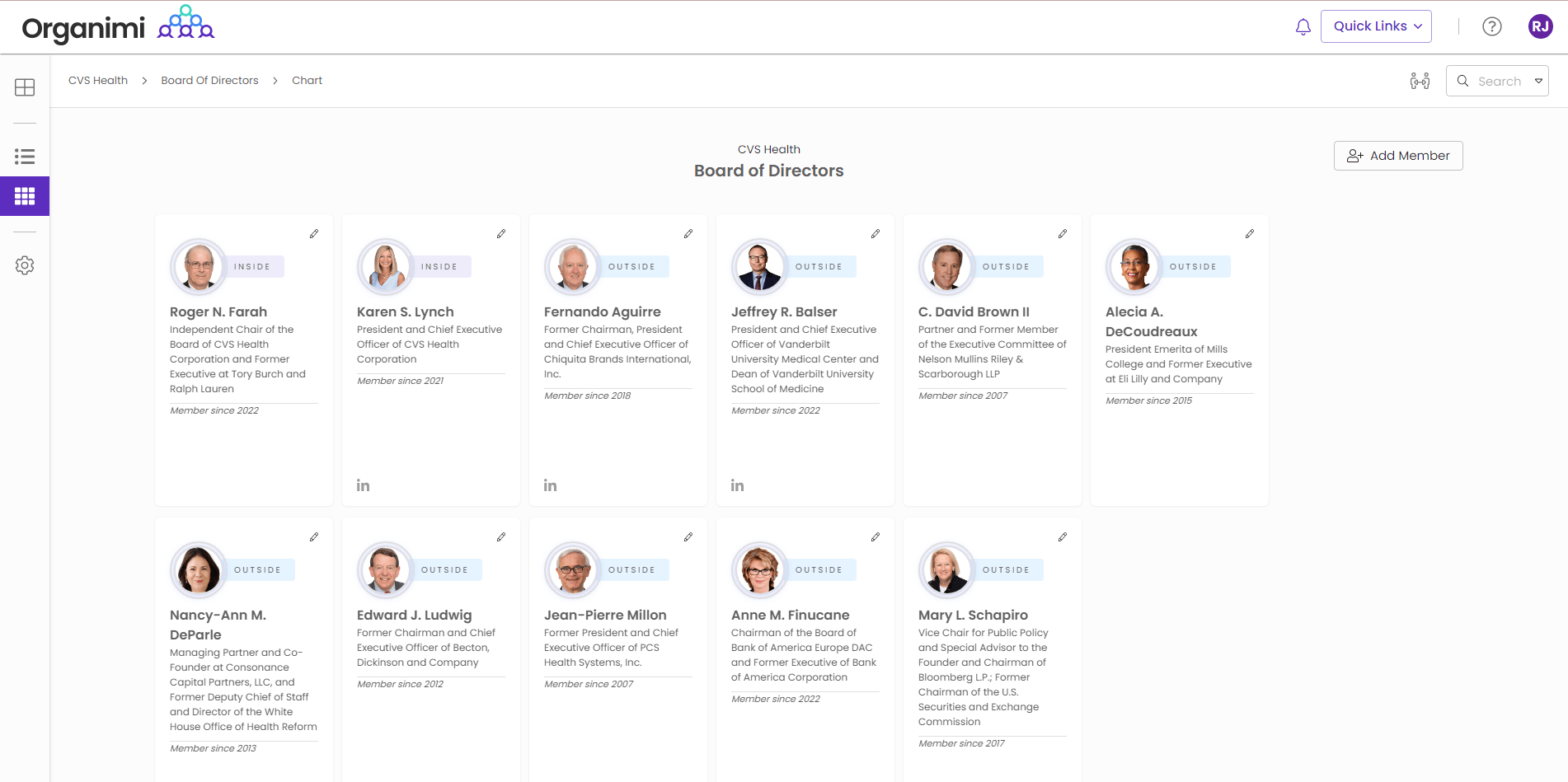 CVS Health's Organizational Structure
CVS Health's organizational structure directly impacts how important strategies are developed and implemented to compete with other large firms with healthcare and retail operations, such as Walgreens and Walmart.
CVS Health operates with an M-form organizational structure, which in essence is a product-based divisional structure. This comes down to the fact that CVS Health Corporation has multiple divisions and subsidiaries, such as CVS Caremark, Aetna, CVS Pharmacy, and MinuteClinic to name just a few. 
Within this structure, CVS Health Corporation gives high-level direction to all its divisions and subsidiaries, such as financial targets each fiscal year. As you can see in the above org chart, CVS Health Corporation's top-level team is comprised of various executive vice presidents who, together with the CEO, give this high-level direction to each subsidiary. 
Utilizing this divisional M-form structure makes it easier for each division to cooperate in sharing information and resources with one another. This is critical, for example, for CVS Pharmacy and CVS Caremark, two subsidiaries that routinely share prescription information to provide prescription filling and delivery services to customers. 
Want to learn more about organizational structures and the important role that they play within modern organizations? Here are some helpful blog resources that you can get started with:
Create this chart in Organimi! 
You can download the CSV file of CVS Health's org structure, import it into Organimi and start editing this chart right away! Here's how:
 From your dashboard, select Data Import.
 Click the CSV tile.

 Click 

+Upload Your File

.  

 

Select an Excel file from your device.

 In the 

Organization

 field, click the down arrow to select an organization.

Click Create a New Chart

Click 

Next and select: Organization Chart
Select the auto-build tool to automatically build your chart.
Voila!
Download CSV file:


CVSHealth (23.38 KB)
Build better org charts with
Organimi.
A powerful, cloud-based platform that helps you create, connect, and collaborate with your colleagues wherever they work.