The Coca-Cola Company's Organizational Structure
Create this exact chart in Organimi! Scroll below to see how. 
Introduction
The Coca-Cola Company is an American multinational beverage corporation founded in 1892. It is famed for the creation and production of Coca-Cola, one of the world's most popular soft drinks, more than 1.8 billion servings of which are consumed daily across more than 200 countries.
The eponymous Coca-Cola product was developed in 1886 by pharmacist John Pemberton. It originally contained cocaine from coca leaves and caffeine from kola nuts, which together acted as a "healthy tonic" stimulant.
In 1889, the formula and brand were sold for US$2,300 (or US$71,000 in 2022) to Asa Griggs Candler, who incorporated the Coca-Cola Company in Atlanta in 1892. Since its sale to Candler, Coca-Cola has been distributed under a franchise system whereby the company produces the concentrated syrup which is then sold to various bottlers throughout the world who hold exclusivity rights.
The Coca-Cola Company's Organizational Leadership
The Coca-Cola Company's day-to-day operations are overseen by the Executive Leadership team, which is led by Chairman and CEO James Quincey, who first joined the company in 1996. 
Quincey is supported in his role by his 42-member team comprised of various C-level executives, presidents, and vice presidents who are responsible for leading different parts of the business, including geographical regions (i.e., North America, EMEA) and functional divisions, such as the company's 'Sparkling Flavors Category' and 'Strategic Ingredient Supply'.
According to the Coca-Cola Company, the executive leadership team's goals are to continue building a culture of success that fuels their transformation and supports growth worldwide, while simultaneously leading efforts toward sustainability and innovation.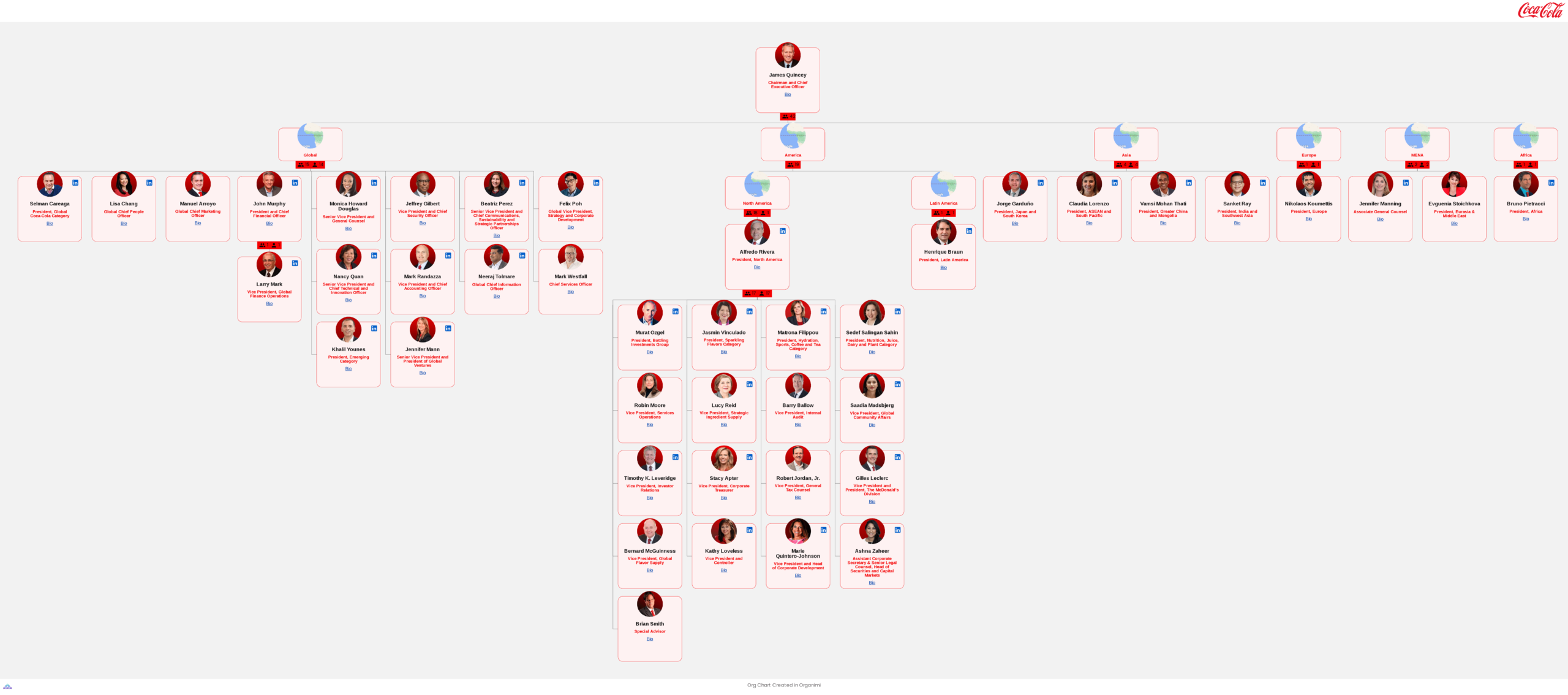 Many large organizations like the Coca-Cola Company are also overseen by a board of directors. This is the governing body of a company that's elected by stockholders, with members often selected for their expertise in a particular area or their industry connections. 
A board typically holds an advisory role, but some boards do have wide-reaching powers, duties, and responsibilities as stipulated by corporate law and government regulations, particularly in heavily regulated industries such as finance and pharma. 
An organization can also elect to give its board supervisory powers and oversight through its own constitution and by-laws.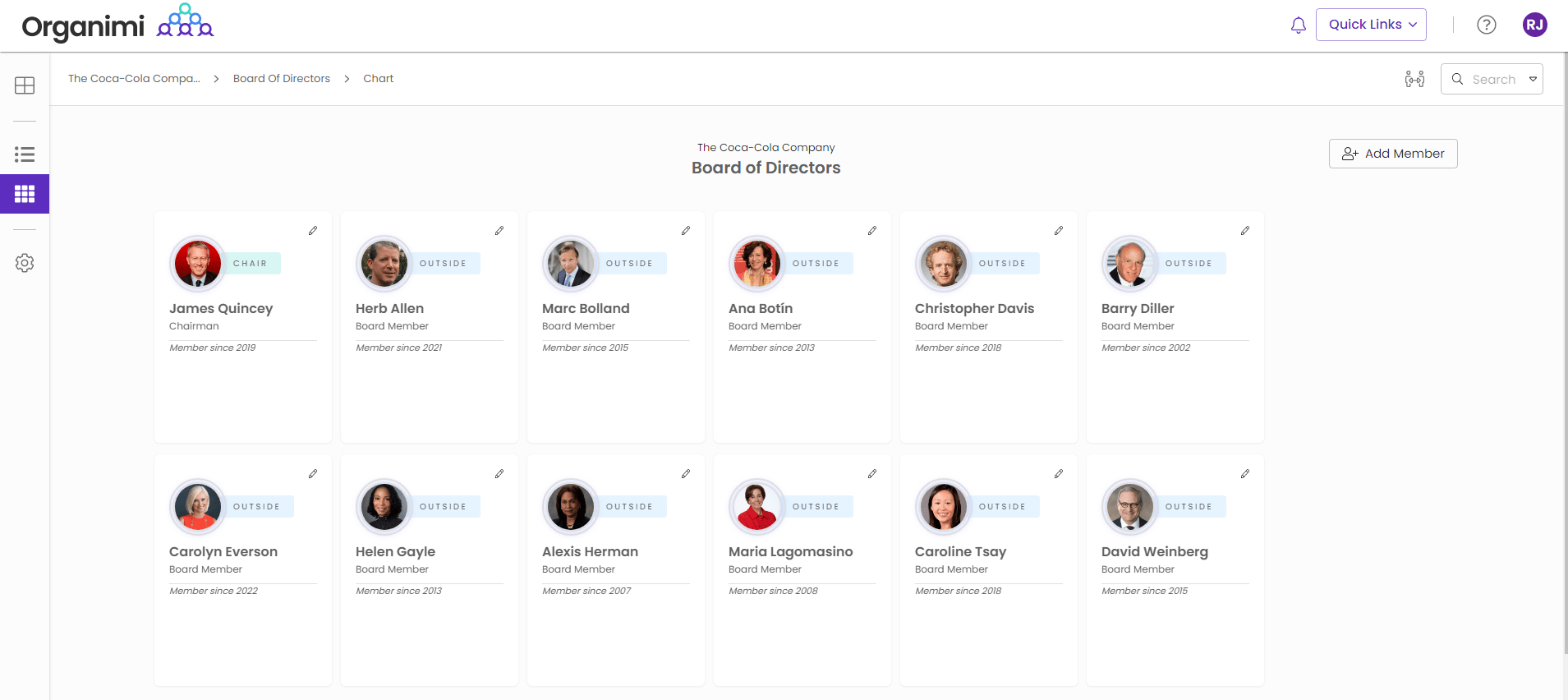 The Coca-Cola Company's Organizational Structure
The Coca-Cola Company's operational structure includes four geographic operating segments: Europe, Middle East & Africa; Latin America; North America; and Asia Pacific. The company reporting structure also includes the non-geographic segments of Global Ventures and Bottling Investments Group (BIG). Geographic operating segments are then further divided into smaller geographic regions, such as Europe, Japan & South Korea, and ASEAN and South Pacific. 
This geographic structure means that overall, the company's organizational structure is relatively tall and complex. The Coca-Cola Company is controlled through a vertical top-down hierarchy, with decision-making authority residing with the company's upper management and flowing down the organizational hierarchy. 
Given that the Coca-Cola Company has a workforce of more than 700,000 across 200 countries with several geographic operating segments, this makes sense. High-level oversight and decision-making authority are necessary for the company to retain control of its global operations, provide it with overall direction, and provide support to its regional operations. 
If you'd like to learn more about organizational structures and the critical role they play within modern organizations, here are some helpful blog resources to get you started:
Create this chart in Organimi! 
You can download the CSV file of The Coca-Cola Company's org structure, import it into Organimi and start editing this chart right away! Here's how:
 From your dashboard, select Data Import.
 Click the CSV tile.

 Click 

+Upload Your File

.  

 

Select an Excel file from your device.

 In the 

Organization

 field, click the down arrow to select an organization.

Click Create a New Chart

Click 

Next and select: Organization Chart
Select the auto-build tool to automatically build your chart.
Voila!
Download CSV file:


coca-cola (63.37 KB)
Build better org charts with
Organimi.
A powerful, cloud-based platform that helps you create, connect, and collaborate with your colleagues wherever they work.