Cisco's Organizational Structure
Create this exact chart in Organimi! Scroll below to see how. 
Introduction
Cisco Systems, founded in 1984, is a global technology conglomerate headquartered in San Jose, California. The company specializes in networking hardware, software, and services, playing a pivotal role in shaping the world of information technology and the internet. With a workforce of more than 84,000, Cisco is one of the world's largest technology companies, ranking 82nd on the Fortune 100 with over US$51 billion in revenue. 
Cisco is thought by many to have had a significant impact on the development of the Internet. Many of its technologies are fundamental to Internet access, with its routers and switches routing data across networks globally. Cisco also invests heavily in research and development, driving innovation in areas like cybersecurity, cloud computing, and the Internet of Things.
Cisco's influence extends to diverse sectors, including telecommunications, cybersecurity, and networking solutions, underlining its significance in the digital age.
Cisco's Leadership
Cisco's top team is segmented into two distinct halves: the Executive Leadership Team and the Senior Leaders. 
The Executive Leadership Team is composed of 13 individuals who occupy C-level and SVP roles, such as the CEO and COO. 
In contrast, the more than 80-strong group of Senior Leaders is almost exclusively composed of SVPs who oversee functional groups within Cisco's organizational structure, such as the SVP for Cisco's U.S. Public Sector business, and the SVP and GM of the Network Assurance business. 

Cisco, like many large organizations, also has a Board of Directors, which is a critical governance body with the primary purpose of representing the interests of the company's stakeholders and providing oversight and strategic guidance to the company's management.
As with many boards, Cisco's board largely holds an advisory role. However, some do have wide-reaching powers, duties, and responsibilities as stipulated by corporate law and government regulations, particularly in heavily regulated industries such as finance and pharma.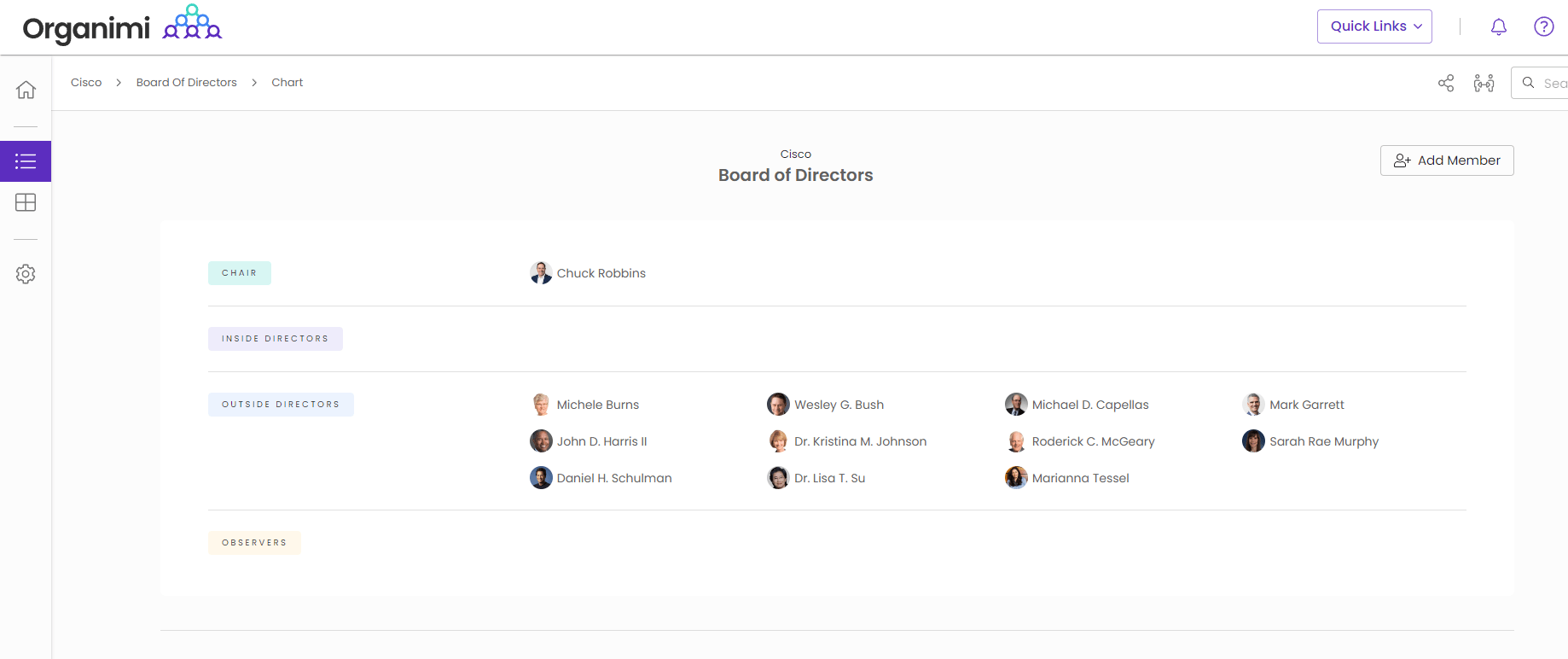 Cisco's Organizational Structure
Cisco appears to operate with a matrix organizational structure. A matrix structure is a combination of functional and divisional structures, and it is designed to be more flexible and responsive to the complex and rapidly changing demands of the technology industry.
In a matrix structure, employees often have dual reporting relationships and may work under more than one manager. This structure is designed to be more flexible and responsive, particularly in organizations where employees need to collaborate across different functions or projects. Characteristics of a matrix structure include:
Dual Reporting:

Employees in a matrix structure typically report to both a functional manager (based on their expertise or skill set) and a project or divisional manager (based on the specific project or product they are working on).

Functional Expertise:

The functional manager is responsible for the employee's career development, skill enhancement, and performance evaluation within their area of expertise.

Project or Divisional Focus:

The project or divisional manager is responsible for the employee's work on specific projects, products, or initiatives and is often more concerned with project outcomes and timelines.

Flexibility:

It allows for a more dynamic response to changing priorities and market conditions because employees can be reassigned to different projects or teams as needed.
In Cisco's case, this matrix structure is used to effectively manage its diverse portfolio of products and services, which includes networking hardware, software, and various technology solutions. The matrix structure typically involves cross-functional teams and reporting relationships that cut across traditional silos to ensure that the company can respond quickly to customer needs and market changes.
Want to learn more about functional and other organizational structures and their role in the business world? Here are some helpful blog resources that you can get started with:
Create this chart in Organimi! 
You can download the CSV file of Cisco's org structure, import it into Organimi and start editing this chart right away! Here's how:
 From your dashboard, select Data Import.
 Click the CSV tile.

 Click 

+Upload Your File

.  

 

Select an Excel file from your device.

 In the 

Organization

 field, click the down arrow to select an organization.

Click Create a New Chart

Click 

Next and select: Organization Chart
Select the auto-build tool to automatically build your chart.
Voila!
Download CSV file:


Cisco (27.1 KB)
Build better org charts with
Organimi.
A powerful, cloud-based platform that helps you create, connect, and collaborate with your colleagues wherever they work.