BMO

's Organizational Structure

Create this exact chart in Organimi! Scroll below to see how. 
Introduction
The Bank of Montreal (BMO) is a Canadian multinational investment bank and financial services company. Founded in 1817 as Montreal Bank, it is a constituent of the 'Big Five' banks in Canada and is the country's third-largest by market capitalization. It is the eighth-largest bank in North America. As of June 2023, BMO had CA$1.251 trillion in total assets under management.  
Unlike many banks around the world that have struggled during financial crises, BMO has not missed a dividend payment since 1829, paying dividends consistently through major world crises such as World War I, the Great Depression, World War II, and the 2008 financial crisis. This makes the Bank of Montreal's dividend payment history one of the longest in the world.
BMO's Organizational Leadership
BMO's day-to-day operations are overseen by the Executive Committee and several Senior Executives. These are two distinct teams who are collectively responsible for setting the automaker's strategy and executing the directives of its board.
Today, the organization is led by the Chief Executive Officer, who is supported by several other executives with responsibility for various areas within the organization. The CEO is also reported to directly by other members of the Executive Committee, which is a mixture of C-level roles and heads of the organization's business units, such as BMO Capital Markets and Wealth Management, and regional heads such as directors for the U.S., Quebec, and Asia.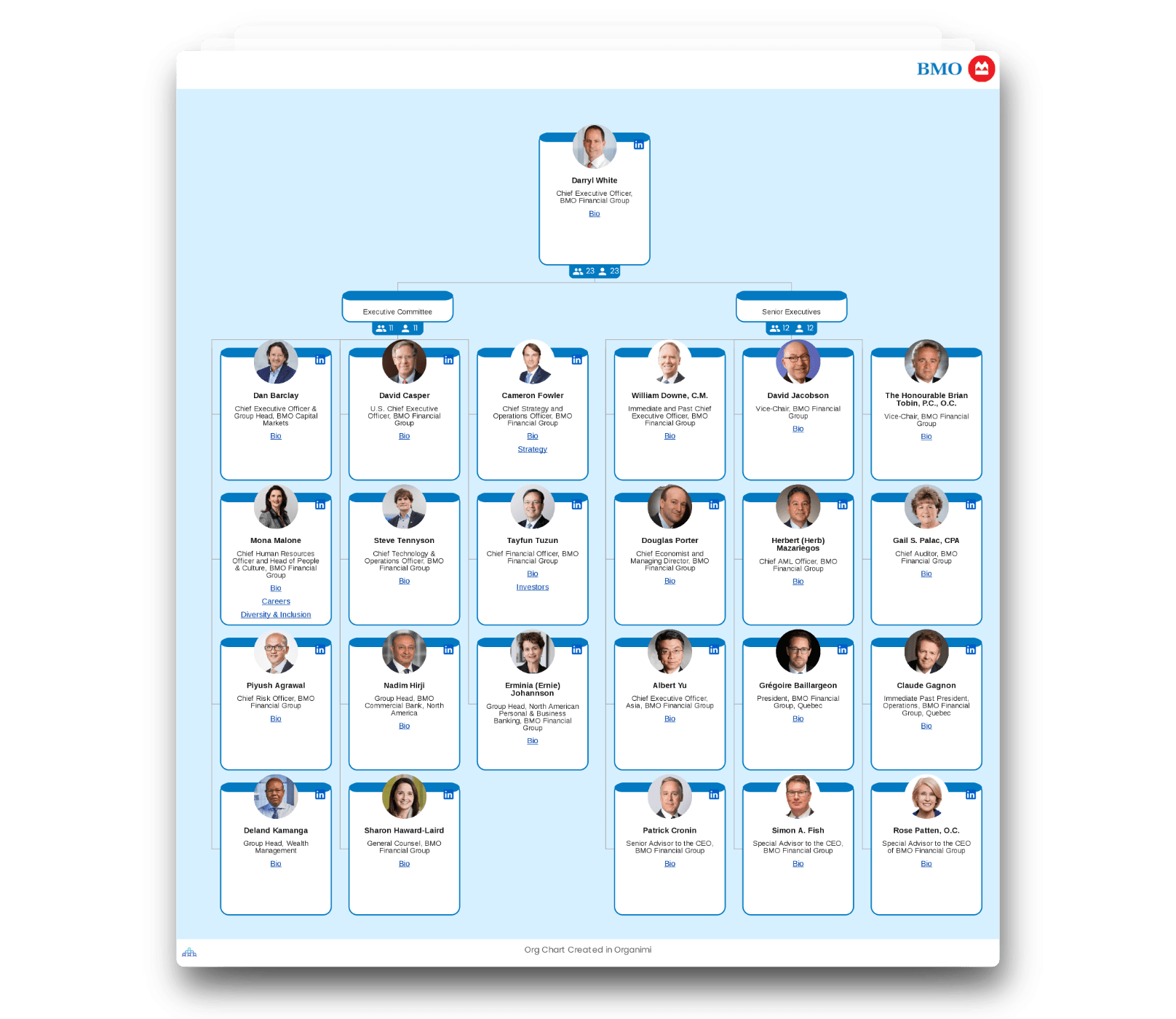 BMO is also overseen by a board of directors, which is the governing body of the company. The board is elected by stockholders, with members often selected for their expertise in a particular area or their industry connections. 
As with many boards, BMO largely holds an advisory role, but some do have wide-reaching powers, duties, and responsibilities as stipulated by corporate law and government regulations, particularly in heavily regulated industries such as finance and pharma.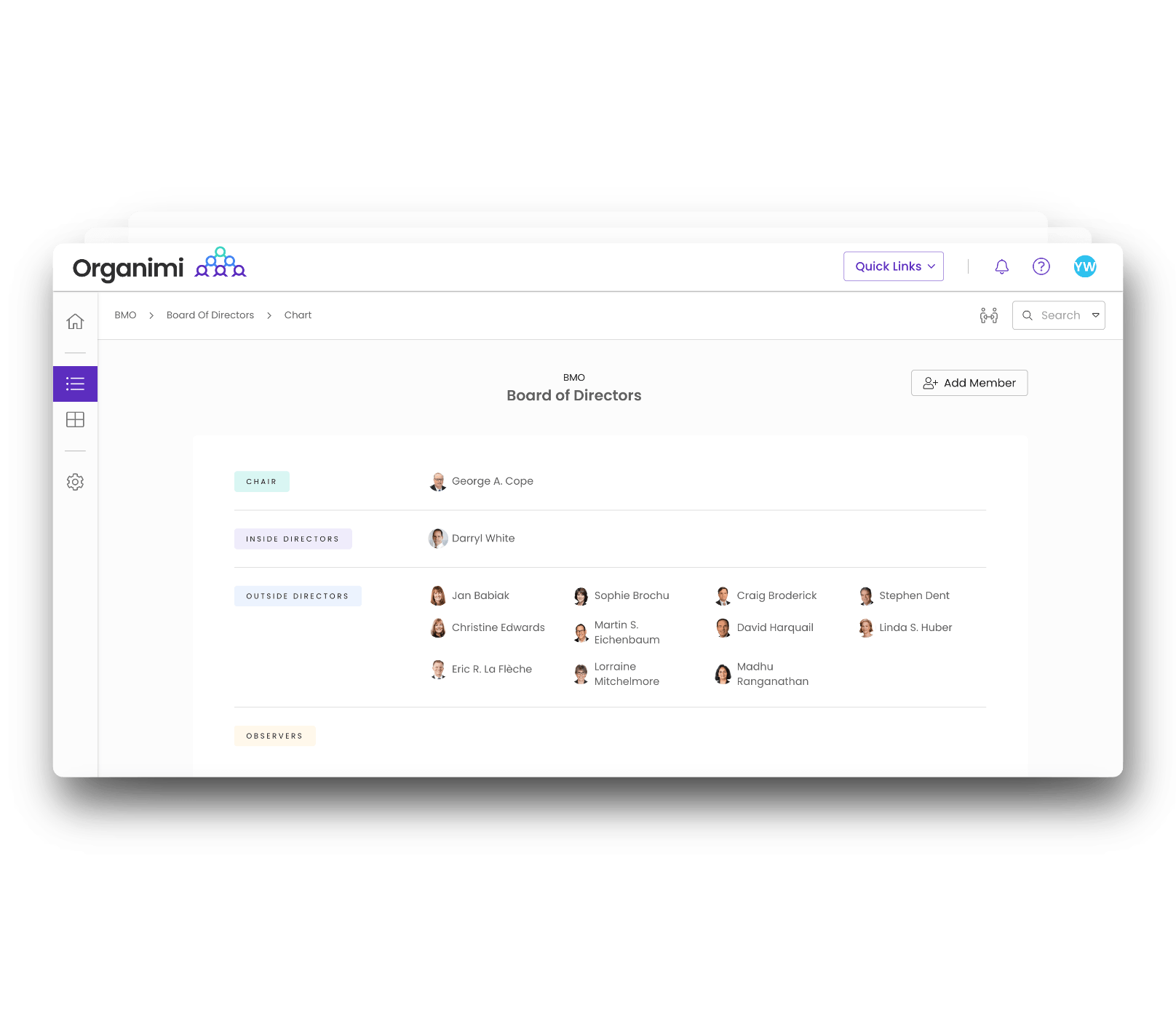 BMO's Organizational Structure
BMO is divided into three separate client groups which are tasked with servicing different markets. Each of the client groups operates under multiple brand names.
The first is the Personal and Commercial Client Group, which is BMO's retail banking arm. Brands in this group include BMO Bank of Montreal, BMO Life, and BMO USA. 
The second is the Investment Banking Group, known as BMO Capital Markets, which offers corporate, institutional, and government clients access to a range of financial services. These include equity and debt underwriting, corporate lending and project financing, merger and acquisitions, and advisory services.
The third is the Private Client Group, which is the bank's wealth management arm. Brands in this group include BMO Harris Investor Services and BMO InvestorLine. 
Owing to these groups, BMO appears to operate with a divisional organizational structure, where key segments of the business are separated according to their individual focus areas and have their own leadership. 
The main benefit of operating with a divisional structure is specialization. Each of BMO's key operational areas has its own specialized leadership and departments within, which can focus highly on the niche areas relevant to their work, rather than focusing more generally on a variety of different areas. 
Want to learn more about them and the role that they play today? Here are some helpful blog resources that you can get started with:
Create this chart in Organimi! 
You can download the CSV file of BMO's org structure, import it into Organimi and start editing this chart right away! Here's how:
 From your dashboard, select Data Import.
 Click the CSV tile.

 Click 

+Upload Your File

.  

 

Select an Excel file from your device.

 In the 

Organization

 field, click the down arrow to select an organization.

Click Create a New Chart

Click 

Next and select: Organization Chart
Select the auto-build tool to automatically build your chart.
Voila!
Download CSV file:


BMO (7.15 KB)
Build better org charts with
Organimi.
A powerful, cloud-based platform that helps you create, connect, and collaborate with your colleagues wherever they work.