Bell Canada

's Organizational Structure

Create this exact chart in Organimi! Scroll below to see how. 
Introduction
Bell Canada is a Canadian telecommunications company and founding member of the Stentor Alliance, a formal alliance of Canada's major telecommunications companies. Bell Canada is one of the main subsidiaries of the holding company BCE Inc., which also owns Bell Media. 
Bell Canada is widely regarded as one of Canada's most important and most powerful companies. In 1975, it was listed as the fifth largest in the country. The company is named after the Scottish-born Canadian resident who invented the telephone, Alexander Graham Bell, and also co-founded Bell Telephone Company in Boston, Massachusetts.
Bell Canada provides many different types of telecommunications services, including a standard voice service, VoIP ("Digital Voice"), voicemail, wireless, television, and Internet. The company previously offered Bell Home Monitoring and cable television services in the 1990s. 
BCE as Bell Canada's holding company is the publicly traded holding corporation for the telecommunications giant. Founded through a corporate reorganization in 1983, it is one of Canada's largest corporations.
BCE's Organizational Leadership
BCE's day-to-day operations are overseen by the Executive Leadership Team. These people are collectively responsible for setting the company's strategy and executing the directives of its board. 
The Executive team is led and overseen by the President and CEO of BCE and Bell Canada, who is reported to directly by the organization's various executives and SVPs, such as the Group President for Consumer and Small & Medium Business (SMB) and the SVP and Chief Brand Officer.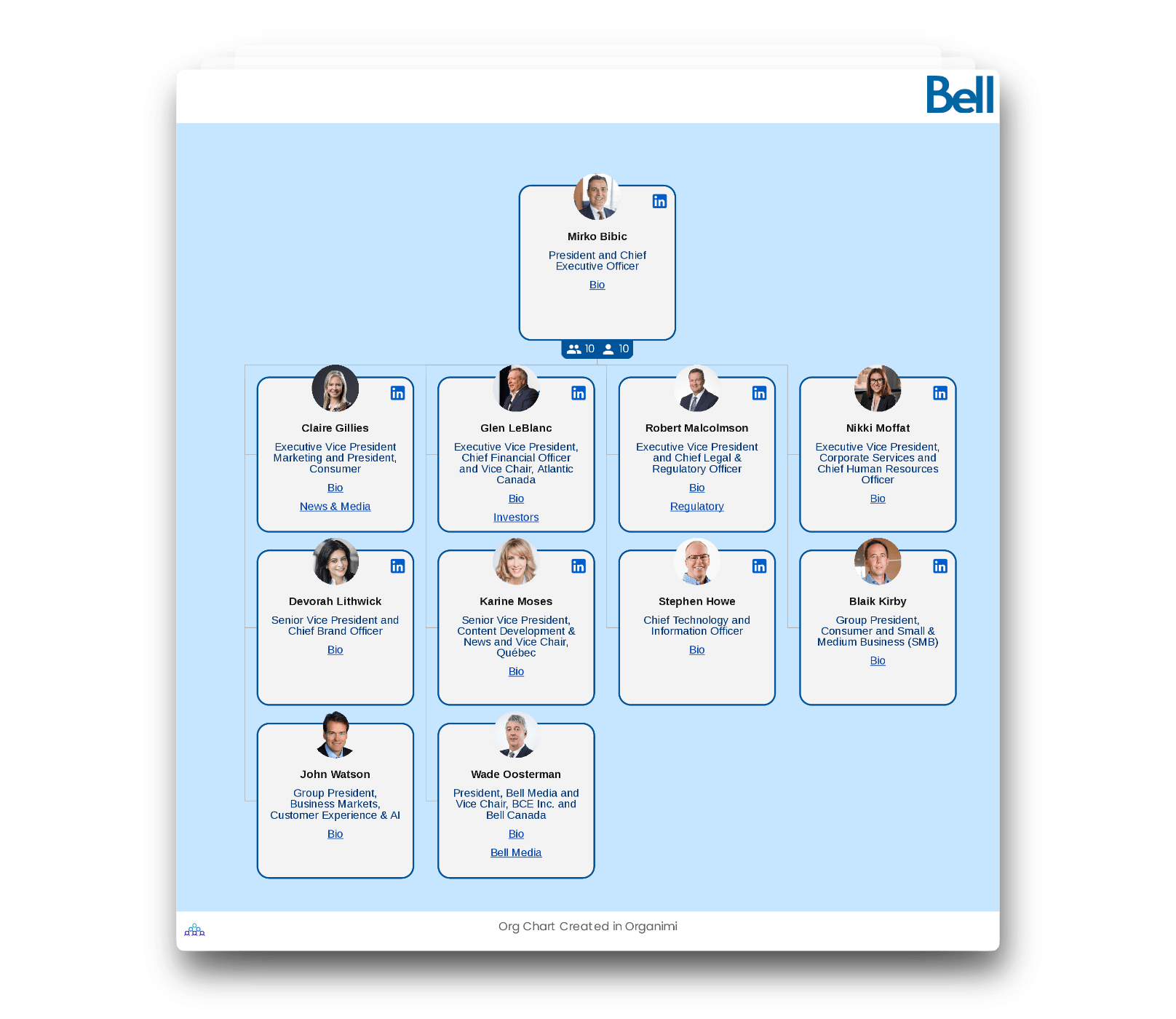 BCE is also overseen by a board of directors, which is the governing body of the company. The board is elected by stockholders, with members often selected for their expertise in a particular area or their industry connections. 
As with many boards, BCE's board largely holds an advisory role, but some do have wide-reaching powers, duties, and responsibilities as stipulated by corporate law and government regulations, particularly in heavily regulated industries such as finance and pharma. 
The board's primary role is overseeing the company's four main committee: audit, corporate governance, risk and pension, and management resources and compensation.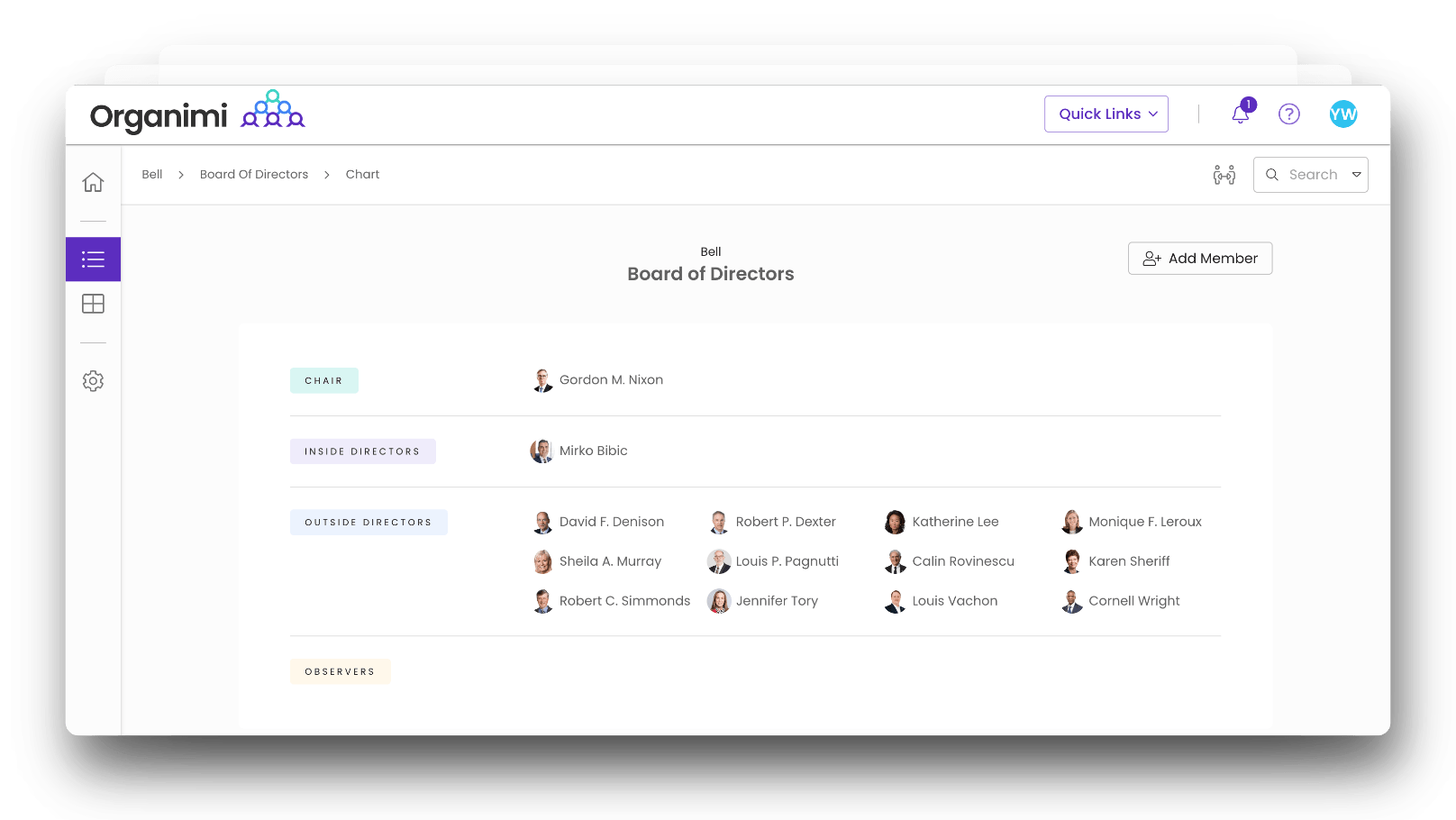 BCE's Organizational Structure
BCE seems to operate with what is known as a matrix organizational structure. This is one of the most common ways of structuring a large organization with multiple teams and levels of management, whereby reporting relationships follow a grid structure rather than the traditional top-down hierarchy. 
Matrix organizations integrate elements from both the functional and divisional structures simultaneously. In a matrix organization, workers have twofold reporting relationships where they report to a product manager and a functional manager. In other words, team members have two distinct line managers with different responsibilities. These managers play fluid roles while answering to the executive who is in a fixed managerial role.
Matrix structures are ideal for teams who work on multiple projects, such as BCE's Consumer and Small & Medium Business (SMB) unit. Instead of creating lots of separate teams for each project, current teams can be split up and assigned their own specific managers who can guide them through a project that runs alongside their existing tasks and responsibilities.
Would you like to learn more about organizational structures and the role that they play today? Here are some helpful blog resources that you can get started with:
Create this chart in Organimi! 
You can download the CSV file of Bell Canada's org structure, import it into Organimi and start editing this chart right away! Here's how:
 From your dashboard, select Data Import.
 Click the CSV tile.

 Click 

+Upload Your File

.  

 

Select an Excel file from your device.

 In the 

Organization

 field, click the down arrow to select an organization.

Click Create a New Chart

Click 

Next and select: Organization Chart
Select the auto-build tool to automatically build your chart.
Voila!
Download CSV file:


Bell (3.26 KB)
Build better org charts with
Organimi.
A powerful, cloud-based platform that helps you create, connect, and collaborate with your colleagues wherever they work.