Barclays' Organizational Structure
Create this exact chart in Organimi! Scroll below to see how. 
Introduction
Barclays is a British multinational universal bank, headquartered in London. Barclays operates as two divisions, Barclays UK and Barclays International, supported by a service company, Barclays Execution Services. 
Barclays' origins can be traced back to the goldsmith banking business which was established in 1690 in the city of London. James Barclay became a partner of the business in 1736, and in 1896, 12 banks in London and the English provinces united as a joint-stock bank under the name Barclays and Co. Over the decades that followed, Barclays expanded to become a nationwide bank. 
Barclays is listed on the London Stock Exchange and is a constituent of the FTSE 100 Index. It also has a secondary listing on the New York Stock Exchange. According to a 2011 paper, Barclays was the most powerful transnational corporation in global financial stability and market competition in terms of corporate control.
Today, Barclays operates in over 40 countries, employs over 80,000 people, and is the fifth-largest bank in Europe by total assets.
Barclays' Executive Committee
Barclays is led by the Executive Committee, a group of senior executives who are responsible for setting the bank's strategy and direction, and for overseeing its day-to-day operations.
The Executive Committee is responsible for making decisions that affect the company as a whole, and for ensuring that the different business units and functions are working together effectively to achieve its goals. 
The Executive Committee serves as the link between the Board of Directors and the rest of the company and helps to ensure that the Board's decisions are translated into action.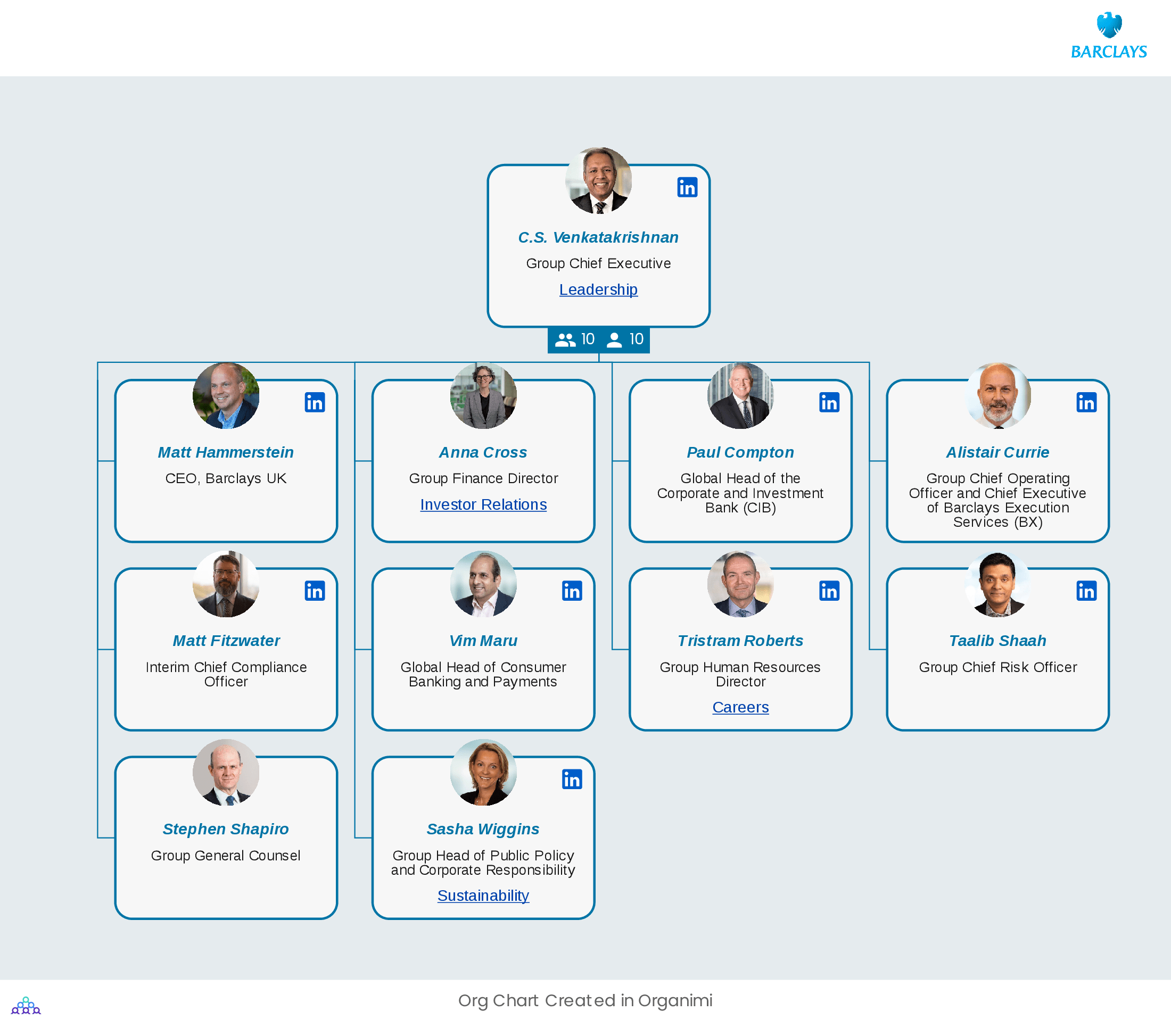 Barclays' Board of Directors is the governing body of the bank that's elected by stockholders, with members often selected for their expertise in a particular area or their industry connections. 
As with many boards, the Barclays Board of Directors typically holds an advisory role, but some do have wide-reaching powers, duties, and responsibilities as stipulated by corporate law and government regulations, particularly in heavily regulated industries such as finance and pharma. 
Barclays' board of directors sets the bank's strategy and oversees its implementation by the executive committee with the goal of creating and delivering sustained shareholder value.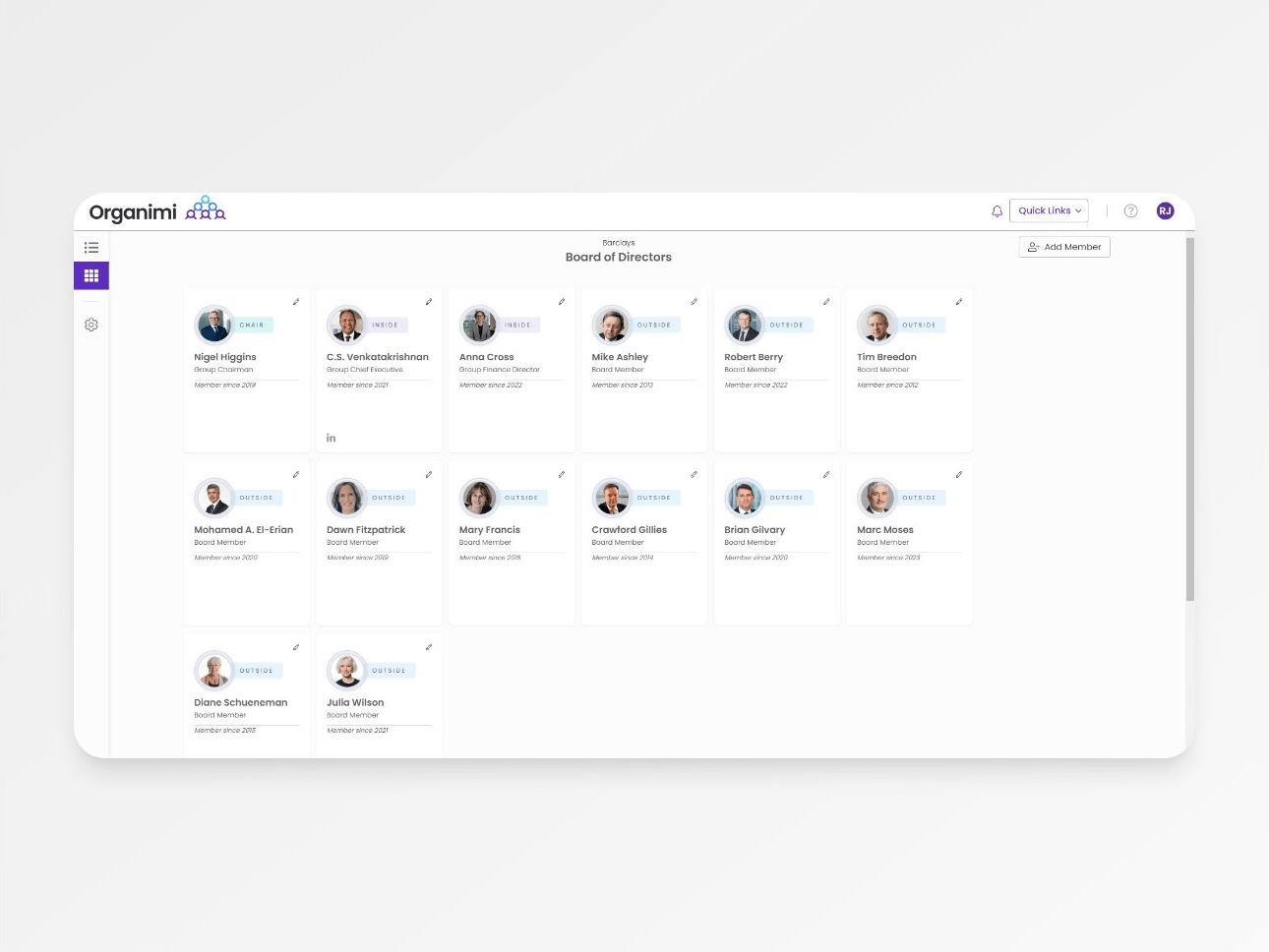 Barclays' Organizational Structure
Barclays is a multinational bank with a complex organizational structure. The bank's structure is fundamentally based on what is known as a matrix org structure, with multiple business lines operating across different geographic regions.
At the highest level, Barclays is organized into three main business divisions: Personal Banking, Corporate Banking, and Investment Banking. These divisions are then further divided into smaller business units and functional departments, including Wealth Management, Commercial Banking, and Corporate Finance.
Each division operates semi-independently and is ultimately responsible for its own profit and loss. That said, they also work closely with functional departments such as Risk, Compliance, and Technology, which provide support and expertise across the organization.
Barclays is further divided into three main regions: Europe, Africa, and the Americas. Each region is responsible for its own operations and is led by a regional CEO. The regional structure allows Barclays to better serve its customers and respond to local market challenges.
Overall, Barclays' organizational structure is designed to balance the needs of its multiple business functions and regions, while simultaneously ensuring that the bank's operations run efficiently and meet strategic objectives. 
Want to learn more about organizational structures and the role that they play within modern organizations? Here are some helpful blog resources that you can get started with:
Create this chart in Organimi! 
You can download the CSV file of Barclays' org structure, import it into Organimi and start editing this chart right away! Here's how:
 From your dashboard, select Data Import.
 Click the CSV tile.

 Click 

+Upload Your File

.  

 

Select an Excel file from your device.

 In the 

Organization

 field, click the down arrow to select an organization.

Click Create a New Chart

Click 

Next and select: Organization Chart
Select the auto-build tool to automatically build your chart.
Voila!
Download CSV file:


Barclays (13.74 KB)
Build better org charts with
Organimi.
A powerful, cloud-based platform that helps you create, connect, and collaborate with your colleagues wherever they work.