Saudi Aramco's Organizational Structure
Create this exact chart in Organimi! Scroll below to see how. 
Introduction
Saudi Aramco, officially known as the 'Saudi Arabian Oil Company' and formerly known as 'Arabian-American Oil Company', is a Saudi Arabian public petroleum and natural gas company based in Dhahran, Saudi Arabia. It is owned by the government of Saudi Arabia and employs more than 65,000 people worldwide. 
As of 2020, Saudi Aramco is one of the largest companies in the world by revenue and boasts both the world's second-largest proven crude oil reserves (roughly 270 billion barrels) and the largest daily oil production of all oil-producing companies. This makes it one of the largest contributors to global carbon emissions of any company in the world, and it has been for almost 60 years. In May 2022, the company surpassed Apple by becoming the world's largest company by market capitalization.
Saudi Aramco's Corporate Management
Saudi Aramco is led by a Board of Directors and a corporate management team composed of key executives and senior vice president roles. The eight-strong team is, according to the Saudi Aramco website, made up of experts who possess deep domain knowledge and expertise. 
Saudi Aramco is organized into key business units, each of which is headed by a member of the corporate management team.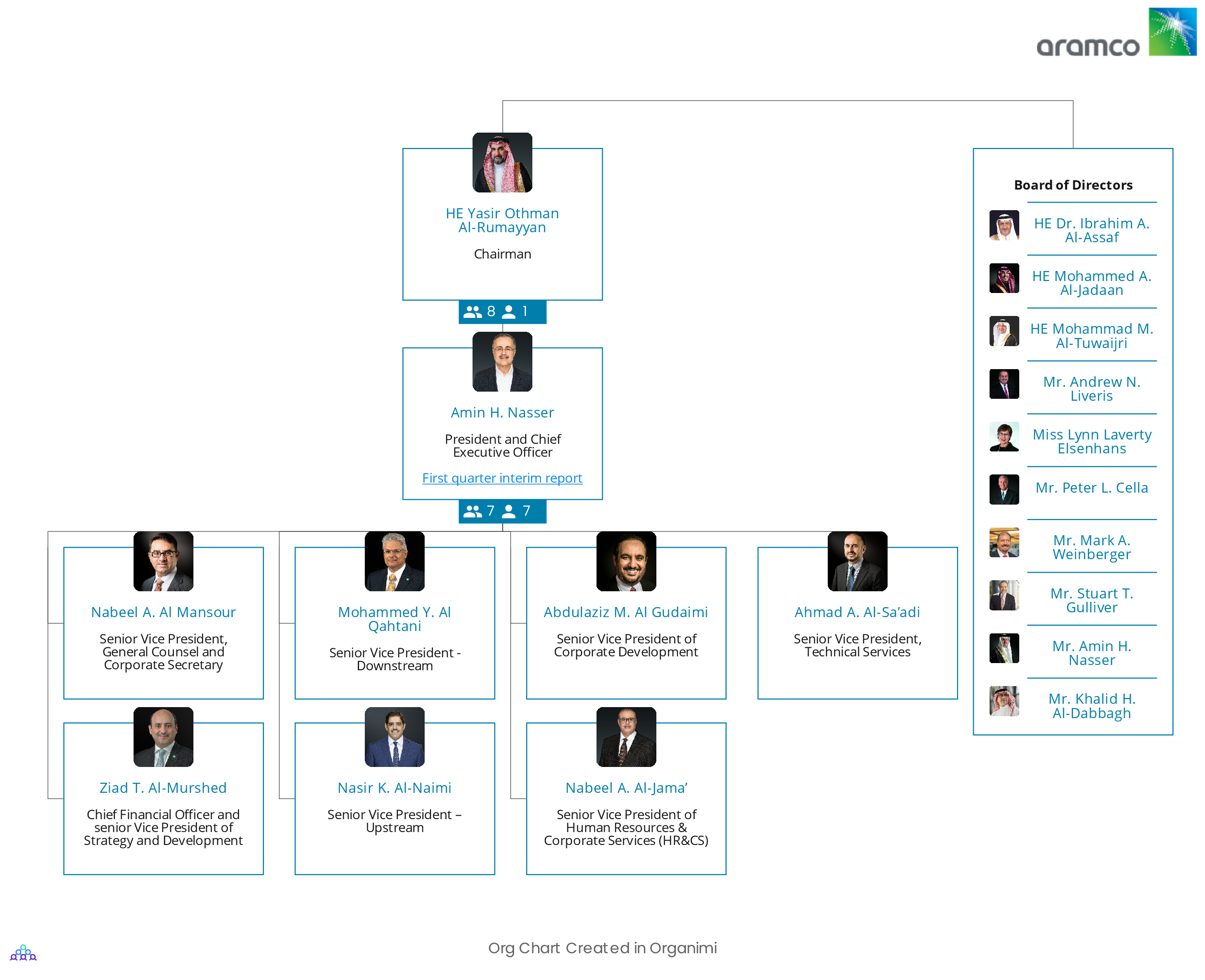 Saudi Aramco's Organizational Structure
Throughout its 90-year history, Saudi Aramco's core structure has changed several times in response to trends, challenges, and market conditions. More recently, in 2020, the company commenced a reorganization of its downstream business function by launching a new operating model that includes four commercial business units: fuels; chemicals; power; and pipelines, distributions & terminals. According to Saudi Aramco, the reorganization was deployed in a bid to improve the effectiveness and efficiency of its downstream assets.
Despite several reorganizations over the years, however, Saudi Aramco has remained a fundamentally bureaucratic organization where the company's global functions are ultimately controlled from the top. There's a high level of centralization within the company, meaning that different business functions are monitored and supervised by different managers across the organization. 
The topmost leaders at the company occupy C-level positions and are responsible for overseeing specific departments such as finance, marketing, downstream, exploration and productions, and gas operations. As in any hierarchical structure, these executives delegate and offer instructions to their direct subordinates down the chain while information flows back up towards them. 
Want to learn more about organizational structures and the role that they play within modern organizations? Here are some helpful blog resources that you can get started with:
Create this chart in Organimi! 
You can download the CSV file of Saudi Aramco's org structure, import it into Organimi and start editing this chart right away! Here's how:
 From your dashboard, select Data Import.
 Click the CSV tile.

 Click 

+Upload Your File

.  

 

Select an Excel file from your device.

 In the 

Organization

 field, click the down arrow to select an organization.

Click Create a New Chart

Click 

Next and select: Organization Chart
Select the auto-build tool to automatically build your chart.
Voila!
Download CSV file:


Aramco (27.48 KB)
Build better org charts with
Organimi.
A powerful, cloud-based platform that helps you create, connect, and collaborate with your colleagues wherever they work.