Allianz's Organizational Structure
Create this exact chart in Organimi! Scroll below to see how. 
Introduction
Allianz is a German multinational financial services company headquartered in Munich, Germany. Founded in 1890, the company's core businesses are insurance and asset management. Allianz's asset management division, which includes Allianz Global Investors and Allianz Real Estate, has more than €2.4 billion euros of assets under management, of which €1,775 billion euros are third-party assets as of Q1 2021. 
As of 2014, Allianz is the world's largest insurance company, the world's largest financial services group, and the world's largest company according to a composite measure by Forbes. It's also the world's largest financial services company when measured by its 2013 revenue. Its 2020 revenues stood at €140.5 billion.
Allianz has operations in over 70 countries and has around 150,000 employees. The parent company, Allianz SE, which is the parent organization for all Allianz operations and subsidiaries, is headquartered in Munich, Germany. To date, Allianz has more than 100 million customers worldwide to whom a wide range of insurance (including casualty, life, health, and property insurance) and asset management services are provided. 
Allianz's Organizational Leadership
Allianz's day-to-day operations are overseen by the Board of Management, an 11-strong team of senior executives who are each responsible for one of the company's functional units.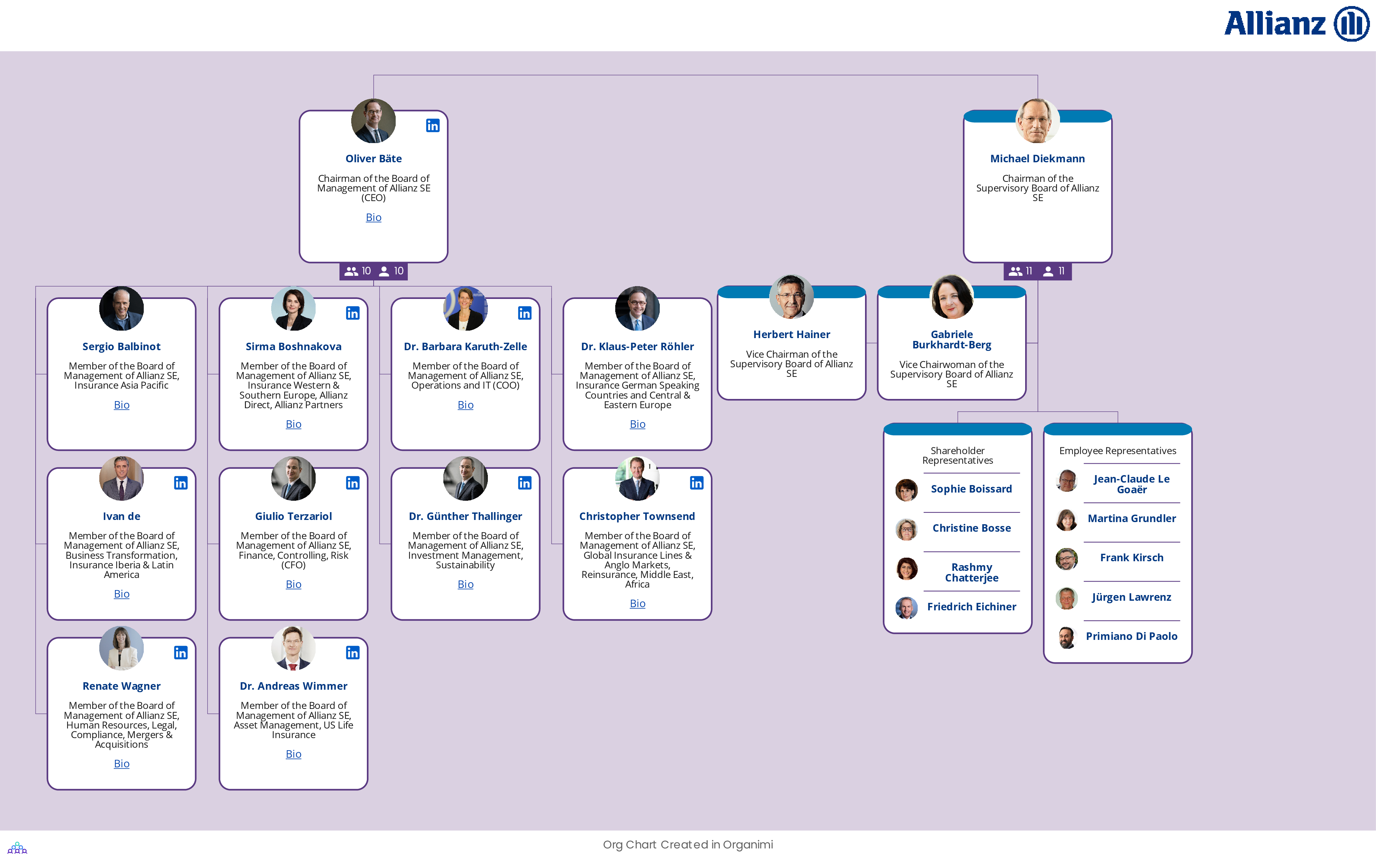 Allianz's Organizational Structure
Allianz SE is the holding company for the Allianz Group and has overall oversight and control of all Allianz's subsidiaries and other entities. These subsidiaries and entities are organized into 10 key functional groups, H1 through H10. These are:
H1: Chairman of the Board

H2: Finance, Controlling, Risk

H3: Investment Management

H4: Operations and IT

H5: HR, Legal, Compliance, M&A

H6: Insurance Western & Southern Europe and Asia Pacific

H7: Insurance German Speaking Countries and Central & Eastern Europe

H8: Asset Management, US Life Insurance

H9: Global Insurance Lines & Anglo Markets, Middle East and Africa

H10: Insurance Iberia & Latin America and Allianz Partners
Each member of the Allianz Board of Management is ultimately responsible for overseeing and directing one of these 10 functional groups and reporting directly back to the CEO. 
As such, Allianz can be said to be operating with a functional organizational structure. A functional organizational structure is a type of knowledge-led org structure that's used to organize and group employees based on their specific skills. It is loosely based on a typical hierarchy and includes different departments under the direction of defined leaders.
Organizations with very broad operations like Allianz tend to favor functional org structures because it streamlines the management of different business units and makes operations more efficient. Functional structures also help employees achieve their goals and work together more cohesively because the functional org structure groups people together with similar and complementary knowledge and skills.
As we can see by looking at Allianz's organizational structure, certain parts of the business, including subsidiaries and other entities, have been segmented into specialist groups (H1 to H5) and product and service areas (i.e., H6 to H10). These groups are commonly referred to as "silos" because they function independently and have their own management structures.
Want to learn more about organizational structures and the role that they play within modern organizations? Here are some helpful blog resources that you can get started with:
Create this chart in Organimi! 
You can download the CSV file of Allianz's org structure, import it into Organimi and start editing this chart right away! Here's how:
 From your dashboard, select Data Import.
 Click the CSV tile.

 Click 

+Upload Your File

.  

 

Select an Excel file from your device.

 In the 

Organization

 field, click the down arrow to select an organization.

Click Create a New Chart

Click 

Next and select: Organization Chart
Select the auto-build tool to automatically build your chart.
Voila!
Download CSV file:


Allianz (5.06 KB)
Build better org charts with
Organimi.
A powerful, cloud-based platform that helps you create, connect, and collaborate with your colleagues wherever they work.