Adobe's Organizational Structure
Create this exact chart in Organimi! Scroll below to see how. 
Introduction
Adobe is an American multinational computer software giant. Founded in 1982, Adobe has historically specialized in software for the creation and publication of a variety of content, including illustration, graphics, photography, animation, video, and print. Its flagship products include image editing software Adobe Photoshop, vector-based illustration software Adobe Illustration, Adobe Acrobat Reader, and the Portable Document Format (PDF).
Adobe was started in founder John Warnock's garage, with the company's name coming from Adobe Creek in Los Altos, which ran behind Warnock's house. Steve Jobs attempted to buy the company for $5 million in 1982, but Warnock and co-founder Charles Geschke refused, instead agreeing to sell him shares worth 19 percent of the company. This, in conjunction with a five-year license fee for PostScript paid in advance, made Adobe the first company in the history of Silicon Valley to become profitable in its first year.
As of 2022, Adobe has more than 26,000 employees worldwide, with major development operations across the United States and in Noida Bangalore, India. Its revenue for the fiscal year 2021 exceeded $15 billion.
Adobe's Organizational Leadership
Adobe's day-to-day operations are led by a seven-strong team of senior executives who occupy C-level, presidential, and executive vice presidential roles. 
The top position is that of the Chairman and CEO, who is reported to by six immediate subordinates who are responsible for leading key areas of the business, such as Creative Cloud, Digital Experience Business, and Digital Media Business.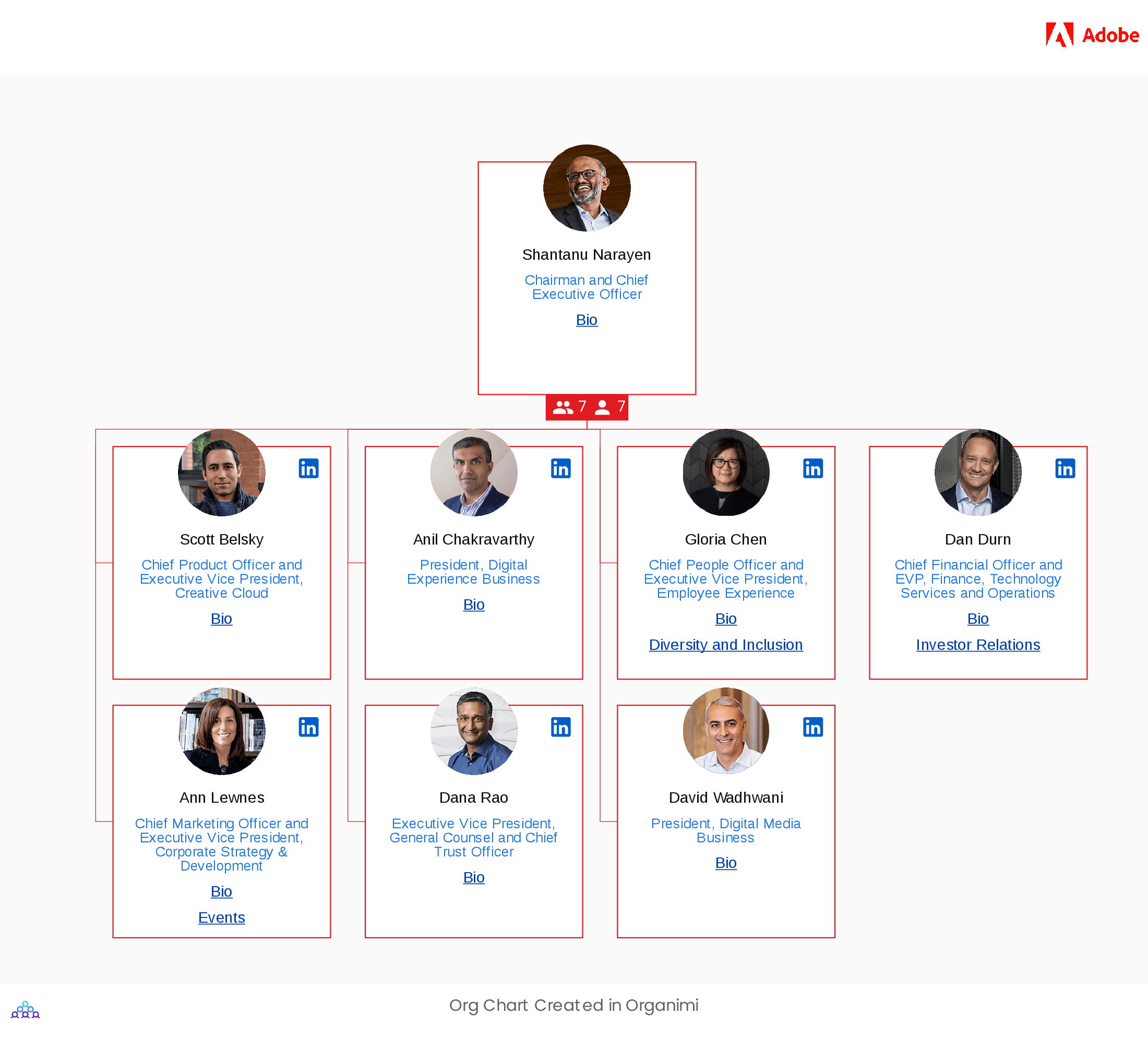 Large organizations like Adobe are also overseen by a board of directors. This is the governing body of a company that's generally elected by stockholders, with members often selected for their expertise in a particular area or their industry connections. 
A board typically holds an advisory role, but some boards do have wide-reaching powers, duties, and responsibilities as stipulated by corporate law and government regulations, particularly in heavily regulated industries such as finance and pharma. 
Adobe's Board of Directors is focused on creating long-term value for Adobe stockholders. Members include co-founder John Warnock and experts from a broad range of industries and business categories.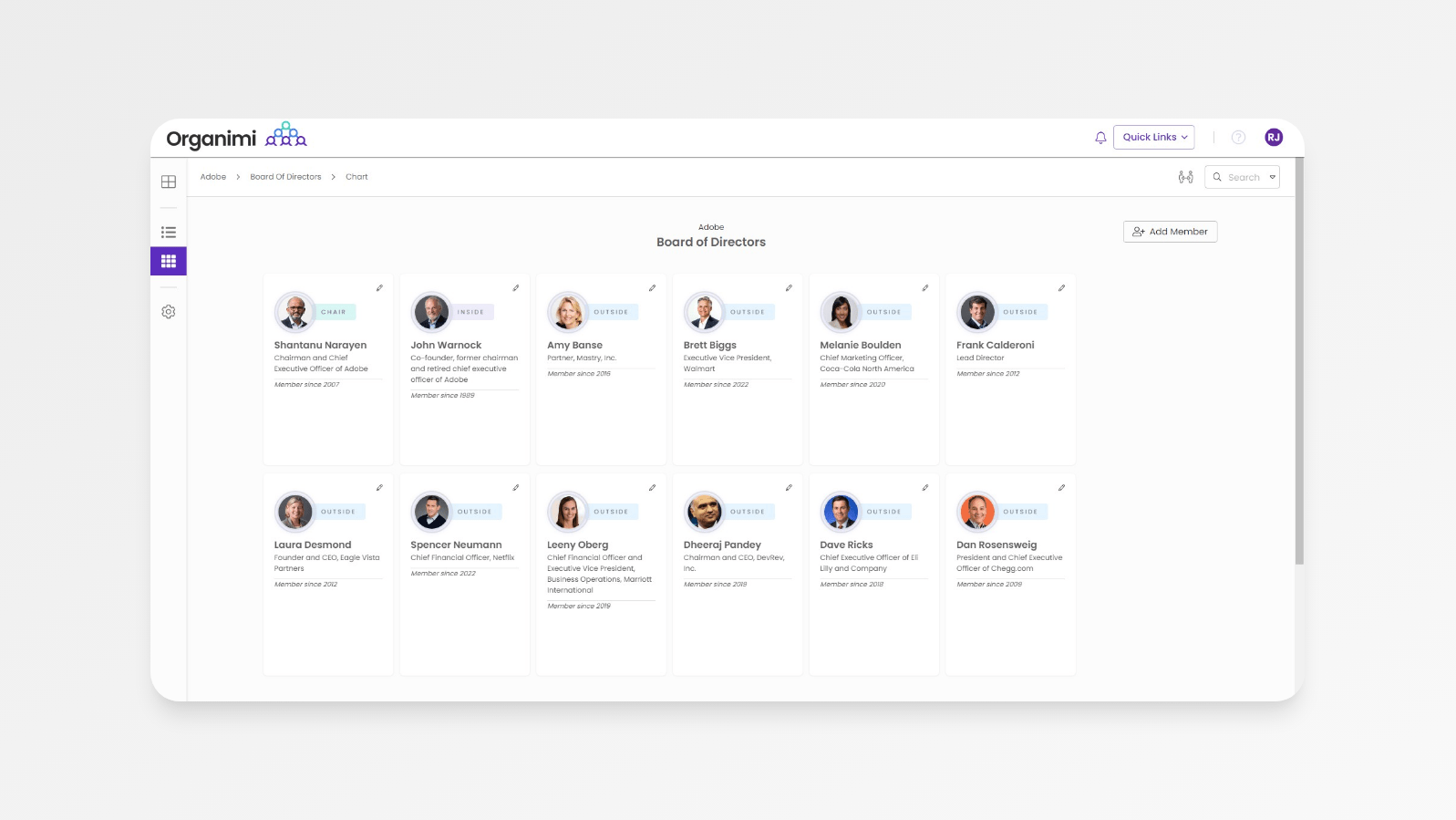 Adobe's Organizational Structure
Adobe appears to operate with a functional organizational structure, whereby key areas of the business are separated according to focus areas and have their own leadership. 
Adobe's two functional areas are the Digital Media Business and the Digital Experience Business. The Digital Media Business provides tools and solutions that enable individuals, businesses, and enterprises to create, publish, promote, and monetize their digital content. On the other hand, the Digital Experience Business is one of the world's largest SaaS businesses and the leader in customer experience management (CXM). 
The benefit of dividing the company up in this way, and indeed the benefit of operating with a functional structure, is specialization. Each of the two business units has its own specialized departments which are focused on niche areas relevant to that business unit, rather than more general areas that might not be relevant to them both. This means that employees within the two functional areas are more skilled in the tasks that they do, and that they also benefit from clear lines of management and an understanding of their own roles and the roles of their colleagues. 
In addition to the two business units, there are departments for Adobe Creative Cloud, People & Employee Experience, Finance, Technology, Service, and Operations (FTSO), and Legal. 
Want to learn more about organizational structures and the role that they play within modern organizations? Here are some helpful blog resources that you can get started with:
Create this chart in Organimi! 
You can download the CSV file of Adobe's org structure, import it into Organimi and start editing this chart right away! Here's how:
 From your dashboard, select Data Import.
 Click the CSV tile.

 Click 

+Upload Your File

.  

 

Select an Excel file from your device.

 In the 

Organization

 field, click the down arrow to select an organization.

Click Create a New Chart

Click 

Next and select: Organization Chart
Select the auto-build tool to automatically build your chart.
Voila!
Download CSV file:


Adobe (16.1 KB)
Build better org charts with
Organimi.
A powerful, cloud-based platform that helps you create, connect, and collaborate with your colleagues wherever they work.