Adidas' Organizational Structure
Create this exact chart in Organimi! Scroll below to see how. 
Introduction
Adidas, stylized as adidas since 1949, is a German multinational corporation that designs and manufactures clothing, shoes, and accessories. It is Europe's largest sportswear manufacturer and the second largest in the world after American giant Nike. Adidas was founded by Adolf Dassler in his mother's house in 1924, along with his elder brother Rudolf, as the Dassler Brothers Shoe Factory.
The company started out by developing spiked running shoes for athletes and pioneered the use of a lightweight canvas and rubber material for the spikes as opposed to heavier metals, which impacted performance. The Dassler brothers persuaded American track and field athlete Jesse Owens to use these spikes at the 1936 Summer Olympics.
Following the breakdown of the two brothers' relationship in 1949, Adolf founded Adidas and Rudolf established Puma, which became Adidas' main rival. Three years later, Adidas purchased the notorious 'three stripes' branding from Finnish sports company Karhu Sports. Today, Adidas is known by many as "The three stripes company".
Adidas' Executive Board
Adidas' day-to-day operations are led by the Executive Board. Unusual for an organization of Adidas' size, this is composed of just six members who occupy key leadership positions. 
The overall leader of Adidas is the chief executive officer, who also chairs the board of directors (Adidas' Supervisory Board) and is supported and reported to by the heads of global sales; global brands; global operations; human resources; and the chief financial officer.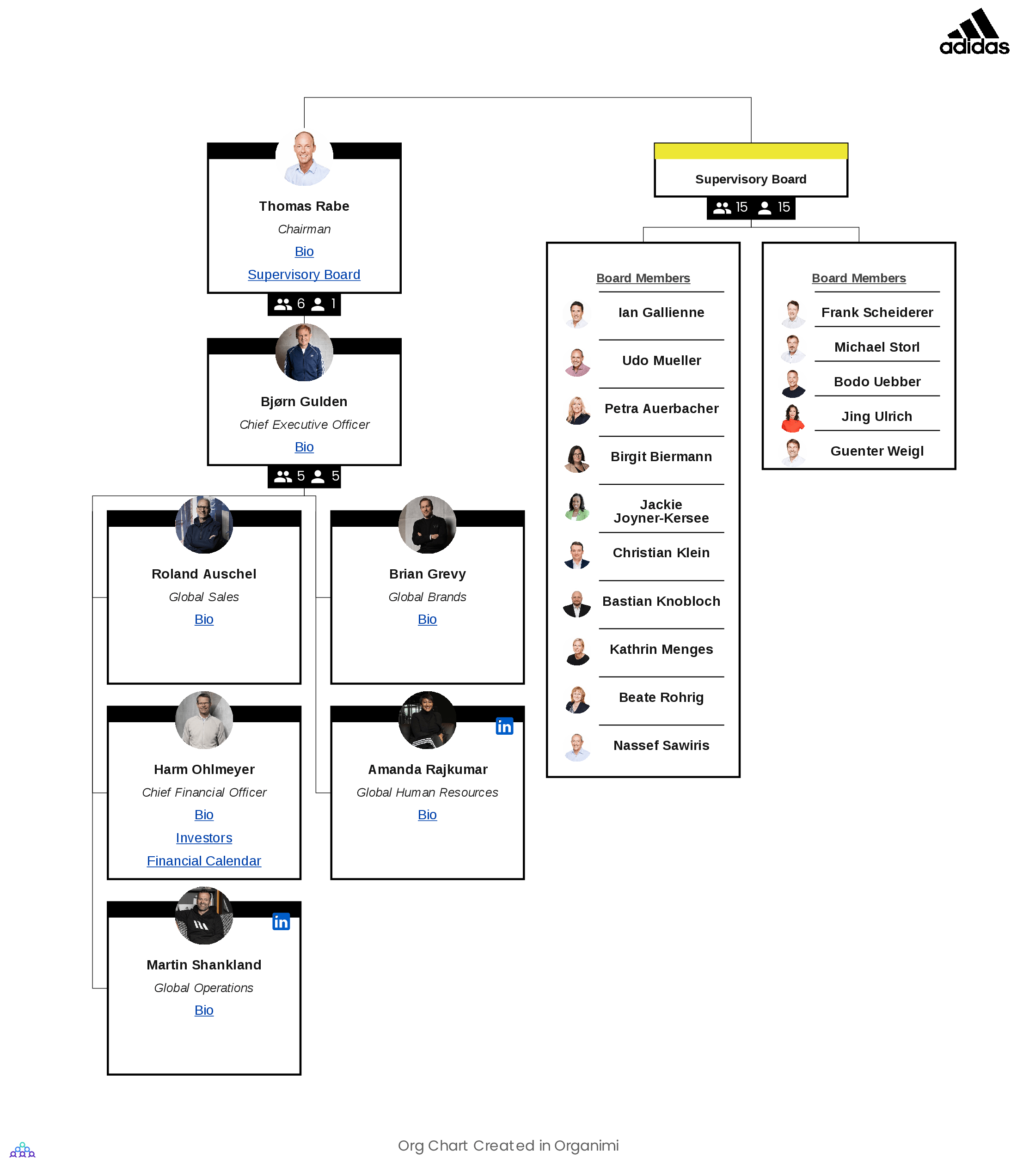 Large organizations like Adidas are also typically overseen by a board of directors. This is the governing body of a company that's elected by stockholders, with members often selected for their expertise in a particular area or their industry connections. 
A board typically holds an advisory role, but some boards do have wide-reaching powers, duties, and responsibilities as stipulated by corporate law and government regulations, particularly in heavily regulated industries such as finance and pharma. 
Adidas' board of directors is known as the Supervisory Board, and it is composed of 16 members in accordance with the German Co-Determination Act—Mitbestimmungsgesetz.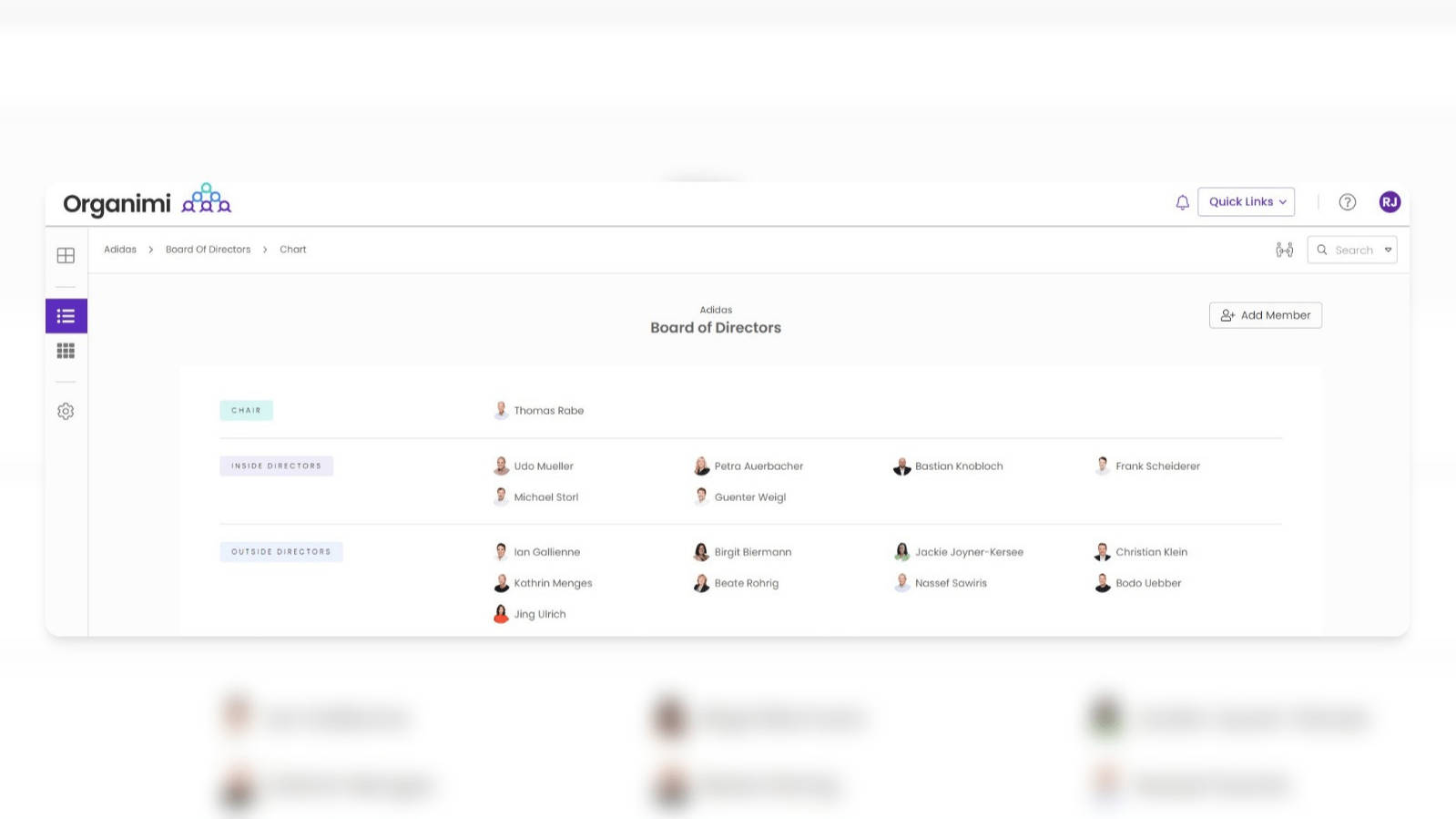 Adidas' Organizational Structure
An organizational structure is a system that defines how operations and activities, such as coordination and supervision, are directed so that an organization can achieve its goals. 
All organizations have some form of structure, even if it's not formalized. There are many different types of organizational structures, from traditional corporate hierarchies to the more modern 'flat' structures used by start-ups.
Adidas appears to operate with what is known as a 'matrix' organizational structure, where teams report to multiple supervisors and leaders, the classic example being any situation where an employee reports to both a departmental manager and a project manager for project-based work. There are other situations where an employee might report to two or more managers, though.
The matrix structure fosters open communication between teams and can help companies like Adidas create more innovative products and services. At Adidas, for example, teams working in product design might report to managers with roles that fall within the remit of both global sales and global operations, because departments and teams from within both areas will work together according to the demands of ongoing projects.
Although the matrix organizational structure is more complex than the traditional hierarchical structure, it has many advantages. These include clear project objectives, efficient use of resources, transparency, and the free flow of information. 
Want to learn more about organizational structures and the role that they play within modern organizations? Here are some helpful blog resources that you can get started with:
Create this chart in Organimi! 
You can download the CSV file of Adidas' org structure, import it into Organimi and start editing this chart right away! Here's how:
 From your dashboard, select Data Import.
 Click the CSV tile.

 Click 

+Upload Your File

.  

 

Select an Excel file from your device.

 In the 

Organization

 field, click the down arrow to select an organization.

Click Create a New Chart

Click 

Next and select: Organization Chart
Select the auto-build tool to automatically build your chart.
Voila!
Download CSV file:


Adidas (10.03 KB)
Build better org charts with
Organimi.
A powerful, cloud-based platform that helps you create, connect, and collaborate with your colleagues wherever they work.