Wealthsimple's Organizational Structure
Create this exact chart in Organimi! Scroll below to see how. 
Introduction
Wealthsimple Inc. is an online investment service that targets "millennials" – i.e., those born between 1980 and mid-to-late 1990s. The firm was founded in September 2014 by its CEO Michael Katchen and is headquartered in Toronto, Canada. As of November 2021, Wealthsimple manages over CAD$15 billion in assets.
History of Wealthsimple
CEO Michael Katchen worked for 1000Memories, a Silicon Valley start-up, before founding Wealthsimple. When Ancestry.com bought 1000Memories in 2012, he developed a spreadsheet to help his colleagues set up investment portfolios, and this is what gave Katchen the idea for Wealthsimple. 
In 2014, Katchen founded his company and in December 2015 it merged with Canadian ShareOwner Investments Inc., a Canadian broker-dealer. Through this acquisition, Wealthsimple became the owner of one of Canada's 14 discount brokerages alongside the likes of the Royal Bank of Canada. 
In 2018, the firm launched a high-interest savings account called Wealthsimple Save, and then in March 2019, the firm's zero-commission stock and exchange-traded fund mobile app, Wealthsimple Trade, launched publicly. In January 2020, Wealthsimple Cash, a hybrid savings/chequing account, was launched for Canadian customers. In October 2020, Wealthsimple raised US$87 million in venture funding.  
Recent figures estimate that Wealthsimple has a client base of over 1.5 million, growing from an estimated 175,000 since August 2019. Between February and November 2021, estimates also suggest that the amount of assets under management by Wealthsimple grew from CAD$8.4 billion to CAD$15 billion.
Products and services
Since its 2014 founding, Wealthsimple has grown to offer a wide range of products and services. These include:
Wealthsimple Invest, the firm's automated investing service.

Wealthsimple Cash, a peer-to-peer cash transfer platform.

Wealthsimple Trade, a self-directed investment platform for stocks and ETFs. 

Wealthsimple Crypto, a platform for buying and selling several cryptocurrencies.

Wealthsimple Tax, an all-in-one tax preparation, and filing platform.
Wealthsimple's organizational chart:
Wealthsimple doesn't operate with a hierarchical organizational structure like many of its competitors and other firms operating in the financial industry. 
Instead, the firm has a functional org structure that groups employees by their specialist skills and roles and is based on levels of hierarchy that include different departments under the direction of designated leaders.
As you can see, Wealthsimple is split into several groups. CEO Michael Katchen, who is also the head of Wealthsimple's board, sits at the top of the org chart. 
Immediately below Katchen are the CFO Aimee Fearon and COO Brett Huneycutt, and the C-level heads of Wealthsimple's functional groups:
Core Operations & Trade

Investment

Human Resources

Product

Legal

Wealthsimple Foundation (the firm's charitable arm) 
Opting for a functional organizational structure rather than a traditional, strict hierarchy enables Wealthsimple to centralize strategic control across key business segments. 
It also has several advantages for employees, too, who will feel more empowered in their roles and have more autonomy to effect real change in the organization through their work. This is because functional organizations are less bureaucratic. There are fewer hoops to jump through when it comes to decision making, which enables employees to be more productive, and the increased level of internal clarity that comes with a functional structure lets employees know where they fit in and how they can progress and develop.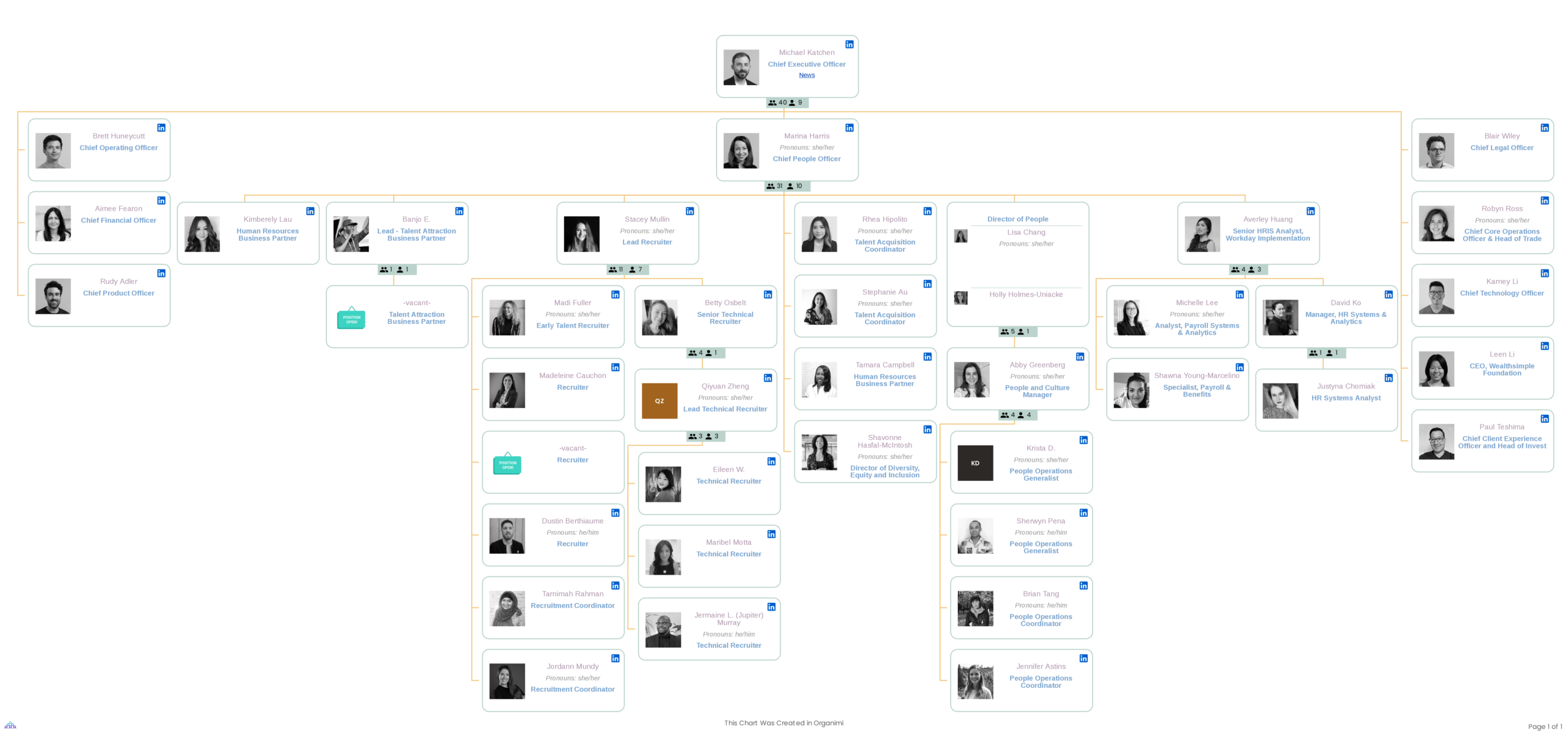 Learn more about organizational charts:
Want to learn more about organizational charts? They play a bigger role in organizational success than you might think!  
Here are some helpful blog resources that you can start with:
Create this chart in Organimi! 
You can download the CSV file of Wealthsimple org structure, import it into Organimi and start editing this chart right away! Here's how:
 From your dashboard, select Data Import.
 Click the CSV tile.

 Click 

+Upload Your File

.  

 

Select an Excel file from your device.

 In the 

Organization

 field, click the down arrow to select an organization.

Click Create a New Chart

Click 

Next and select: Organization Chart
Select the auto-build tool to automatically build your chart.
Voila!
Download CSV file:


Wealth-Simple (7.37 KB)
Build better org charts with
Organimi.
A powerful, cloud-based platform that helps you create, connect, and collaborate with your colleagues wherever they work.