UNICEF's Organizational Structure
Create this exact chart in Organimi! Scroll below to see how. 
Introduction
UNICEF, also known as the United Nations Children's Fund, is a UN agency responsible for providing humanitarian aid to children worldwide. It is one of the world's biggest and most recognizable social welfare organizations that has a presence in over 190 countries. This global presence makes it the world's leading advocate for children.
Some of UNICEF's main activities include providing immunization, helping prevent the spread of disease, providing treatment to children and mothers who are HIV positive, improving sanitation, promoting education, and providing relief in times of natural disaster, civil unrest, or war.
UNICEF is supported entirely through voluntary funds and government funding. National governments contribute around two-thirds of UNICEF's resources while millions of donors worldwide contribute the remaining one-third of funds through UNICEF's 34 National Committees. These are responsible for activities such as fundraising, selling UNICEF products, and creating key partnerships with society and industry.
How UNICEF Operates
A global organization on the scale of UNICEF with on-the-ground operations in nearly 200 countries can't operate without strong organizational management. 
Every country where UNICEF operates has its own country office that is responsible for carrying out the organization's mission through a programme of cooperation developed in partnership with the host government. These programs are planned and delivered in five-year stints, and they are designed to focus on practical ways to improve the rights and prospects of women and children in that country. 
Regional Offices within host countries are responsible for guiding the delivery of this work, and they report and provide technical assistance to country offices when needed. There are also a range of specialized offices dotted around the world, such as UNICEF's Supply Division which is responsible for procuring and delivering most of life-saving vaccines that UNICEF delivers in developing countries.
The overall management and administration of UNICEF as a global organization takes place at its headquarters in New York, USA under the supervision of the UNICEF executive team. It is here where UNICEF's global policy on children is formed.
UNICEF's Organizational Structure
The body responsible for guiding UNICEF's global work is a 36-member Executive Board made up entirely of government representatives. The executive board is responsible for establishing policies, approving new programmes, and making key decisions on administrative and financial plans. 
The current head of the Executive Board is Executive Director Henrietta H. Fore, who assumed this role in 2018. However, Fore is set to be replaced by Executive Director-designate, Catherine M. Russell in the near future. 
UNICEF also has executive leadership teams for each of its national missions. UNICEF Canada, for example, is led by President and CEO David Morley who is assisted by several other C-level officials and a Board of Directors.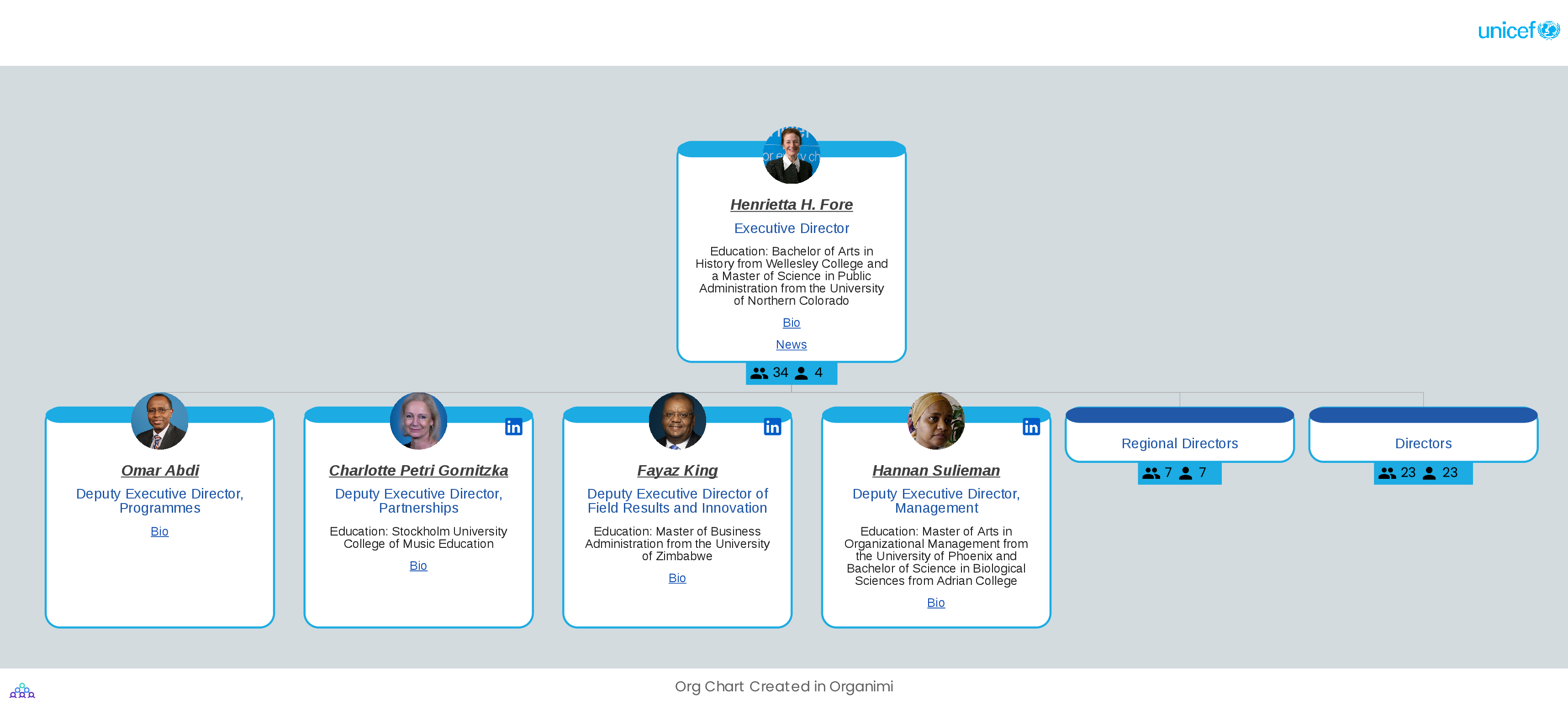 Above is UNICEF Canada's org chart that has been built using our org chart tool, Organimi. This shows how UNICEF's Canada mission is structured. 
This geographical organizational structure gives UNICEF's individual national missions the flexibility and autonomy they need to deploy programmes that are tailored to local situations. It also allows for the taking of quick and pragmatic action in response to changing national situations. 
In many ways, it is this geographical organizational approach that is one of the reasons that UNICEF is seen as a leading agency for responding to humanitarian emergencies.
Learn more about organizational charts:
If you want to learn more about org structures and the important role that they play in organizations like UNICEF, here are some resources that you can start with:
Create this chart in Organimi! 
You can download the CSV file of UNICEF's org structure, import it into Organimi and start editing this chart right away! Here's how:
 From your dashboard, select Data Import.
 Click the CSV tile.

 Click 

+Upload Your File

.  

 

Select an Excel file from your device.

 In the 

Organization

 field, click the down arrow to select an organization.

Click Create a New Chart

Click 

Next and select: Organization Chart
Select the auto-build tool to automatically build your chart.
Voila!
Download CSV file:


UNICEF (55.84 KB)
Build better org charts with
Organimi.
A powerful, cloud-based platform that helps you create, connect, and collaborate with your colleagues wherever they work.