Uber's Organizational Structure
Create this exact chart in Organimi! Scroll below to see how. 
Introduction
Uber Technologies, Inc., known more commonly as just 'Uber', is an American mobility services provider based in San Francisco with operations that span more than 70 countries and 10,000 cities. Its services include ride-hailing, food delivery, package delivery, motorized scooters, electric bicycles, and ferry transport, all provided in partnership with local operators (e.g., 'Lime' scooters) and self-employed drivers. 
As of Q4 2021, Uber had more than 118 million monthly active users worldwide and managed 19 million trips per day on average. As of January 2022, the company has a 71 percent market share for ride-sharing and a 27 percent market share for food delivery. Seen by many as the company that kicked off the sharing economy alongside Airbnb, the company's rapid growth led to the coining of the term 'uberisation' to describe the commoditization of service industries via online platforms and apps. 
Despite the company's market dominance and rapid growth, the company has reported losses of hundreds of millions or billions of dollars each year since 2014 (excluding 2018). In 2021, the company's operating income was reported as minus (-) US$3.83 billion.
Uber's Organizational Leadership
Like most organizations of its size, Uber is led by both a Board of Directors and a team of C-level executives. While the Board is responsible for supervising the activities of Uber's executive team and acting as advisors to them, it is the executive team that's responsible for the day-to-day running of Uber. 
Here's a look at the current roster of Uber executives: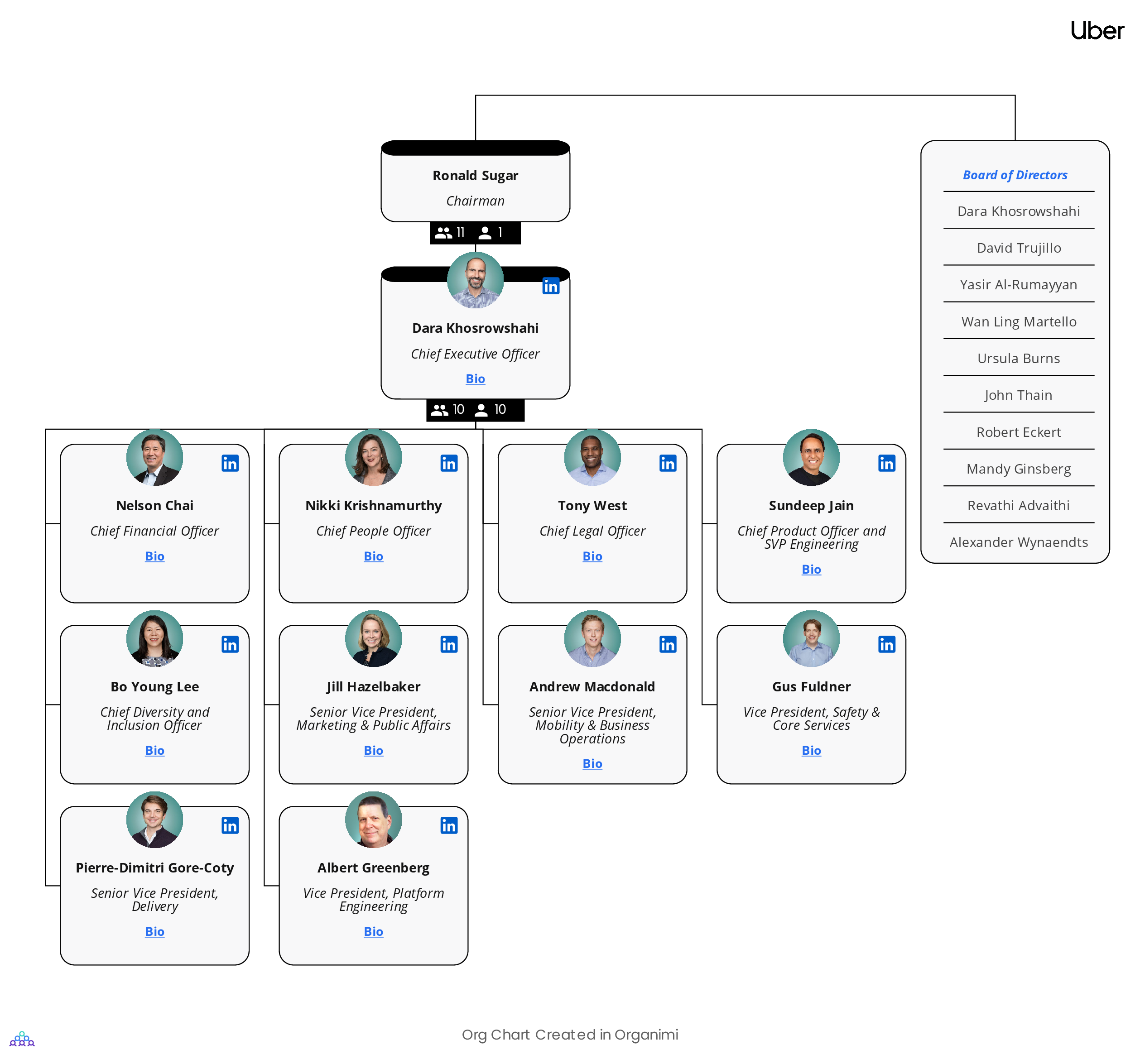 The company is ultimately led by CEO Dara Khosrowshahi. He was previously the CEO of Expedia which, under his leadership, grew into one of the world's largest online travel companies.
Uber's Organizational Structure
Uber has undergone several changes to its org structure since the company was founded in 2009. More recently, in 2019, Uber's CEO made headlines when he controversially eliminated the position of chief operating officer (COO) from Uber's organizational structure following a failed IPO and a string of major setbacks. 
In an interview, Khosrowshahi said that the role "no longer makes sense", and that Uber's 'Rides' and 'Eats' teams would instead report directly to him to enable problem-solving "in real-time". Uber's chief marketing officer role was also axed, with the company's marketing operations merged with its PR, communications, and policy team under the 'Marketing & Public Affairs' umbrella. 
While Khosrowshahi caught some flak for doing this, he is insistent that these changes were necessary to fix Uber's lackluster organizational culture in a bid to turn around the business. Indeed, Khosrowshahi has been credited for creating collaborative work culture at Expedia where employees are encouraged to propose their ideas to management.
Although de-layering and streamlining the company's organizational structure by eliminating key COO and CMO roles was viewed as a rather brash move, it can be argued that breaking down the internal hierarchy at Uber and turning it into more of a 'flat' organization will make the company more flexible in its response to the marketplace and external factors in the long-term. Other advantages of a flat org structure include streamlined communication between management and regular employees, lower operational costs, easier knowledge sharing, and increased responsibility among teams owing to the absence of middle management. 
Want to learn more about organizational structures and the role that they play within modern organizations? Here are some helpful blog resources that you can get started with:
Create this chart in Organimi! 
You can download the CSV file of Uber's org structure, import it into Organimi and start editing this chart right away! Here's how:
 From your dashboard, select Data Import.
 Click the CSV tile.

 Click 

+Upload Your File

.  

 

Select an Excel file from your device.

 In the 

Organization

 field, click the down arrow to select an organization.

Click Create a New Chart

Click 

Next and select: Organization Chart
Select the auto-build tool to automatically build your chart.
Voila!
Download CSV file:


Uber (17.55 KB)
Build better org charts with
Organimi.
A powerful, cloud-based platform that helps you create, connect, and collaborate with your colleagues wherever they work.