Twitter's Organizational Structure
Create this exact chart in Organimi! Scroll below to see how. 
Introduction
Twitter is an American microblogging platform where users primarily interact through creating, liking, and sharing "tweets". Provided by Twitter, Inc., the platform was created by Jack Dorsey, Noah Glass, Biz Stone, and Evan Williams in March 2006, and launched in July of the same year. 
By 2012, more than 100 million users posted 340 million tweets per day, and the service handled 1.6 billion search queries per day on average. In 2013, Twitter became one of the top ten most-visited websites and was described as "the SMS of the Internet". By the beginning of 2019, Twitter had more than 330 million monthly active users. In practice, however, the majority of tweets made on the platform come from a minority of its userbase. 
In a controversial agreement made on April 25, 2022, Twitter's board of directors agreed to a US$44 billion buyout by Elon Musk, the CEO of both Tesla and SpaceX. If this deal goes through, it will potentially manifest into one of the biggest deals to turn a public company private.
Twitter's Organizational Leadership
Like many large organizations, Twitter is led by a board of directors and a team of executives. According to Twitter, both teams are guided by Twitter's core principles as they work together to shape the next era of the company's growth and social responsibility.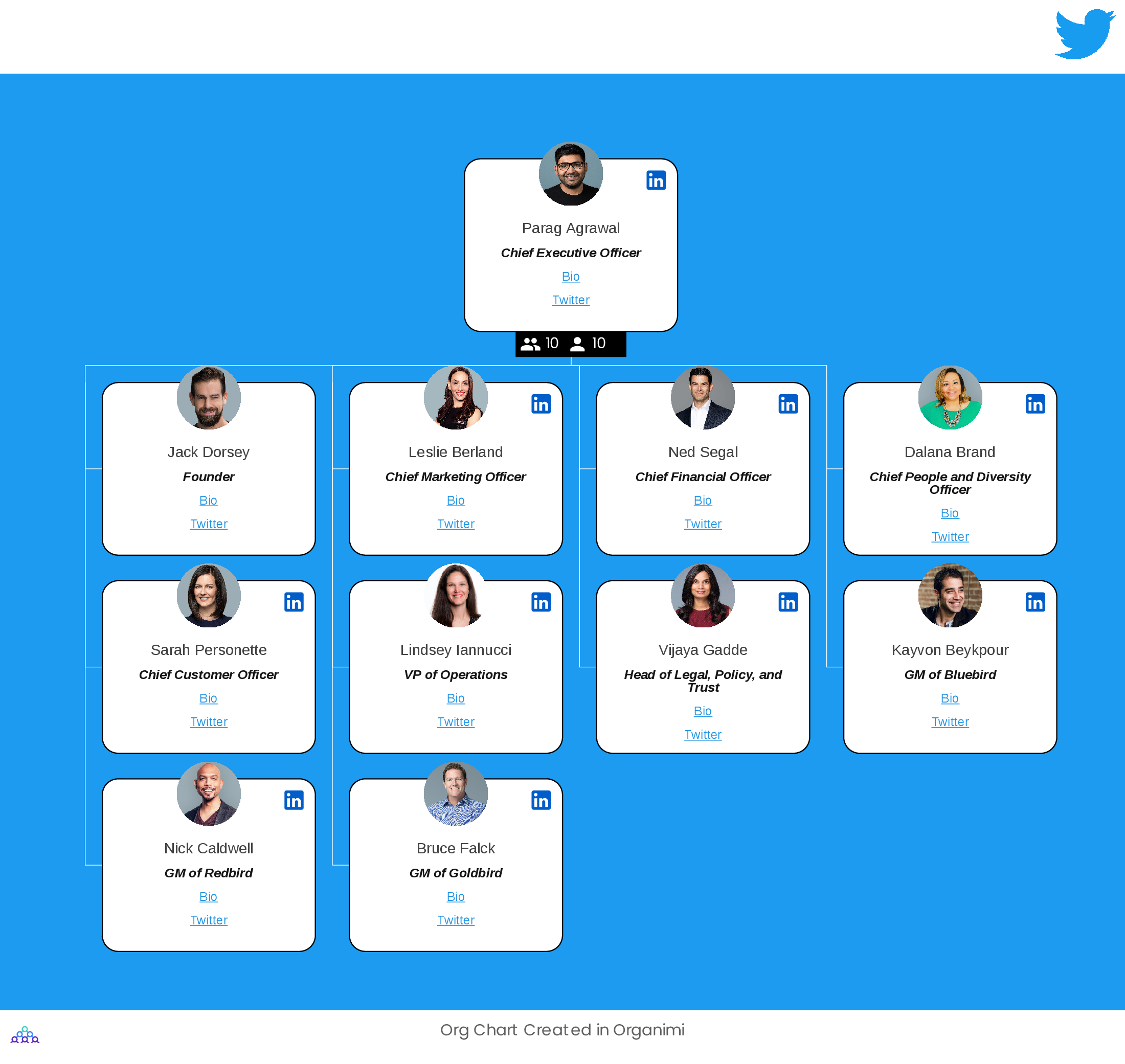 Twitter's executive leadership team is responsible for overseeing the day-to-day management of the company's activities. This consists of nine C-level roles, including CEO, CFO, CCO, and the GMs of both Redbird and Bluebird.
Twitter's Organizational Structure
Jack Dorsey, who co-founded Twitter in 2006 before being pushed out, only to rejoin again as executive chairman in 2011 and return to his previous role of CEO in 2015, officially (and permanently) stepped down as Twitter's CEO in December 2021. 
Dorsey was replaced by Twitter veteran Parag Agrawal, who very quickly moved to reorganize the company into three divisions: Consumer, Revenue, and Core Technology. Each of these new divisions has its own General Manager. At this time, it is unclear whether the GMs in charge of these divisions will also form part of the executive team—it is presumed so. 
This new structure is counter to the functional structure that is found at most technology companies, whereby functional divisions (e.g., design, engineering, R&D) exist with product and other specialist teams "matrixed" into them. This ensures that subject matter experts can apply their specialist knowledge across all functional areas rather than existing in siloed product teams. 
Employees in functional organizations tend to report to someone outside of their day-to-day product team, meaning that there is no single manager responsible for decision-making. This results in team members having to work together and make collective decisions autonomously and avoiding problems such as management standing in the way of diversity of thought and innovation.  
If you're interested in learning more about organizational structures, check out our blog resources:
Create this chart in Organimi! 
You can download the CSV file of Twitter's org structure, import it into Organimi and start editing this chart right away! Here's how:
 From your dashboard, select Data Import.
 Click the CSV tile.

 Click 

+Upload Your File

.  

 

Select an Excel file from your device.

 In the 

Organization

 field, click the down arrow to select an organization.

Click Create a New Chart

Click 

Next and select: Organization Chart
Select the auto-build tool to automatically build your chart.
Voila!
Download CSV file:


Twitter (11.76 KB)
Build better org charts with
Organimi.
A powerful, cloud-based platform that helps you create, connect, and collaborate with your colleagues wherever they work.