Telstra's Organizational Structure
Create this exact chart in Organimi! Scroll below to see how. 
Introduction
Telstra is an Australian telecommunications company that builds and operates telecommunications networks and offers products and services including mobile, internet access, pay television.
A Brief History of Telstra
The company has a long history in Australia having been founded alongside Australia Post as part of the Postmaster-General's Department when Australia became its own independent federation in 1901. Telecommunications remained under the remit of the Postmaster-General's Department until 1975 when separate commissions were established to replace it. 
For most of the 20th century, Telstra was owned and operated by the Australian Government. But beginning in 1997 and ending in 2011, the federal government began to privatize the organization. This occurred in stages, with the first lot of shares being sold in 1997 when Telstra was listed on the Australian Stock Exchange, the second lot in 1999, and the third lot in 2006. 
This staggered selling of shares left the Australian government with 17 percent ownership of Telstra, which was placed in Australia's Future Fund — a sovereign wealth fund established to meet future superannuation payments for public servants. In August 2011, the last of the government's shares held in this fund were sold, effectively completing the company's privatization. 
Since privatization, Telstra has introduced a range of new products and services including Telstra Digital, which builds and operates telecommunications networks, and completely reformed its market share and customer service strategies. 
In 2018, Telstra's organizational structure and the top leadership team were redesigned to simplify the company's products and services. According to CEO Andrew Penn, this redesign was carried out to simplify the organization's products and services and ensure it could "continue to deliver market-leading innovation in networks and support the build-out of 5G and Internet of Things."
Telstra's Leadership Team
Telstra is led by a Group Executive Team with members who are individually responsible for managing different functional areas.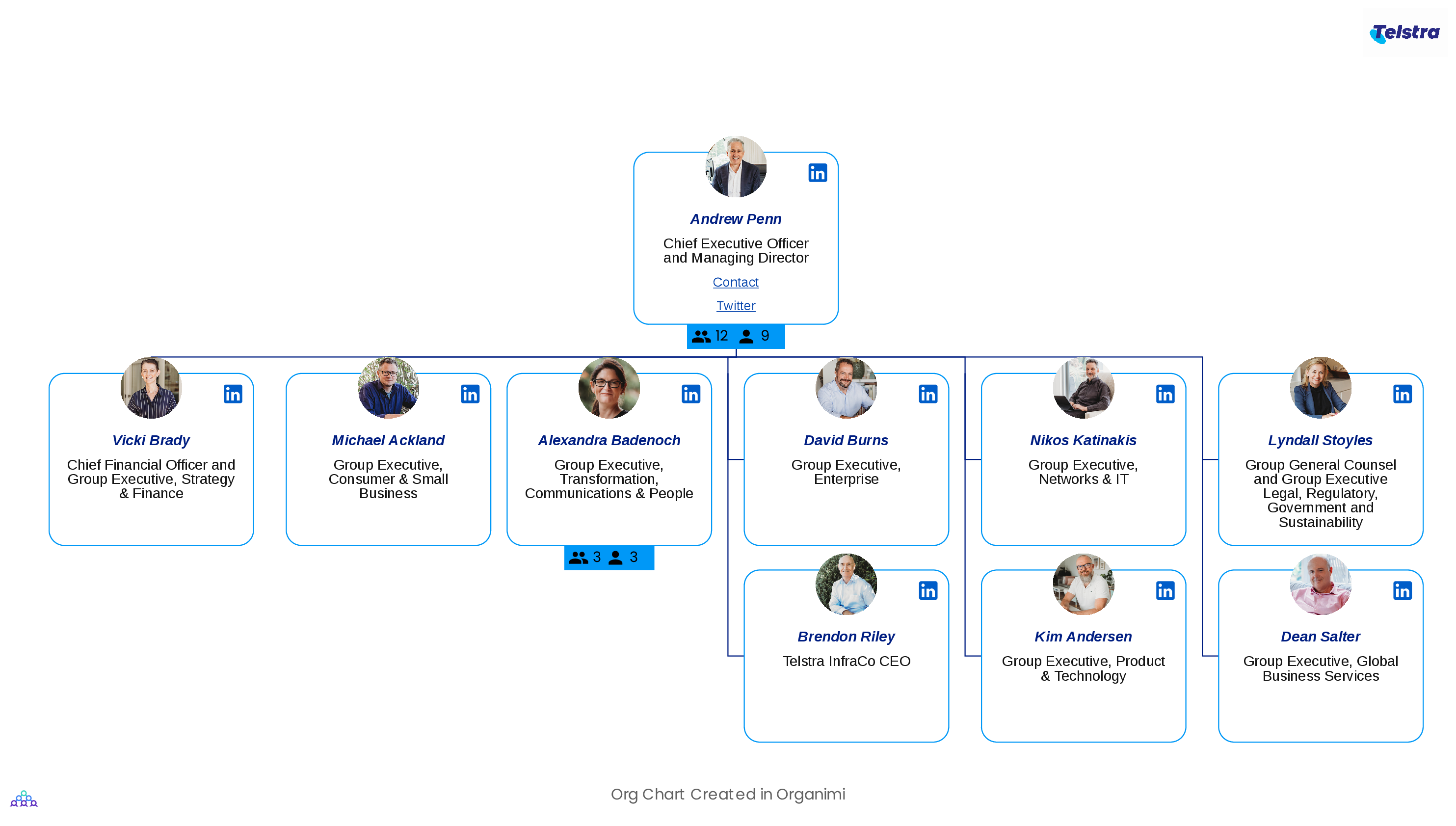 The head of Telstra is the Chief Executive Officer who is assisted in his role by other C-level executives and Group Executives. The C-suite is responsible for handling areas like finance and legal while the Group Executives oversee functional groups which include Enterprise, Consumer & Small Business, Networks & IT, and Group Business Services.
Like most large organizations, the Group Executive Team is overseen by a Board of Directors. However, unlike in other organizations, the role of Chairman is not held by the Chief Executive Officer — it is a separate individual.
Telstra's Organizational Structure
Telstra utilizes an organizational structure that's divided into different functional groups. The primary benefit of operating in this way, with roles split into functional groups, rather than operating a traditional corporate hierarchy is more strategic control. 
Within functional organizations, the Group Executives have greater control and influence over their domain. Functional groups also provide employees with more scope to leverage their specialist skills and knowledge for innovation within their groups. 
This is particularly important where an organization has products or services that are very different from one another, as is the case with Telstra which operates in several different technical areas.
Want to learn more about organizational structures and charts? Here are some helpful blog resources that you can start with:
Create this chart in Organimi! 
You can download the CSV file of Telstra's org structure, import it into Organimi and start editing this chart right away! Here's how:
 From your dashboard, select Data Import.
 Click the CSV tile.

 Click 

+Upload Your File

.  

 

Select an Excel file from your device.

 In the 

Organization

 field, click the down arrow to select an organization.

Click Create a New Chart

Click 

Next and select: Organization Chart
Select the auto-build tool to automatically build your chart.
Voila!
Download CSV file:


Telstra (17.5 KB)
Build better org charts with
Organimi.
A powerful, cloud-based platform that helps you create, connect, and collaborate with your colleagues wherever they work.