Sony's Organizational Structure
Create this exact chart in Organimi! Scroll below to see how. 
Introduction
Sony Group Corporation, commonly known as Sony, is a Japanese multinational conglomerate corporation headquartered in Tokyo, Japan. 
It is one of the world's largest technology companies and manufacturers of consumer and professional electronic products, the world's largest video game console company, and the world's largest video game publisher. It is also one of the world's largest music producers through its subsidiary, Sony Entertainment. 
Sony Group Corporation is the holding company of the Sony Group, which comprises Sony Corporation, Sony Semiconductor Solutions, Sony Entertainment, Sony Interactive Entertainment, Sony Financial Group, and Sony Creative Products, among others.
Sony is listed on the Tokyo Stock Exchange and is the oldest Japanese company listed on the New York Stock Exchange. In 2021, it was ranked 88th on the Fortune Global 500 list.
Sony's 2021 Relaunch
In 2020, Sony announced that it planned to change its company name from Sony Corporation in a relaunch as Sony Group Corporation, effective April 1, 2021. This relaunch was announced with the objective of increasing the overall value of the Sony Group. 
Prior to the relaunch, Sony Corporation had two main functions: The first was to act as the headquarters of the Sony Group, and the second was to provide overall management support for its electronics businesses. With the relaunch, these functions were separated and redefined, with the Sony Group Corporation focusing on its role as the headquarters of the Sony Group. 
In conjunction with this change, the Sony Group's executive structure was optimized for the purposes of a new group-wide management structure, and new executive structures were created for key electronics businesses including Music, Game & Network Services, and Imaging & Sensing Solutions.
Sony Group Corporation's executive team was also re-formed from the heads of Sony's key group headquarters functions and core Sony Group businesses, and structured in a way that enables the Group to effectively formulate and execute corporate strategies.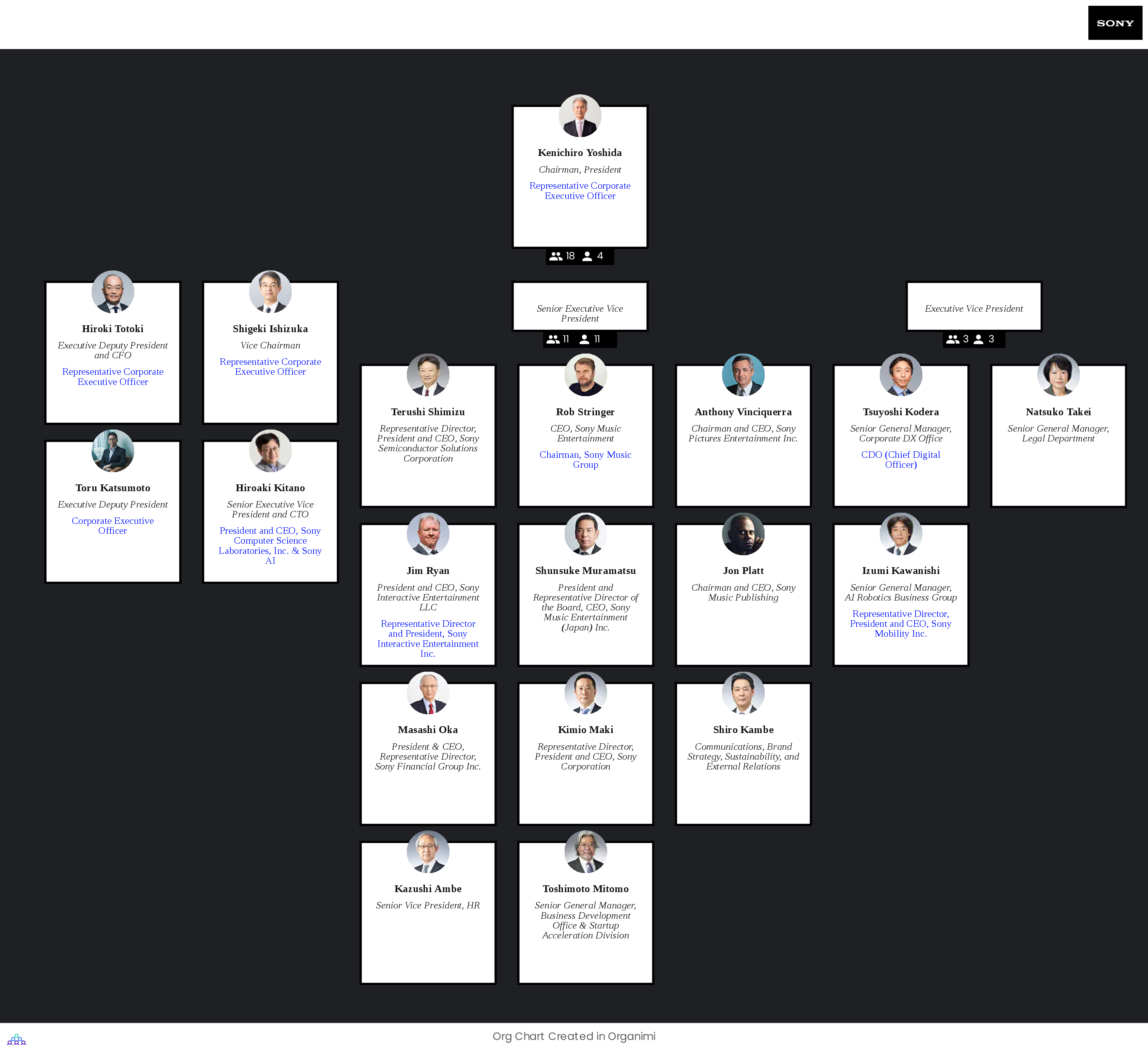 Sony's Organizational Structure
Sony's organizational structure incorporates several different types of org structures. It is primarily based on functional and business-type groups but includes geographic divisions and elements found in matrix organizations, too.
As of the company's recent relaunch, there are six key functional and business divisions under the Sony Group Corporation umbrella. These are:
Game & Network Services

Sony Interactive Entertainment

Music

Sony Music Group 

Sony Music Entertainment

Sony Music Publishing

Sony Music Entertainment Japan

Pictures

Sony Pictures Entertainment

Electronics Products & Solutions
Imaging & Sensing Solutions

Sony Semiconductor Solutions

Financial Services
Each of these divisions is led by a Sony Group Corporation executive.
For example, Senior Executive Vice President Rob Stringer is designated as the Officer in charge of Music Business (Global) within Sony Group Corporation. In this role, he is also the Chairman of Sony Music Group and the CEO of Sony Music Entertainment — both of these are independent entities with their own executive and organizational structures. 
The key advantage of operating Sony as several independent business groups is flexibility. It enables the company to respond more quickly to changes in trends and market demands when operating in several different markets and industries such as music, gaming, consumer electronics, and microelectronics. Sony's structure also has the advantage of being able to easily focus specialist resources on specific businesses or product types to support innovation and product development. 
If you want to learn more about org structures and the important role that they play in organizations like Plan International, here are some resources that you can start with:
Create this chart in Organimi! 
You can download the CSV file of Sony's org structure, import it into Organimi and start editing this chart right away! Here's how:
 From your dashboard, select Data Import.
 Click the CSV tile.

 Click 

+Upload Your File

.  

 

Select an Excel file from your device.

 In the 

Organization

 field, click the down arrow to select an organization.

Click Create a New Chart

Click 

Next and select: Organization Chart
Select the auto-build tool to automatically build your chart.
Voila!
Download CSV file:


Sony (4.55 KB)
Build better org charts with
Organimi.
A powerful, cloud-based platform that helps you create, connect, and collaborate with your colleagues wherever they work.