Snapchat's Organizational Structure
Create this exact chart in Organimi! Scroll below to see how. 
Introduction
Snap Inc. is an American camera and social media company that was founded in 2011 by Evan Spiegel, Bobby Murphy, and Reggie Brown. The company is primarily known for its ubiquitous messaging application Snapchat, which enables users to send time-limited messages in the form of pictures, videos, and text. Snap Inc. also develops and maintains other tech products and services, including Spectacles and Bitmoji. 
Snap Inc. experienced very fast, early growth. By January 2014, just over two years since its official launch, the company had reportedly turned down acquisition offers from the likes of Meta founder Mark Zuckerberg. This fast growth made Snap Inc. one of the earliest success stories of the so-called 'Silicon Beach', alongside the likes of Tinder and Whisper who also had their headquarters in the Venice Beach area. 
Indeed, Snap Inc. is credited as being responsible for turning Venice Beach into a tech hub; 1,900 employees were based out of its headquarters here when the company launched its 2017 IPO. According to Business Insider, Google also offered to buy the company for $30 billion in early 2016. Today, the company employs more than 5,600 people and accumulated $4.12 billion in revenue in 2021.
Snapchat's Corporate Leadership
Snapchat is led day-to-day by its management team. This team consists of executive-level and senior vice president roles and is led by the company's founder and CEO, Evan Spiegel.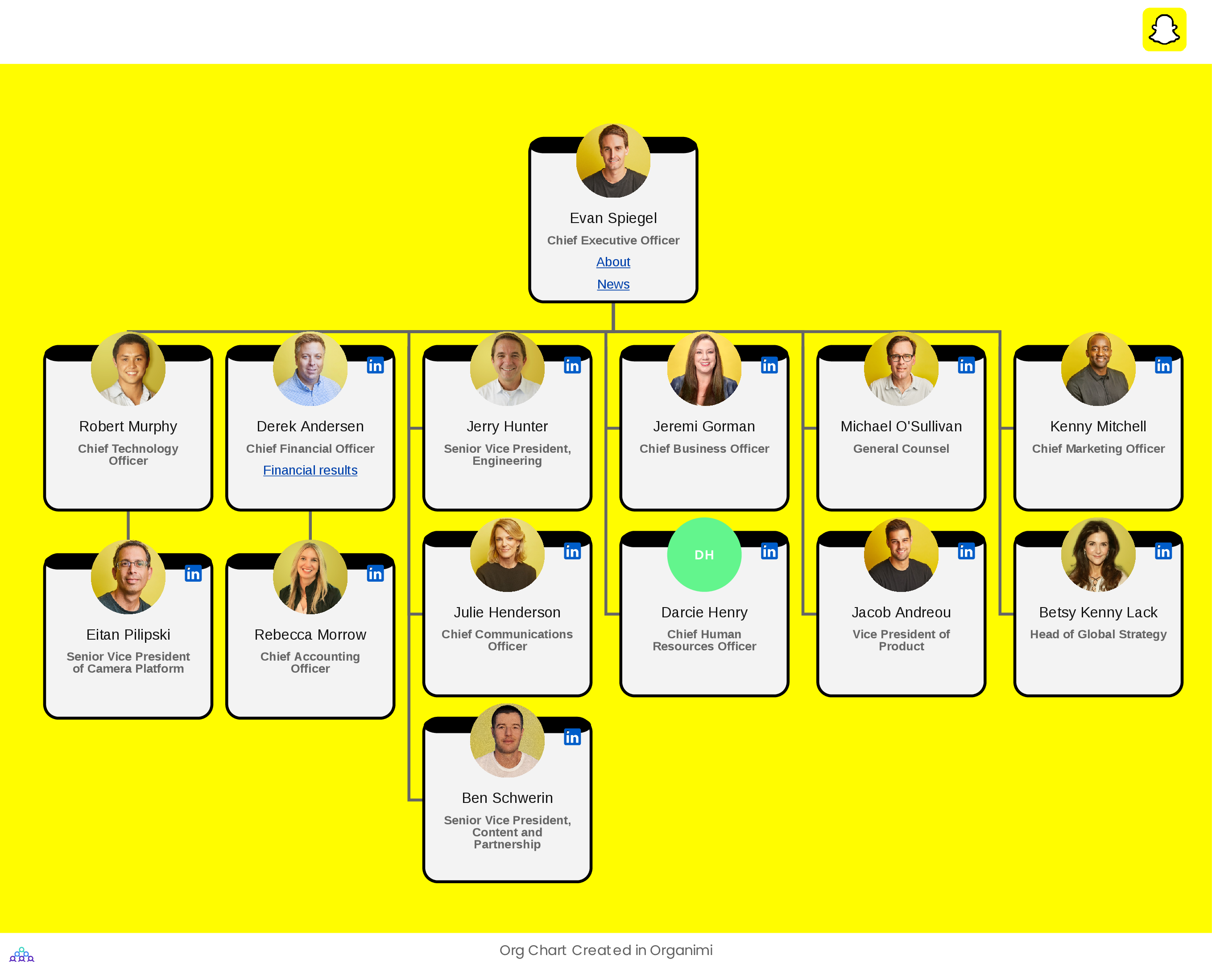 Interestingly, Snap Inc. distinguishes between its management team – made up of 14 key individuals – and its executive team, which consists of seven individuals who are also a part of the management team. It seems that not all individuals holding executive roles at Snap Inc. (e.g., the Chief Marketing Officer) are members of the executive team itself. What significance this has, if any, is not clear.
Snapchat's Organizational Structure
Snapchat's organizational structure has been described as a "hub-and-spoke" one. This rather unusual structure – unusual in a company the size of Snap Inc., at least – places CEO Evan Spiegel firmly at the center of all decision-making. 
The hub-and-spoke model means that Snap Inc. can build new products and iterate its existing ones much faster than its competitors. This is because the hub-and-spoke breaks down a lot of the politics and bureaucracy that tends to arise in large organizations, enabling teams to focus on innovating. 
While faster product iteration is great, the hub-and-spoke can easily create bottlenecks, perhaps why it is not a structure we tend to see outside of start-up environments. These bottlenecks can cause problems and complaints to go unaddressed for lengthy periods of time because the person at the center of the structure – in this case, Evan Spiegel – sets the agenda and has the final say on all key decisions. 
Another drawback of the hub-and-spoke org structure in a large organization like Snap Inc. is that it removes a lot of the autonomy from senior leaders like engineering and product managers. This can (and reportedly has in the case of Snap Inc.) cause employees to become frustrated and leave the organization and join competitors where they will be given the freedom, autonomy, and decision-making power that is characteristic of even junior and mid-level roles at most leading tech firms. 
If you want to learn more about org structures and the important role that they play in organizations like Snap Inc., here are some resources that you can start with:
You can also check out our WikiCharts resource if you would like to find out more about the org structures utilized by some of the world's largest organizations.
Create this chart in Organimi! 
You can download the CSV file of Snapchat's org structure, import it into Organimi and start editing this chart right away! Here's how:
 From your dashboard, select Data Import.
 Click the CSV tile.

 Click 

+Upload Your File

.  

 

Select an Excel file from your device.

 In the 

Organization

 field, click the down arrow to select an organization.

Click Create a New Chart

Click 

Next and select: Organization Chart
Select the auto-build tool to automatically build your chart.
Voila!
Download CSV file:


Snapchat (10.05 KB)
Build better org charts with
Organimi.
A powerful, cloud-based platform that helps you create, connect, and collaborate with your colleagues wherever they work.