National Australia Bank's Organizational Structure
Create this exact chart in Organimi! Scroll below to see how. 
Introduction
National Australia Bank is one of Australia's four largest financial institutions and, as of 2019, is the 21st-largest bank in the world measured by market capitalization. Founded in 1982, the bank today serves around 9 million customers and operates a network of 3,500 'Bank@Post' locations over 7,000 ATMs across Australia, New Zealand, and Asia.
A brief history of National Australia Bank
National Australia Bank was formed as 'National Commercial Banking Corporation of Australia Limited' in 1982 when the National Bank of Australasia and the Commerical Banking Company of Sydney merged. 
Throughout the 1980s and 1990s, National Australia Bank aggressively pursued offshore expansion and established offices throughout Asia, Europe, and America, opening offices in locations including Dallas, Chicago, New Delhi, and Frankfurt. National Australia Bank also began acquiring other banking institutions, including Clydesdale Bank (Scotland), Northern Bank (Northern Ireland), Yorkshire Bank (England), and Bank of New Zealand.
In 2000, National Australia Bank acquired MLC Limited–an Australian investment firm–for $4.56 billion, one of the largest mergers in Australian corporate history. The bank faced significant troubles during the early 2000s before turning its fortunes around and reporting profits of $4.3 billion in 2006. 
More recently, the Australian banking giant listed its U.S. subsidiary, Great Western Bank, on the New York Stock Exchange before selling its 28.5% holding in the bank. In January 2021, National Australia Bank announced plans to acquire '86 400', a neobank, for $22- million and merge it with UBank.
National Australia Bank's organizational structure
National Australia Bank's organizational structure is broken up into eight functional groups for its domestic (Australia) banking operations plus two geographic groups: New Zealand and Asia. 
The eight functional groups that National Australia Bank splits its operations into are:
Personal Banking

Corporate and Institutional Banking

Business and Private Banking

Technology and Enterprise Operations

People & Culture

Risk

Finance

UBank 
As you can see on the National Australia Bank organizational chart below each of these functional groups is led by a member of the National Australia Bank executive team – either a C-level executive or a group executive. For example, Shaun Dooley acts as the Chief Risk Officer while Rachel Slade is the Group Executive for Personal Banking.
This functional org structure is common in large organizations where there are many distinct product or service offerings. It's also common in organizations that are split across multiple geographies, as is the case with National Australia Bank.
The primary benefit of splitting up National Australia Bank into distinct functional groups rather than operating a traditional corporate hierarchy is one of improved strategic control. Within functional organizations, functional managers like David Gall, the Group Executive for Corporate and Institutional Banking, have greater control and influence over their group. It also provides employees with greater scope to leverage their specialist skills and knowledge for innovation within their groups. 
This is particularly important where an organization has products or services that are very different from one another, as is the case with National Australia Bank which operates in "traditional" areas of banking such as personal and corporate banking, as well as in more modern areas– for example with UBank, the group's online-only "digital attacker bank" that's targeted towards a younger demographic. 
So far as corporate governance and internal hierarchies are concerned, National Australia Bank manages these through a clear constitution and an annually-updated framework.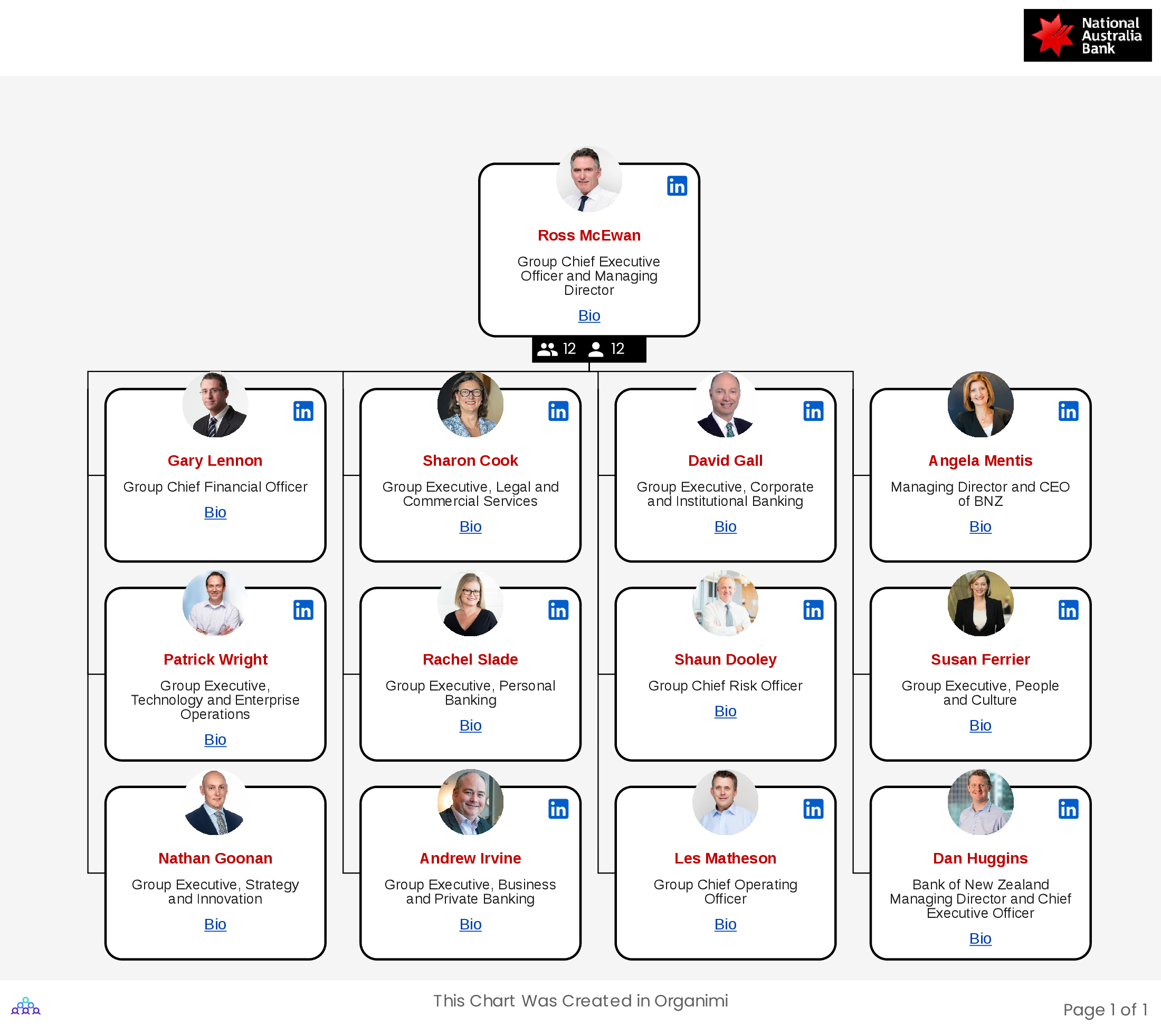 Learn more about organizational charts:
Want to learn more about organizational charts? They play a bigger role in organizational success than you might think!  
Here are some helpful blog resources that you can start with:
Create this chart in Organimi! 
You can download the CSV file of National Australia Bank's org structure, import it into Organimi and start editing this chart right away! Here's how:
 From your dashboard, select Data Import.
 Click the CSV tile.

 Click 

+Upload Your File

.  

 

Select an Excel file from your device.

 In the 

Organization

 field, click the down arrow to select an organization.

Click Create a New Chart

Click 

Next and select: Organization Chart
Select the auto-build tool to automatically build your chart.
Voila!
Download CSV file:


National-Australian-Bank (16.6 KB)
Build better org charts with
Organimi.
A powerful, cloud-based platform that helps you create, connect, and collaborate with your colleagues wherever they work.