Johnson & Johnson's Organizational Structure
Create this exact chart in Organimi! Scroll below to see how. 
Introduction
Johnson & Johnson (J&J) is an American multinational organization that develops consumer goods, pharmaceuticals, and medical devices. Founded in 1886 by three brothers — Robert Wood, James Wood, and Edward Mead Johnson — it is one of the world's most valuable companies that was ranked No. 36 in the 2021 Fortune 500 list and whose common stock is a component of the Dow Jones Industrial Average. 
J&J employs over 134,000 people, operates around 250 subsidiary companies across 60 nations, and sells products in 175 countries. In 2020, its worldwide sales were worth more than US$80 billion. 
J&J committed more than US$1 billion towards the development of a not-for-profit COVID-19 vaccine in response to the pandemic, which was approved for use in the U.S. in February 2021 and in the EU in March 2021. In November 2021, it was announced that the company would split into two publicly-traded companies — one focused on consumer products and the other on pharmaceuticals. 
Johnson & Johnson's Org Chart
Like most large organizations, Johnson & Johnson is led by a Board of Directors and an Executive Committee. 
At J&J, the Executive Committee is led by the CEO who is assisted by eight immediate subordinates who assume Executive Vice President roles. These people oversee J&J's key business units, including HR and R&D, and its three main arms: Consumer, Medical Devices, and Pharmaceuticals.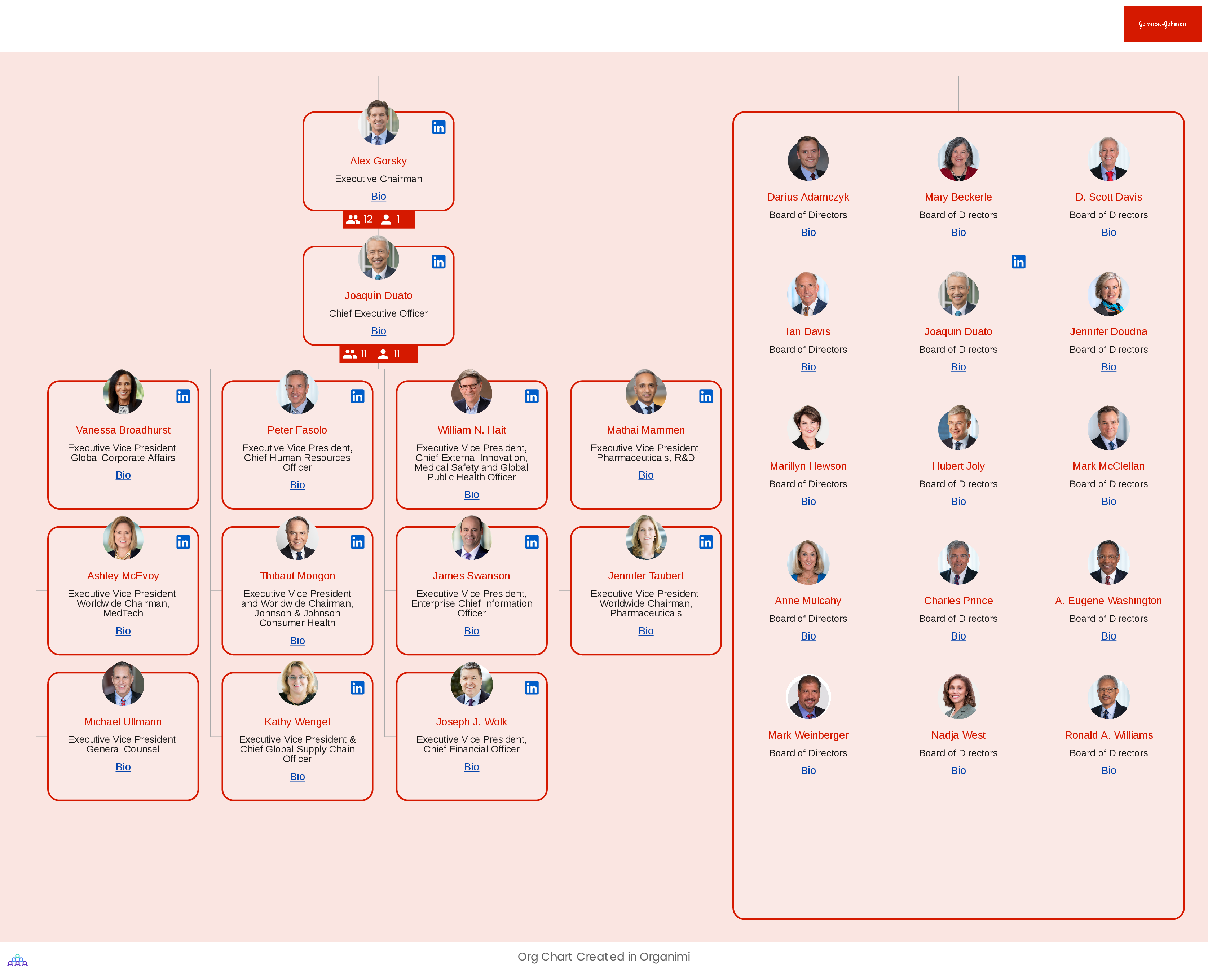 Johnson & Johnson's Organizational Structure
As one of the world's largest organizations, it's important for information and decision-making to flow easily throughout J&J's vast network of subsidiaries and business units. 
As J&J has grown, it has moved to a decentralized org structure that provides its managers and employees across its many operational and business units with more freedom and autonomy through various functional and divisional groups. By implementing a decentralized structure where more authority and autonomy exist even at the lower levels, business units and divisional groups have been able to adapt to the needs of each market and better serve those within it.
Owing to J&J's huge size, its overall hierarchy is quite tall due to the various levels of management and intricate reporting relationships that exist within. While tall and decentralized structures tend to suffer from inefficiencies and breakdowns in communication, J&J is one of the few large organizations that have managed to adapt well to this type of structure and use it to its advantage by building its own strategic framework. 
The main advantages of operating with a decentralized structure include faster decision making and more employee empowerment. In a huge corporation like J&J, very little would get done if a low-level manager had to go through several additional managerial levels to get a decision OK'd — by empowering lower-level managers through a decentralized structure, more gets done, morale gets a boost, and the organization benefits from better retention figures. 
There are some disadvantages to a decentralized org structure, however; senior managers have less control, it can be difficult to achieve consistency across the business (though, this is less of an issue at J&J which operates over 250 subsidiary companies and brands) and coordinating organization-wide activities can be challenging when every division operates with substantial autonomy. 
If you want to learn more about org structures and the important role that they play in organizations like Johnson & Johnson, here are some resources that you can start with:
Create this chart in Organimi! 
You can download the CSV file of Johnson & Johnson's org structure, import it into Organimi and start editing this chart right away! Here's how:
 From your dashboard, select Data Import.
 Click the CSV tile.

 Click 

+Upload Your File

.  

 

Select an Excel file from your device.

 In the 

Organization

 field, click the down arrow to select an organization.

Click Create a New Chart

Click 

Next and select: Organization Chart
Select the auto-build tool to automatically build your chart.
Voila!
Download CSV file:


JohnsonJohnson (40.17 KB)
Build better org charts with
Organimi.
A powerful, cloud-based platform that helps you create, connect, and collaborate with your colleagues wherever they work.