Hilton's Organizational Structure
Create this exact chart in Organimi! Scroll below to see how. 
Introduction
Hilton Hotels & Resorts is a global brand of hotels and resorts. Originally founded by Conrad Hilton in 1919 as Hilton Hotels, the company is reported to have more than 6,800 properties, totaling 216,379 rooms across 94 countries and territories as of 2019.This makes it one of the largest hotel brands in the world. 
In 2020, Fortune magazine ranked Hilton Hotels & Resorts as number one on its list of the Top 100 Companies to Work for based on an employee satisfaction survey. 
Many of Hilton's properties are owned by, managed by, or franchised to individual operators under a series of brand names which fall under different tiers. These are:
'Luxury' —

Waldorf Astoria Hotels & Resorts, Conrad Hotels & Resorts, LXR Hotels & Resorts

'Upper Upscale' —

Hilton Hotels & Resorts, Canopy, Curio Collection, Embassy Suites, Signia

'Upscale' —

DoubleTree, Tempo, Hilton Garen Inn, Homewood Suites

'Upper Midscale'

— Hampton, Home2 Suites

'Midscale' —

Tru
Together, these brands serve well over 100 million guests per year.
Hilton Hotels & Resorts Corporate Leadership
Hilton is led by CEO Christopher J. Nassetta who assumed the role in 2007. He was previously the President and CEO of Host Hotels & Resorts, Inc., a position he held since 2000. He joined Host Hotels & Resorts, Inc. in 1995 as Executive Vice President and was elected Chief Operating Officer in 1997.
Nassetta is supported by a core team of executives who lead functional groups (e.g., HR and finance) and Hilton's three geographic divisions: Americas, Asia Pacific, and Europe, Middle East & Africa.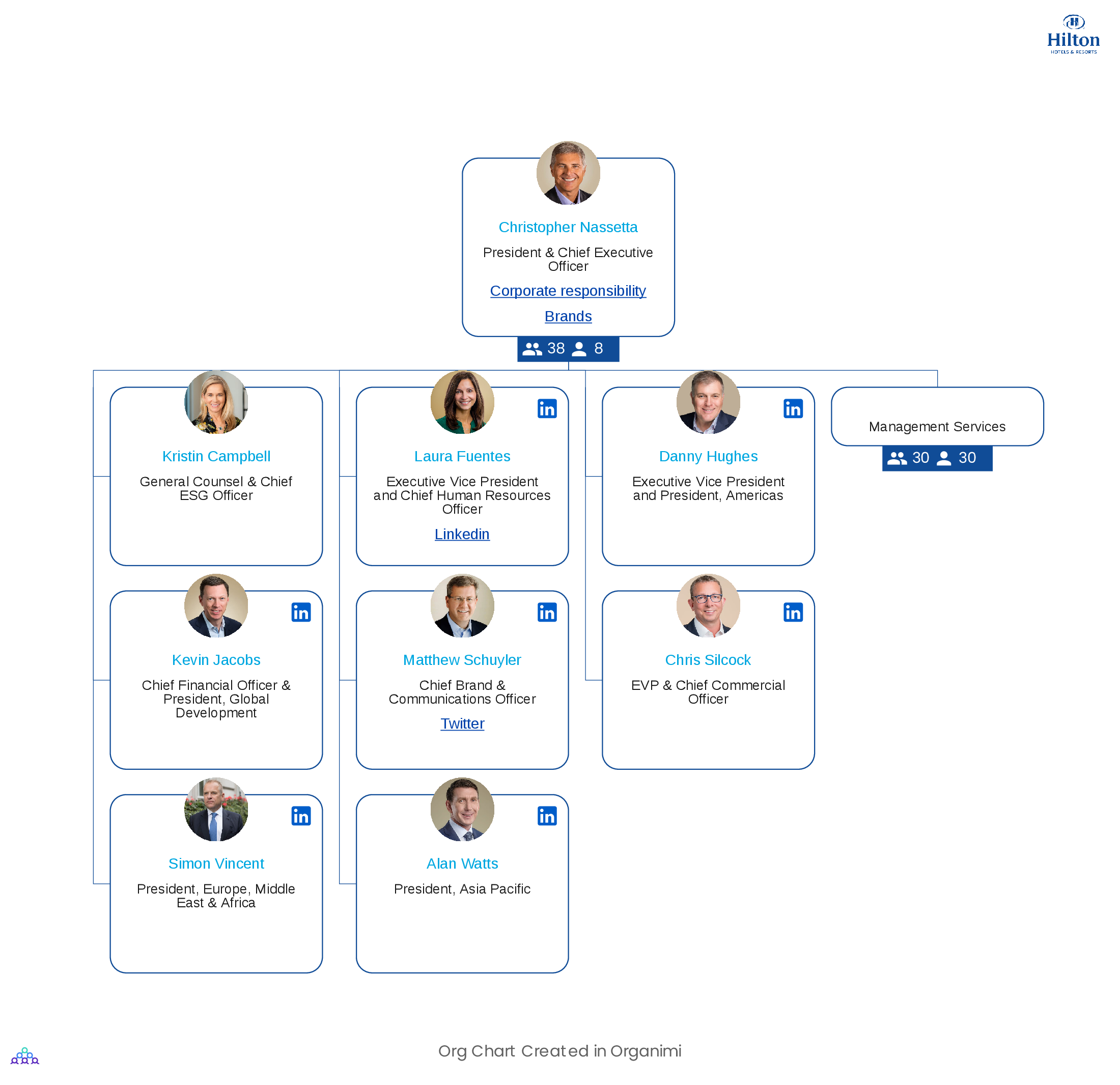 Hilton's Organizational Structure
Hilton's organizational structure can be described as divisional. This is because Hilton's C-suite is responsible for managing a range of functional and geographic divisions, and because the business itself divides its properties, and thus its operations, into three areas:
Ownership:

Properties that are owned directly by Hilton.

Management and franchise:

Properties managed Hilton or franchised to others.  

Timeshare:

Hilton timeshare (Grand Vacations) properties.  
The first two divisions – ownership, management and franchise – fall under the leadership of Hilton Hotels & Resorts while the third – timeshare – falls under Hilton Grand Vacations, which has been a wholly separate entity since it was spun out of Hilton Hotels & Resorts a publicly traded company in 2008. 
Spinning off Hilton's timeshares into a separate company was part of CEO Christopher J. Nassetta's restructuring initiatives that were introduced shortly after he took over the business in 2007. Nassetta introduced a range of changes at this time, including:
The gradual restructuring of senior management.

Improving communication between Hilton Hotels and individual business units.

Moving the company's head office from Beverly Hills, CA to McLean, VA. 

Enhancing organizational culture to promote unity and increase the speed of decision-making at all levels.
If you want to learn more about organizational structures and the important role that they play within businesses like Hilton Hotels & Resorts, here are some resources that you can start with:
Create this chart in Organimi! 
You can download the CSV file of Hilton's org structure, import it into Organimi and start editing this chart right away! Here's how:
 From your dashboard, select Data Import.
 Click the CSV tile.

 Click 

+Upload Your File

.  

 

Select an Excel file from your device.

 In the 

Organization

 field, click the down arrow to select an organization.

Click Create a New Chart

Click 

Next and select: Organization Chart
Select the auto-build tool to automatically build your chart.
Voila!
Download CSV file:


Hilton (35.34 KB)
Build better org charts with
Organimi.
A powerful, cloud-based platform that helps you create, connect, and collaborate with your colleagues wherever they work.