Corus Entertainment's Organizational Structure
Create this exact chart in Organimi! Scroll below to see how. 
Introduction
Corus Entertainment Inc. is a Canadian media accompany that creates and delivers content to a worldwide network via its portfolio of television services, radio stations, live events, and digital assets. 
Corus has a huge presence in Canadian broadcasting and operates the national Global Television Network, which is made up of 15 conventional stations and is Canada's second most-watched private television network after CTV. 
The media giant also dominates the children's television industry in Canada through its ownership of networks including Teletoon, Treehouse, and local versions of Cartoon Network and Disney-branded television channels such as the Disney Channel and Disney XD.
A brief history of Corus Entertainment
Corus Entertainment was founded in September 1999 when the media properties of Shaw Communications were spun out into a new company. This was in part mandated by the Canadian Radio-television and Telecommunications Commission (CRTC) which discouraged vertical integration by cable companies that also owned media assets. 
At the time of its founding, Corus acquired the broadcasting rights of the Power Corporation of Canada. This included four television and sixteen radio stations. In October 1999, it was announced that Corus would acquire 12 radio stations and several specialty channels from Western International Communications. 
Over the years, Corus Entertainment has undergone a rapid expansion of its media assets, acquiring several high-value media assets in multi-billion-dollar deals. Some of the company's more high-profile acquisitions include the $540 million purchase of Toronto-based animation studio Nelvana.
In response to the company's aggressive acquisitions, Canadian regulators have criticized the company for operating near-monopolies in certain areas. In 2001, for example, the company famously sold off its Family Channel asset to Astral Media for $126.9 million in response to criticism that it held a near-monopoly in the children's specialty channel market. 
In 2004, Corus acquired a series of new radio stations and in 2007 it also acquired CKBT-FM and CJZZ-FM from Canwest. In 2010, however, the company sold its Québec radio stations to Cogeco for $80 million. 
In April 2015, Corus Entertainment announced that it had partnered with the Disney-ABC Television Group to acquire long-term multi-platform rights to distribute Disney's programming library in Canada. 
Corus Entertainment's senior leadership and organizational structure
Corus Entertainment has undergone several key changes to its corporate governance, leadership, and org structure over the years as it has grown through a series of acquisitions. 
In September 2013, Corus Entertainment's television business was reorganized into five divisions: Corus Kids, Corus Women and Family, Corus Content Distribution and Pay TV, Corus Airtime Sales, and Corus Media.
In 2019, Corus Entertainment announced changes to its leadership and organizational structure yet again in a bid to accelerate the advancement of the company's strategic priorities. The changes to Corus' organizational structure saw the creation of three new positions within the company's executive leadership team (ELT): 
Executive Vice President, Broadcast Networks

Executive Vice President, Content and Corporate Strategy

Executive Vice President, Chief Revenue Officer
Other members of the Corus ELT and their roles remained unchanged. These roles are:
President and Chief Executive Officer

Executive Vice President, Chief Financial Officer

Executive Vice President, People and Communications

Executive Vice President, General Counsel

Executive Vice President, Technology 
Like most large corporations, Corus Entertainment also has a board of directors that represents shareholder interests.
Below is an up-to-date Corus Entertainment organizational chart built using Organimi that shows how the company's executive leadership is structured and how it exercises control over the company's vast operations.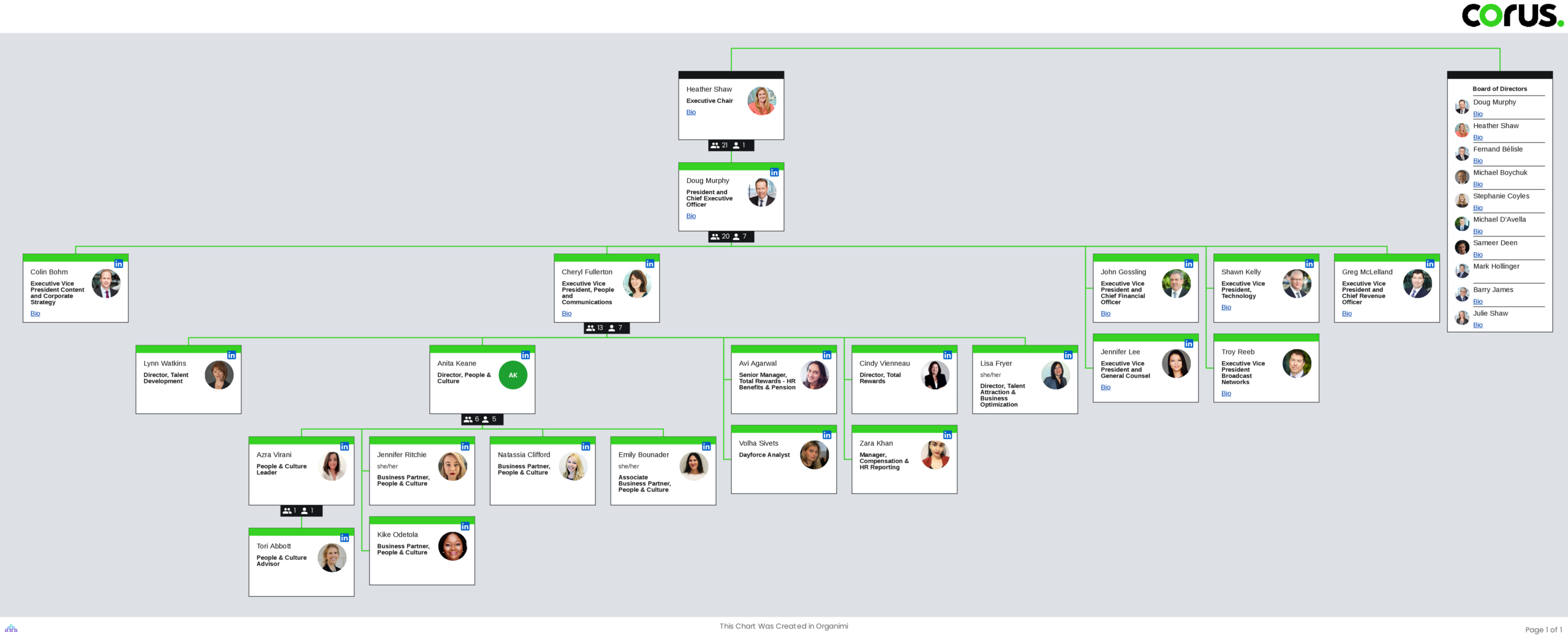 Learn more about organizational charts:
Want to learn more about organizational charts? They play a bigger role in organizational success than you might think!  
Here are some helpful blog resources that you can start with:
Create this chart in Organimi! 
You can download the CSV file of Corus Entertainment's org structure, import it into Organimi and start editing this chart right away! Here's how:
 From your dashboard, select Data Import.
 Click the CSV tile.

 Click 

+Upload Your File

.  

 

Select an Excel file from your device.

 In the 

Organization

 field, click the down arrow to select an organization.

Click Create a New Chart

Click 

Next and select: Organization Chart
Select the auto-build tool to automatically build your chart.
Voila!
Download CSV file:


Corus-Entertainment (24.42 KB)
Build better org charts with
Organimi.
A powerful, cloud-based platform that helps you create, connect, and collaborate with your colleagues wherever they work.