CARE International's Organizational Structure
Create this exact chart in Organimi! Scroll below to see how. 
Introduction
CARE (Cooperative for Assistance and Relief Everywhere) is an international humanitarian agency that delivers emergency aid and long-term international development projects. It is a non-sectarian, impartial non-governmental organization that is among the largest and oldest in the world. 
CARE International's global programs focus on a broad range of areas. These include emergency response, food security, water and sanitation, economic development, climate change, agriculture, education, and health. The organization also advocates at local, national, and international levels for policy change, the rights of the poor, and gender equality. 
CARE International is a collective of 14 CARE National Members. Each one of these members is registered as a non-profit, non-governmental organization within the country it is based. There are also an additional four affiliate members.
A Brief History of Care International
Initially founded in 1945 after World War II as the Cooperative for American Remittances to Europe, it was intended to be a temporary organization made up of 22 U.S. charities. 
CARE's primary aid took the form of CARE Packages made up of surplus U.S. army ration packs. These were delivered across Europe and were modified to include canned meats, dried fruits, fats, powdered milk, and comfort items a few months later. 
By 1949, CARE transitioned out of Europe with its first non-European mission in Japan. Missions in China, India, and Korea soon followed. By the late 1950s, CARE had transitioned into broader development work and began training volunteers who would be deployed to provide medical care and lead construction projects in countries including Colombia. 
In 1979, planning began to establish a parent organization that would coordinate the various national CARE missions. This new body was officially founded as CARE International in 1982. CARE International grew significantly during the 1980s, with the addition of CARE France in 1983; CARE International UK in 1985; CARE Austria in 1986; and CARE Australia, CARE Denmark, and CARE Japan in 1987.
In 1993 CARE, to reflect its international organizational structure, changed the meaning of its acronym, adopting its current name the "Cooperative for Assistance and Relief Everywhere".
CARE International's Global Management Team
CARE International is a collective of Members, Candidates, and Affiliates that are by a common Code. This Code is a core guiding document that defines who CARE is, what binds it, and how different parts of CARE work together.
CARE International is chiefly governed by the Supervisory Board, an independent body charged with strategic, operational, legal, and financial oversight and advancing shared global priorities. 
Working with the Supervisory Board is the Council, the National Directors Committee, and four Strategic Leadership Teams — Program Quality and Impact (PQ&I), Organisational Development and Accountability (OD&A), Humanitarian and Operations (H&O), and Fundraising and Mobilisation (F&M).
Together, these bodies are responsible for the management of CARE International and the oversight of the fourteen National Members. These National Members, such as CARE USA which we will look at as an example, are governed nationally by their own senior leadership teams.
CARE USA Leadership
CARE USA's mission, like its parent, CARE International, is to end poverty and improve the lives of women, girls, and vulnerable populations around the world. It is governed nationally by a Board of Directors and the Global Management Team.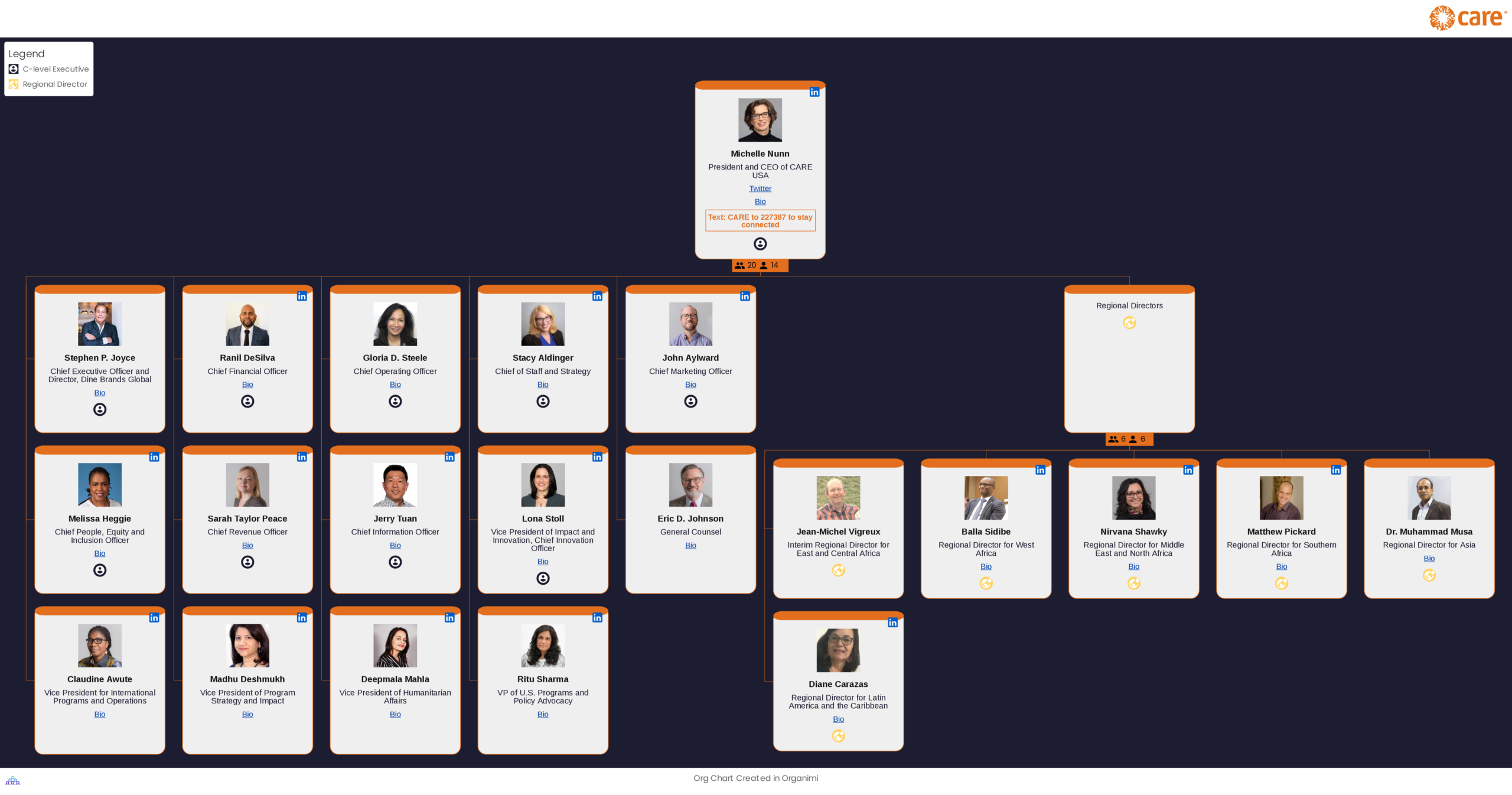 Like many large organizations, CARE USA utilizes a traditional organizational hierarchy model to coordinate its efforts. 
This model has a President and CEO role at the top of the organizational chart with several other C- and VP-level roles directly subordinate to it, such as Chief Financial Officer, Chief Operating Officer, and Vice President of Humanitarian Affairs. Care USA's Regional Directors, who are responsible for geographic areas including Latin America and the Caribbean, Asia, and Southern Africa, are also members of the Global Management Team. 
Benefits of operating a corporate hierarchy include clear lines of authority, a clear understanding of roles and responsibilities, and accountability for actions or decisions taken at different management levels. These are all important for an organization like CARE USA which has complex global operations.
Learn More
Want to learn more about organizational structures and charts? Here are some helpful blog resources that you can start with:
Create this chart in Organimi! 
You can download the CSV file of CARE International's org structure, import it into Organimi and start editing this chart right away! Here's how:
 From your dashboard, select Data Import.
 Click the CSV tile.

 Click 

+Upload Your File

.  

 

Select an Excel file from your device.

 In the 

Organization

 field, click the down arrow to select an organization.

Click Create a New Chart

Click 

Next and select: Organization Chart
Select the auto-build tool to automatically build your chart.
Voila!
Download CSV file:


CARE (40.18 KB)
Build better org charts with
Organimi.
A powerful, cloud-based platform that helps you create, connect, and collaborate with your colleagues wherever they work.