BMC's Organizational Structure
Create this exact chart in Organimi! Scroll below to see how. 
Introduction
BMC Software is an American IT service provider and consulting company headquartered in Houston, Texas. According to Gartner, the company is a world leader in providing IT service management and offers one of the market's most widely used tools, BMC Helix ITSM. The company's software specializes in enabling autonomous digital enterprise, developing multi-functional products, service management, DevOps, AIOps, and security,
BMC was founded in Houston, Texas by former Shell Oil employees Scott Boulette, John Moores, and Dan Cloer, whose surname initials together spell out BMC. In its early years, the company primarily built software for IBM computers but since the mid-1990s the company has specialized in developing software for the management and automation of distributed and mainframe systems. 
In 1987, BMC went public with an initial public offering, and the company's had its first day of trading on the stock market on August 12, 1988. In 2013, the company was acquired by a group of large private equity investment groups for US$6.9 billion. The process was completed in September and BMC subsequently ceased public trading. It was then acquired again in 2018 by leading global investment firm KKR.
BMC's Reorganization
Upon becoming a private organization again, BMC had to transform itself entirely, changing everything from branding to leadership. A big part of this rebirth included a full change of its organizational structure.
As part of this, BMC tore down the departmental silos that existed within and built a more digital workplace, restructuring its approach to IT and technology. Monika Fahlbusch, BMC's then-SVP and chief of employee experience and now an executive at Epic Games, was tasked with overseeing this restructure and running technology across departments within the organization.
Despite the restructure, BMC Software still operates under a more traditional corporate hierarchy for the most part. This model typically has a President and/or CEO who is in charge of the organization and is reported to by other senior executives. business. Several other executive-level roles then come immediately below the CEO, which in the case of BMC Software includes the Chief Marketing Officer and the Chief Product Officer.
The benefits of operating with a traditional corporate hierarchy include clear lines of authority, clear reporting relationships, and a clearer view of roles and responsibilities.
BMC's Executive Leadership
As is typical in large corporations, BMC is led by a Board of Directors and a separate team of C-level executives.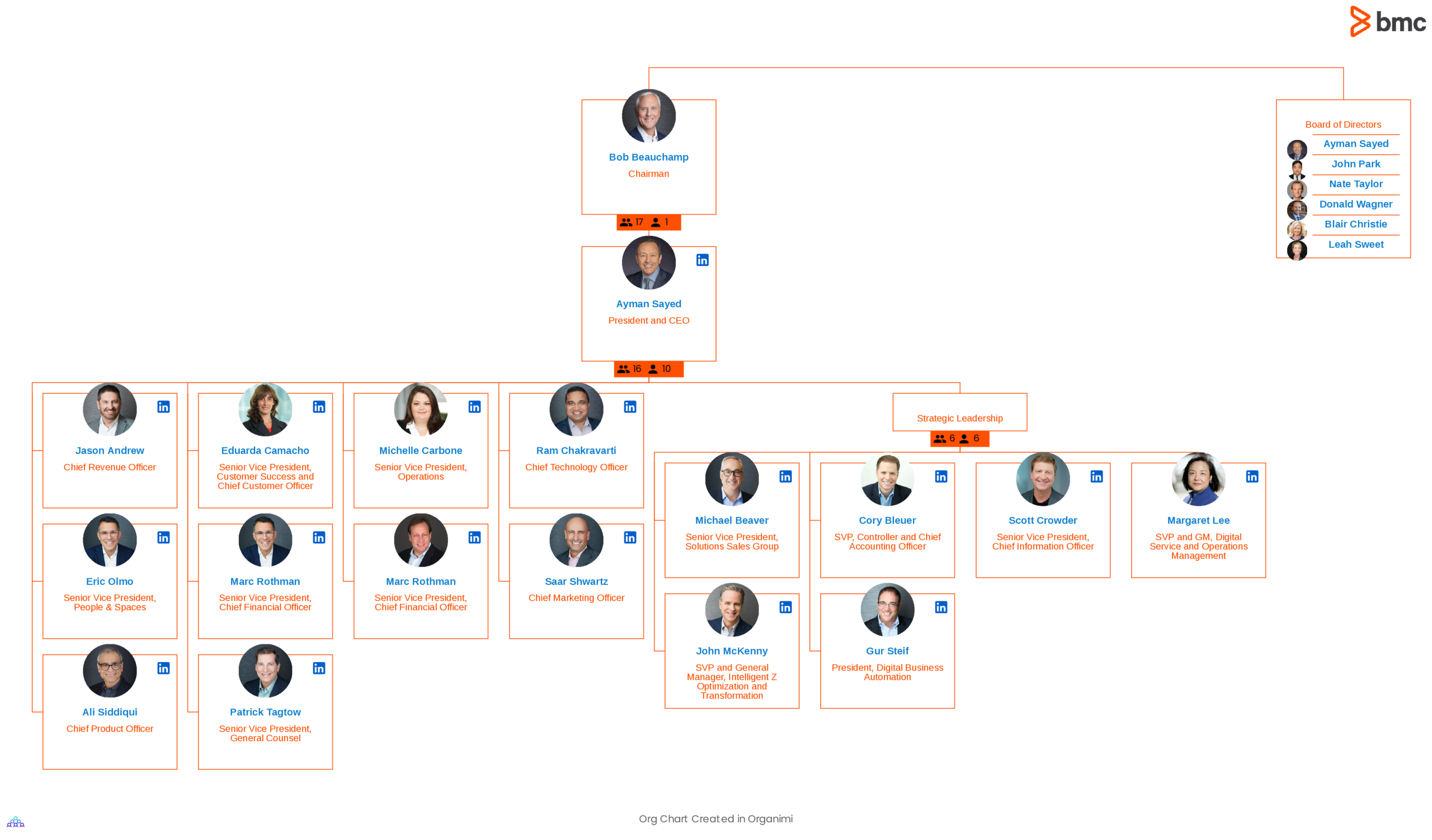 BMC's current CEO is Ayman Sayed, who was named as president and CEO in October 2019. Before he joined BMC, Ayman was the president and chief product officer of CA Technologies, a $4.25 billion Fortune 500 company. The CEO is supported by a team of executives who oversee certain functional areas of the business. 
If you want to learn more about org structures and the important role that they play in organizations like BMC Software, here are some resources that you can start with:
Create this chart in Organimi! 
You can download the CSV file of BMC's org structure, import it into Organimi and start editing this chart right away! Here's how:
 From your dashboard, select Data Import.
 Click the CSV tile.

 Click 

+Upload Your File

.  

 

Select an Excel file from your device.

 In the 

Organization

 field, click the down arrow to select an organization.

Click Create a New Chart

Click 

Next and select: Organization Chart
Select the auto-build tool to automatically build your chart.
Voila!
Download CSV file:


BMC (19.08 KB)
Build better org charts with
Organimi.
A powerful, cloud-based platform that helps you create, connect, and collaborate with your colleagues wherever they work.