Virgin Media O2 Organizational Structure
Create this exact chart in Organimi! Scroll below to see how. 
Introduction
Virgin Media O2 is a British mass media and telecommunications company. Operating as one of the largest entertainment and telecommunications operators in the UK, serving over 46 million customers and employing more than 18,000 people. It is the result of a huge 2020 partnership between Telefónica's mobile carrier, O2, and Liberty Global's broadband provider, Virgin Media UK.
As a 50:50 joint venture between Telefónica SA and Liberty Global, and as one of the UK's biggest businesses by size, Virgin Media O2 operates independently as an autonomous business with its own organizational structure and executives. Latest estimates peg the combined entity's value at £38 billion.
A joint venture
Rather than complete a formal merger, Telefónica and Liberty Global decided to structure their deal as an equal joint venture. At the time of establishing the joint venture, Liberty Global had to make a £2.5 billion equalization payment to Telefónica to bring the two companies to parity in terms of their value. 
The joint venture saw Virgin Media O2 immediately become the largest telecoms provider in the UK in terms of customers served. In terms of revenue, the venture is the second biggest, sitting just behind British Telecom (BT) which reported £11.3 billion in revenue in 2019.
How is Virgin Media O2 Managed
Virgin Media O2 is managed as an autonomous and independent entity owned equally by both Telefónica and Liberty Global. 
Responsible for the day-to-day management of Virgin Media O2's operations is a core team of executives who sit at the top of the telecoms company's corporate hierarchy. 
CEO Lutz Schüler is the head of the Virgin Media O2 leadership team and, by extension, the organization as a whole. Reporting directly to Schüler is a team of 11 senior executives who include Chief Financial Officer Patricia Cobian, Chief Technology Officer Jeanie York, and Chief Information Officer Adrian Di Meo. 
Also on the leadership team are executives responsible for key areas of the business. These include Chief Commercial Officer for Mobile Gareth Turpin, Chief Operating Officer for TV, Broadband & FMC Jeff Dodds, and Managing Director for Fixed Network Expansion, Rob Evans.
The leadership team reports to the board of directors, which includes the chief executive of Liberty Global, Mike Fries (Chairman), and the chief executive of Telefónica, Jose Maria Alvarez-Pallete Lopez (Director).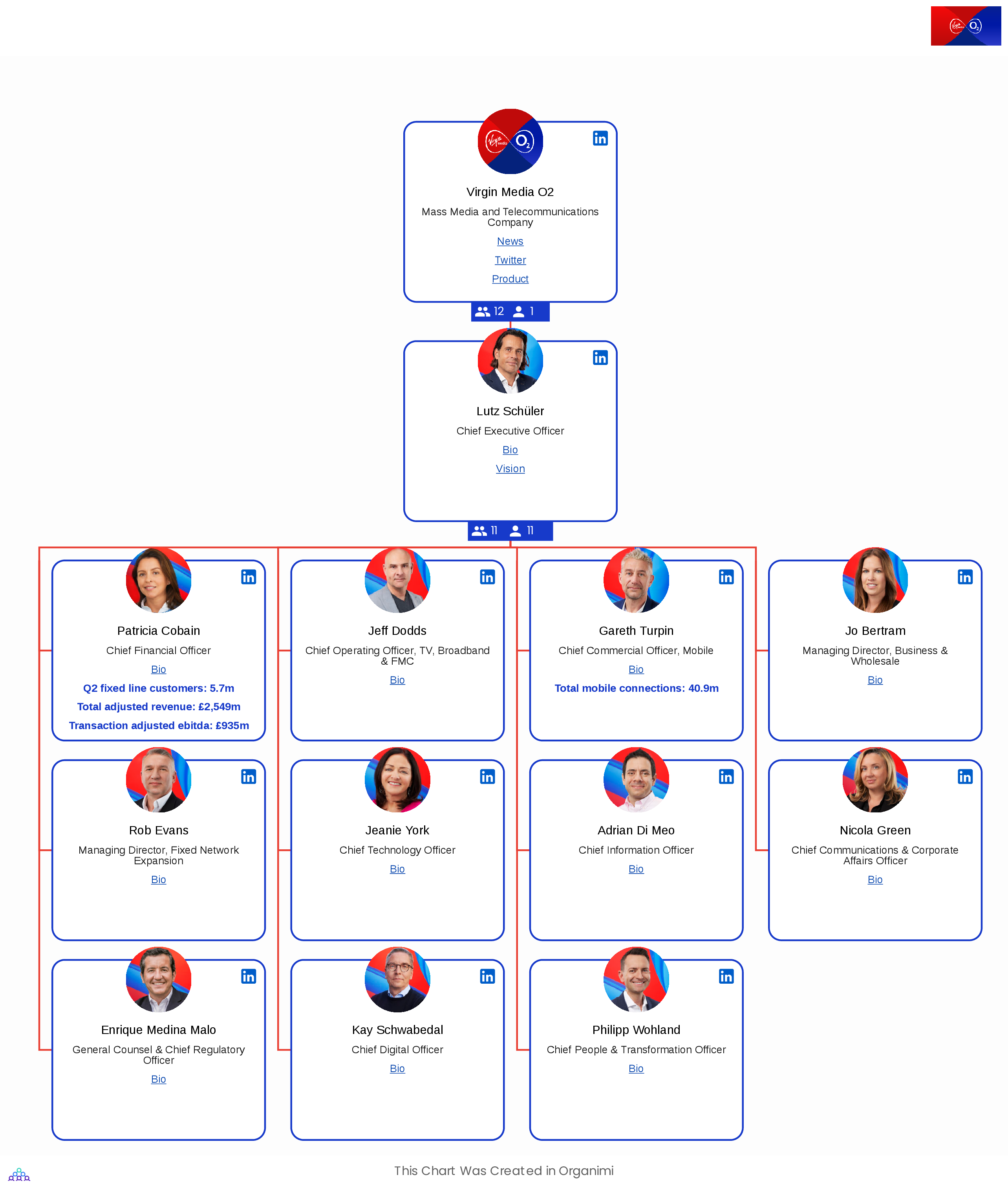 Why This Organizational Structure Works
The main reason why Virgin Media O2's typical hierarchical organizational structure is effective is down to the organization's sheer size.  
As we touched on earlier, Virgin Media O2 employs almost 20,000 people and is one of the UK's largest businesses. While other organizational structures might work for smaller organizations, a traditional organizational hierarchy like the one employed by Virgin Media O2 helps to foster better communication. It also improves operating efficiency by splitting the business into various clearly defined branches and enables faster decision making because the flow of information and authority is top-down. 
Virgin Media O2 also only operates in the UK. This negates the need for the organization to employ a more complicated organizational structure that might be better equipped to manage operations on a regional basis.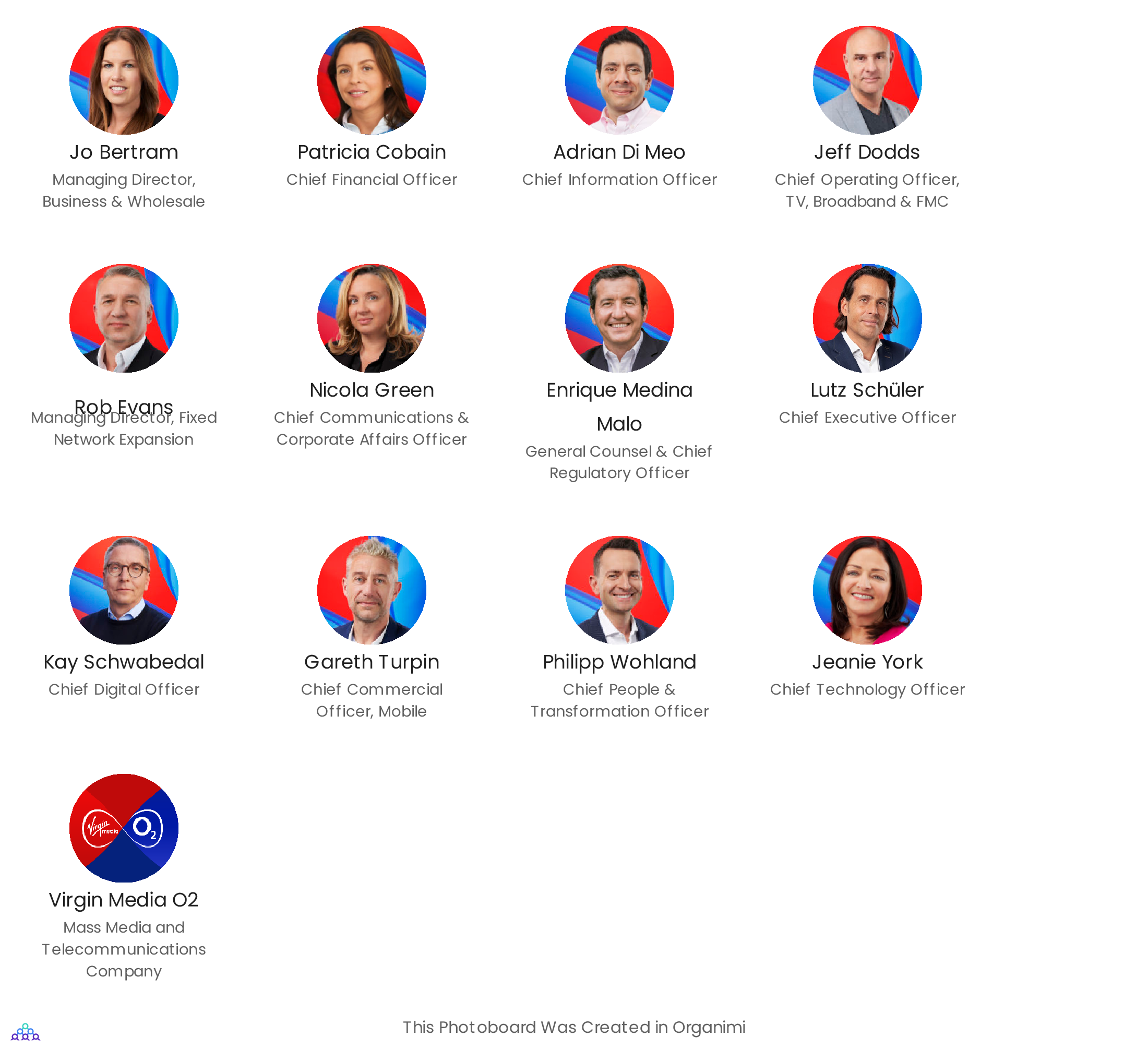 Create this chart in Organimi! 
You can download the CSV file of Virgin Media's org structure, import it into Organimi and start editing this chart right away! Here's how:
 From your dashboard, select Data Import.
 Click the CSV tile.

 Click 

+Upload Your File

.  

 

Select an Excel file from your device.

 In the 

Organization

 field, click the down arrow to select an organization.

Click Create a New Chart

Click 

Next and select: Organization Chart
Select the auto-build tool to automatically build your chart.
Voila!
Download CSV file:


Virgin-Media-O2 (13.35 KB)
Build better org charts with
Organimi.
A powerful, cloud-based platform that helps you create, connect, and collaborate with your colleagues wherever they work.