United Way's Organizational Structure
Create this exact chart in Organimi! Scroll below to see how. 
Introduction
United Way is an international network of over 1,800 local non-profit fundraising affiliates. These local movements are made up of donors, volunteers, advocates, and others who are committed to advancing common decency by mobilizing communities in over 40 countries around the world in three key areas: health, education, and financial wellbeing. 
Some of the main points of focus within these three key areas include:
Low-birthweight babies

Lack of affordable housing

Children and families in poverty

Lack of access to health care

Personal debt and bankruptcy
As United Way puts it, "We galvanize and connect a diverse set of individuals and institutions, and mobilize resources, to create long-term change."
United Way's Leadership
Each local United Way operation is autonomously run as an independently incorporated organization. These organizations are led and staffed by local volunteers and have their own board of directors wholly independent from the parent organization, United Way Worldwide.
While the localized United Way organizations operate independently, United Way Worldwide in its capacity as a parent organization is responsible for leading and supporting this global network. Its leadership is split into five divisions:
The Leadership Team
United Way Worldwide's core leadership team sits at the very top of the organizational structure. It consists of typical C-level roles (CEO, CTO, CFO) and those within are responsible for overseeing the day-to-day management of United Way. 
The Worldwide Board of Trustees
The United Way Worldwide Board of Trustees is responsible for overseeing the business affairs of the organization, including strategic leadership, resource and relationship management, reputation building, and stewardship of the organization's mission and assets. 
The U.S.A. Board of Trustees
The organization's U.S.A. National Board is the governing body tasked with providing oversight of matters that are related to and specific to the United Way network operating within the United States. 
Women United Global Leadership Council
United Way Worldwide's Women United initiative raises the voice and vision of women leaders in the fight for health, education, and financial stability. Members of the Women United Global Leadership Council are responsible for furthering the mission of Women United in localized United Way operations. 
Worldwide Leadership Council
The United Way Worldwide Leadership Council is responsible for encouraging business and societal leaders to give, advocate, and volunteer with United Way on local, national, regional, and worldwide levels. The council does this by providing high impact leaders with opportunities to share their ideas and build relationships.
United Way's Organizational Structure
United Way is unique in that each localized operation is entirely independent with its own governing body. The leaders of these local entities to operate it as they see fit so long as it's in line with United Way's core mission and global policies, which are set by the United Way Worldwide parent organization, its leadership, and trustees.
Since directives are issued top-down by the United Way Worldwide executive team, it can be said that United Way operates a chain-of-command style hierarchical organizational structure despite each local entity operating as its own organization with its own leadership team.
Non-profit organizations often adopt hierarchical structures similar to the way for-profit firms do. This is because a non-profit organization is governed by a range of different individuals—directors, C-level executives, leadership councils, trustees—and so it's important that clear lines of authority are established. 
This is especially important in the case of United Way—although each local entity is governed independently, the leaders of these local entities need to know who to report from and take instructions from regarding anything that falls under the remit of corporate.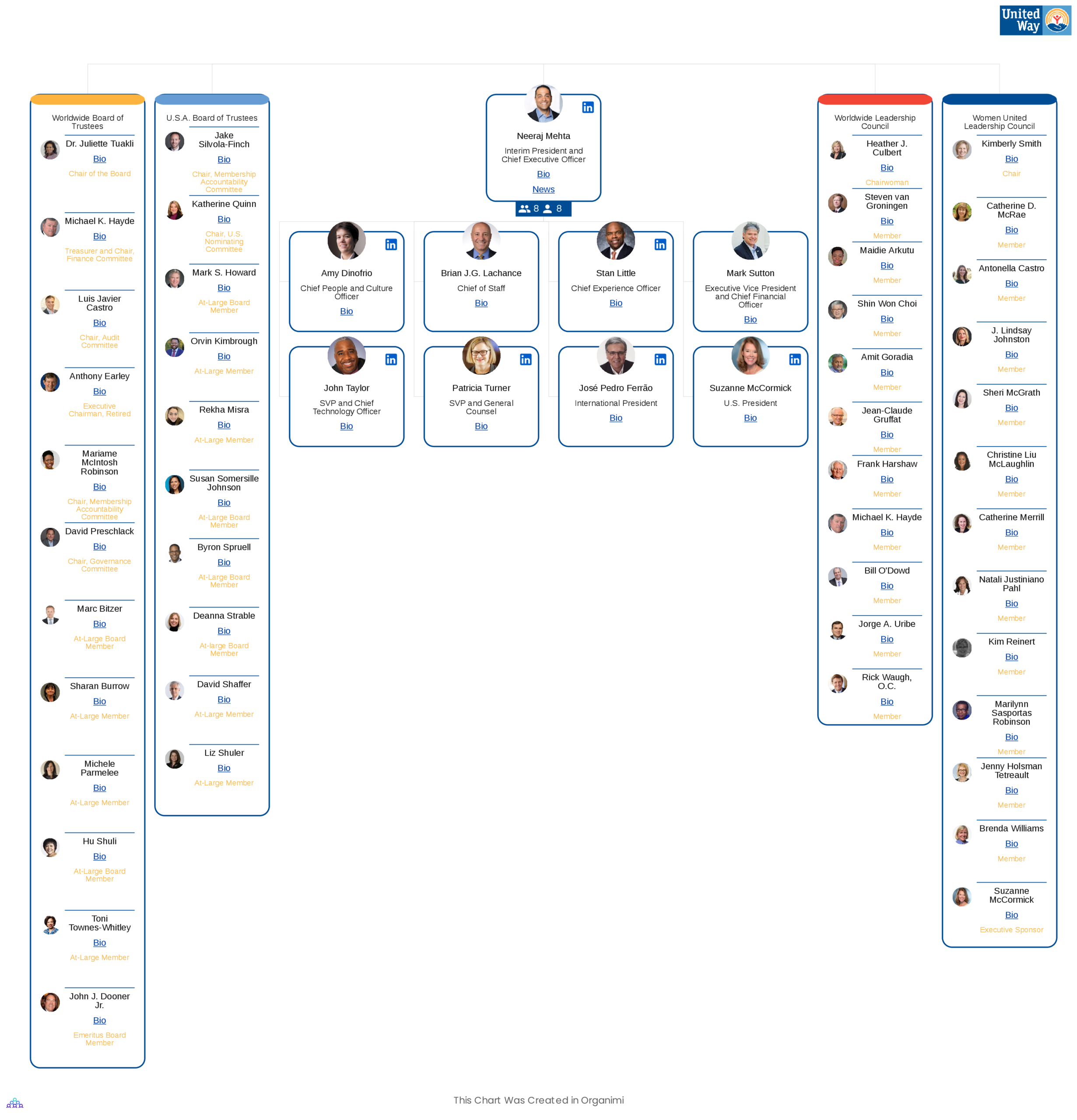 Create this chart in Organimi! 
You can download the CSV file of Stanford's org structure, import it into Organimi and start editing this chart right away! Here's how:
 From your dashboard, select Data Import.
 Click the CSV tile.

 Click 

+Upload Your File

.  

 

Select an Excel file from your device.

 In the 

Organization

 field, click the down arrow to select an organization.

Click Create a New Chart

Click 

Next and select: Organization Chart
Select the auto-build tool to automatically build your chart.
Voila!
Download CSV file:


United-Way (49.19 KB)
Build better org charts with
Organimi.
A powerful, cloud-based platform that helps you create, connect, and collaborate with your colleagues wherever they work.