Tesla's Organizational Structure
Create this exact chart in Organimi! Scroll below to see how. 
Introduction
Tesla is the biggest name in the sustainable automotive engineering field. Arguably, it is the first dedicated, luxury electric car manufacturer targeting the mass market at an affordable pricing. With the enigmatic and often controversial Elon Musk acting as its CEO, the company has ambitions that far outstretch that of a typical car manufacturer. 
A brief history of Tesla
There is a common misconception that Tesla was founded by Musk. However, Tesla was in fact founded in 2003 by two engineers, Martin Eberhard and Marc Tarpenning. 
The pair created the company, which at the time was named Tesla Motors, after identifying a gap in the market for battery powered electric cars that were capable of high performance and high mileage. Their vision was to capitalise where others had failed after the largest motoring group at the time, General Motors had recalled and disposed of an entire fleet of electric cars having been unable to make them profitable. 
After the uproar that this caused, Eberhard and Tarpenning recognised that there was a desire for environmentally friendly cars at an affordable price. However, the pair recognised that realizing this vision would require a high level of financing, and here entered Musk. Having already developed numerous successful online enterprises, he was well placed in the venture and contributed 86% of the $7.5 million raised in the initial funding round, securing his place as chairman on the board of directors. 
In 2006 two rounds of funding generated a total of $53 million allowing the company to move their first prototype into production with the Roadster launching in 2008. In the same year, Musk led a fourth round of funding generating a further $40 million.  
Where Elon Musk fits in
It wasn't just funding that Musk brought to the table. From the beginning he took an active role in overseeing the design process and implementing a product release and lifecycle approach typically adopted by tech start-ups rather than automotive outfits. The first model was released at a high price point to attract affluent buyers from which the proceeds could help fund the technology to develop lower priced products for the mass market. 
Musk's acclaim and widespread business interests have been a blessing and a curse for Tesla. In 2016 Tesla was merged to much criticism with another of Musk's founding companies, SolarCity, a company that was allegedly on the brink of collapse. However, Tesla has since capitalized on the vast renewable energy expertise as well as the research and development that SolarCity had already undertaken. 
More recently Tesla has featured in headlines because of their exponential share growth at a time when many listed companies have seen the exact opposite as a result of the ongoing pandemic. Combined with the developments of the other companies Musk spearheads, the aerospace advances by SpaceX, and the neurological research developments by Neuralink to name just two widely reported achievements, Tesla are firmly in the limelight largely in part thanks to Musk.  
Tesla's organizational structure
As a leading international manufacturer of one of the world's most highly desired vehicles, Tesla has had to adapt to balance marketing and sales against its production capacity and the need to continually innovate. The company is organized in a functional or U-formed structure with global functional centers covering all business activities. 
These functional centers include design, technology, engineering, finance, sales, and marketing, and of course the offices of the chief executive officer (Musk) and the chairman (Larry Ellison). All use a hierarchical structure with reporting lines stemming from Managers through to assistants. 
The functional centers support the divisions of the company, the two key ones being Automotive and Energy Generation with a subset of geographical divisions in the likes of the U.S., China, and other key jurisdictions. 
All areas of the business ultimately report to and are directed from the centralized US-based headquarters in Palo Alto, California. Using this corporate business structure managerial control is maintained across the business globally.  This also allows processes to be streamlined and strategic direction provided by the top tier of management and filtered down through the organizational structure.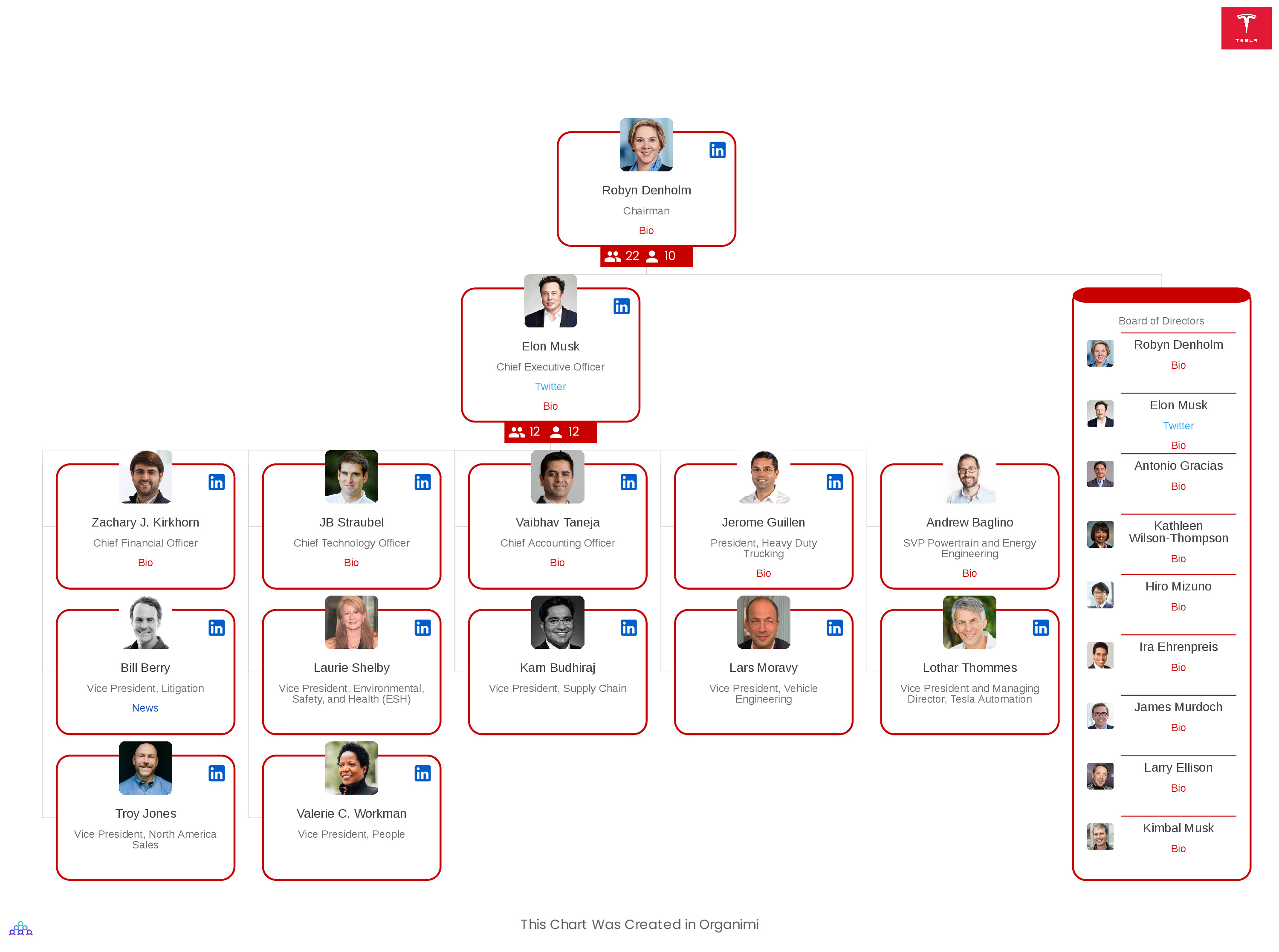 What is the secret to Tesla's success?
Having experienced early success Tesla faced a number of challenges. With its growth in popularity came production and supply issues. It quickly became apparent that significant further investment was required to satisfy demand and deliver a profit. Consequently, Tesla made the decision to publicly list in 2010, the beginning of a volatile journey that 10 years later, is showing signs of paying off for the millions of investors that have since come on board.
With many governments around the world putting legislation in place to reduce the use of petrol- and diesel-powered vehicles, the importance of Tesla increasing production capacity has never been more important. Perhaps this is why investors are not afraid of valuing Tesla way above most other car manufacturers. In July of this year, Tesla's stock jumped to a record high resulting in a company valuation of $208 billion, a figure that far outstrips any other car manufacturer today.
During the market crash as a result of the uncertainty caused by the COVID-19 pandemic, Tesla stock has grown exponentially by 90% in less than 6 months. The impact of the pandemic was clearly not a concern for investors which is likely due to the perception that the company has a longevity that can withstand even the most unprecedented of times. 
Create this chart in Organimi! 
You can download the CSV file of Tesla's org structure, import it into Organimi and start editing this chart right away! Here's how:
 From your dashboard, select Data Import.
 Click the CSV tile.

 Click 

+Upload Your File

.  

 

Select an Excel file from your device.

 In the 

Organization

 field, click the down arrow to select an organization.

Click Create a New Chart

Click 

Next and select: Organization Chart
Select the auto-build tool to automatically build your chart.
Voila!
Download CSV file:


Teslas-Org-Structure (12.19 KB)
Build better org charts with
Organimi.
A powerful, cloud-based platform that helps you create, connect, and collaborate with your colleagues wherever they work.