TD Canada Trust's Organizational Structure
Create this exact chart in Organimi! Scroll below to see how. 
Introduction
Toronto-Dominion Bank and all its subsidiaries, collectively known as TD Bank Group, serve over 22 million customers worldwide through four main lines of business:
Canadian Personal and Commercial Banking 

Wealth and Insurance

Wholesale Banking

U.S. Personal and Commercial Banking
TD Canada Trust is the commercial banking arm of The Toronto-Dominion Bank and falls under the Canadian Personal and Commercial Banking business line. TD Canada Trust offers a range of financial products and services to a roster of over 10 million customers across a network of more than 1,100 branches.
TD Bank's Group History
TD Bank Group traces its roots all the way back to 1855 when The Bank of Toronto was founded by a group of millers and merchants. Meanwhile, The Dominion Bank—which was founded in 1869—began to move west and opened branches in Winnipeg and Manitoba. By 1900, the bank had 16 branches which expanded to 161 by 1920. 
Overcoming the Great Depression and the war years, both banks extended their branch networks throughout the 1940s and 1950s. In 1954, The Bank of Toronto and The Dominion Bank negotiated a merger, and in 1955 the Toronto Dominion Bank (TD Bank) was born with 499 branches. 
Committed to growing in the long-term, TD ventured into new business lines such as international project financing, money market trading, and real estate developments throughout the 1960s – 1990s. In 1992, TD Bank Group acquired the assets of the Central Guaranty Trust, and in 1996 the New York-based Waterhouse Investor Services was acquired. This doubled the size of TD's discount brokerage. 
In 2000, TD Bank Group purchased Canada Trust, a financial institution recognized for its unparalleled customer service – including its branch operating hours of "8 to 8 six days straight". 
In 2005, TD Bank Group celebrated its 150th birthday and set its sights on expanding its North American Platform. The group soon acquired TD Banknorth, the so-called "best managed bank in America", merged TD Waterhouse with TD Ameritrade, and acquired Commerce Bancorp. By 2008, TD had become one of the largest banks by branch network in North America.
TD Bank's Divisional Structure
Through a divisional structure, TD Bank Group has been able to efficiently manage a diverse range of operations across several markets. These include retail banking, investment services, commercial banking, and insurance. This is something commonly seen in large organizations, with Facebook, Amazon, and Disney operating with similar arrangements. 
This separation of the group into divisions has led to the formation of different group arms, such as TD Bank, TD Waterhouse, and TD Canada Trust. These separate organizational structures allow for a greater degree of expert focus on specialized product areas, specific customers, and high-level banking operations. It also allows the group to respond more flexibly to the needs of the different divisions and creates clear lines of responsibility and authority across the group. 
While this type of arrangement has many advantages, it's important to mention its flaws. These can be seen in the different operational divisions where there's often duplication of resources and tasks. This can lead to conflicts and inconsistencies in decision-making and lead to rivalry between the divisions, which is terrible for communication and productivity. When teams work in divisional silos, there's also the potential for focus to move away from the TD Bank Group as a whole and to their individual divisional goals.
TD Canada Trust's Organizational Structure
TD Canada Trust operates separately from the TD Bank Group as a division with its own tall, hierarchical organizational structure. These levels of hierarchy can span both vertically and horizontally in a hierarchical structure, but in the case of TD Canada Trust, the levels of hierarchy are more centralized and run vertically. 
Despite being an example of a classic chain-of-command style hierarchy, TD Canada Trust and the wider TD Bank Group allow for a great deal of scope in terms of flexibility, personal goal setting, and innovating through creativity at all levels of the org chart. This flexibility, openness to innovation, and the narrow span of supervision throughout TD's org structure lead to high levels of employee satisfaction, something that the group has consistently ranked highly in. 
At the same time, the tall hierarchical organizational structure allows for those higher up the chain to make and evaluate decisions more frequently, and the narrow span of supervision—within TD, most teams have only one or two managers—enables a more efficient decision-making process. 
Throughout its long history, TD Bank Group, and by extension TD Canada Trust, has become a leader in the areas of commercial and investment banking. Today, it's one of North America's largest banking groups. If the group is to continue along this trajectory, supported by strong corporate governance and flexible organizational structures, there'll be much more growth to come.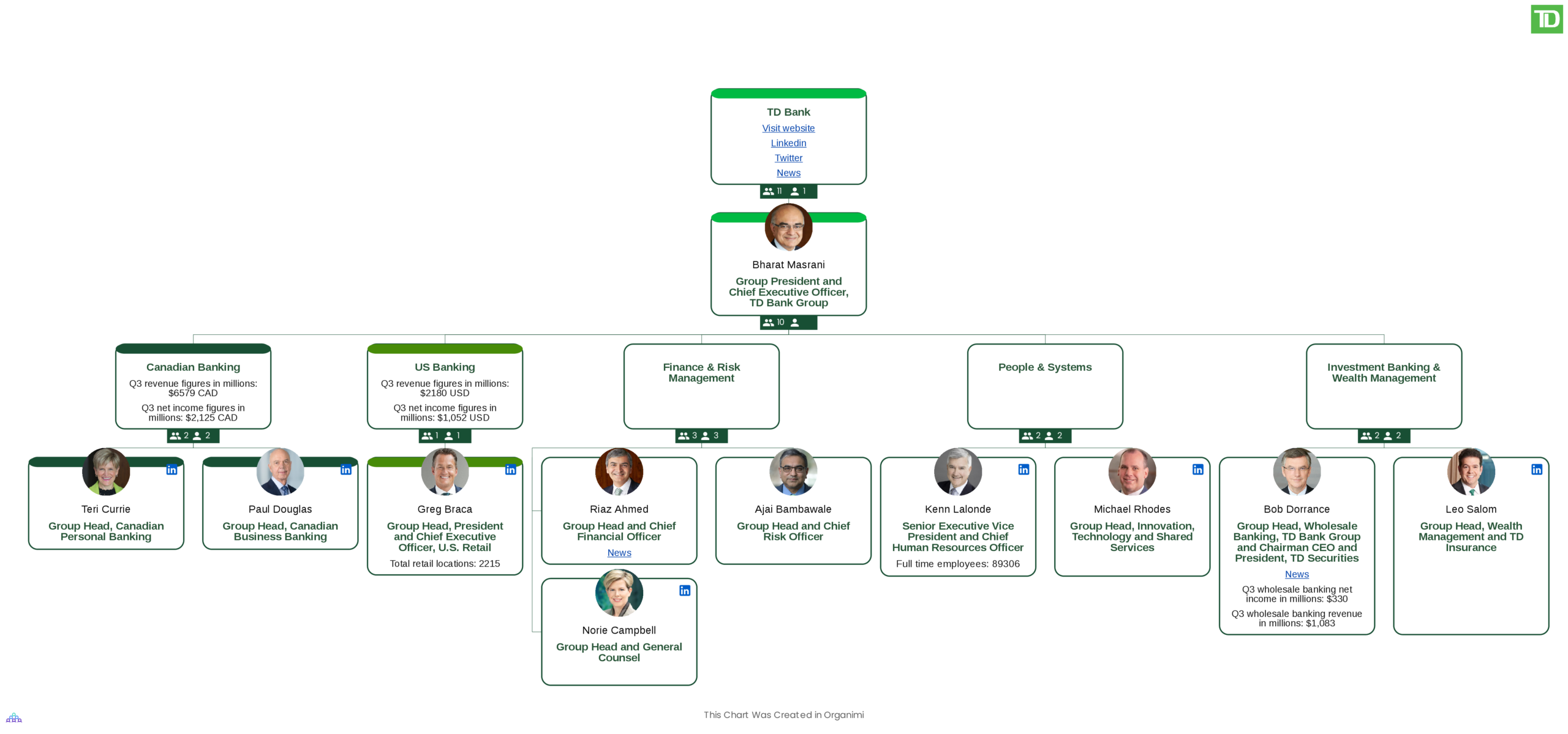 Create this chart in Organimi! 
You can download the CSV file of Stanford's org structure, import it into Organimi and start editing this chart right away! Here's how:
 From your dashboard, select Data Import.
 Click the CSV tile.

 Click 

+Upload Your File

.  

 

Select an Excel file from your device.

 In the 

Organization

 field, click the down arrow to select an organization.

Click Create a New Chart

Click 

Next and select: Organization Chart
Select the auto-build tool to automatically build your chart.
Voila!
Download CSV file:


TD-Canada-Trust (8.5 KB)
Build better org charts with
Organimi.
A powerful, cloud-based platform that helps you create, connect, and collaborate with your colleagues wherever they work.