Stanford's "Be Well" Organizational Structure
Create this exact chart in Organimi! Scroll below to see how. 
Introduction
Stanford University's 'BeWell' program encourages Stanford community members to take control of their well-being and make it an enjoyable part of life. 
Established in 2008, BeWell is an incentive program open to all employees that offers personalized support and incentives. It also provides evidence-based classes, workshops, and services to help Stanford employees and other community members to achieve optimal well-being, something that's more important than ever given the current pandemic-dominated state of play.
Stanford's Be Well leadership
Stanford BeWell is headed by Phyllis Stewart Pires, the AVP of Employee Support Programs & Services at Stanford University and, since June 2021, the AVP of Human Resources. In her role, she is responsible for providing strategic leadership for several important university-wide support programs, including mental health and wellness programs for employees, work-life and dependent care programs, and flexible work initiatives—all of which will be critical elements of post-pandemic working. 
Assisting Pires is Charelle Fernandez, Stanford's Senior Director of Wellness Programs, Patty de Vries, the program lead for BeWell, and Julie Croteau, the head of communications for BeWell. Together, these people from the top of BeWell's org structure, with several other health and wellness experts working as part of the wider team under Fernandez.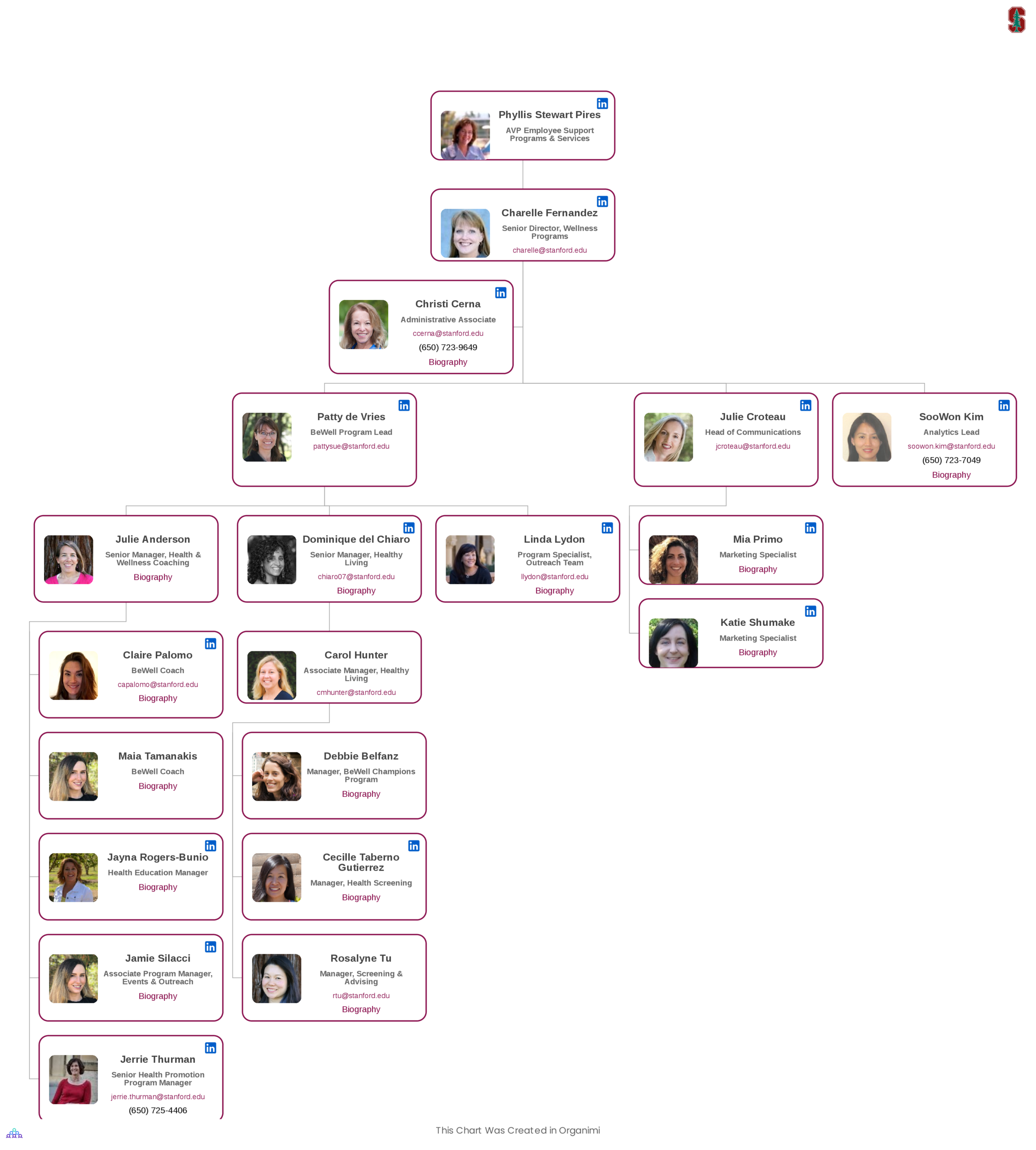 BeWell's org structure is a type of hierarchical (or chain of command) structure that you typically see within larger companies. 
In a hierarchical structure like this, one person sits at the very top. In an organization, this is usually the Chairman or Chief Executive Officer (CEO), or in this case, it's Phyllis Pires in her role as the AVP of Employee Support Programs & Services. 
Below this person on the second line, you'll typically find other C-level positions (i.e., CFO, COO, CDO) who report directly to the CEO or whoever is in overall control. BeWell's hierarchical structure has different roles, however, owing to it being part of an internal initiative at Stanford rather than a separate standalone organization.
Benefits of a hierarchy
While the terms "chain of command" and "hierarchy" might sound out of place when we're discussing good health and wellness, this type of org structure actually has several benefits that undoubtedly feed into the success of the BeWell program and foster a strong internal culture for the program's employees. 
First up, hierarchical org structures are great for organizational planning. In resource planning, for example, they can identify skills gaps or areas where a re-structure might be needed, which can help to inform overall corporate decision-making and processes like talent acquisition. This is because the hierarchical org structure helps expert workers with niche skillsets perform their roles more efficiently and confidently, something that not only helps to boost the organization's bottom-line but also keeps employees motivated and on track.
A hierarchy also tells employees in plain English to whom they should report and when they should consult their higher-ups and supervisors with key information. It also shows employees where they fit within the organization and what their remit is. This clarity is essential for creating an efficient work environment where people are able to carry out their roles without ambiguity or the potential to accidentally overstep the mark. 
Create this chart in Organimi! 
You can download the CSV file of Stanford's org structure, import it into Organimi and start editing this chart right away! Here's how:
 From your dashboard, select Data Import.
 Click the CSV tile.

 Click 

+Upload Your File

.  

 

Select an Excel file from your device.

 In the 

Organization

 field, click the down arrow to select an organization.

Click Create a New Chart

Click 

Next and select: Organization Chart
Select the auto-build tool to automatically build your chart.
Voila!
Download CSV file:


Stanford-Be-Well (4.82 KB)
Build better org charts with
Organimi.
A powerful, cloud-based platform that helps you create, connect, and collaborate with your colleagues wherever they work.