RBC's Organizational Structure
Create this exact chart in Organimi! Scroll below to see how. 
Introduction
Founded in 1864 in Halifax, Nova Scotia, the Royal Bank of Canada (RBC) has operations in over 36 different countries. Not only is it Canada's leading bank, but it is also one of the world's largest when measured in terms of market capitalization. It is a publicly-traded company listed on the Toronto Stock Exchange, New York Stock Exchange, and Swiss Exchange.
The bank's operations are diverse covering everyday banking under RBC Royal Bank (totaling 46% of its revenue), investment and wealth management services, and stock and shares management under RBC Capital Markets. Globally the Royal Bank of Canada employs over 80,000 people and provides services for some 16 million clients.  
A brief history of RBC
RBC originally began its life as a private, uncharted bank founded by a group of trade merchants and was known as 'The Merchants Bank of Halifax'. The bank received its federal charter and became public 5 years after it was founded in 1869. Thereafter, it grew rapidly, opening branches in multiple locations across Canada whilst simultaneously establishing relationships with US and UK banks. 
By the end of the century, the bank's geographic reach had grown with branches being opened across Cuba and the West Indies.  However, this did not translate to a large market share with the bank's holdings only accounting for 3.6% of all Canadian Bank Holdings at the turn of the Century.
In 1901, the bank changed its name to The Royal Bank of Canada and began growing rapidly by embarking on a number of mergers and acquisitions, increasing its geographic reach and market share significantly. By 1929, it had become the first and only Canadian bank with more than $1billion in assets under management.
The trajectory of growth for the bank, along with its contemporaries, was curtailed somewhat by the Great Depression. However, through conservative management and a number of strategic partnerships with other international banks, it continued to grow steadily throughout the remainder of the century. 
Since the early 2000s, the bank has diversified its operations and increased its market share by undertaking a spate of record-breaking purchases and mergers with international brokerage and asset management firms. This has allowed the bank to build on its existing client base whilst entering new markets and enhancing the range of services offered to both its retail and corporate clientele.
Why RBC's org chart structure is effective
RBCs services are divided into 5 distinctly separate business divisions;
Personal and Commercial Banking

Wealth Management

Investor and Treasury Services

Capital Markets

Insurance
Each division services a different client group offering financial products and services, as appropriate to their needs. Several sub-brands exist within these divisions to differentiate the product lines and depending on the geographic region being operated in. The diversity of the products offered across the different divisions is key to RBC's success for a number of reasons.
Firstly, the reality of financial services in today's world is that traditional retail banking is no longer a viable business in its own right. Following the financial crisis of 2008, banks worldwide are subject to ever more stringent regulation and monitoring. What can and can't be imposed on retail customers is now stricter, with focus placed on what is fair to the everyday customer. As a result, the income stream from this area is less profitable, thus it makes sense for banks to widen their net and expand interests in areas that are profitable although hold an enhanced risk profile.
Indeed, over the last 5 years, RBC's profitability has largely been driven by the wealth and investment management division. With the current chief executive officer David McKay at the helm, this performance looks set to continue. McKay has been the governing CEO since 2014 and during this time the bank has driven revenue, reduced risk, and developed its growth potential. 
Another of RBC's strengths lies in its operations outside of Canada and the bank has established a significant presence in both the USA and Caribbean. This geographic diversification offsets the limiting factors associated with the stringent regulations the Canadian government imposes to limit the amount the bank can stand to profit. The model not only serves to deliver increased profits but also spreads risk by covering various markets across the globe.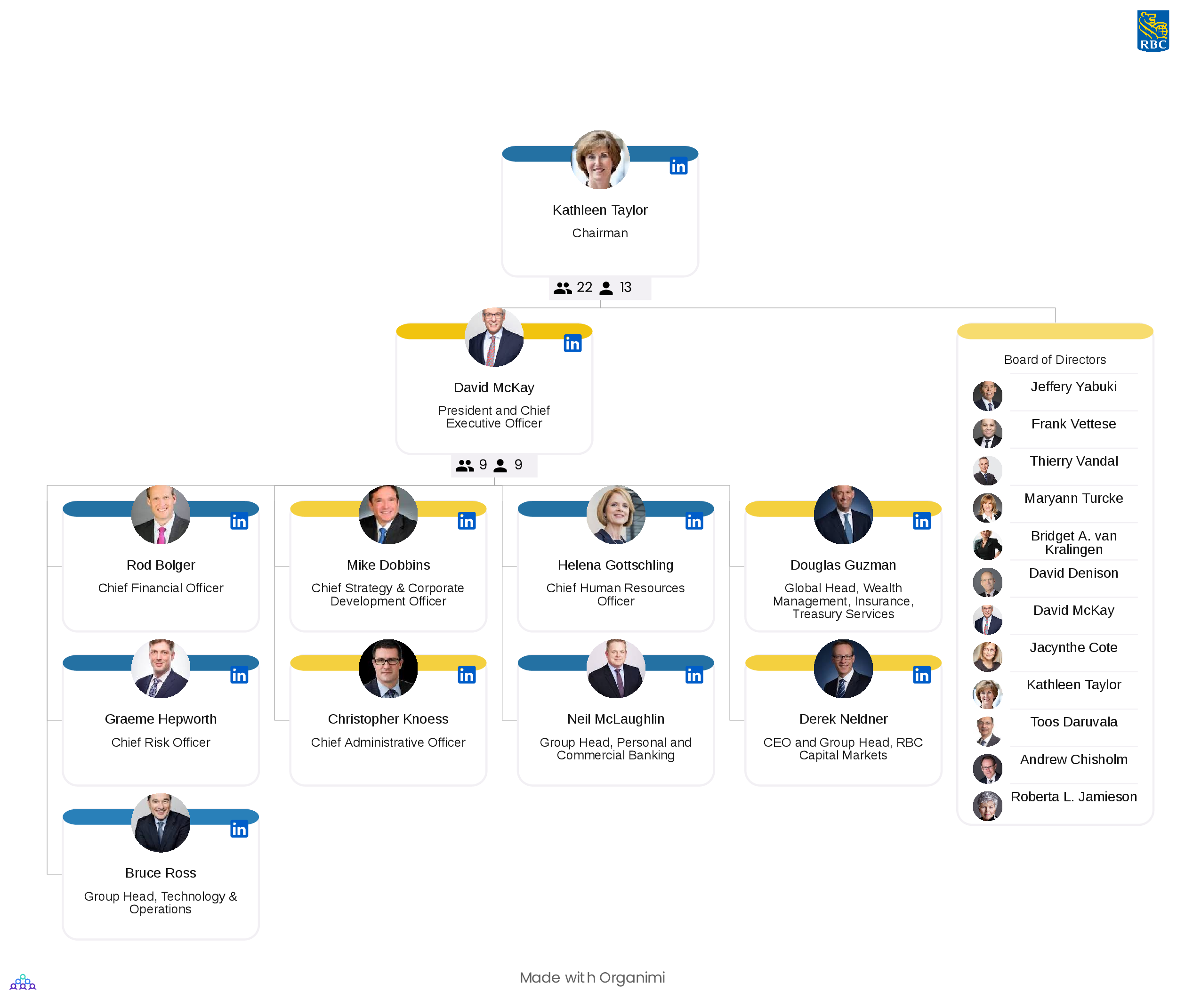 RBC's future prospects
Since its founding, the RBC's key driver has been to safeguard the interests of its shareholders and deliver profit through conservative management and diversifying its operations where possible. Whilst there has been an apparent shift towards wealth and investment management operations in recent years, this is tempered with the cautious approach adopted to safeguard the retail interest. After all, this still accounts for a large and less volatile portion of the operation. 
One of the biggest risks to an organization of RBC's size and standing is data breaches and online security issues. With RBC being a publicly-traded company, any breach would have wide-ranging implications not only affecting investor sentiments and share price but also undermining customer confidence and day-to-day profit-making activities. To offset this risk, RBC has invested significantly in technology and digital security. With a Chief Science Operator and Group Head of Technology and Operations in place, the bank has taken steps to safeguard against such threats.
It is accepted that 2020 has thus far been a tumultuous year for the financial services sector. However, with gross profits for 2019 reported at $34.612B, the bank is well placed to weather the storm of the COVID-19 pandemic.
Create this chart in Organimi! 
You can download the CSV file of RBC's org structure, import it into Organimi and start editing this chart right away! Here's how:
 From your dashboard, select Data Import.
 Click the CSV tile.

 Click 

+Upload Your File

.  

 

Select an Excel file from your device.

 In the 

Organization

 field, click the down arrow to select an organization.

Click Create a New Chart

Click 

Next and select: Organization Chart
Select the auto-build tool to automatically build your chart.
Voila!
Download CSV file:


RBC-Org-Structure (5.72 KB)
Build better org charts with
Organimi.
A powerful, cloud-based platform that helps you create, connect, and collaborate with your colleagues wherever they work.